Q- Ok, Eli Tomac threw what looked like a sure win away. What happened and although we don't know for sure, I guess he pulled off from a hit to the head over the pant malfunction?
DV- Eli started the day so well. I watched practice on the computer and he looked very solid, smooth and in control. The smoothest I've seen him ride. We're used to seeing him be very radical on the throttle and aggressive but in practices and in the heat I thought he was very efficient. He wasn't the fastest in practices nor did he win his heat race but, to me, he was the guy to beat because he showed he had more in him. In the start of the main, it turned out to be true. He had a great start and clocked the fastest lap time of the main before his crash. As to why he went back to the pits? I am not really sure. We saw on TV he had an issue with his pants' buckle and we heard he hurt his shoulder a bit. It's a bummer for Eli that he put himself in those situations but it's not the first time it happens.
We all remember the main event on New Jersey where he was leading, crashed and looked so out of sync after. We've seen him throw away races while leading before. The big question is why is it happening? Those are very Stewart-esque situations. I have my own opinion on it. Luck isn't involved nor are any other myths. I just think he loses his focus and concentration at times. I also think he's not careful enough. SX tracks, just like MX tracks, are filled with little "traps" that can catch you off guard in a fraction of a second. From the traction going away, from evening dew or dirt packing up to ruts evolving, bumps appearing and whoops getting cupped out. Your riding style has to always evolve to keep your lap times up but also to ride safe. In my opinion, Eli is just not careful enough. I don't think he's riding over his head or wanting to go too fast. If a track would stay the same and not change, Eli would be almost unbeatable because he's good, fast and fit when everything goes good. That's where Marvin is good. He adapts himself so well to the track conditions and rides very cautiously. When the whoops start to be sketchy, he jumps. When the track gets slick, he changes his lines. When big rhythm sections start to get hairy, he finds another way around it where he doesn't lose too much time and stays consistent. Eli doesn't have this in his portfolio yet and it's been a problem for some years now.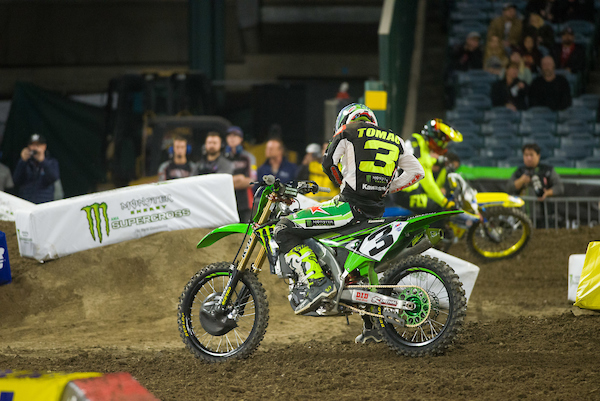 Q- He's in a big hole again, crazy how it's the same as last year right?
DV-The situation is a bit different for him compare to 2017. Last season, he was behind the 8 ball. He went 5-6-8 in the first three races then won 2 in a row before having his front brake problem in Dallas, where he finished 15. What's the same is that he has to play catch up again. I hope he's not too badly injured and he can be at 100% in Houston. It would be a bummer for us and the series if he wasn't. After his mechanical in Dallas 2017, Eli won 7 out of 9 races and finished second the 2 other ones. On a positive note, last year after the Dallas main event, he was 29 points behind Dungey with 11 races to go. He was able to get the red plate with 2 races to go. Right now, he's 25 points behind Marvin with 16 races to go. The average points per race he has to gain is smaller right now than in 2017. Once again, he has nothing to lose now. Hopefully he isn't too banged up and he'll be able to show some of his 2017 winning level soon to make this series interesting.
Q- Justin Barcia!  Wow, you had some comments on Twitter about his situation. What did you see from the #51?
DV- I'm actually happy for him. He was going to be a full privateer for the first time of his pro career in 2018. For a rider who used to be the future next big thing, it had to be a big reality check. We've seen kind of the same situation last year with Wilson when he started the season with his dad as mechanic and a sprinter van. I'm glad Justin went to work this off season and glad he's using this Yamaha replacement-ride opportunity to the fullest. He was riding far more calm in A1. His starts were good. His race speed was good. He clocked the 2nd fastest lap time behind Tomac in the main event. I didn't check the stats but it has to be a while since that happened. Starts don't do everything. Some of the 450 main event riders can get a holeshot but they'll never get a top 10. Barcia backed up his good starts with fast race lap times. Now, the difficult thing would be to repeat and get on the box again. If he keeps riding smooth, shift gears and rides intelligently, I don't see why he couldn't confirm.
Q- What else did you see in 450's that caught your eye?
DV- Obviously Marvin. We aren't used to seeing him pass riders that quicklyin the opening laps. He's always very cautious in traffic. He made some nice moves to pass riders early. When we saw Marvin win his first 2 450 races in 2017, he was the fastest guy on the track. He wasn't at A1. Marvin adapted to the track very well. He made only 1 mistake on the section Tomac crashed. We saw him jump the whoops before the finish. That wasn't an advantage in practices nor in the heat race but it functioned well in the main when he was taking his tight inside line in the corner before the whoops. He rode very intelligently Saturday and made some good passes by being creative. With Roczen not being at 100% yet, Tomac, allegedly, has a soldier injury, so it might not be Marvin's only race win this season.
Q- Chad's situation is tough, he's riding himself into shape and was happy with his night.
DV- Chad showed up at A1 with a sore ankle/foot from a surgery, on a new bike– a Husky if you didn't know… with less than 2 hours it and he's going to turn 36 in a couple of months. If you gather of all this information, his top 15 in the main isn't such a bad result. I respect the fact he loves riding and racing and wants to be out there to race and spend his own money to go race but I wouldn't do it. First because I would have absolutely no chance to do better than what I've done. I wouldn't make enough money for the risks involved and I'd be over training/eating well and practicing 4-5 days a week. I just don't see the upside of it. If I actually liked riding, I wouldn't want to race a SX championship. I'd rather buy a bike and go ride with a few buddies on weekends. Chad will improve when his ankle/foot does and when he gets enough seat time on his new ride. As far as me commenting about riders, friends & family, industry people being satisfied of A1 with mediocre rider, I wasn't including Reedy in the story…
Q- Shane McElrath just took off and won A1 again in a #DeepField…thoughts on that?
DV- The 250 class is always very exciting. McElrath made it boring but for a rider, a performance like the one he had in Anaheim, is a huge confidence boost. He did the same last season though. He rode a great main, holeshot, fastest lap time, scored 26 points and won a big fat KTM bonus check. While the others were dicing behind him, Shane focused on his riding and lines, to check out. There's no glitter or hype around McElrath but if you listen to my cold call on the PulpMX radio show from a couple of weeks ago, I predicted it! Now, I want to see him in traffic around Plessinger, Adam , Savatgy etc… to see the resources he has when he's not alone in front focusing solely of his riding and lines. I think we're going to have fun watching the West Coast series. The line up is great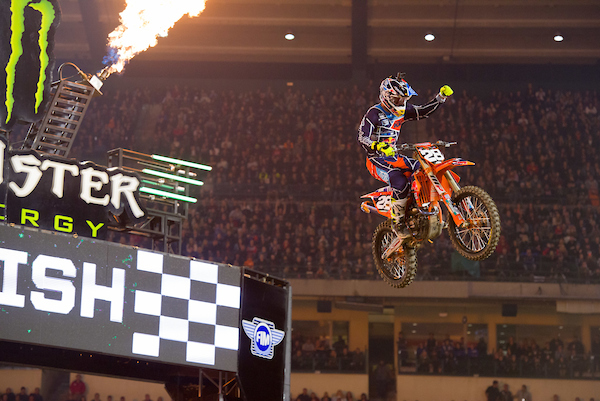 Q- What else did you see in 250's that caught your eye?
DV- I was a bit surprised to see Justin Hill getting the fastest lap time in practice. Obviously he's fast, he's the reigning champion. But it was a big move for him to go to the JGR Suzuki team though it seems like he adapted well. As far as the racing went, Justin couldn't buy a start. I'm a bit skeptical with the performances of his bike. For a lap time where you start with momentum & speed, the performances of the bike isn't super important. In traffic and you have to get a start, that's a bit more challenging especially when you're around people messing with your timing. I don't think the bike is up to par at the moment. It looks a bit sluggish…
Q- What else as far as the TV show or the online stuff from SX did you see?
DV- I don't see much online. I only follow 4 people on twitter and only 3 SX-related accounts. I see what Pulp, RX and Vital post. That's it. From what I saw, gear is still ugly, riders still seat bounce way too much, most of the field need to go back to the drawing board and pull their fingers out of their a***. The track was very generic but whoops were pretty challenging for a first race. Tracks will usually improve and get better with time. The TV show was great. Absolutely loved the dirt bikes and babies in the living rooms with the SX on TV in the background. I found Ralph, Fro and RC a bit rusty but I'll give them a free pass because they've been off for a while. I miss the semis or– more like, there isn't enough racing in that 3 hour window. 4 heats, 2 LCQs and 2 Mains seem short to me. It's easy to be critical and there's always room for improvement but I love that the SX is live on TV, I can rewind or pause when I have to go to the bathroom or get something in the fridge. The filming was actually pretty good. They caught pretty much all the important stuff that happened during the night so I could write a halfway decent column for Matthes. Other than that, I'm excited about SX starting again and watching it on TV or live during the East Coast rounds. I'm so into the technical/riding side of things. I always rewind to see the hands/feet positions, how the riders do surprising stuff, line selection, strategies, decisions etc… But I'm not a groupie, I don't care about parts, ti bolts, magnesium crap, data wires, riders hairdos, riders' wives', purses or shoes they wear or monster girls bra sizes or their new outfits…