How do we feel? It's certainly not the Chad Reed we're used to seeing out there, but you made it through 20 minutes. You got some points.
Yeah, I did. I'm sore already. That's as close as off the couch you can get. I achieved what I needed to achieve. I got here. I felt like I rode well. I was reserved. I couldn't throw down. I couldn't go into the red right from the beginning. It's predictable. I got more points than one of the title contenders tonight, two of the title contenders. So, I achieved what I needed to achieve.
Was it painful? Did it hurt?
It hurt like hell. I'm sure you seen me. I did as little laps as I possibly could do.
I've never seen you ride around whoops so much.
Yeah, one of my favorite obstacles on the track, and I went around them all day long. But hey, it is what it is. Honestly so happy to make it here. It feels like a win just to make it, and then transfer directly to the main, and 15th. The Yamaha days when I came off of my shoulder, it was like you had a full head of steam. I was ready to race. Literally I did my shoulder I think the day or two before I was jumping on a plane to go do world supercross. I didn't lose anything. I never got to train at all. I was starting the Monday after Straight Rhythm. Then I started training and my foot blew up, so that was it. I quit training. I haven't trained. I haven't done anything. It's just been like sun up to sun down, work on the ankle, work on the ankle. We did a good job. I'm really, really happy. Of course, you always want to be better. You always want to ride faster, but for what the situation was I'm really, really happy.
All of us experts were talking about you this week and one of the guys said, maybe he should just take like two or three weeks and do a boot camp and come back in two to three weeks. Any thoughts of that, or just A1 is where you wanted to be? I said maybe he should do that to be 100% ready or more.
The reality is, you line up to get points, and I did it.
No thought of that, then?
Not at all, never. I'm committed. I want to go racing. We sold a VIP experience that's better than anything else out there. You take away from that if their rider's not here. I'm here committed. It's going to suck. It's going to hurt, but it is what it is.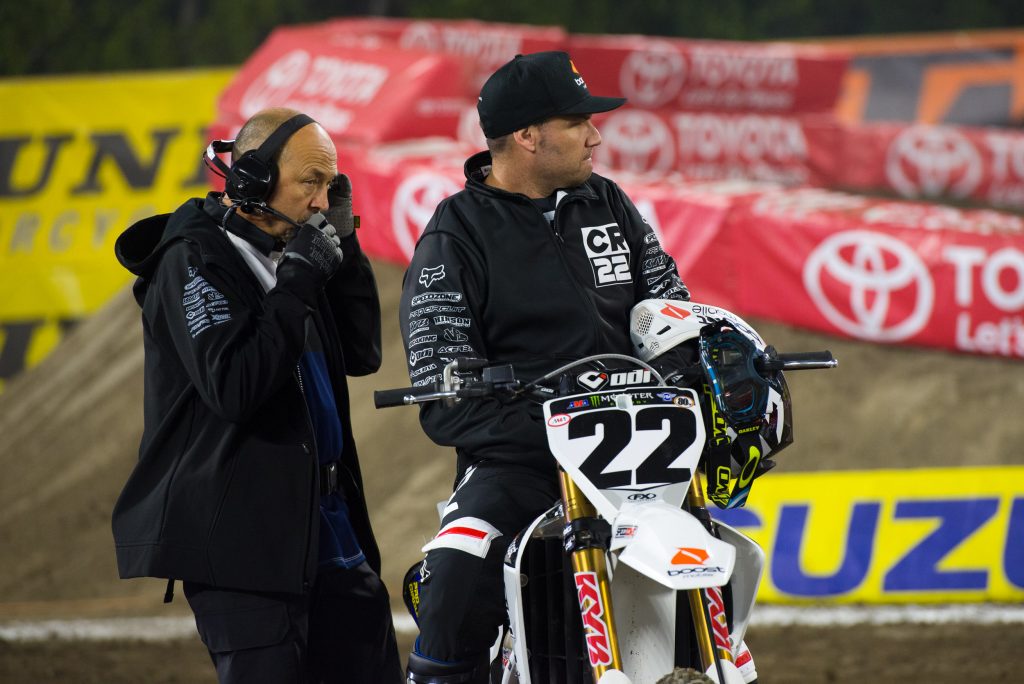 Do you ride during the week?
Actually I just changed plans. Obviously tomorrow morning I was flying back to Florida but change of plans. I'm going to work Sunday, Monday, Tuesday and Wednesday with some people out here. Actually going to go to the Red Bull facility. Just hit it hard there. Right now the priority is not training. You're inner demons, the racer self says "lets get fit," but even if I'm fit I still got to be able to take the pain and whatever. I want that pain to go away and I want range of motion to come back. Then I'll go from there. You look at the big picture. I'm not going to get any fitter between now and next weekend, but I'm really confident that I can work my ass off on getting my ankle better. So, that's where my effort and my energy is going.
How's the bike? Where are we at on that? Are you happy? I saw you got some factory KYB stuff on there. A little different on a Husky. Where are you at on the bike?
The bike's pretty damn good. It's fun. I haven't said that about a bike in a long time. Fun to ride, light. Probably the big thing that stands out is just how light it is. I felt flashes of "wow, cool." Part of the races and some of the turns you get in there and you're like, that's nice. That's what I want to feel. It's going to be a little as I get better the bike's going to have to get better with me. Literally we've been through three settings. They sent me an A and a B to my house. I rode less than two hours in the last two weeks. Then today from riding yesterday, they made a new setting today. So I have three settings. Pretty happy. I think we're in the window. Now it will be just a matter of how fast I progress, and then being smart enough to have the bike keep up with you.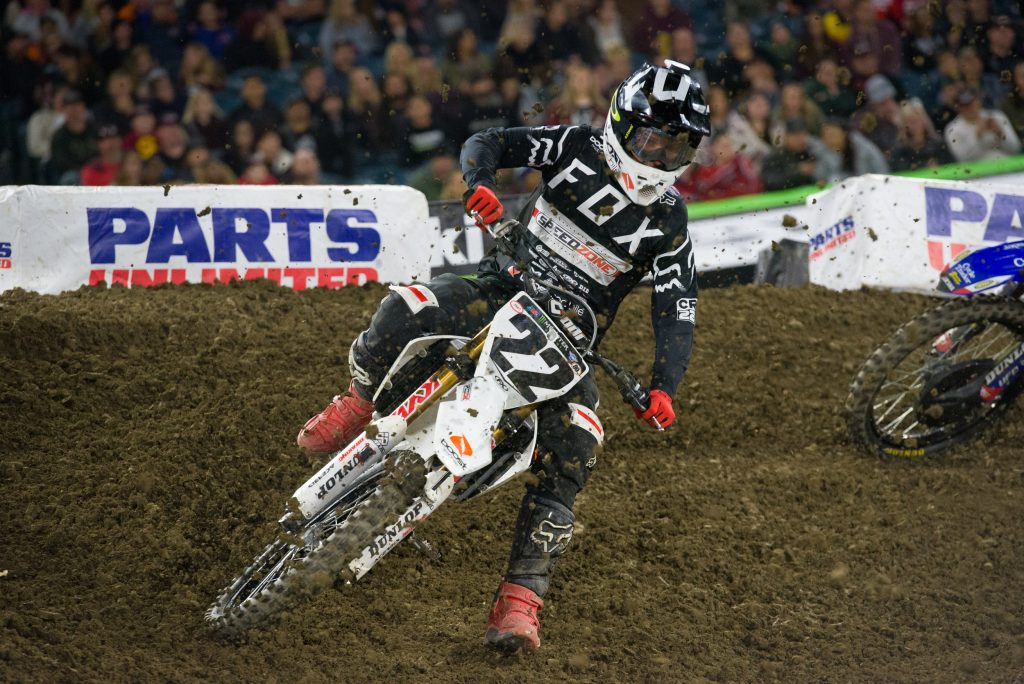 Anybody from Husky checking in on you or giving you anything or offering you or any help?
No. Was I the second-best Husky out there today?
I think so.
Not sure. I don't expect that. I'm happy. I'm happy doing this program. It's good. It's fun. The bike's fun to ride. If they come and see me, that would be awesome. That would be a huge help for me. But if they don't, then we're kind of part-committed. I've already bought parts and bikes. That would be a nice thing for next year, maybe.
You were just sold on KYB from your time at Yamaha that that's the system you want to bolt on a Husky?
My initial feeling was I really want to be on KYB because I like KYB. Then it seemed like it kind of died off a little bit, then we were trying to figure out what direction I would be. Honestly, at one point Bones had some Showa stuff. We tried that a little bit. My bike changed so much. It's crazy. The bike that I'm racing now is nothing like the bike that I picked. Not for good or bad, just because the timing of getting hurt. So it was interesting. You kind of make the decision. I like this Husky. It feels good. I rode that and another bike on supercross. Everything else I rode it on motocross a little bit. Two bikes made it to supercross, and Bones helped with that.
Honestly really, really happy. The bike's badass. I think it's better than people think it is. We're pretty fortunate to have some of the pieces on it. We're good, I think. I think from my personal opinion it's one of the best bikes out there, if not the best bike out there, and KYB being the best suspension. So, good combination.
VIP program something new for you. We talked about it a little bit on the shows. How'd you like it? How were the people? You've kind of come full-circle here where fans were lining up to hang out with you, but at the same time you're a racer, you got your ankle, you got a race. How's all that?
Today was an abnormal day because of the obviously reason of having my ankle and most of my downtime I was getting physio and getting it checked on. Every little bit of time I had I'd go and see those guys. Dan Truman did an amazing job. Kind of blown away a little bit. You look at it, you look at what it could possibly be. But 3,000 emails in I think five days was a little surprising. Personally, we haven't pushed it really because we couldn't keep up with it. We're almost sold out for the whole season already. I think there's 20 places left. If you're listening Tampa, come to Tampa.
That's odd.
It's Florida. Unfortunately, look at the people in the seats. They for whatever reason don't like good weather.
It's good to see you out there. I'm glad you're not pissed off or anything, so that's good.
I'm happy. Making it here. Obviously, the hard thing is actually practice and qualifying for the main event. Once you get into the main event, it's like whether you're in shape or not, it's a suffer fest. It's what it's about. It's just getting to the main event is just a shit show. It's like, can we bypass this and go directly to the main? I'm really proud. I'm proud of my guys. Individually we all worked hard in such different ways. We crushed it.