You're working with Dylan Ferrandis. How's that going?
Good but it's been a while though, I was going to keep it on the DL. I've been kind of helping him since the end of the nationals. He was a little lost with setup and maybe training a little bit and riding too, so we kind of got together. I kind of helped him. I went to Budds Creek and unfortunately he got hurt there. Then he was off for like over three months with his wrist. I've done all his preparation for over three months now. Mid-September we started, so it's been a while.
You're back, DV.
Yeah, doing a training program and stuff like that. It takes time, but I think he's getting there.
I think he rode fantastic last year for the most part. He was really good. I felt like it was a good year for Dylan Ferrandis for sure. Do you anticipate him being 100% by the east coast?
Yeah, I think so. Still a month and a half. I think we're going to need six weeks still. He's been riding Supercross for a couple weeks… riding pretty good. I think he'll be ready. Last year he did okay. I thought he rode with a lot of heart and motivation. He was very aggressive. I think that he compensated maybe a lack of technique and some of the riding wasn't great. He was learning whoops and skimming, setting up the bike, a lot of things. It's kind of like a very mellow type of relationship, I guess. I think he respects what I say. He might be a little scared of me. So, it's working pretty good.
Do you have to go to the races too, DV? Are you traveling?
Yes, two years in a row somebody calls me.
Gets him off the couch.
Then both of them, Christian last year and then Dylan this year, they were supposed to ride west. So west is actually pretty good. If you're helping a 250 guy do west coast, fine. Then there's the nationals and you can do maybe two out of three or every other one or something. But last year GEICO decided last minute to switch and Dylan got hurt, and then it took longer than expected and then he moved to east. So I don't really want to do six races in a row on the east coast.
He's hitting it hard again. You just can't break away, DV.
I know. It's not really a business decision for me on this one. I don't really need the money and the headaches, but I actually like the kid. He's the hardest working guy I've seen. Even myself. He's more serious than me, than I was when I was on top of my game. I thought I was pretty serious. I was doing my homework.
Eating supercross, shitting supercross.
Yeah. Basically it's kind of like the conversation I have with a lot of people like if you win multiple Supercrosses and outdoors in the big class, you did something right. You got to work. The talent thing is a myth. You don't win with talent. You got to put in the work. And I did. I think I worked really hard. I have my own way. I worked with Bailey, I worked with my dad but when I see Dylan, what I tell him to do, he does everything to the T. He does everything, exactly what I say. Let's say I do Excel files for a week program. It's what I want him to do so it could be changed if you don't feel as good, you can maybe tweak it. He doesn't tweak anything. He just does it. I say go 60k or 60 miles on the bicycle. He does 60 miles. I say you have to go 8 miles run, he does 8 miles. He doesn't do 7. It's actually pretty impressive because the image it gives, even me I've known him for a very long time, but I never really spent time with him. I could be his Dad almost. So he was a fan of me when I raced, when he was like 10. He gives this image of being kind of a cool guy. Kind of like a CP almost kind of image. Long hair, don't care. But he's actually insanely serious. Always on time. I was surprised because I didn't know the kid. I had a bad idea I guess of the kid, but when I started knowing him and spending time with him, I'm like, wow he's actually very, very serious.
I hate to give you credit, but near the end of last year you did some bike setup stuff with Dylan, and it worked really well. The team started switching it over to the other guys on the team like Colt Nichols. Nichols was like, "Yeah, we got a new setting Dylan had tried and it worked really good." It was probably from DV setting it up.
I was setting it up from my couch. You know that, right?
No, I do not. You just saw it from the TV and viewed it?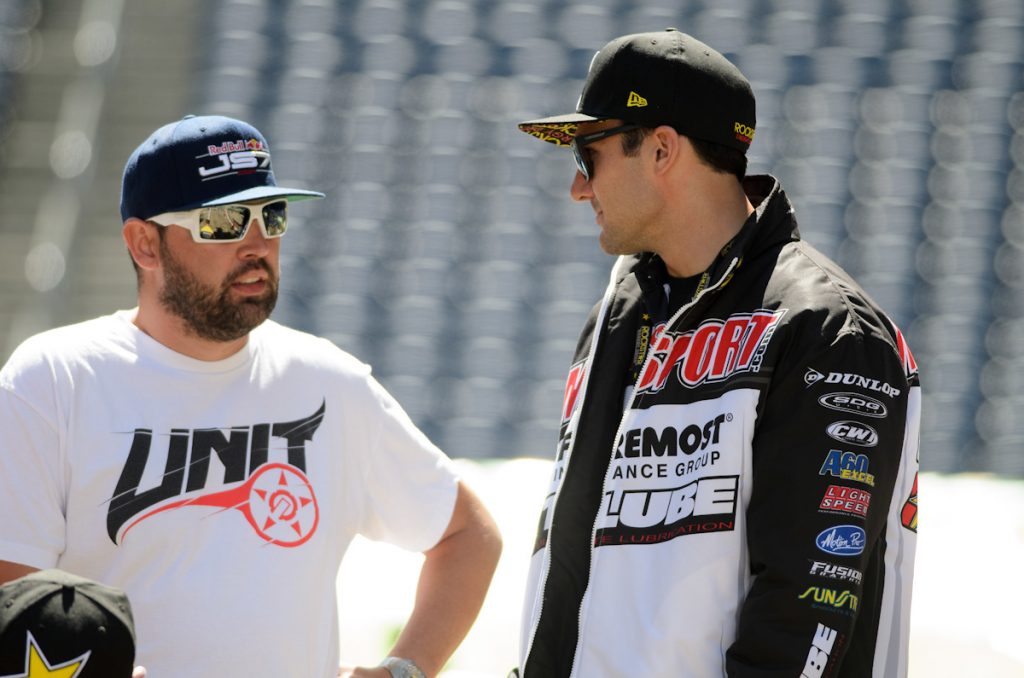 No. Maybe over the summer I went to see him ride, but just to see him ride. Not to say anything. I was like, I'm not going to get into it. He calls me and says, I'm in Paris or whatever, come see me ride. I'm like, okay. I come. I don't want to go, but I'll go, and I watch. So I talked to Brad. I like Brad at Star Racing, he's a cool guy. We talk about the old days with Gautier Paulin when he raced for Star Racing. So I didn't really pay attention to Dylan riding, just a little bit. Then he calls me after Tennessee, he went 8-7 or something. Says, the bike's no good, or whatever. I said, okay, what do you have on your bike? He doesn't know. He doesn't know what triple clamps, what length, what this, what that. He doesn't know anything. The kid can't even change his air filter. He doesn't know. So, he talks to his mechanic and he tells me all the stuff that he's riding with. I'm like, wow, that's kind of out there. I'm like, just try little bit by little bit. Then every week I made him change a few things during the week. Towards the end, we drastically changed a bunch of stuff. More like chassis components. Then he felt the best, I guess. Then Colt Nichols used it and he podiumed the last race and he liked the bike. Everybody has ideas and they keep getting lost, instead of figuring out what the problem is and try and think outside the box to change something, I think there's too many people in their old ways to do things. Something that worked on the Kawi ten years ago might not work on a 250 YZF. So you got to evolve with time and bike, and then figure it out. The thing with Dylan is he doesn't know how to explain what's wrong or not. So, after Millville he says, I don't like the bike. It's tough to turn. I don't feel comfortable. I'm like, where? I know Millville. I raced there many times. Where on the track? What does it do? And stuff like that. So I can get more information from him, just telling him what the bike does and the portion of the track because I've been there. I kind of know how it goes. Let's say the switchback after the start he had a tough time in that downhill after the start, and then the fast switchback kind of chicane type of deal. I'm like, what triple clamps are you using? What this, what that? Then I figure it out and told him, try this for now, try this part right here. Try and see if you like it. So, it's kind of like a long process. I think every rider has a different vocabulary to explain the same thing, or different things. So, you have to understand what they're trying to say, really. When you get to that point, when you understand the language and everything, I think it's easier to improve.
It's funny, because you say that, and I don't know if when you were at Yamaha, did you start ever with the stock bike? I do a lot of production testing, and then sometimes we see race team on the same test days, and when you have a brand new bike, let's say a brand new version of a motorcycle coming out, they already have parts on the machine before they even start riding it.
That's exactly what I told him. Last year he come from a Kawi, he goes on the Yamaha. He started with a mod bike already. I'm like, dude, go ride the stock bike and see what you want to change from stock so you have a base. They never did that, because they were late. He hurt his knee and then he was late in his preparation, so they just gave him a bike and really something that actually was winning with somebody else. You know the bike is good because they won with JMart and Cooper and a lot of guys, but it doesn't fit all the riders. I think they were a little bit behind the eight-ball because of time. It's weird because just like for handlebars, you use a handlebar in Europe forever. Let's say handlebar A. He comes to the US. He doesn't ride with handlebar A. He rides with whatever they put on the bike. So, I go with him. I'm like, dude, your bars are weird. I don't like them. We need to figure out something else, the bend is weird. I'm like, let me see what you guys have. They use Nikken so it's a little different than the part number of the stuff. I tried to figure out what would work and everything. They say, this is similar to a 998 Renthal. I'm like, "that's like what I use, so it might be too high, so we might have to change bar mounts or something. But I like the bend because it goes back and stuff. I like that bend. Then he heard me talking about the bar that I thought was similar to the 998. He looks at me and says, "Yeah, I used that bar in Europe." I'm like, "What? Why is not this on your bike since day one?"
DV freaking out.
I know!
You grab a 998 and you start beating him down with it.
When I hear stuff like this I'm like, am I dreaming or is this actually true? The guy rode with the bars that he never rode with all season.
You're like, you are a professional, right? You're a professional motocrossers, yes?
Just at least when you change the bike you actually put the same bars on it that you've been using for like three years. That might be maybe the first thing you do.
We're talking a lot of Anaheim. What do you see out of Bam-bam, Cooper Webb? Justin Cooper we've been hearing is flying. Plessinger. What other observations from the Yamaha track do you have for us?
I've seen them ride a few days I guess, not enough to give me an idea.
Does Barcia give you a stink-eye?
No, I talked to him the other day. I walked past him and I said, "Hey, can I give you advice?" And I gave him one advice I thought would be better on the track. Then we talked for like five minutes. He was fine. No hard feelings. I like the kid. When he's off the bike in street clothes, he's a really nice kid. When he puts his gear on, he's crazy but he's actually a nice guy. So I talked to him a little bit. He looks good. They ride on the track they've been riding on for a while. They know the track. It's difficult but I don't know who told you Justin Cooper was flying.
Marx has a source over there in the corner.
Oh yeah? Wow. I saw him ride one time. He was really good. On the other track, not as good, but on the upper track, the last day I went he actually was riding really well.
Who's your pick to win west title?
I don't really have one… I'm the kind of guy who says I'm going to wait and see. Whoever wins, wins. I don't play fantasy. I don't want to tell you, "Hey, I told you he won." We'll see. I think obviously it's always the same guys. People don't change. I don't think Roczen is going to be better than he was last year. He will be like 2017 A1 at best. Is he going to be that good? We don't really know. Eli is going to struggle with starts. He's going to catch up. He's going to make mistakes. People don't change. Riders are always the same. They always have the same program, the same people working with them, the same trainers, the same team, engineers, tracks, habits… So, we cannot really speculate on guys coming out of the blue and killing everything. When people change stuff, like Osborne last year, we kind of knew he's going in there, he's going to ride a lot, he's going to train, he's going to lose weight. You know he's going to be better because his program's changed. So change makes you improve. If he would have done the same thing he did at GEICO or before that or when he got to Husky, if he would have had the same program, he would have won both titles last year because change happened. So, when I see all the guys having the same people around, the same bikes, same team, same everything, it's tough for me to say, oh yeah, this guy's going to kill it this year. Because why?