By Ken Catton
When I heard that Milestone S.r.l.— the Italian developer of the last three MXGP titles— was working with Feld Motorsports on developing an all new Monster Energy Supercross title, I was torn. On one hand, you'd be hard pressed to find a bigger fan of moto than yours truly and I've been a huge fan of the MXGP series since the first iteration was released in 2014. But on the other hand, the last one, MXGP 3, was an absolute dog turd. It was baffling. MXGP 2 was a nice addition to a newly established series, with better physics, new tracks and the addition of the Monster Energy FIM Motocross of Nations. A solid list of updates that had a real effect on the way the game looked and played.
MXGP 3 added… wait for it… two-strokes. Oh, and that SMX cup thing that somehow bombed even harder in the virtual world than it did in real life. The servers sucked, and inexplicably, they removed the ability to join a racing lobby while a race was in progress. This left the player mashing refresh until an option would eventually appear, only to end up unable to connect because it had filled up with waiting players. It wasn't good, and it was clear that there was no concern for fixing any of these problems over the course of the game's lifespan.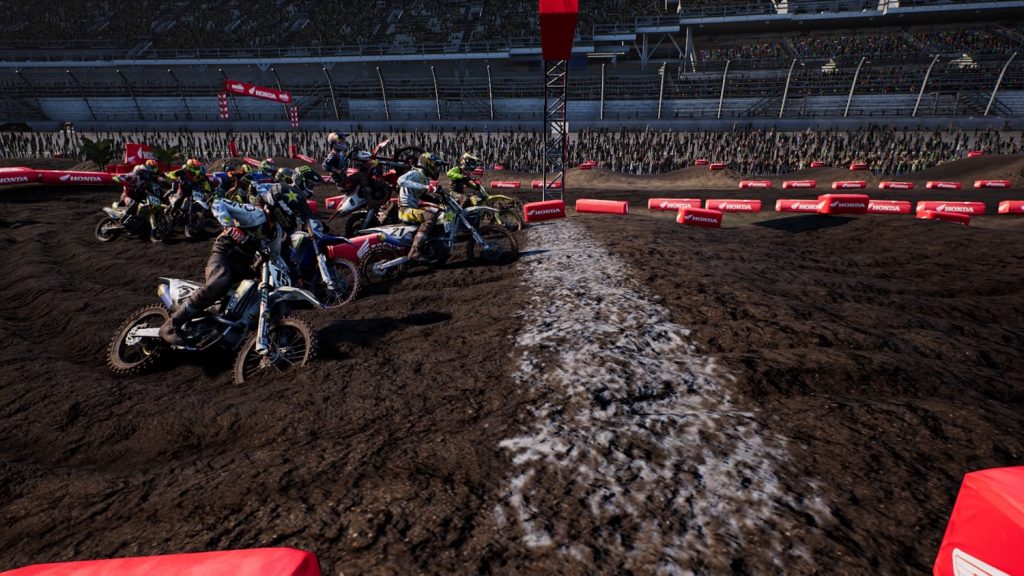 So, when I first saw the game trailer for Monster Energy Supercross: The Official Videogame, I had no choice but to be cautiously optimistic. And very cautious I was, to the point that I refused to allow myself to get excited. I kept telling myself that they were just going to rehash the sketchy (but somehow still fun) "indoor series" mode from the second MXGP game, and then throw around some Monster logos and a few of the top riders from each class of the Monster Energy Supercross series. At most, I'd hoped that they might get the server issues and lobby problems fixed and let the game shine where it always has, banging bars online. I was preparing myself for a let-down, knowing full well that I'd be buying it no matter what. Let's just say, I was taking the Filthy Phil approach; expecting the worst but still lining up, nonetheless.
Well, let's just get it out of the way. I was wrong. As a downright fun video game, Monster Energy Supercross: The Official Videogame came in hot on my low expectations and punted them over the berm, right through the new Ricky Carmichael developed nets and straight out of the stadium. Just like Filthy Phil does on most nights, my expectations were surpassed, but not without some chaos along the way. Here's what I mean:
Graphics, Gameplay and Controls
The first thing I noticed were the graphics. The phrase "bold new graphics" takes on a completely new meaning here with realistic looking machines, gear, and stadiums, as well as dynamic rider and bike movements and animations. The rider's facial models are, uh… not quite realistic, but the helmets and gear look great. And let's face it (no pun intended), that's what matters in a Supercross game. On PS4, the frame rate was stable; not perfect, but by and large, stable. There were a few small hiccups going into the first corner with 20 bikes and a lot of carnage, but I've never had an experience where a rate drop was so bad that it resulted in lost time or positions. The controls are akin to those of the MXGP series in that the buttons do the same things and the various mechanics operate in a similar fashion, but the bikes now move with more precision, and yet somehow manage to be more stable in the close racing action. Bar banging and block passing are no longer a one way ticket to downtown dirtsville as they often used to be.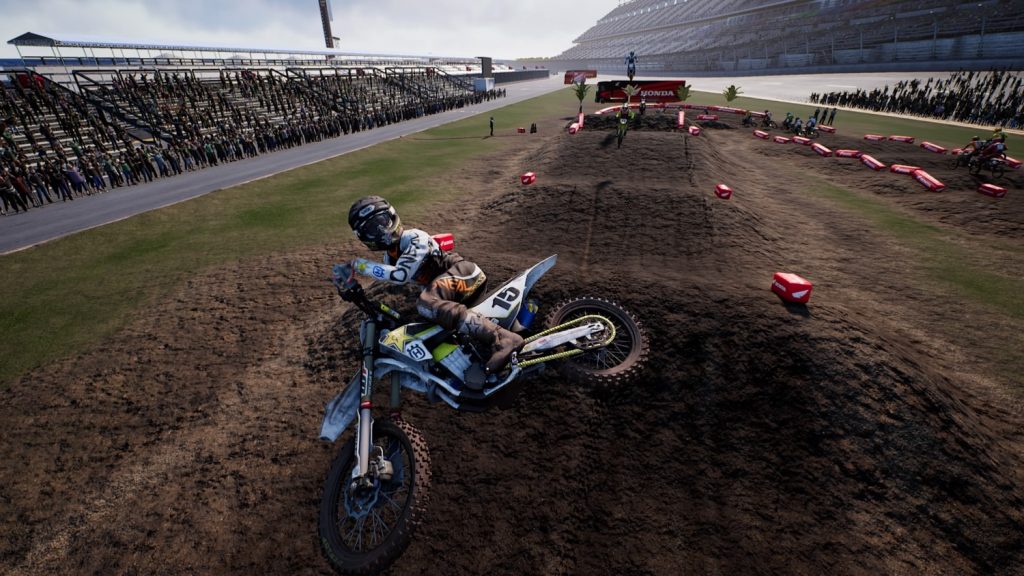 In previous games developed by Milestone, going high into a berm and cutting down frequently resulted in a somewhat difficult to predict amplification of the bikes turning characteristics. This worked well on a motocross track with wider turns, smaller berms and higher speeds, but indoors and at lower speeds, it was very difficult to maintain a consistent line lap after lap. Not anymore. Go high and cut down, rail the outside or just stick to the inside; you're good to go without any unexpected front-end action. The bike turns in a clean and predictable manner, letting you decide how best to set up for the rhythm or whoop section that comes afterwards.
And the rhythm sections are really fun, with various options for how best to attack them. Almost every track has at least one section where there are multiple options for getting through and setting up for the turn at the end. Once you figure out the track, it's easy to feel like Chad Reed out there, piecing things together smoothly with skill and speed. The whoops, however, make it a bit too easy to feel like the old whoop master himself. Just go in straight and on the gas, and you'll look and feel like some of the best to ever do it. I guess I just wish there was more skill involved in such an iconic obstacle, but that's a minor complaint.
For whatever reason, there's something special about lining up as your favorite rider down the line from those riders that you might not be so fond of. As a die-hard Dean Wilson fan, I enjoyed knocking Barcia into the cheap seats at every opportunity that came my way (just because Dean-o has moved on from all those 250 class Bam-Bam slams, doesn't mean I have to). But herein lies one of my primary complaints: there aren't a whole lot of opportunities for bar banging because the A.I. competition is just too slow. After 3 races I was beating the competition at the highest difficulty and the most realistic bike setting by 15 seconds and lapping up to 10th place in shortened race. If you get the holeshot it's easy to check out, but even if you don't, your ability to slam and slice your way to the front is at a super human level. Well maybe not super human level, but at a Bubba-in-his-prime level, at least. Hopefully in future versions of the game they can come up with better A.I. and more realistic bar-to-bar racing offline.
The format is identical to that of Monster Energy Supercross, with heats (and semis, in the 450 class), an LCQ and a main event. Times can be adjusted from short, to medium to long (full length). All in all, the presentation of the racing is exactly what I had hoped for. It feels like what I assume one might feel like lining up for an actual supercross race. The career mode is fun, but somewhat lacking in any real depth. I think some sort of storyline like you might find in the NBA 2K series would be easy to do and add an extra dimension to the racing dynamic. As it stands now there are races, doing well in races awards points, and points win you titles. That's it. I guess you could spray champagne all over your living room if you really wanted to up the realism factor.
Online Multiplayer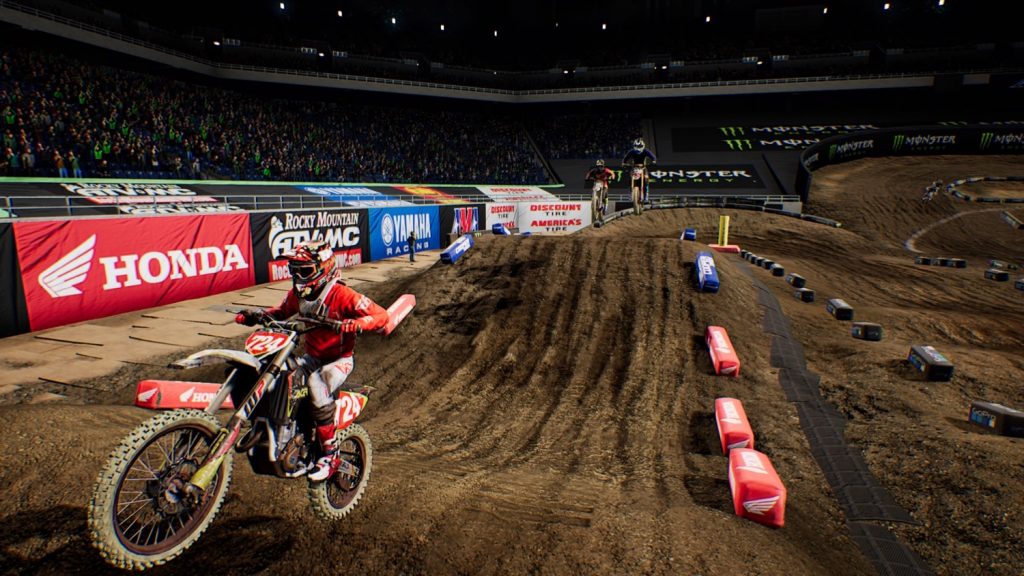 If racing games were a sandwich, online multiplayer would be its meat (there's so much Keefer in that statement, it's scary). It's the cornerstone of any racing game as you'll find no competition more capable of destroying your ego and driving you to get better than you will online. Typically, I don't have time sit down and play for hours on end, so I like to quickly drop in, have a few races, rage quit and then go to bed. This system is now easier than ever with the improvements that Milestone brought into the online experience. First, they brought back the ability to join a lobby that has a race in progress. Not only this, they've developed a new mechanic which allows you to actually watch the race that you've joined. It doesn't sound like much, but watching guys clean each other out and melt down in the home stretch of a race is much better than watching little circles slowly wind their way around a track map. Once a racing lobby is joined, it's the same old song and dance of picking your rider and bike, voting on a track, and in you go. Once the race starts, the same mechanics I talked about above apply. Bar banging is a lot more feasible, and its easier than ever to recover from being shoved out of the way. Fair warning, the online environment is cut-throat, but if you've got enough speed and a bit of skill, you can often survive the contact and give it back as good as you got it in the next turn (with no chance of getting your arm caught in swingarm of the guy who's dating your ex, which is nice).
There does still seem to be some fairly major issues with joining lobbies and being dropped from lobbies, but I'm not sure how much I can really say about this. It could have something to do with my own internet connection (which isn't a problem in other games), but I suspect not, as I have consistently had troubles connecting to Milestone's servers for other things like record and statistic uploading, as well as the track editor. From what I can gather in internet forums, some people are having issues, and some are not, but it seems like more are than aren't. If it is a problem on their end, I'd bet that these issues will be fixed with an update; this process of live testing has become the new norm in video games, and across the tech industry as a whole. As exhibit A, I present to you a certain fantasy motocross/supercross website that has recently launched and improved immensely since it went live.
One thing I have to bring up, is the glaring and egregious lack of local multiplayer. Couch racing has been a big part of my life starting in 1996 with the original Playstation. My brother, friends and I have been banging bars, trading paint, rubbing and racing for over 20 years now in every racing discipline imaginable, and we still love to sit down and compete face to face whenever the rare opportunity presents itself. Going back to my analogy of racing games being a sandwich, then local multiplayer would be the cheese. We all know what kind of psychopath you have to be to eat a sandwich without cheese, right? C'mon Milestone. Playing video games in the same room as your opponent is still a thing, stop pretending it isn't. Also, stop pretending that "videogame" is a word. It's not.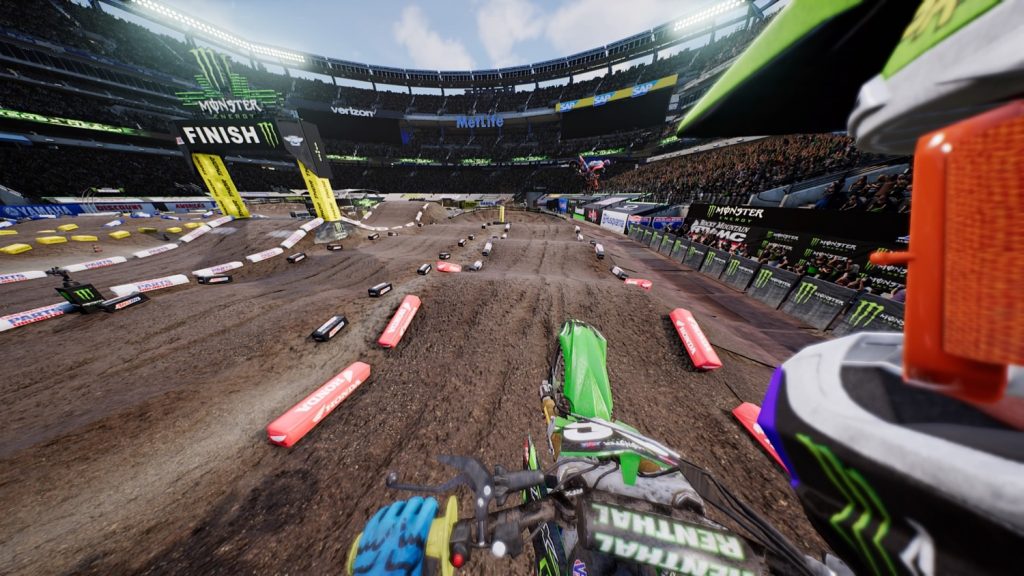 Odds and Ends
One feature that I absolutely must talk about is the track editor and creator. Wow. This thing adds a completely unique dimension to the game with the ability to create some gnarly tracks and to share them with the global community at large. Unfortunately, I can't speak in depth to how this all works because the editor seems to be somehow tied to the server issues mentioned above. I did have a chance to build a couple tracks and race a few user designed tracks from the dark corners of the web, but my ability to even open the track editor itself was spotty and more often than not, would throw a connection error. Again, hopefully this all gets cleared up with updates and in today's highly competitive (and lucrative) video game market, not addressing these issues with the utmost expediency is, to put it simply, not acceptable. If Milestone wants people to look at this game as more than just a decent dirt bike racing game, they need to make sure that they get these issues figured out. This is the new model of video game success, and like every rider out on the line on Saturday night, continuous improvement is the name of the game.
Conclusion
With great gameplay, a realistic re-creation of the supercross atmosphere, good graphics, fun racing and your favorite riders and teams, Monster Energy Supercross: The Official Videogame far exceeded my humble expectations. Then, the more I played, I saw the same old Milestone gremlins cropping up in the form of poor network reliability and server issues. The good news is, this isn't terminal. These problems can be fixed and often are rather quickly in the gaming industry. Its just a matter of whether Milestone plans to fix them. On this front, I find myself right back where I started: cautiously optimistic.
Arbitrary numerical review score: 8.8/10
Ken Catton (twostroker33 on PSN)