There's one thing this season has shown us to be the rule and that is that whatever you may expect to happen, is certain to disappoint you… unless it's an Eli Tomac crash and sloth-like remount and rejoining of the race. The all too common and puzzling occurrence.
It was a glorious day in October of 2017 when the announcement was made that we would see the return of the East vs West Shootout (the term used in the bygone era), where all 250 pilots would line up and duke it out on the Supercross track, like we have recently only-enjoyed in the finale at Las Vegas. It's a little bizarre that we see these dudes altogether for the entire summer in the Motocross Series but when they announce this Showdown for Supercross, they pump it up as being so incredibly rare that it actually feels like we are going Unicorn trapping! It's really a nod to just how much of a contrast there is between the two forms of racing executed on the exact same machinery but with completely different packages for setup.
It's cool! Think about it for a second in the broader sense. What other sport, motorized or other can boast using the exact same piece of equipment or machinery to do battle on two similar-in-surface battlefields and result in such varying levels of supremacy by the pilots? There are of course the legends who find a way to dominate in both disciplines but that's what makes them Legendary. They are the top .01% of those who attempt to forge a name for themselves in this sport and make no mistake, they are the Elite and boast a mental acuteness for focus and determination that is very rare. Even more rare is their ability to execute their focused plan and reel in those multi-discipline Championships.
I'm digressing though, back on task.
Bringing these two regionally divided Series' to do head to head battle near the middle of the Supercross season is a task full of title-swinging possibilities for failure–OR success and the inherent drama is at a peak. The Western Series guys have been testing for Motocross and not in the heat of their points battle for weeks on end like their Eastern Series counterparts. We all know, practicing is not even close to race conditions, despite all the stop watches and bragging going on out at the tracks every day. This meeting of the Regions is 100% in favor of the Eastern pilots to see the bulk of the success…. Ah but remember, I started off by saying that whatever we expect to happen, is bound to disappoint us. It's racing and anything can happen, it usually does.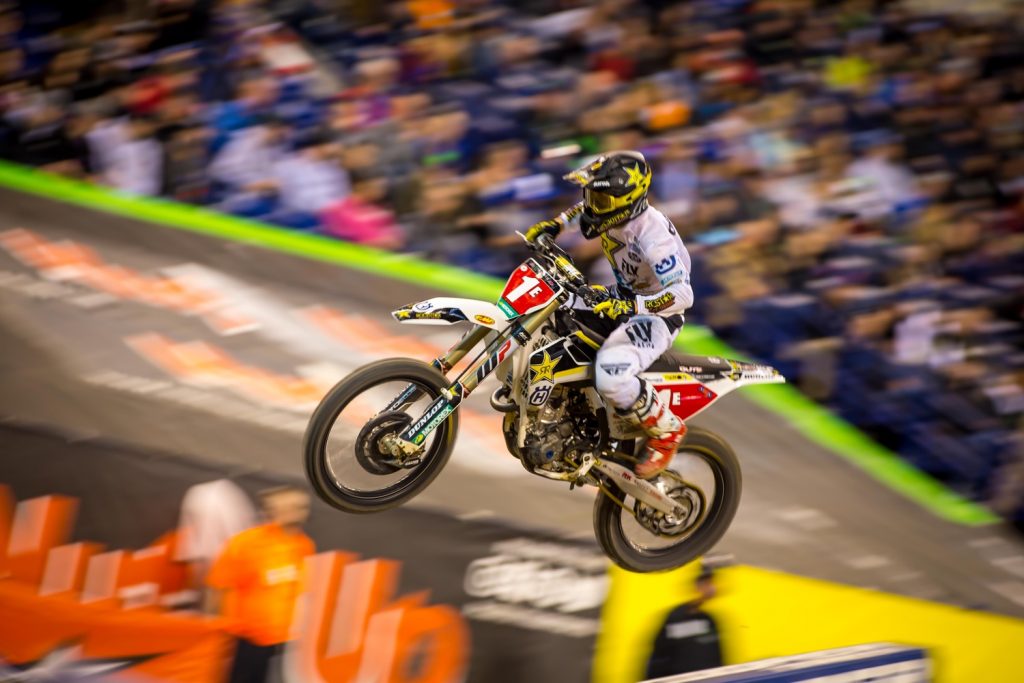 You'd expect Zach Osborne, points leader in the East to come in and dominate with his maturity and ability to reel in the podium from a last place start(which he has done this year). You'd expect Austin Forkner to breakdance his way toward the front because if there's anything Austin does well, it's move forward with an excessive amount of body English and excitement.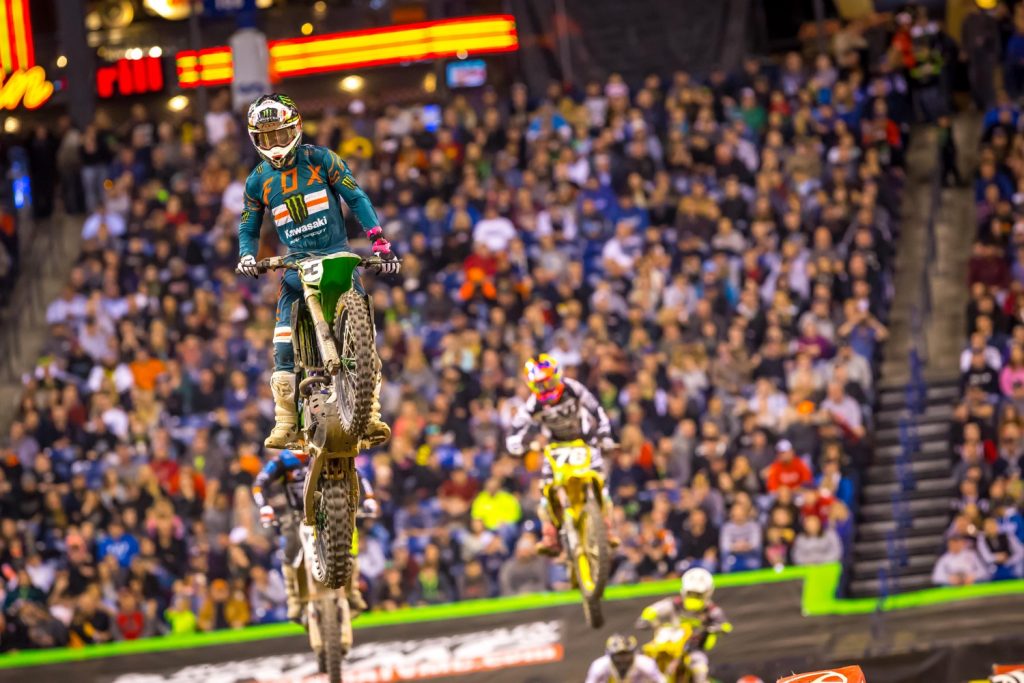 You'd expect Adam Cianciarulo to get a good start and tuck the front while looking impervious to error only milliseconds before his visor is shattered in the dirt (or sent flying if he runs the Fox magnetic deal). Blake Wharton returning from 4 years of rock shows and NOT racing would be expected to see a rocky return to the gates and not make the main event. One thing you would absolutely expect would be Jeremy Martin once again leaving Indianapolis with us asking, "what is it about Supercross that just doesn't line up for J-Mart?"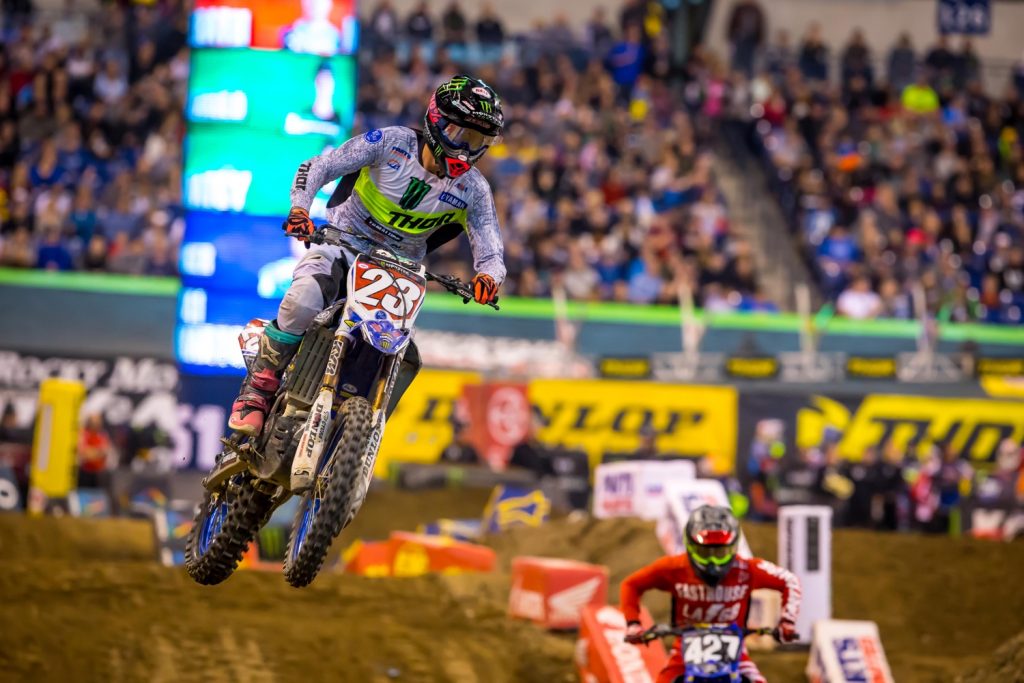 Zach Osborne had a great jump out of the gate but a Tuff-Block put in his path at the ideally WRONG time relegated him to last along with his Western points leader, Aaron Plessinger. Both would ride like the red-plate holders they are to not podiums but points saving charges that retained the red backgrounds that were certain to be ripped from them with their starting positions. Austin Forkner failed to capitalize on Zach's start-woes with his own ride only seeing him finish 3 positions better than his start while the 1E moved past 14 guys.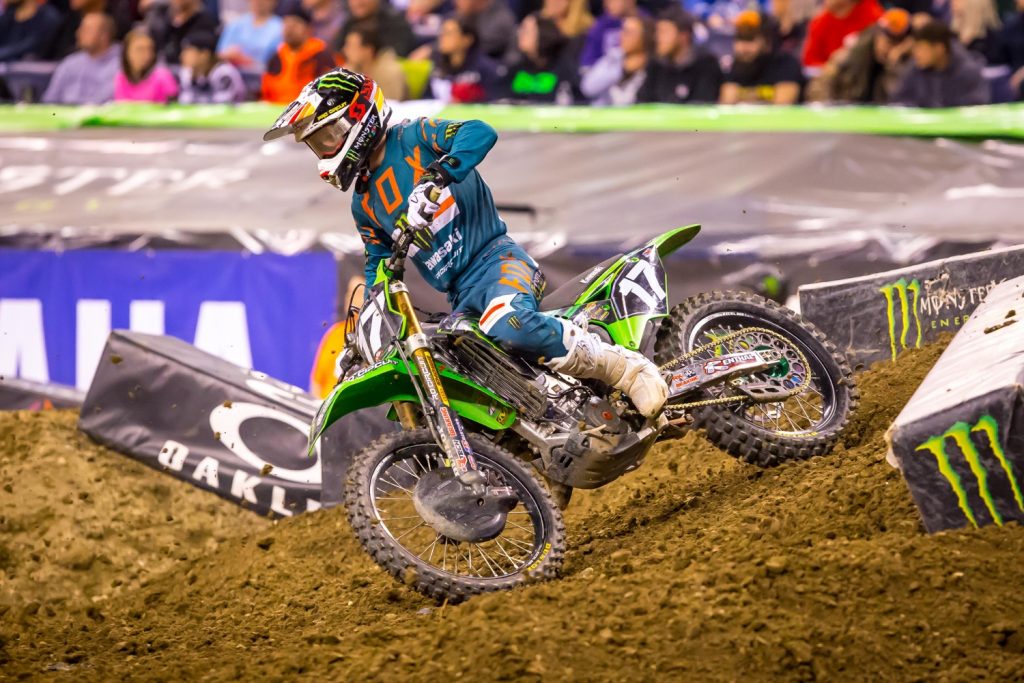 AP's biggest title threat from the West, Joey Savatgy, did some more "Savatgy-type" stuff and finished a frustrating 10th and Adam Cianciarulo's night was great essentially winning after Jeremy Martin's points (but not Win?) robbing jump on the Red Cross flag. AC92 is now only 12pts shy of AP's lead and if you ask me, the momentum is all Adam's.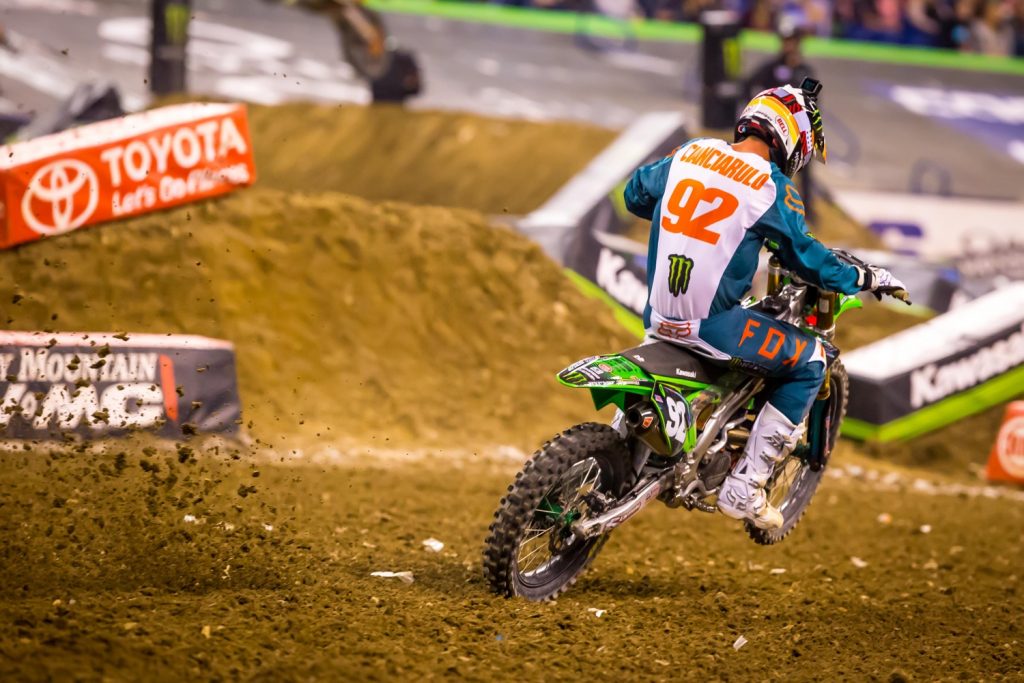 Adam Cianciarulo is a smart dude. We've all seen it since his early interviews as a youngster in the Amateur ranks. The kid just had charisma early, it was natural for him. I still believe he jumped into pro racing a tad early and his sickness at that time really didn't help, especially the fact that they really didn't know what they were dealing with at the time. But that all adds up to who he is now. His maturity and the path to it are all part in parcel to the Adam we see before us now. He went through a pride swallowing and depressive string of injury which is difficult for anyone but when you enjoy the successes he did as a youngster with few injuries along the way and all those expectations, to only see pitfall and failure for years on end; that is tough. If it doesn't beat you down into submission, it only builds fortitude, character, maturity and perspective… with all those traits strengthening over the years since his entrance to Pro racing (and to finally look at home in his full-size body) I see this Western 250 title settling onto the shoulders (fully healed by the way) of AC92 and not slipping away due to those traits.
So apparently being a nice guy weighs in your favor when protested for jumping on a Red Cross flag? Not sure what happened here because the rulebook, as well as past rulings by the AMA have never seen a guy get points ripped but have the record books nomenclature state that the targeted rider retains his "win". Maybe with J-Mart heading out of the class he just dropped to the knee's of John Gallagher and begged "take my points BUT PLEASE LET ME KEEP THE WIN!!!!"… I'm real confused about this but hey if there's one thing we've come to expect from AMA rulings, it's inconsistency and confusion.
The main thing I come away from this East West Showdown thinking is they are awesome! Think about this, if AC hadn't passed Renzland 1/4 of a lap into the very last lap of the race, with J-Marts penalty, Luke Renzland would have won the damn thing! Yeah yeah yeah… IF.
Showdowns. Catch the Fever!