This past Monday night, myself and Vital MX's Michael Lindsey talked about the 250SX suspension rule and whether or not it's working…
Steve Matthes: Tell me this. I was kind of into this when I was a mechanic and I was reading the rules. We were trying to bust some teams, and it never really got that far. We never busted anybody. My Sherlock skills are not good. 250 supercross there's a rule for your suspension. These are not full works bikes, because there is a suspension rule. What's the rule?
Michael Lindsey: Last I checked, there's a max price rule for your fork and shock. They've updated it recently. It was either at $7500, maybe $8,000 at the most, and it's split from fork to shock. I think it was $5500 for forks, $2500 for shock, or $5,2500. Something like that. Basically that's what kit suspension is supposed to be the maximum cost.
SM: Any pro rider.
ML: Any pro rider should be able to purchase it for that price or less. It got a little muddled. It always used to stay a lot of the suspension that 250 teams ran were under that price. One of the main things that's gotten muddled in there is the fact that this is only speaking about a pro rider. So right now say Pro Circuit the A kit that they sell to the public is actually higher than that, but if you have a pro card they have to sell it to you for that price to make it legal.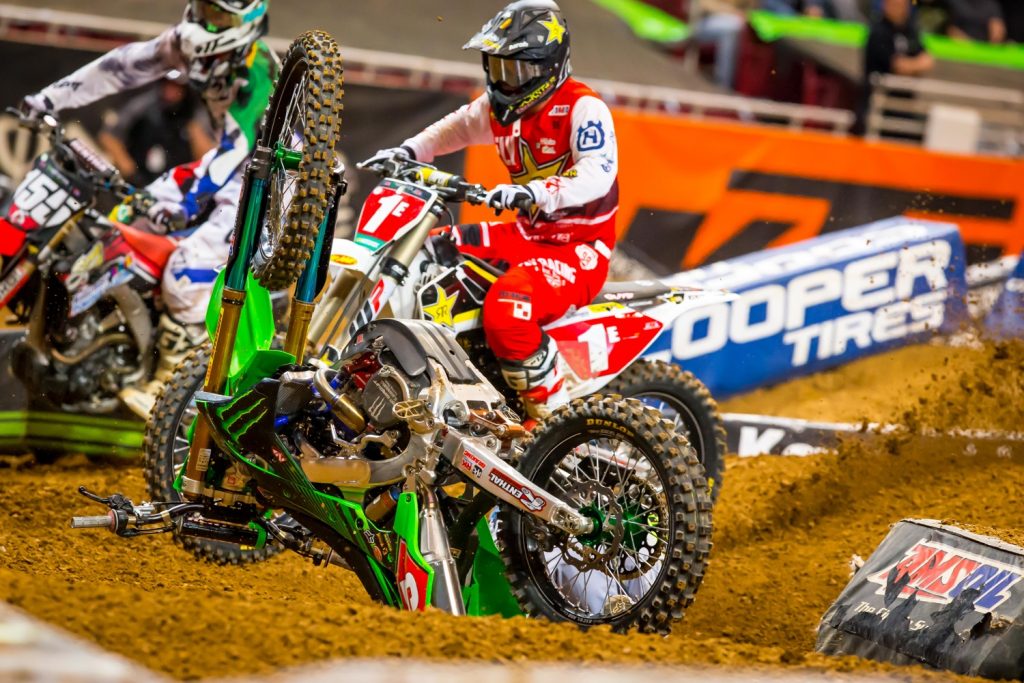 SM: But it's size and tubes?
ML: The only thing that's homologated on the fork is the cartridge on the damping rod is homologated, and then the tubing is, but that doesn't include the lugs, the damping rod pistons, or if it's a [INAUDIBLE 3:56:29] valve. It doesn't include the top caps with the adjusters, any of the floating pistons.
SM: It does include a cartridge rod, though?
ML: As far as I'm aware, it's the cartridge bar and then the tubing. Then the shock body, the shaft itself and the clevis, but the adjusters, the pistons don't have to be homologated either. Then it gets even weirder with pricing. I would say the best manufacturer that I've personally seen follow it is KYB, mostly because their kit suspension is basically production suspension with coatings. Now, Star does have a special top cap [INAUDIBLE 3:57:06] adjusters and a different axle lug which is legal. But the shock bodies are production bodies basically coated.
SM: '18 shock shafts?
ML: They were running some '18 conversions. They're actually back dow not '16s now for most of their stuff. Then Showa is the next step. Now the production forks are up to 49 millimeters, but for a long time production was 47 so they had a bigger fork. The shock body had a bigger reservoir area, had a much larger compression adjuster and they still do. So the shocks are pretty trick on the Showa stuff. They used to be within the price, but now if you try to go to Showa or PC they're actually quite a bit above that price, unless they sell to you.
SM: Do you think pros do that? Do you think some guys go into Pro Circuit and be like, "I want to buy that."
ML: If I you have a pro card, they have to sell it to you for a cost, or if it's somebody buying it for you. And that doesn't include those things like, you need different triple clamps to run it. That's not part of the cost. Or that lower [INAUDIBLE 3:58:00]. For $7500 here's how you get it, but it requires a larger axel because we're on a different axel. That's extra. The triple clamps needed for it are extra. The linkage is.
SM: You couldn't put your stock lugs on some of this stuff?
ML: Some of them will run a wider lug so it needs a different axel.
SM: When I look at these TLD bikes and what they're running…
ML: The WP is the last one. The 52 millimeter fork they've ran for quite a few years, I don't get this one on the rule. I've asked a few people how the heck that works because if you walk in there right now you can't buy that fork, typically. The versions I've heard, I knew a few years back – I can't remember who it was that was here from Mexico. His sponsor kind of like, "Hey, we want to get those for the price." At first he had called WP in the week and they wouldn't sell it to him. Then somehow they went to AMA about it and then they came back, "We'll sell it to you at the price but you have to buy three sets minimum. You have to have a service program." It gets all messy. They're running a fork right now that I can't walk down and purchase for that price.
SM: So how is that legal?
ML: Like I said, the rule is so open-ended, it's kind of gone ridiculous. Even a couple teams, Factory Suzuki did it at one point, they were running full, bullet-bodied Showa shocks that weren't under the price cap at one point until a couple teams complained. Then they went to more of a kit body. It's a really muddled rule that at this point makes no sense. The KYB guys, I still don't agree with the caps, a couple parts they're running. But the majority of all of them have a way their skirting the rules that's just not really right.
SM: I know a few years ago, like I said when I was a mechanic, longer than a few years ago, we saw some stuff and we were like, "Come on, man. That's not legal." Things change through the grapevine. I look at those KTM folks. They look just like what Marvin's running.
ML: It is. Literally the way it works with TLD… WP was a separate company. They had to find a way to make it all work my way. So basically KTM would purchase the materials. Factory Red Bull KTM would get it, and then their units would get passed down to TLD when they got fresh stuff. It was literally a rotation. It would go to TLD and then I would go to BTO or to a team in Europe, GNCC. There's actually a lot of off-road guys on the 48 because the 52 is too rigid. That pro team stuff would get moved down the line to maybe a sub-GP Europe layer. It starts at Red Bull and then goes to TLD next and kind of moves down the line.
SM: So in your opinion, it's kind of a sham of a rule?
ML: It is. It barely works. There's only a couple things. If Showa didn't run the shock that they could… There's a couple little things that some of them are good about not running, but for the most part they're really skirting the edge of the room. It's not really working in its current form.