I want to divide this column into two statements I fully believe that may serve as a sort of common ground amongst both perspectives of this "event".
First of all, Marvin Musquin has a serious case of a lack of self awareness which results in him constantly playing the awe shucks friendly Frenchman act. This is a perplexing position to be in because, as a person, Marvin really is that congenial guy… away from the bike. It's a real Jekyll and Hyde situation, because for as often as we see Marvin handling flat corners better than anyone, and navigating the track smoothly, "the French way"; like a cornered cat, when his back is against a wall, the switch flips and he acts out in every way but nice. We've seen him cross-jump since his days on 250's squeeze guys lines tight until they have no option other than to crash, stop or exit the track. Every instance of questionable race craft was followed by an explanation involving plausible deniability and that engaging innocent smile with the mildly broken English. Face it, Marvin has done a masterful job in making you WANT to like him, all the while that seed of doubt has laid dormant in your head… germinating and now, with his decision on lap 23, that seed has sprouted.
Marvin's likability has been exposed as a diabolical front to disguise his "do whatever it takes to win" race craft. He has unequivocally made decisions which were dangerous but what he did in Boston, was not that. This was a race he lead for 22 laps and felt he had in control, only to see Eli set him up and fly by him with a lap and half to go. Eli's move was the culmination of a race where he tracked Marvin like a sharp shooter before finally striking a clean shot. It's what Champion's do and Eli is doing it without yet being a Champion. It's just another piece of the jigsaw puzzle that is Eli Tomac. Skills, tenacity and speed that is second to none, yet obviously missing some key piece required to equate 450 SX Championship.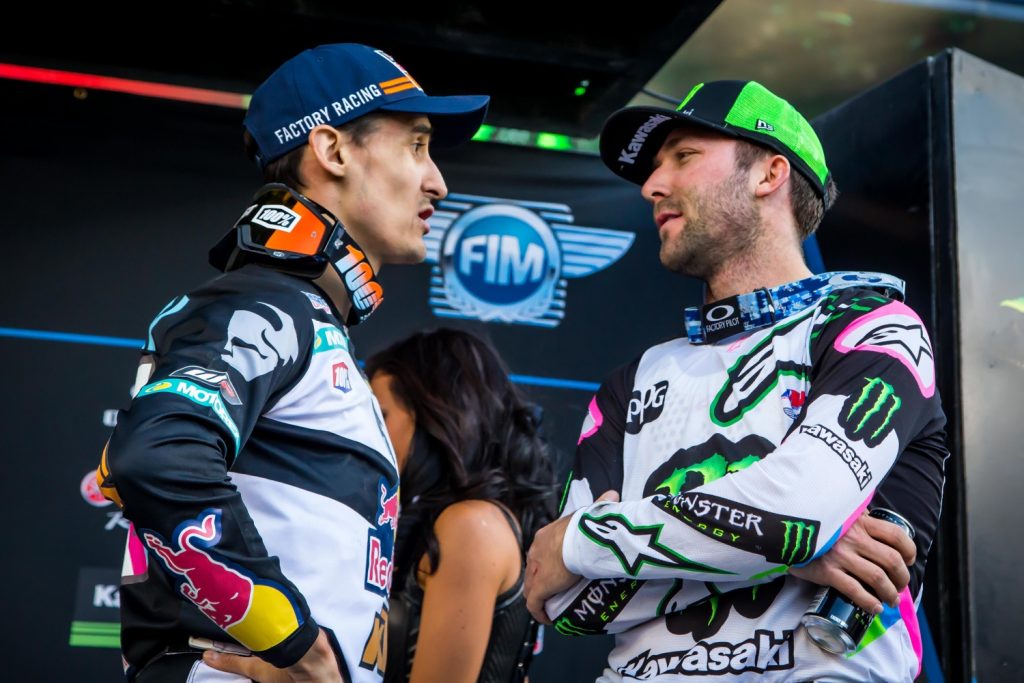 Marvin trying to downplay his intent.
I don't fault Marvin at all for that move, what I do fault him for is his disingenuous explanation of the move. In the Press Conference he hmmm'd and hawwww'd his way through this attempt before realizing that every set of eyeballs in the room was rolling (other than Eli's who were nearly burning lasers into Marvin's soul that even Jeff Alessi would have envy for)… then finally Marvin settled upon "it was a great Main and you know… I just… tried". This was, while not wholly specific, it was about as subtle a description as you could provide. "I tried" is apparently Marvin's way of saying, "it was the last lap of a race I controlled from the start, it was $100k win, I'm still in this Championship, I don't apologize for it because anything can happen in the next two rounds and I am paid to win!
Own it Marvin. I will defend that move under those circumstances every damn time. I will not defend your attempt at not ruffling feathers with these nonsense explanations that absolutely nobody buys or respects.
Eli needs to chill down on his disgust over the move as well as take a step outside of himself and realize how hypocritical he is coming off with the whole flabbergasted by such a move. Does he have a right to be pissed off? Are we rally having to ask or answer that question? Of COURSE he should be mad! He made a clean and surgical pass and it was immediately followed by an unexpected, retaliatory blast from the inside. I'm not getting into a deliberation here over what the definition of dirty is because that's a subjective argument that will never see mass agreement. I'm also not going to itemize a list of Eli's moves in the past that have also ended with his opponents on the ground. We know they exist and no two scenarios are apples to apples so why get into the tit for tat comparison?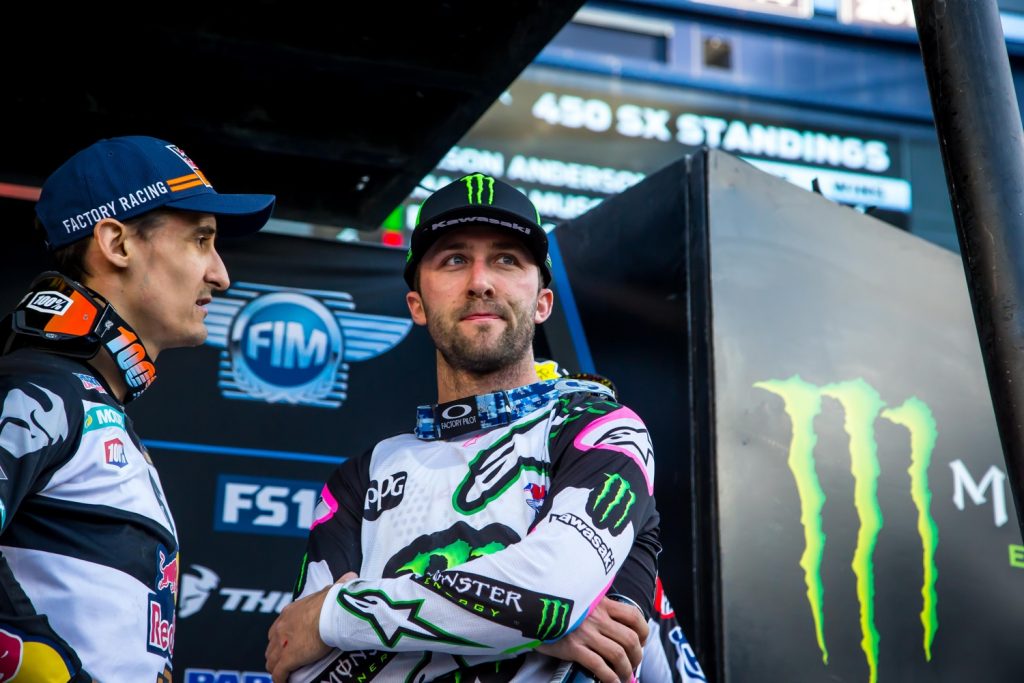 Eli, clearly not buying what Marvin is shoveling… nobody else is either.
What this comes down to for me is, Eli was made to look like a chump by the one guy he has to race week to week who he has no respect for. Ever since Marvin pulled over for Dungey last year, Eli has thought Marvin was a shill. When he passed Marvin in Foxborough, he knew he had his number. He knew he was faster and could make the move at anytime. For Eli, Marvin wasn't an opponent, he was an obstruction he just had to decide when to put aside. When he did, he expected that Marvin would be broken and settle into second place. Just watch Eli as he is rounding the corner where Marvin blasts him. Eli is rounding the corner like he's on a Sunday stroll in a plaid blazer and listening to Classical music. When the #25 KTM makes contact, Eli literally looks like he was shaken awake from a deep slumber, completely unaware. Or maybe like a driver when a deer suddenly leaps in front of their car. He had absolutely no sense of urgency, fight or assumption that there would be any retaliation from the guy he has no respect for. Eli's disgust over this situation is much less about the act than it is about being made to look like a chump for misjudging what he thought Marvin was capable of.
As far as the discussions of penalizing these types of moves? Give me a break. You all live to see this shit in the LCQ's where there is nearly nothing at stake but then you see it occur when there are title implications and you cry foul? What would we be talking about right now without this altercation? Is your interest peaked? Is there a rider out of the series with injury due to it? Has there ever been from a block pass?
ARE YOU NOT ENTERTAINED?!