Photos by Rich Sheppard
Track was dry, hard, a bit rocky and much different from the usual. It didn't look like fun to ride but it was challenging. How do you ride it right and thoughts on the soil?
David Vuillemin- I don't think you have to ride this track differently if you ride the other ones the right way. It's always the same if you want to be efficient in SX. You have to keep your momentum, roll your turns, and evolve with the changing lines & ruts. Obviously, the traction isn't as good as it is in St Louis or Atlanta but it shouldn't affect the riders that much. I actually think if we get a bone dry track in Vegas, it will be more challenging than Salt Lake.
When you raced, would you have liked the Day race format?
I actually really liked Daytona during the day. I think that's pretty much the only race I did during the day. I would think it's better for everyone to race during the day. All the riders are on the track around 9am during the week and do their motos during the day. For the riders from and based on the East Coast, the races on the west coast start at 10pm their time. It's pretty challenging to reproduce that during the week. The only inconveniences I see about the day races are the shadows towards the end of the day. They were pretty bad last weekend in Foxboro. But other than that, I wouldn't mind having day races every weekend. I don't think it would be bad for the sport either because it could be easier to be on network TV if the races were during the day. I'm all for it!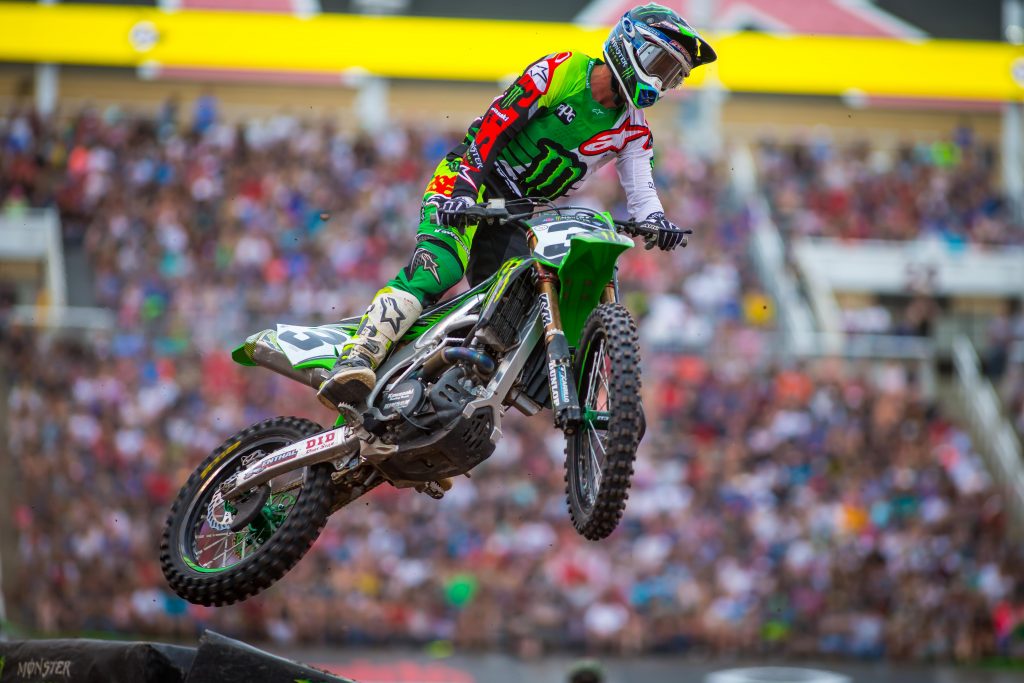 Would Tomac have won had he not fallen?
I don't think so. He was too far back in the beginning. With a better start and the grudge he has on Marvin, maybe, but not the way thing went down Saturday. Marvin was actually the fastest in the main with a clear track and didn't have any bad sections on the track. We can't compare Marvin's riding in the main with Eli's. Marvin was controlling the race and could afford to lose a bit of time to stay safe but he could've turned it up if Eli became dangerous behind. Eli was charging and trying very hard all day. Even in the heat race to catch Peick. I can't say who would've won if those 2 were like in Foxboro but in Salt Lake with Eli poor start, I don't think he could've gotten Marvin had he didn't crash.
If you're Tomac, do you go for revenge on Marv or with the benefit of seven days do you calm down a bit and realize that it was for the win?
I really hope Eli realized that Marvin's move for the win in Foxboro wasn't that bad. I'm pretty confident if you reverse the roles, Eli would do something similar in a last lap. I don't think Eli is going to T-bone him for revenge but I'm sure those 2 will be together in the near future and Eli will be rough but, if he's smart, he won't cut Marvin in half. That would be pretty stupid but we never know. If I'm Tomac and behind Marvin, I would try to pass him and drop him and show that I don't need to make him crash to win. I actually never tried to take Windham out after our Phoenix '04 incident. I don't remember but I'm sure I had an opportunity but never did. They're going to race each other for a long time, they're gonna blockpass themselves many more times and Eli will have opportunities to pass him in a last lap too…
You know Marv was going to be good in those conditions, throttle control and line choice plus whoops got to where everyone needed to jump them. What did you see?
I think Tomac, Marvin and Anderson are good anywhere really. Tracks aren't much of a factor for those guys. Actually, Marvin has a disadvantage in the whoops compare to Eli and Jason. When I watched the 250 main and the 2 sets of whoops that were getting beat up, I wasn't confident for Marvin. But you know what, he actually impressed me. When he skimmed the first set, he was good. When he jumped them, he was also good but that's not new. In the second set, I was afraid he was going to start jumping in them because it wasn't the fastest way. The fastest way was to go on the left side of the main rut and skim wide open. He did just that which surprised me. For me, that was the key of the race for Marvin to go thru both sets of whoops good. On the rest of the track, there wasn't much to do than go fast in the turns and jump like everyone was doing.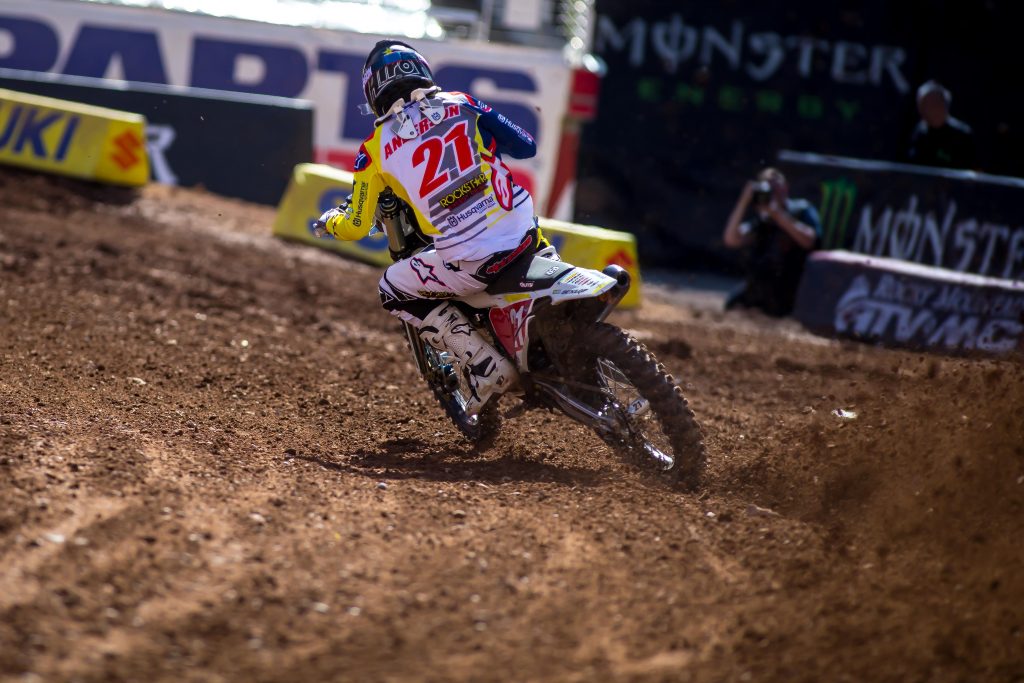 Well, with Anderson's wheel problem Vegas will be a bit interesting right? Could've been a disaster if not for JA21's great riding all year to give him the points lead.
That was obviously a huge turn of events. Jason recovered all year from crashes, bad starts and bad days. He did everything good and salvaged the most points he could with all the different circumstances of racing SX. He lost 20 points Saturday which is huge but it's not a bad position to be in to show up in Vegas with a 14 points lead. If he only had a 10 point lead before Salt Lake it would've been a disaster. Today, he has to be thankful about himself and the way he rode all the way before Foxboro. Foxboro was pretty much the only race where he did a "Dungey" (ride safe to score points. (I think he also did that in one of the last motos of a Triple Crown where he got 4th).
But overall, he always rode to get the best results since San Diego where he had a 40 point lead on the next title contender. It turned out to be a great strategy after what happened in Salt Lake. He's still comfortable and will need a top 10, if Marvin wins, or a top 13 if Mavin gets 2nd in Vegas to clinch the title. I'm still questioning if the wheel needed to be changed or not actually. He lost a lot of time doing so and maybe he would've lost less time riding safe with a busted up wheel than stop. Also, I'm questioning if you're the Husky team, how you let Wilson get a 13th when your main guy who is racing for the title is in 17th. If I'm the manager, I'm telling Dean to go to the semi with 5 laps to go…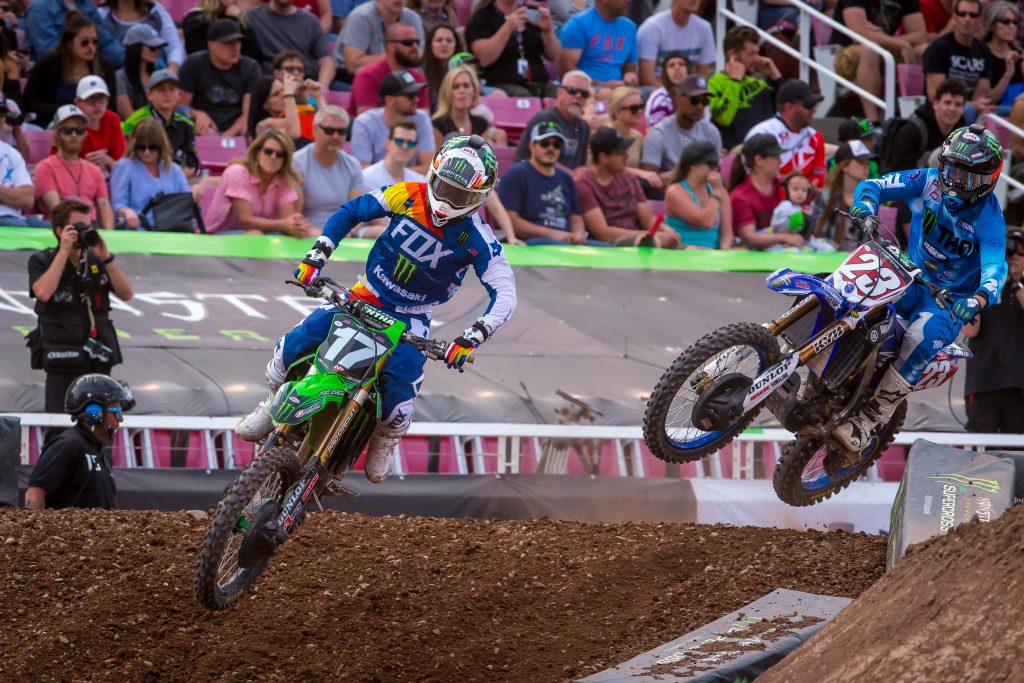 Great ride from McElrath to pass 17, 23 and 92 and take the win. What did you see in the 250SX main event?
I don't know if Shane rode great or if the others didn't ride very well. To me, McElrath rode like he knows how, nothing extraordinary. He rode well, took the lines he was supposed to and raced. I'll give a pass to Plessinger on that one because he's the championship leader and I'm sure he doesn't want to throw it away with a race to go. But, he's known to be good in tough and rutted conditions. He should've won that race to had he picked the right line because he was second off the start. For Joey and Adam, how do you keep going in that deep rut in the second set of whoops after McElrath blew by both of them skimming out of the rut? They stayed in it for the whole main except maybe the last 3-4 laps. McElrath was leading on lap 9. Main was 19 laps. That means from lap 9 to 19, Joey and Adam stayed in that rut at least for 6 extra laps after McElrath pass them… At one point, they have to use their head…
Anything else? Ferrandis recovery update?
No riding yet for Dylan. It's been just over 7 weeks since his surgery so he still has to wait a little longer to ride. We've been training for 5 weeks now. He's getting better, stronger but we're pretty limited with his arm right now. He's been running, bicycling and I like the physical stats I'm seing. No return to racing date is set yet. Hangtown is a big question mark for now. I'd rather see him come back when he's 100% which wouldn't be Hangtown but you know how riders are, they want to comeback asap and score points…