You were in the top five and you fell on the second lap. From there, your whole Salt Lake City supercross kind of sucked, huh?
Yeah. I was just getting over it. Thanks for bringing that up. I got a good start and just second lap threw it away. Lost the front. I felt like I had a good rhythm going and then obviously like I said washed the front and then from there it pretty much sucked. I rode like crap. I was frustrated and just pretty much threw it away. I couldn't wait to get on a plane out of there.
How were the whoops sections for you? That's somewhere where you normally shine. They looked tough for a lot of guys.
Yeah. The heat race and then the first couple laps of the main I felt like I had a good rhythm, and then after I kind of lost my way a little bit. It was tough when you were coming through. I literally couldn't see half the laps because they were so dusty. I couldn't even see. That was probably made them the most challenging is just not actually physically being able to see them.
It looked like it was muddy in practice I guess, is what they were saying, it kind of got dry and hard throughout the day?
Yeah. Todd was on my flight and obviously he was kind of hinting on how frustrated they were with the track conditions for the Fox TV show. You kind of got the feeling that they were going to massively overcompensate for the week before. But unfortunately I kind of think that it was worse than the week before. Not to give them too much of a [INAUDIBLE 32:29], but I don't know what they could have done extra. It was so windy right on the—I want to call it the night show but obviously it wasn't at night. The racing program was just the only real time we had wind. We had wind all day, but not like that on the floor.
What are you going to do, right? Let's give those guys some credit here. You throw water down. You've got terrible wind. You've got hard-pack dirt, by its nature. What can you do?
I personally don't know that I have the right answer. I feel like whenever I bust their balls I have maybe something that I would recommend, but in this case I don't know what more they could have done.
What's your feeling on day races in general?
Hate them. I love the schedule and the fact that you're done. I really like being done at 8:00 and kind of back to my hotel by 8:30, 9:00. Love that part, but everything else I think is lame. I think walking the track at 6:30 in the morning… Couldn't think of anything worse. I feel like if you're going to do it, they need to tweak it where maybe our main event is at 8:30 at night, where you kind of get that depending on where we are in the country whether it's dusk or it's night. I just feel like for me being around and experiencing night races my whole life, I just feel like day races have zero atmosphere for me. There's just nothing there. I feel like that's practice, not racing.
They definitely lack atmosphere. They lack excitement.
But I do enjoy the early departure and being able to get a decent dinner and get a decent night's sleep.
When you look at TV ratings when they're on Fox, the main network, they really do kill it with ratings. We're exposing our sport to more people and I guess that's a good thing. That's always a good thing. Hard to complain about that.
It'd be interesting to know the real facts behind the numbers. I think no matter what, you're on INAUDIBLE 34:47] network anyway. You're rolling over NASCAR. There's so many things that contribute to that, but I don't have those numbers in front of me.
I talked to a TV guy. This guy wrote a column for me on PulpMX about ratings. His job was to watch TV ratings, to look at advertiser benefits and things like that. So he's a really smart guy with TV ratings. It seemed to me, TV ratings were like accounting. Like, what do you want it to say? What do you need it to say? I'll move these numbers around. I'll pick which number I want. There's different ratings for different age groups and different sort of improvements. There's people that have these people meters, and there's other ways of doing it with Nielson.
Even sponsors and stuff, GEICO uses George Julius like it's the most amazing one to use. It gives you all the numbers you want. It's probably why they're in our sport for so long. Kind of like what you said, it's like whatever you want the number to be you can get it there.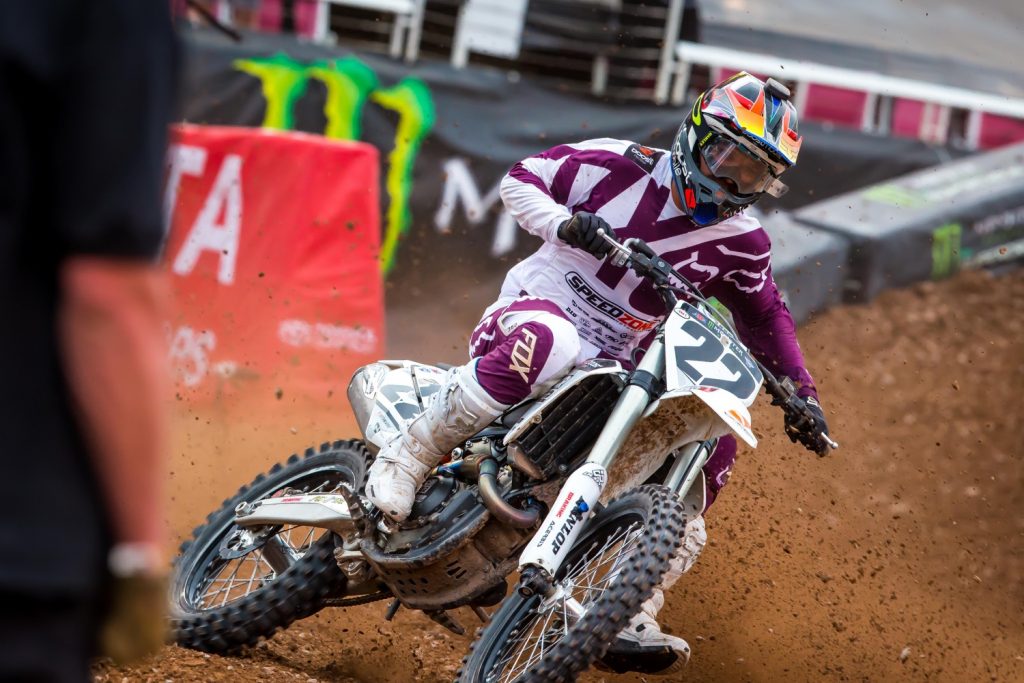 How's the factory edition bike? I wrote this column about how the season's over, there's three races and there's not a hell of a lot for you to gain in the points or anything like that, and yet you go out and you buy this bike and you ship it to Boston because you think it's going to help you do better. That's all you cared about, is that it's going to help you do better. So, how is the bike? What do you like about it?
It's better. Again, just to basically echo what you just said, I wouldn't have went through the effort and shipped and spent the money… It cost me ten and a half grand to buy the damn thing. You don't just do that for the hell of it. I felt like it was a good improvement for me. On paper it hasn't really shown, but I feel much more comfortable. I think this weekend I was in a position to probably have my best ride of the year, but I threw that away on my own. Last week I felt like I rode well last week. All day I just felt more comfortable. Main event just didn't get the greatest starts. Actually I crashed in the first turn and came back to tenth I think. So, I'm happy. I look at it the opposite that you do. I feel like I had nothing to lose.
You had money to lose.
Easy in, easy out. For me, I wanted to see what it was like in race conditions. Obviously I'm thinking about what I want to do for next year. I don't plan on racing the nationals, so these last three races are my indication of where I need to be at with the bike. I like it. I like it a lot. I really do. I think it's a big step forward. It's a big enough improvement that I put the guys through a lot of work. For me, I guess the easiest thing is coming from somebody's who has rode jet bikes my whole life, it feels more normal. I really liked the old one, to be honest with you. Obviously that's the bike I chose. But it did certain things that were weird to me. I didn't feel them coming. I didn't see it coming. It just did odd things. This bike doesn't do that. It feels more normal to me. What I see is what I get. So that's the reason for pulling the trigger and going racing.
You talk to anybody that's ridden them back to back and no one will tell you that it's not a better bike, the factory edition. Everyone will be like, "that's a better bike." It's universal, whether you're a test rider…
Obviously I don't read magazine reports and pick my bikes off those, but for me, I really felt a big difference in the weight. Obviously when the cylinder almost sits three inches lower, I'm assuming that's a big part of it. The gyro effect and the inertia of a 450 and everything moving, the lower you can get the weight the better. That was one of the biggest things I noticed right away was just how much lighter. Coming from a bike that felt the lightest bike that I'd ever rode anyway. What really impressed me was the fact that I never felt that the old bike was heavy, and then suddenly this bike felt lighter than the old bike, so that was pretty impressive.
On the subject of bike setup, we mentioned that Salt Lake this weekend started off really muddy and then conditions went south pretty quickly. On a day like that, how many different tires do you run through trying to kind of chase the track as it changes? Do you stick to the same one regardless?
Spec tires. I haven't changed a front tire or a rear tire all year long. Same ones all the time. But mud, even in Daytona didn't change it. We don't change tires anymore, at least I don't.
What are you doing for this summer? I saw you're going to make an appearance at the Italy MXGP? What else you got going on?
Yeah, going over there. I'm not racing. Everyone seemed to think that I was racing. I'm not racing, just going over. I'm going to go to Mugello. World's best sport, MotoGP. You should go one time. I'm going to go to Mugello with the family. After that I have a car test. I'm going to do the Mondo rally at the end of the year in December. I'll be Cairoli's teammate. That will be fun. Get to go over there and be TC's teammate, do some rally cars. Then I think I have that weekend off, so we'll go to Italy and then the MXGP and then we'll head home. Honestly, I'm kind of just excited to kind of have some fun. Last year it seemed like I was in a different space. I couldn't wait to finish Vegas and basically pack my bikes up and send them back. This year I'm excited to just ride. I don't care if it's going and riding with my friends on motocross, whether it's Chiz or maybe go over to the nest and ride with Kenny and the crew over there, Chase and everybody. But I want to ride a little bit. I want to stay in shape, and then start prepping for my off-season. I have a pretty exciting off-season coming up. Can't really announce anything at this point, but I definitely will be busy this off-season for sure.
Because you're Chad Reed and you've been around the sport forever and you're not shy to hold back your feelings, a couple of topics I wanted to touch on with you. Number one, that pass Marvin did on Eli last weekend. Of course we talked about it for hours on all of my shows and I wrote about it and we all weighed in on it. A lot of racers I talked to, including Josh Woods and Castloo here in the studio, said they would do the same thing. Where do you stand on a move like that? Either for the win or outside of that, and whether you get fined for it, or whether you should do anything? What's your thoughts on that?
My personal opinion is I just think there's always a gray area, where in this case I don't think there is. I think it's black and white. Think that if you're Team Eli you're pissed. You think it's dirty. I think if I'm Eli, I'm pissed. I think it's a gnarly move. But then I think that if I'm Marv and I see an opportunity, you got to take it. You never know what's going to happen in any opportunity in a racing situation. I feel like it's so easy to sit on Twitter, Instagram or whatever it is, on your phone, behind your keyboard and judge. But things are happening very fast. I for one rode the track and never seen that pass being really even doable. When I watched it on TV, Marv is a way back. Marv must have… something clicked. You got to give it to him. He committed 100%. The fact that he didn't crash in that situation, is pretty damn impressive. So I don't feel like there's no right or wrong. Do I think it's dirty? I do. Would I do the same thing? 100%. I wouldn't shy away from that. I think that when you look at the situation, Marv's fourteen points out of it, and that would be three more, it would be seventeen out of it. I feel like when you see an opportunity like that, and only as a racer you can judge that, you got to make that best judgement. I feel like in his case, he made the pass. He didn't go down, and Eli did and he won the race. I'm sure his $100,000 check cashed just fine. Life goes on.
If something happens this weekend and Marv wins this title by three points or less, there you go.
The only reason I know is because Truman is all into those stats. But I believe Truman said that now Marv has more wins. So even if they tie at this point, Marv would win because now he has more wins and things like that. It's never over until it's over, whether it's championship or race. There was a half a lap to go, and I just think that Marv seen something that no one else seen and he pulled it off. I think in Eli's defense, Eli's on the very inside. Probably the last five laps of the race we all started going on that line. I don't think that Eli sees it coming. I don't think that he can protect that. I don't think you can protect in that situation. So he's vulnerable at that point. Marv seen an opening and went for it.
It was great for KTM to pitch in with Anderson's wheel this weekend. It was fantastic to see that.
I haven't watched the show, but I seen on Jason's Instagram, I think it was Jade. Jade threw a stand under the bike.
We know they're the same team and everything, but It's just a little weird to have the second place guy in points team help the first place guy, on a different brand.
I feel like that's an individual choice at that point. When somebody comes flying in at you like that, I feel like that's a reaction to just help. They're all buddies. They're out of the same shop. I don't know that behind closed doors that that's an acceptable thing. I would think that Roger and Ian and those guys and Pit would like KTM to win over Husky. That's just my opinion. I feel like that's Jade being a good person and from the heart and sees somebody coming in and his natural reaction is to throw a stand under a motorcycle that is basically yours.
I just as a long-time guy in the pits, a mechanic too who didn't like Honda guys and didn't like Kawi guys…
I think we grew up in that era. I'm sure you've seen the same video that I did, but Lars was in the background with his Honda shirt on and holding a stand. He sure as hell wasn't throwing a stand under the bike.
When your power valve jacked up on the line, and your cylinder base nut came loose, I remember Goose coming over there with a wrench and being like, "Hey, guys!"
They did the opposite. I remember Ricky calling the AMA guy and pointing to his watch, like "come on, come on."
Again, more topics of our sport. We need drug testing, I believe, but I don't know if we need FIM involved and using WADA and what Tickle is going through. Clason still doesn't know when he can race again for a TUE violation. We know what happened to Stew. Certainly they deserved some penalties. They did the crime. Tickle is going to be out for a long time though. What's your thoughts on all that process? I guess you could just say, don't cheat, or don't get caught. It sucks. These guys' deals are going to be real serious for their careers.
Obviously, I've kept out of the Twitter rant that you guys have been on. I don't know that I'm on your side. I really don't. I don't know enough about all the cases to make real, solid comments. I feel like everyone does the same test. We all know the rules. You know the barriers. You know what you can and can't do. Everybody, and I'm saying everybody, that was in a 450 main event has been tested this year, and only one got busted. Again, I don't know enough about it. I don't know the situation. I don't know what it is that he took. When you start talking drugs, there's so much to talk about. I don't feel that any of us are educated enough in that area to make comments and comments about people that actually control that situation and who has to be the bad guys in that situation. Everyone's putting a lot of pressure on the FIM and things like that. I don't know. Am I a big FIM fan? Not necessarily. I know that all my dealings with them, they've been professional and they've been fine. On TUE's and things like that, they've always been responsive. In my opinion and my experience they've always been okay to work with. I feel like in any situation when you're dealing with somewhat of a crime that you're caught on, it's kind of like it gets handed off from the FIM and then the next minute you're dealing with the WADA company. So I don't know. I'm really actually if anything really, really surprised in the support and the people that are okay with the crime and that it's just like, let's free whoever it is. Let's free the rider. I'm actually really, really shocked and surprised that that is the general outcome. I feel like that becomes more rider, depending on who that rider is. James didn't really get "free James." Pretty much everyone wanted to hand him a shovel and help him dig the hole. I don't have a whole lot to say other than I'm really surprised in the quality of the person making the comments that I'm reading, and then as educated as those people are on our sport, and the things that do happen, can happen and all those things, and then the comments that they're making. I'm really quite surprised.
I think the bottom line – and I don't believe this – but there certainly is a percent chance that Broc was absolutely cheating and trying to take an illegal substance. I don't know if I believe that, but I don't know he wasn't. That could absolutely be the case here.
Yeah, and by no means am I saying that I think Broc was doing that. I just think that clearly something is wrong. Like I said, every one of us was tested. I was tested the Thursday night before. They showed up at 9:30 PM at my hotel room.
You were on the watch list for like two years, or two times?
Normally you're only on it for one year. I was on it. I've been on it a couple of times. This is like my third or fourth time being on it maybe, actually. It's kind of a pain in the ass. My accountant, Katie, I have to basically give her all my hotels, all my flights, and everywhere I am 24/7 they need to know where I'm at. But it is what it is. If that's what it takes. Do I think it's fair that I'm only one of maybe four of us in the class that are doing it? I don't think so. I think everybody should have to do that. Honestly I kind of wish the opposite. I wish that we were tested in the off-season. I wish that randomly they would show up at the people's houses, during hardcore boot camps. If anything's happening, that's when it's happening. I just don't think that showing up on a Saturday before a predictable race weekend, you're not going to catch anyone doing the good shit at that point.
I had noticed since mid part of the season you've been running a stock fork, or at least a stock external fork. Still working with a lot of amateur kids and kids that are trying to race nationally or national level, they all think they got to have kit suspension and super, super expensive stuff. I'm always trying to lean them away from that. Spend their money elsewhere, or buy an extra bike. Kind of cool seeing you do that. Obviously, we don't know what you got internally, but cool to see that. I can kind of point guys to you and say, "Listen, you don't need it necessarily." Riding for some good teams myself, the kit fork wasn't always better. sometimes the stock fork worked better when a little bit more flex helped.
I think that each individual bike comes with pretty damn good suspension these days. The KTM and the Husky come with an air fork, which is not my preferred fork, but for an air fork it's actually quite impressive how good it actually is. Then basically we're just using KYB kit internals. They bolt right into it. Then the shock is basically just a production shock with a PC bladder system and a Showa-style shaft. So it has a check valve in it. Basically it's all pretty simple. That's really just more what that bike wants. If I had access to 52 millimeter forks, I'd probably prefer to go that route, but I don't have that access. Like you said, it's amazing what you can make the good stuff these days. Obviously Showa kind of took a step away and started doing the SF air fork. Now basically their Honda fork and things like that, it's basically a kit fork nowadays. That's how it comes.   
The Suzuki and the Honda are tremendous forks right now.
Yeah, really, really good fork. So these days it's not about the actual product, it's more who you got tuning it, in my opinion.
It's pretty clear that you probably only got maybe one or two years left. We're all getting a bit worried down here, because we don't have another Chad Reed. What are we going to do? What's Australian motocross going to do to get another Chad Reed?
I don't see another one coming.
Hunter's good, but he's not Chad Reed. He didn't go get second in his first GP.
I think the series down there is doing quite okay. People definitely seem more content to make some good money down there than to come and do it a hard way, whether it's going to Europe or coming straight to the US. I think things are at least the little that I get to see, I don't see a whole lot of kids wanting to come over here either.
Speaking of Australia, I know you're not doing outdoors this year, but is it too early to talk about Des Nations and if you would do that here at Red Bud?
To answer your question, yes, 100%. My goal is to, after I do my Italy trip here, is to actually get into shape and really think about racing some nationals. If I was going to do it, I'd want to do it right. I feel like the last time I did it, I didn't do it… my heart wasn't really in it. I was just pretty much smoked and kind of did it because I felt that it was the right thing to do. I really felt that at that point I should have put my hand up and said, I'm not in the place to do it. It's just like every other Des Nations team. It's political. I feel like our Des Nations team basically goes to a board. I've never had to do it, but now they're trying to even make me do it, is basically you have to submit your name into a board and then they go and pick the team. When you've got people that have never raced motorcycles and people that couldn't hold a candle to your career are making those decisions, it just makes it difficult. I think that Ferris – I didn't personally see it but I heard that Ferris publicly kind of said that he wasn't going to be available for it. I don't know if it conflicts or if the dates are really close to the Aussie supercross championship. So I think that he wants to concentrate on Aussie supercross. So I have all intention to do it. I would love to do it. In a perfect world, I would race it. It would be my last motocross race ever. And then I would check that box and never race motocross again. That's what I would like to do. I would like it to be my last Des Nations. It makes sense. It's here. I'd have my family there. I feel like, even as much as people don't love that, but even off the couch I feel like I would be as good as any other choice for the team.