Photos by Simon Cudby
Can you believe it's outdoor season already? It seems just like yesterday we were gearing up for Anaheim and now here we are already in Sacramento. Hangtown has always been notoriously rough on the back and hands and I know this first hand. The square edge that are inside the Hangtown ruts are hard on the kidneys and forces a rider to stand up more than he might be used to. Suspension settings are also almost always softer at Hangtown than at Glen Helen because the nature of the bumps are harder. If you're set up is too stiff, you're going to have a very rough day at Hangtown. I remember having my set up so far off at Hangtown in 2004 that I couldn't even hang on. The blisters on my hands were so bad I couldn't ride for a few days after the first round! The 2017 season champs dominated Saturday, but there were several things that I witnessed that are worth mentioning, so here they are!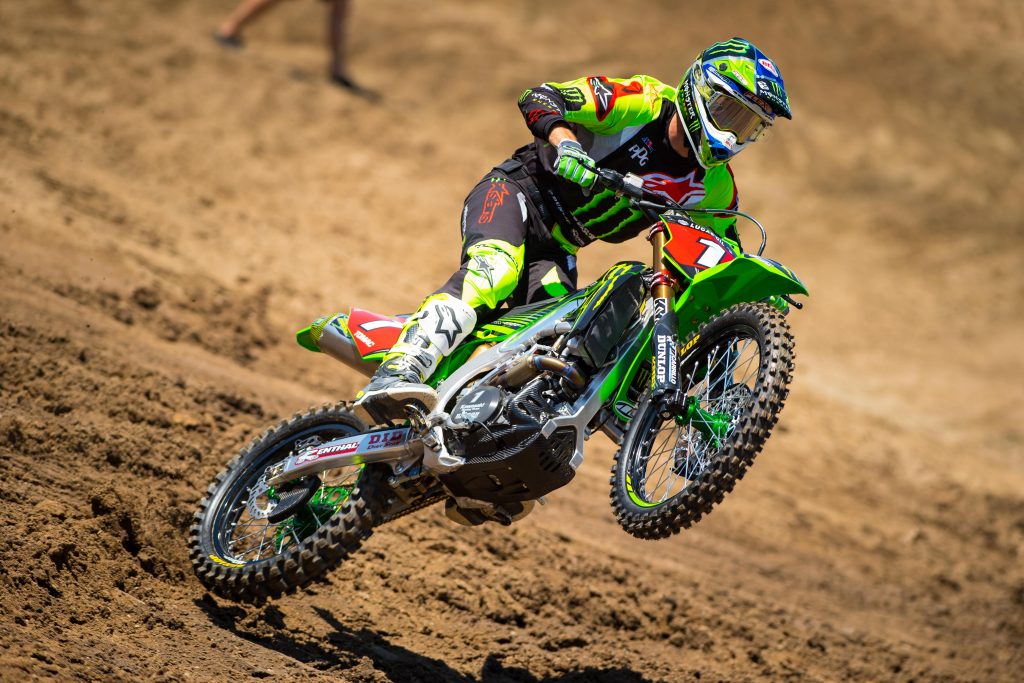 Eli Tomac: Number 1 was on fire all day Saturday going 1-1. When you qualify over two seconds faster than second place you know your going have a great day. Tomac just seems to have that hang it out style, with a side of finesse, that is hard to beat outdoors. When he washed out in the second moto I knew he had enough time to catch Marvin, but I didn't think he would pull a gap before the checkers. If you go back and watch the second moto again, watch how hard Eli is on the throttle and brakes everywhere around the track. There is no in between for this guy! He either is six o'clock on the gas or is clamping his brakes.
The 39 other riders are a little more calculated about braking and rolling on the throttle, which of course is fast, but not Tomac speed. Tomac also used creativity around the track to find slightly smoother lines and he used his legs to prevent his back from taking the brunt of the square edge. Tomac would stand up around 180 degree corners, almost Herlings-ish, which leads me to believe he may be studying some of Herlings techniques. Wouldn't that be something? The best current American motocross rider learning from the best GP rider? Hmmmm. Let's keep an eye on Tomac's technique throughout the series.
Zach Osborne: Does anyone else get anxiety when Zach is coming through the pack? Zach-O rides with crazy amounts of intensity that gets me tired just watching him. He slams into walls, he charges through the roughest line, he hangs off the back of the bike and the dude just keeps picking off riders. I can't even begin to tell you how much energy it takes to ride like that on a track that is as rough as Hangtown. Zach is absolutely not scared to red line himself early to get to the front and manage his lead and heart rate at a later time. I will have to say Zach's fitness is better than J-Mart's right now and his sprint speed is a tad better as well. This isn't good news for his competition.
Marvin Musquin: Marvin is going to be a thorn in Tomac's side if he can't get good starts. Marvin is quick enough to run the pace of Tomac, but I don't think he is as aggressive or "willing" to hang it out like Tomac once the gate drops. Marvin needs to be more of a bull when he's outside and that beautiful, fluid, technical style of his is not as dangerous outdoors as it is inside the stadiums. Marv will be there and win, but he will need to count on Tomac to have a few meltdowns this season to win the title.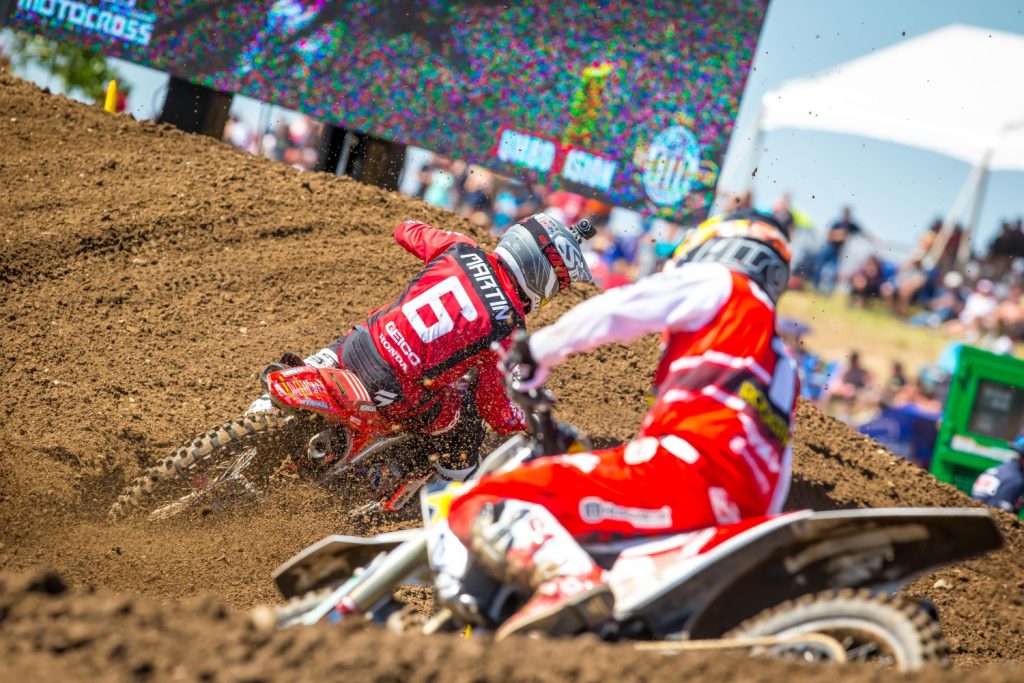 Jeremy Martin: Let me start by saying that I was worried for Martin that his bike wouldn't be very fast outdoors. The 2018 Honda CRF250R lacks some grunt the other bikes have in production form, so that takes some work for the team to achieve. In pre-season testing I watched as the GEICO bikes looked very slow out of corners, which had the riders revving the shit out of them (more than usual). Fast forward to round one and the GEICO Honda's look really good and torquey. Not only do I think having Dan Betley there helps the team, but the new 2018 chassis has really helped the aggressive type of rider more. Martin will be strong all season and will start to ride even better once we get back east. Can he beat Zach straight up? Yes, he can, but he will need to get his sprint speed up more in the early laps to force Zach to make some mistakes.
Justin Barcia: I don't need to tell you guys how good the 2018 YZ450F is do I? Well…It's really good! Barcia is back to his old self, but with a little more knowledge up there in his brain. That means he can still haul ass, but now has a little more patience and lets the race come to him more. Justin rode great all day and scored a podium on a track that he is not that fond of. He will be a podium guy throughout the series and has a shot to steal a win at some other tracks he rides good at like Unadilla and Budds Creek.
Aaron Plessinger: Plessinger got one good start! That in itself is promising! Plessinger has stated that the outdoor series championship is almost more important to him than the SX championship. He has been riding outdoors for couple months and says he is more prepared than he ever has been for the summer months. Plessinger will be a beast when the series gets some thunderstorms and softer dirt. There is NO ONE that can ride the mud like this kid. 3-4 moto scores get him out of Hangtown with a podium and solid points too start his season off.
Bradley Taft: A week before Hangtown the kid goes and purchases a 2018.5 Husqvarna Rockstar Edition 450 and rides it twice before the weekend. He shows up to Hangtown with a stock bike (handlebars and FMF muffler only) and goes 11-10. STOP IT! Serious? Yes, he had stock suspension! No re-valve, no springs, just the stock stuff you purchase on the showroom. A couple things here…One, that is bad ass that he shows up and goes for it. Two, he is able to ride as fast as he did on stock parts. And three, that shows everyone out there how good a production bike is these days. You don't need to put a lot of BS on your machine to go fast. I am curious to see how much of the series Taft does and if anyone gives this guy a fill in ride.
Enzo Lopes: Go ahead and scroll back on my twitter or Instagram and you will see that I have been on the Lopes bandwagon for a while. JGR's newest addition to the team came in and rode very solid for a rookie going 13-15 in the 250 class. I like Enzo because he is a humble kid that doesn't rev the crap out of his bike. When you see this kid ride it's almost like he's riding a 450. He rides a gear high and has a very effortless smooth riding style that is similar to Pourcel. I would expect Enzo to be in the top ten at Glen Helen because he rides there a lot and knows the lay of the land. Look for the 816 on the Suzuki at Glen Helen and wave your towels at him!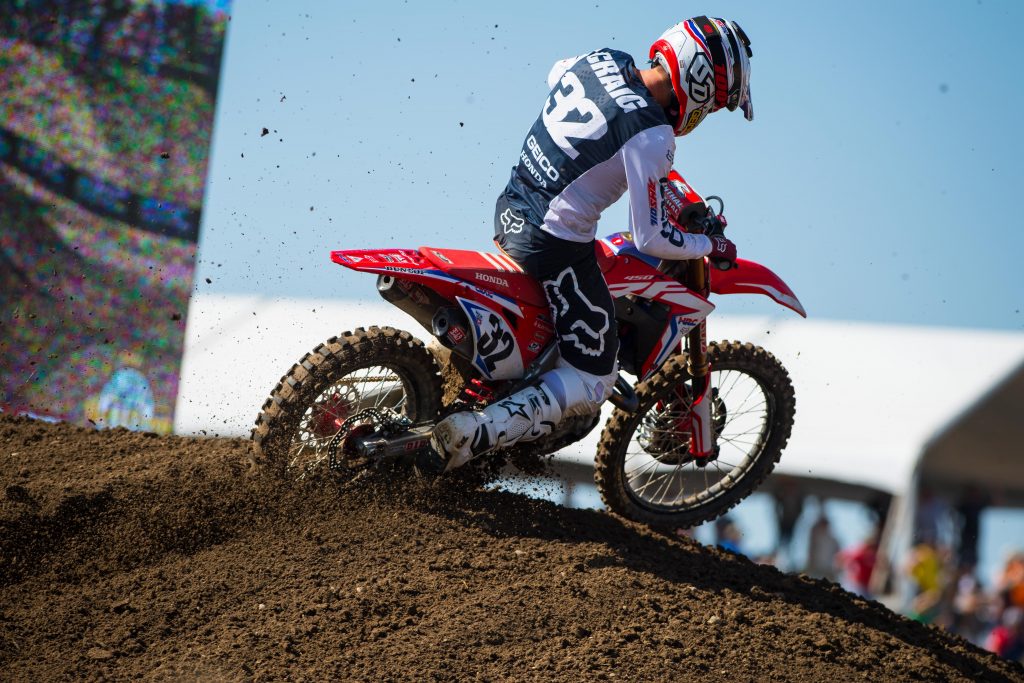 Best Dressed: It's the first round of outdoors and you thought we just went away? Hell no! Not a chance! Over here on the BD team we don't shove it down your throat. We are just over here like "yeah that dude looks sharp" and we tip our caps to the guy who wore it the best at Hangtown. This week it was tough, but I am going to go against every moral fiber of my being and give it to Fox, Alpinestars and 6D! Yes, that is right I thought CC32 looked the best and the cleanest of all the riders that lined up on Saturday. There is a lot going here right? "Keefer he's wearing Alpinestars boots with Fox gear, that goes against your on rules jack ass". Yes, I know, but chill down!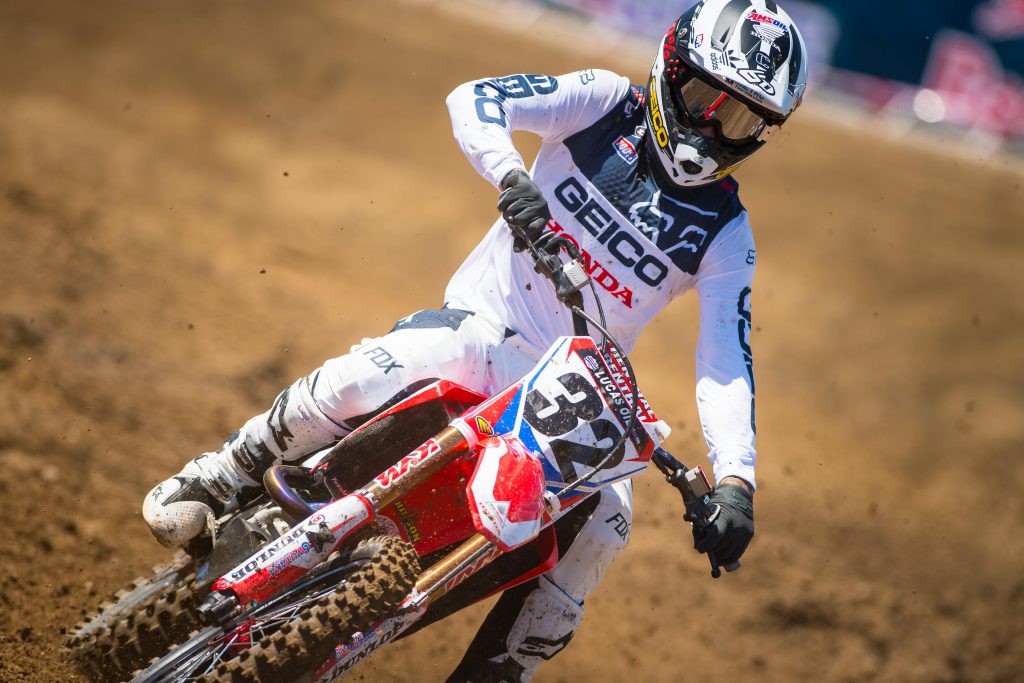 Alpinestars is grandfathered in the mix match club because they have made boots longer than they have made gear. Check! So the A-stars/Fox thing is ok! The 6D/Fox part is tough for me to swallow, but since this is a mid-year switch, I will grant immunity from failing the "Best Dressed" code of conduct policy. Check! The 6D/Fox thing is different and refreshing to see. Not to mention Craig looks good on a bike period. The white/blue Fox Airline gear, all white tech 10's and the white, blue, red 6D helmet were clean and it popped off of the red Honda beautifully. Maybe Christian is pioneering the mix match game and maybe this will become "the norm" in the future? I will then have to re-write the rules of wearing gear once again! It looked good Saturday and I am excited to see what the next rounds bring for the "tripod of gear sets"!