REEEEEEEEEEEED BUUUUUUUUUUUUUUUUUUUUUD
Photos by Rich Sheppard
Lot B liiiiiiife! Larocco's Leap! Drunk fans! Great dirt! AMERICA!!! This is July 4th weekend at Red Bud! I have been to Red Bud, but only to test, not to race and it was one of the best tracks I have ever been to! I did manage to bust out Larocco's Leap, but it also didn't have the "hockey stick" before the jump back then either. To say that jump looked scary would be an understatement, especially for the 250 class! Clicking third gear before the face of that sucker every lap took me back to 2002 when 125's would have to click third to jump supercross triples! Good times! Here are some things that viewed while I was at home studying the track and the riders.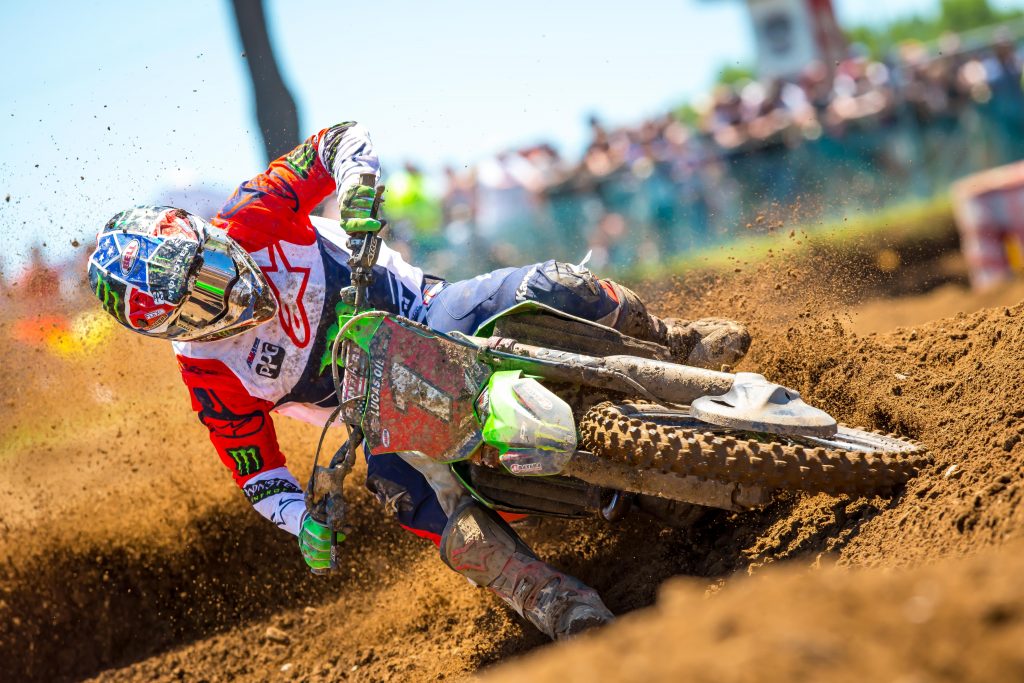 Eli Tomac: Well we have a series now don't we? Tomac's mechanical was a huge heartbreak not only because his points lead diminished, but he busts his ass the whole moto and with less than two laps to go, his bike takes a crap! Also, what about Tomac dragging his bike across the track? I mean come on! His rear wheel looked to be locked up, he was thirty minutes into his moto and he has enough energy to drag that green machine across the water truck access road! No way! Homeboy has some strength! Tomac is only 3 points down, so I still feel like he will get the red plate back very soon, albeit if he doesn't have any more mechanicals.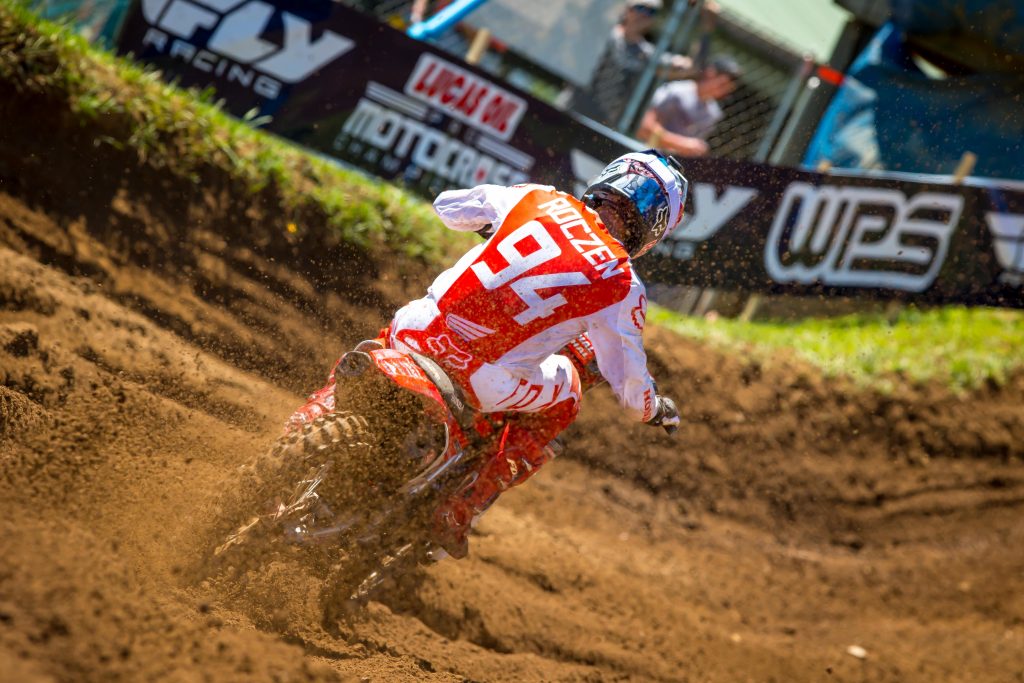 Ken Roczen: Such a great day for Kenny and Honda for winning the first moto! Honda hasn't won an outdoor moto in a while (I will let the number people figure out the exact time) and Kenny has been through hell and back, so this has got to feel great! Roczen's smooth style is something to watch on this rough Red Bud track. I rewinded a couple of spots on the TiVO where I could see Ken lift up on his bike before he comes into braking bumps, almost to keep his bike light over each bump. I showed my kid this and he didn't seem impressed, Hmmmm? I was thoroughly impressed however! Look for Kenny to get near the front more the rest of the series. Getting a moto win will give a man some confidence.
Marvin Musquin: Marv is proving he is taking a page out of Dungey's handbook. He pushes when he feels good and when he doesn't he will just collect as any points as he can. Who cares if your 15 seconds behind Tomac, because when he crashes you are the guy taking the checkers first. That was Dungey! Dungey did this time and time again. If he was feeling it, he hung it out, when he didn't feel it, he hung back and got second. Marvin is more aggressive in the moto and still has that crafty frenchman type of line choice that saves energy. I still love watching French riders ride dirt bikes because they are so graceful when they do it. DV wasn't that graceful though, but he made it work didn't he?
Justin Barcia: Justin is riding exceptional, but still revving the shit out of his Yamaha though. I thought it was fun that you could hear his bike over Roczen's when they were going at it. It was almost like Roczen was on an electric bike because you couldn't even hear his CRF450R! I can't imagine how good of shape Barca has to be in to ride like that, because he uses so much energy when he rides as he scrubs so hard deep into each moto. I would be boner airing out everything around 27 minutes! Yamaha made some suspension changes recently to Barcia set up and it seems to let him ride even more aggressively, which is keeping him closer to Musquin late in the motos. Justin Barcia should be on the American MX Of Nations team without a doubt. Jason Anderson has been hurt and to disrespect the rides Justin has been putting in would be a slap in the face to JB.
Austin Forkner; Everyone chill down! Forkner screwed himself by going wide in the corner before the big tabletop and not shutting off when Plessinger took away the line. It's one of those racing incidents and it was no ones fault. Austin has been back to his old self and is probably the fastest man in the 250 class as of late. The dude is just plain impressive on the bike. He charges hard into corners and watch how he comes into and exits corners. He is on the brakes very late, rolls the throttle on smoothly and gets out of the corner in a hurry. There is no lallygagging around throughout the whole moto! Forkner will be a thorn in riders sides come Millville.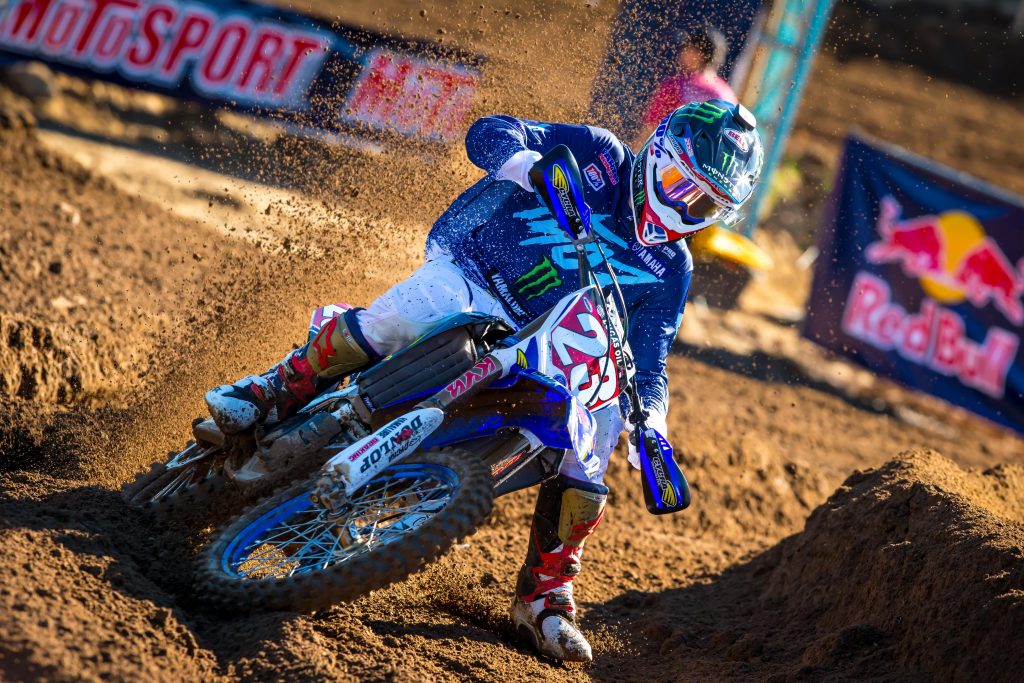 Aaron Plessinger: Wow! How impressive was AP at Red Bud? He got great starts and and didn't waste no time getting to the front. He also used great technique in the long ruts that Red Bud provided. Slow mo some of AP's riding at home and watch where his feet are on the pegs. His feet are so far back on the pegs and is riding light on the bike everywhere (to ensure he doesn't get his feet hung up in ruts). He understands if he forces anything on a track like this his flow would be gone. AP also looked like his strength was back this weekend didn't it? I mentioned on the Pulp Show a couple weeks ago how a super draining weekend can sometimes take a couple weeks to recover from. I think that is what we saw last week at Southwick, because this weekend AP looked spunky when he was riding!
Alex Martin: A-Mart needs to get a 1-1 ASAP if he wants this title. He needs something to spark his confidence and to get AP on his heels a bit. Alex has the tools to do this, but needs to get a holeshot! Millville will be the place he can do this, but if he can't beat Plessinger at his home race then to me the title is Plessinger's. If I had to choose who I would rather see win the title, I would give the nod to Martin because of how he has got to this point. It's been a rough road and for him to come this far and win a title would be amazing!
Red Bud Track: To me this was the roughest looking track of the year. There was literally no where to take a break. The dirt was tilled so deep even the 450's looked slow at times. The ruts were long coming into the corners, were deep all the way through (with hooks I may add) and were long coming out! Conditions like this makes it so tough to ride fast and also be aggressive because it saps your energy quickly. The straights even had some square edge rolling whoops that upset riders rear ends! This was a gnarly race and took it's toll on a lot of riders and bikes.
Adam Cianciarulo: What a great broadcasting trio! Jason, Grant and AC were great in the both and gave us viewers a ton of insight on the race. This is what Supercross is lacking! Feld take notes because this is what us fans want to hear while we watch the races! AC's knowledge of the track conditions and what the riders were going through is what I want to hear. There was fun banter, but not too much and it was refreshing to get a "Tony Romo'ish" color commentator in for us to listen to! Well done MX Sports for getting AC in the loop!