Congrats on the recent success. It feels like not that long ago we were writing about "what's up with Aaron Plessinger?" What's going on here? He either wins or he doesn't and he finishes further back. But man, you are on a roll right now. It's got to feel good.
Yeah, thank you. I don't know, just everything is clicking right now. Everything is feeling really good. My bike's perfect right now. I'm having a lot of fun. 
You won your supercross title this year of course. You've been in the hunt in previous years and had some disappointment last year. You told me that it kind of carried into outdoors a little bit, the disappointment of not being able to win that. This year you closed the deal and you got it done. Was that a part of your outdoor success? Just having that first title and being so happy and being so full of confidence? Do you think you would be where you are right now if you hadn't won the supercross title?
It's hard to say. I definitely think the confidence from the supercross title definitely carried over into outdoors. Now that I got my bike right and everything I think everything's clicking. I think that definitely helped me with this, what's going on right now. I don't know if I'd be in the same place if I didn't win the championship. I think I'd be in a state of depression after three years in a row close but no cigar. 
We were asking Vuillemin earlier here – of course he's working with Dylan, your teammate, and everything else. We were kind of asking him about what you're up to and everything else and how you are around the team and how things are going. To no surprise, Vuillemin said that you're always happy, and you look like you're always having fun. I guess that's the key.
Yeah, I try to have fun. I try to keep the pressure off of me and try to keep the smile on my face. That's pretty much how I've always been. I like having fun. I try to do it as much as I can.
Are you sometimes underneath your tent and you can't believe that the guy that beat McGrath is sitting right over there with sweats on, teaching Ferrandis?
Yeah, for sure. 
It's a little before your time probably.
Yeah, definitely a little bit but still to me it's crazy. I wasn't really into motocross at that time, but still to think back about it.
Your dad of course is a GNCC champion. Did you look up to GNCC guys? Was that your McGrath hero?
Yeah, pretty much. I knew Scott Summers, Barry Hawk, Rodney Smith, Doug Blackwell, Fred Andrews, everybody.
Those were your guys growing up? That was more important to you?
Yeah. I didn't really know anything about motocross until probably 2006, 2007. It's just funny. I got invited to the KTM challenge when McGrath was still on Bud Light KTM. He was signing autographs and I actually had no clue who he was at all.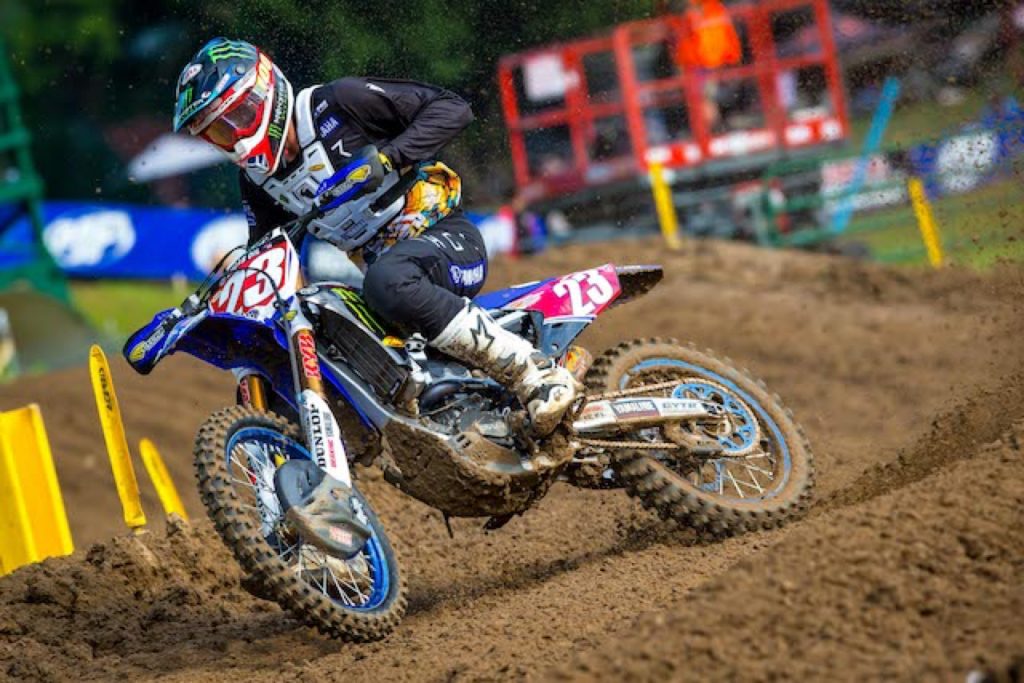 I worked at Yamaha for a while and we went to one of those intros and the new YZF quad out, that 450 race quad or whatever Yamaha put out. And Red Dog was having a battle of death with Barry Hawk out there at Goreman, I think it was. Red Dog is riding this quad and Barry Hawk is all over him. They're moto-ing down. Then they get done and Red Dog's like, "Hey, you're a pretty good rider." Barry Hawk was like, "I race these." Timmy's like, "Oh, really?" Like, no idea that Barry Hawk who was a quad god, and then he switched to two-wheel. I think Hawk won both on one day a few times, Aaron, no?
Yeah, I'm pretty sure he did. I think he was a nine-time quad champion and then a couple time bike champion. He was pretty successful. 
We were talking earlier, and your speed down the hills – we were all marveling about that earlier. Just phenomenal, Aaron. Our buddy Darkside called in and said that he raced the amateur day and they only went halfway up the downhill scared the shit out of him. Obviously you're much better than him, but the skill down the hill… come on. That was pretty phenomenal. 
Yeah, I just set it one time and I knew I could go that fast. I was so confident with my bike on how it was working that day. I was hitting my marks and pining her down the downhill. I think I jumped halfway down it a couple times. I would just send it into the corner and hope that I wouldn't break the rut. When I passed Justin Cooper I actually yelled because I did not think I was going to make it into that rut. I thought I was blowing the rut. I was like, here we go. 
So we can really credit this whole thing to Wil and this fork setting? That's what it boils down to.
I guess you could say that.
Speaking of Justin Cooper, how much do you get to ride with him? You're on the west coast obviously. Is he out here, or is he back east?
Yeah, he's actually out here. We ride every day. He was hurt for a couple weeks and wasn't riding during the week. So he started back this past week before Spring Creek. Before that, we were riding every day. Every day we ride together.
What do you like about the kid? We had him on the show here and it's his first year pro. He's pretty quiet. He didn't say much. He seemed like a nice guy, don't get me wrong. But he didn't know anything about the New York Islanders either despite growing up on Long Island. He didn't know anything about the Islanders. What do you like about the kid? What do you think about him?
I like him. He's a really cool kid. You got to get to know him before he opens up. He's really down-to-earth. He's got one of the sickest riding styles I've ever seen. He's so smooth. For it being his first year pro, he's doing pretty well with it. He's pretty good, to me.
Did you know, DV, that Justin Cooper was the number one Mad Skills person in the world? 
DV: No, I didn't know. 
AP: He's crazy. I think he went to Sweden or something for a competition. 
SM: It's amazing, really. For Washougal, do you like the place? Some guys like it, some guys hate it. What's your thoughts, Aaron, going into it?
I like it. Last year I won a moto there. Then me and Zacho got into it a little bit and I went down in the second moto. I actually like the place. I like where it's located and in the middle of nowhere. I like where we're racing through the trees. It kind of brings me back to the roots a little bit. 
Plessinger hangs a right! He's off in the woods! We got some phone calls for you. Tyler has been waiting a long time to talk to you. Tyler, what's your question for Aaron Plessinger?
My question for Aaron Plessinger is I had heard some words around the woods community. Will you be at the Iron Man GNCC?
I'm going to try my best, but no promises yet. We'll see after this season.
SM: It's after the nationals, right? It's a few weeks after?
It's in October, I think.
SM: So even better. We think you're going to Des Nations, Aaron. Do you have any words yet, or no?
Haven't had any word yet, but we'll see about that.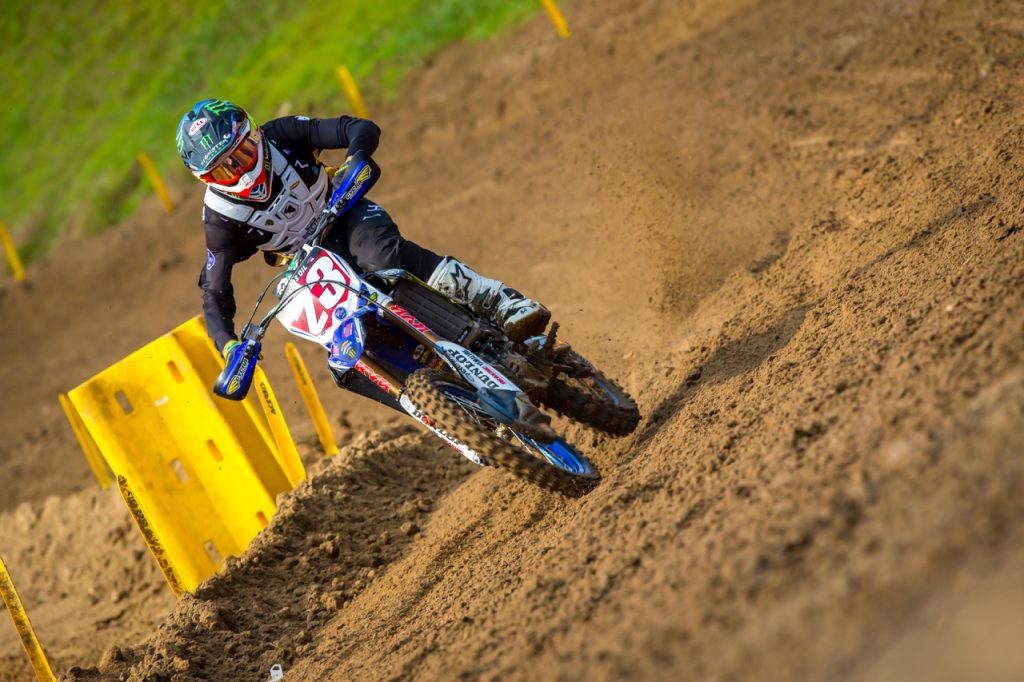 If everything works out, Aaron, you could return to your roots. 
I hope so. I've been wanting to do a GNCC for a couple of years now. This would be the year to do it. 
Tyler: Aaron, I have kept an eye on you ever since the GNCC and it has been awesome to see you come through the ranks, so this is badass if you can come back and race an Iron Man. That would be awesome.
That would be sick. I appreciate it, man. 
Randy, what do you want to talk to Aaron Plessinger about?
Randy: I just wanted to say way to go, man. It's been super fun watching you race. I really think it's cool watching you up on the podium. You're super fun to watch up there. 
Thank you, man. I appreciate that. 
It's cool seeing someone as positive and just really outgoing towards the community. I think it's really neat.
SM: He jumped in the creek. Did you hear about this, Randy?
Randy: No! What?
SM: Aaron, you jumped in this creek with kids?
Yeah. We had Bobby Regan drive us over to the creek, me and Justin. We actually made a deal before the motos even started that if me and him went 1-2 we had to ride into the creek, and that's what we did. Full gear and all. 
Right with his gear and everything. Aaron and Justin Cooper in this creek with kids, high-fiving them. Pretty cool. 
Sam, what's your question for Aaron Plessinger?
Sam: Aaron, I know you probably get this a lot, but what was the hardest part of managing your supercross win all throughout the season?
The hardest part was probably trying not to think about it. I didn't want to think about the points lead. I didn't want to think about how big of a gap I had. I just wanted to ride and be myself and keep a smile on my face through all the intense moments. 
SM: Someone told me you're going to be back in 250 supercross to defend your plate but maybe 450 outdoors. Obviously, it's early, but what do we know about next year? What's your plan? What would you like to do?
Right now I would honestly like to ride 450, but right now it is 250 indoor and then I would want to ride a 450 outdoor if I can. That would be the plan. 
Then full-time 450 in 2020?
You got it. 
Definitely I think Aaron can transition nicely to 450's. Riding style, body size, everything. 
DV: I think the body size is not a big deal. I think that the riding style is. We'll see. I always take Barcia, poor guy. I'm not hammering on him, but the riding style is a very 250-like riding style, and Aaron is smoother. I think the transition will be way easier, obviously. 
Charles: I think the current crop of 250 talent, if I'm going to double down a bet on somebody to succeed on a 450 I think I'd go Aaron. 
SM: Not just because he's on the phone.
Charles: Right, or that he wears 100%.
SM: 100% is really backing Aaron. That's one of the guys.
Charles: Yeah, we're officially a Star Racing Team sponsor, so kind of we sponsor everybody the same on that team, but we certainly believe in Aaron and feel that he's going to be successful long-term on a 450, for sure.
SM: I think you did some ads with just Aaron on it, I believe. 
Charles: Oh yeah. He won the championship, so he deserves all the attention that he gets. 
SM: Also Aaron, FMF is a part of our show. They have been for a number of years with little Donnie. I've talked to Donnie about you and he just digs everything about you, your wok ethic. They seem to be putting specific packages together for you, like an FMF guy and casual and everything else. That's got to be cool. They're huge fans. 
Oh yeah, definitely. I think I've been on FMF since I can remember. Coming through from 50's all the way to now. I don't think I've ever ran a different pipe. I've known Donnie and them for so long. It's awesome. They're one of the best sponsors I have ever had.
Charles: Easy…
DV: Better than 100%.
AP: It's a tight battle. No, everybody at FMF is so down-to-earth and so cool. They've really proven themselves to be one of the biggest sponsors that I have. 
SM: I said something to little Donnie. I was like, you guys are really showcasing Aaron a little bit. That's cool. Then he just couldn't shut up about you, about how cool you were and how much he liked you. 
Charles: Even stupid stuff like jumping in the water after he won in Seattle. People love it. He's a real dude. He has real emotions. Like DV said, he's always happy. He's genuinely happy to be there and having a good time, and people are drawn to that and like that.
SM: I think so. I think we have some guys in the classes that it's a job for them. It's a grind. They don't always open up to the media or fans, and that's fine. It's cool. It's a lot of work what you do off the bike and everything else, but somehow for right now you're really captured it. Like, hey man, I'm having a blast racing motorcycles right now, and I think it's showing. 
Yeah, definitely. I just think I'm doing what I love and a lot of people have it worse than me. So I appreciate every moment that I'm in. I'm living it up to the best that I can. I'm having fun every day. 
In a way I'm guessing you never thought you'd be supercross and winning nationals. Like you said, GNCC was your goal. You never thought you'd make it this far, right?
No, definitely not. Even in 2013 when I won my first and only XC2 race at Spring Creek that was the highlight of my career. I couldn't have been happier. Then after that it was like everything changed and we went motocross. I won a couple titles that year and then everything just started falling into place for me to be up here now. 
Is your dad at every race? Is your dad gnarly? Is he one of those demanding kind of guys? He was a champion himself. He was a great rider in the woods. I'm sure he's a great rider on a moto track anyway. What's he like? I've never spoken to him.
He's one of the coolest guys I know. He's not too demanding, but definitely he sees what other people see in me and he wants me to do the best that I can and wants the best for me. So when I'm not doing the best that I can, he gets a little concerned and definitely has some words to say, but all in good nature and all in the best intentions. 
Aaron, you talked about wanting to do the Iron Man GNCC towards the end of the year. Is kind of the long-term plan – obviously you're doing supercross and motocross and that's the sole focus for now, but post supercross career, do you plan to go back to GNCC's and have a kind of second wind?
I wouldn't say no. Obviously got to get done with this first, but I would love to, honestly. I miss trail riding every day. GNCC's are the best trail riding you can ever get, and racing while you're doing it and having that adrenaline is the best thing I could probably ask for after motocross and supercross. 
The Red Bull Straight Rhythm is coming up and each media outlet gets to have a guy on their bike. I'm sure Star and Monster and Yamaha wouldn't mind you riding the Pulp MX YZ250 at Straight Rhythm. Can we make that happen? What do you think?
You got to talk to old Bobby Regan. If he says yes, I'm down to do it.