Photos by Rich Sheppard
1- You were there at Budds, what did you think about coming back to the place where Tim Ferry won a moto in 2003 and also the prep that left the track harder than in past years?
The Budds Creek track has been the same for years now. They haven't touched the layout, other than the start location and removing the big off camber behind where the start is now, since I first came here for the USGP in 1999. I think it might need a little bit of tweaking just like other tracks of the series. It seems like it gets narrower every year though. Also adding some new soil wouldn't hurt but the rumor says the Nationals will not go there anymore in the near future. As fas as the preparation of the track, I think they were scared to get some rain so it's understandable they didn't rip it too deep. Obviously if the base is harder and if we would have gotten some rain, it would have been less of a mud fest. The rain didn't show up but the forecast  on Friday showed at least 50% chance of precipitations during the motos on Saturday.
2- Your rider Dylan Ferrandis had a bad day in terms of moto finishes with first turn crashes but he rode very well in both motos to come from way back. What did you think?
Dylan's first start wasn't good. His reaction time out of the gate was slow. He was only 13th on the first lap. He passed three guys in the next 3 laps but spent way too much time behind Cantrell. When he finally passed him for 9th around half way, he got going like he often does. He's always very strong and fast in the second part of the motos. He rode better and finished strong passing Smith on the last lap for 5th. Harrison and Forker were only a handful of seconds in front of him at the checkered flag which tells me that without losing so much time behind Cantrell, there was room to get a podium spot in that first moto.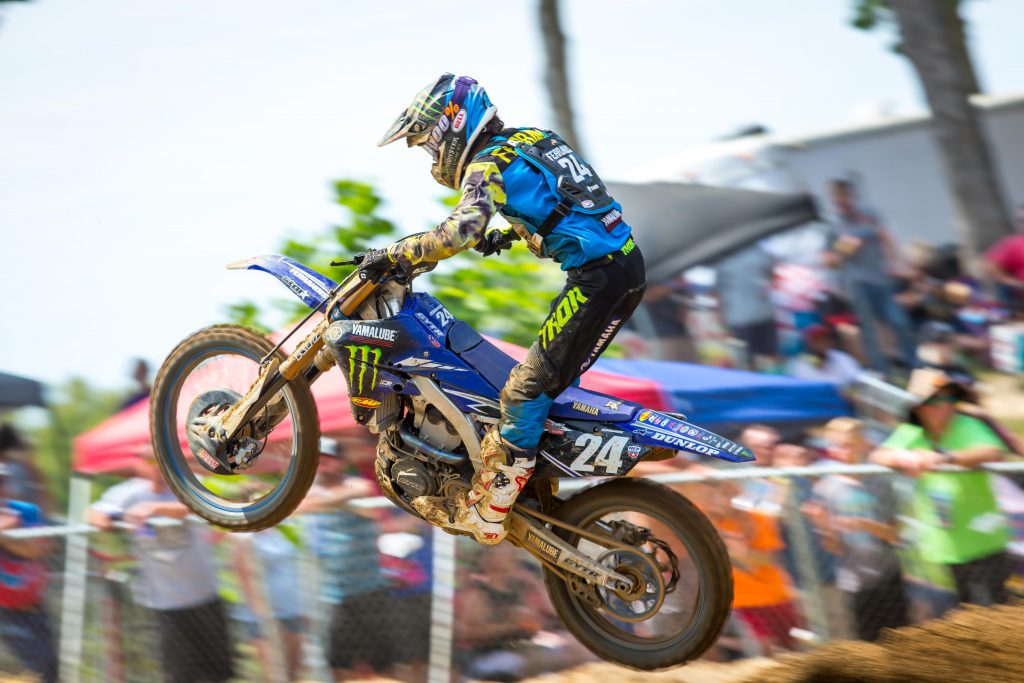 Second moto was another story. His start was better and he was around the top 5. Another rider caught his front wheel in the first turn and crashed. He got ran over, broke his chest protector and his bike was stuck wide open. The Star Racing engine guy, Jeremy Coker, picked the bike up and it started doing donuts on its own! It was a funny scene but Dylan lost so much time in the process. He was 38th on lap 1, 20th on lap 7 (of 16) passing 18 guys in 6 laps (that's an average of 3 a lap) and caught up to 10th passing Plessinger for 10th on the last lap. He passed 10 guys in the last 9 laps and clocked his fastest lap of the second moto in the last lap. I thought, other than spending 4-5 laps to pass Cantrell in moto 1, he rode good. The raw results (5-10) sucked after going 1-1 in Unadilla but I look at the manner he rode. I was happy about his riding and his second moto was great despite the circumstances. I want Dylan to ride good technically and charge all the way until the checkered flag no matter what his position he's in. He did that.
I don't like when riders manage their moto and ride differently depending upon their positions. A race on Saturday is the best practice we can get. To use a race as training/practice is very important for me because we have to keep in mind we always want to improve. I don't want him to save some energy for a 3rd moto. There's only 2 motos on Saturdays and I'm always thinking about improving for the next race. I thought Budds Creek was a good training and practice for him because he charged the whole way both times and passed a bunch of guys. He was bummed out about his results but I was satisfied about the manner.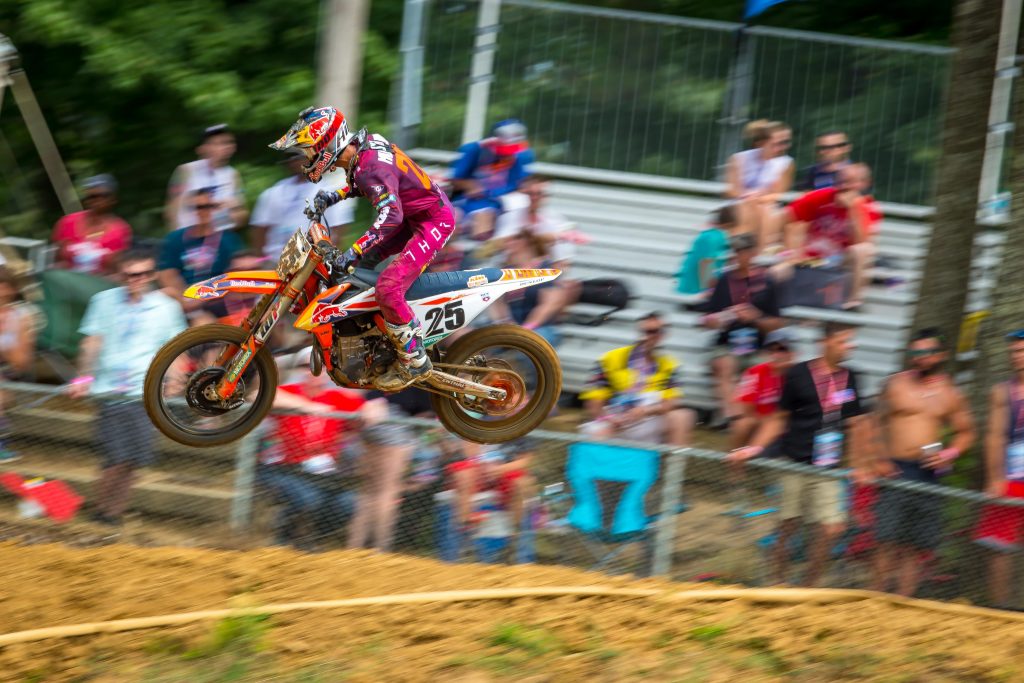 3- Marvin Musquin looked to have the overall in the bag but I guess a crash this week held him back a bit and he lost points in the title chase. What did you hear about him?
Marvin crashed hard on Tuesday. I saw his bruises on his elbow and hip, they weren't pretty. He was obviously diminished and wasn't at 100% physically when he got to Budds Creek. I saw some good and some bad from Marvin again this weekend. At one point I thought he was going to win the first moto, he looked good but couldn't pass Ken back after the German passed him in the opening lap. It would've been good for him in the standings to pass Ken and gain 5 points instead of 2 in the first moto. He struggled a bit more in the second moto after leading for 5 laps. He wasn't at 100%, I get that, but when there's 3 motos left, you're trailing the leader of the series by 13 points, you're leading the race, Eli is in 5th at that point and you're virtually only 4 points behind in the championship on lap 5, you aren't allowed to get 4th in the moto. I understand he's hurting but as we say in French, you have "to tighten your teeth" and perform. Marvin missed an opportunity to get to the last race trailing Eli by only 10 points (if Eli got 2nd and Marvin won the moto) but now the gap is 20. That's a big points difference with only 2 motos to go.
4- Animal Eli came back out in that second moto and rode great to take the win. Wow. 
Eli started the second moto behind the 4 of the next best guys, Marvin, Ken, Barcia and Baggett. Baggett and Roczen were flying. They clocked the 2 fastest laps of the moto. Even Marvin's fastest lap was faster than Eli's but Eli as usual dug deep and made it happen. Speed and technique are very important in motocross but, as I see it with Dylan often, the will to win and get the best results possible in any circumstances is the third piece of the puzzle to be successful in this discipline. You gotta want it in every moto. You have to charge until they tell you the race is over. You have to train hard everyday to be able to do that every motos of a MX championship. Eli understands that well. Sometimes, you're gonna make mistakes and it's very difficult to manage series like Dungey did in his career but at the end of the day a championship favorite who charges, ride to get the best result in any given moto and has the desire to win will always prevail. Eli has been showing us some very inspiring rides this summer. Buddy Creek second moto was one of them.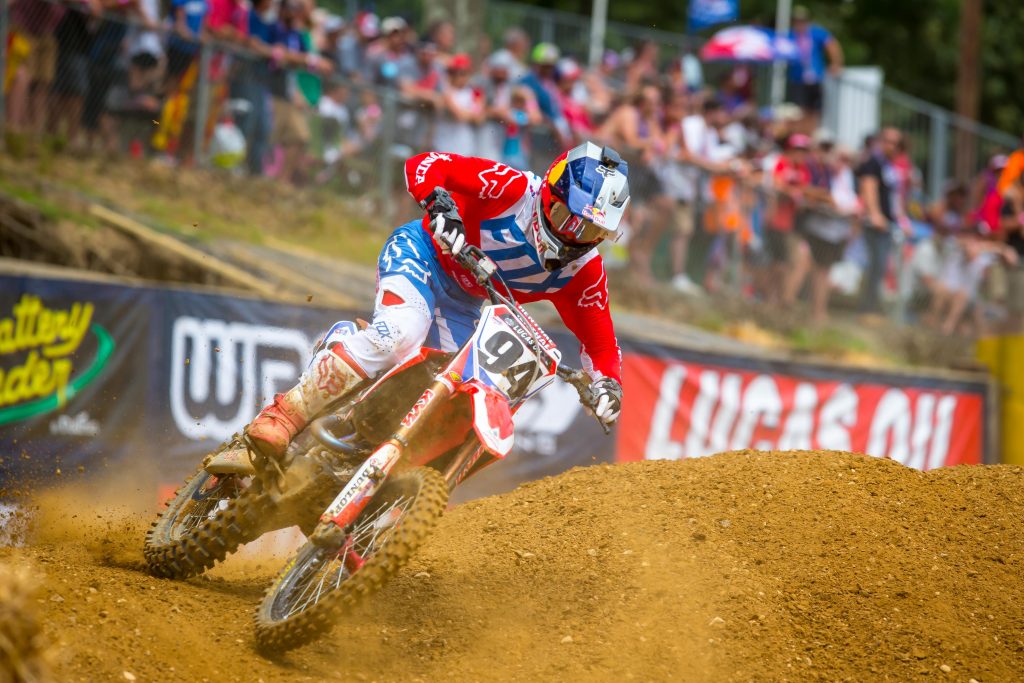 5- In 2019, can a healthy Roczen run Tomac's pace you think?
After a disappointing 7-7 in Unadilla where I thought the track and conditions wouldn't have been good for him, Ken showed some massive improvement at Budds Creek. Without Baggett waking up in that second moto after a quiet summer, Roczen would've won the overall Saturday. He's been up and down this summer, riding in his comfort zone most of the time without taking any chances to crash or get hurt again, but he's on an ascending curve. He's way better from where he started in Hangtown. Some races he has been under the radar like in Unadilla but he showed up in Budds Creek as a race winner contender which we haven't seen too often this season. He's improving at his own pace, slowly but surely. The season will be over next weekend and he will have 4 months to get ready for the new season. That's plenty of time to get his arms and fitness stronger, get some more seat time and get back to title contender form. I think it was a very smart season for Ken. He'll most likely get 3rd in the Championship 18 months after we didn't think he'll ever race again. If he keeps improving slowly but surely I don't see why he shouldn't race a for championship in 2019. He's one of the best riders ever to ride a dirt bike, let's not forget that, and he's only 24…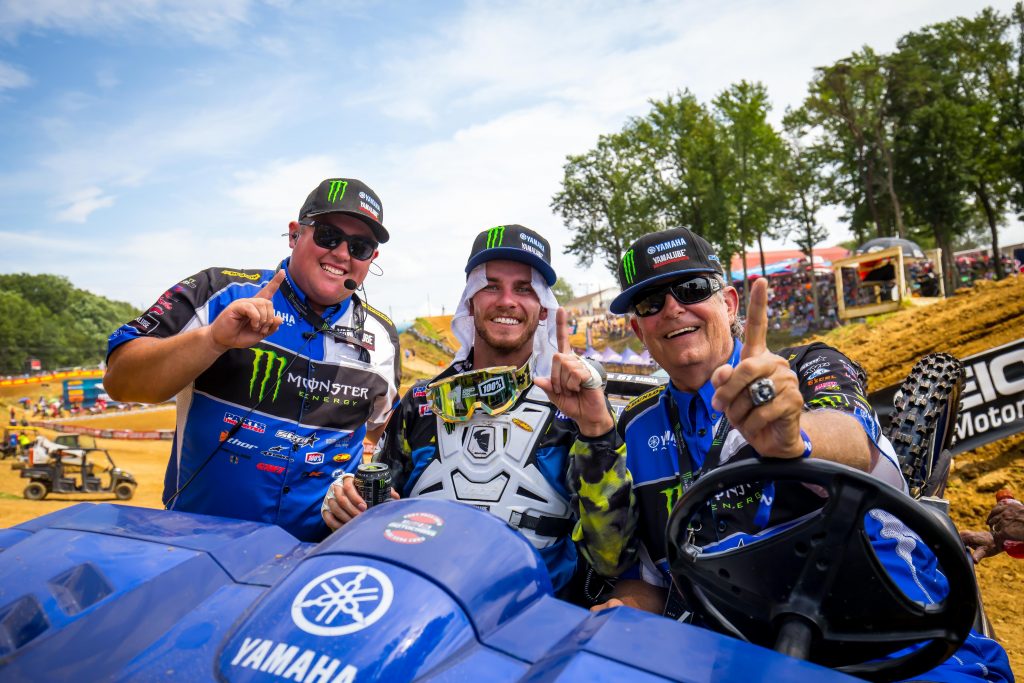 6- You're around the Star Yamaha team a lot, can you talk about Aaron Plessinger and what you see about him, how he rides and what you think he'll do on a 450?
Aaron is always happy and I think he genuinely loves what he's doing. He has been unbeatable this season in some races and deserves his championship. He won Glen Helen in dominating fashion when Zach and J-Mart were still racing so we can't say that he wouldn't have won the title with them racing still today. He has a very smooth riding style that will work good in the 450 class. He's not a 250 rider per say. Other guys in the class look more like 250 specialists that will have to adjust to perform on the big bike.
Aaron's move to the 450 class will be easier than other 250 guys. Even if the 450 is only 200cc more and basically the same bike, it takes way more strength and fitness to race 29 races on a 450 than 20/21 on a 250. Some good 450 guys today still don't have enough strength and fitness to fully show their potential yet. The physical side of racing the 450 class at a high level is often forgotten. You gotta be a beast to race 17 SX's at a high level and then pin it for 12 nationals. We see it every Saturday, only the beasts triumph. Is Aaron ready to become a beast physically? The future will tell us that soon enough.
7- Can Joey Savatgy break out of this slump before he gets to 450's? Obviously you don't work with him and don't know what's going on but what would you do?
As Rita Mae Brown, the mystery novelist, wrote in her 1983 book "Sudden Death", "Insanity is doing the same thing over and over again, but expecting different results.". FYI, no, it's not an Einstein quote as everyone thinks, stop believing memes on social media. In my opinion, the quote works well to describe Joey. He needs to drastically rethink his program and riding philosophy…
8- How much of an advantage do you think the Star Yamaha's have in the motor department?
It's not because I'm involved with the Star Racing team and Dylan that I will say that their engines are very strong. Yes, in my opinion it's the best engine package of the class but I'm gonna say this, you can give that engine to 30+ guys in the 250 class, they will not win an National championship… "It's not about the bike"…