Keefer Kuestions
Hi Kris. My son races Harescrambles and ISDE qualifiers on a 2017 KTM 350XCF. He is sitting 8th OA District 36 HS. He loves his bike. It has 707 Suspension Lucky kit in the forks. My question is we are looking at the 2019 KX450. What is your thoughts of this bike as a HS/ISDE machine ? He plans to get some seat time on one soon. We have it narrowed down to a KTM 350 XCF, KTM 450 XCF, or the KX. Most of his racing is D36 Hare Scrambles. Thanks. Oh, his name is Garrett Bachand.
Darren, To me the KX450 would be to much bike for what you guys are trying to do. To me the best bet would be the 350 because of power to weight ratio. The KX would be a lot of bike in the tight stuff and would have a tendency to stall more than the 350. The 350 can corner and has enough power to get him from point A to point B more efficiently. 
 That's my .02. 
-KK
Let me start by saying I like your no BS reviews and constantly giving Steve Matthes crap! I might be eligible for the Clydesdale class, 5′-9′ 230 lbs. live and sweat in Vegas my whole life. I started racing WORCS over 40 and for every hot race I break out the moose gear simply because it breathes like nothing else I have tried, but it doesn't look all that great and is getting a little rough. I am looking for gear that breathes so I don't suffocate to death and keel over during the race. I wear 40" pants in everything else I have, Moose, JT, TLD, and Shift. I ordered Fly F-16 size 40" pants from Rocky Mountain a couple of years ago and they were too big. When I tried to return them that color had been sold out in Size 38" and Rocky Mt. didn't want to give my money back so I chose something else.
My question is; since 38" is the biggest pant size for the Lite Hydrogen line or do they run larger than normal like the old F-16 pants or am I screwed? I understand you don't wear that size "skinny bitch" but hopefully you would have someone at Fly to ask?
P.S. I have a 2016.5 KTM 450 SXF-FE and love it, I now have about 120hrs on it and had the "MAN" Tony Berluti rebuild it for me. Is the new 2019 bike a big enough improvement I should be looking for a new bike next year or is it so different that I might not like the new bike? I came from a Honda CRF450X and it took me 6 months to get used to the KTM like Night/Day. Is the new bike that different or an easy adjustment? Thanks! -Jade
Jade, 
 Fly Lite Hydrogen is stretchy enough that I feel like you can get inside them no problem. I wear a 32 and I have to inch mine down with the BOA so I feel like you're good! 
 The 2018.5-2019 KTM 450 SX-F is so much better. The chassis is more stable and precise and the engine is a little better down low as well. If you're a KTM guy it shouldn't be that much to get used to at all. 
 Hope this helps guide you a little..-KK
Hey Kris,
First off- I want to warn you that this email will be long.  I apologize in advance for this, however, I hope you will understand.
I want to start off with saying that Moto is my life. IT has been ever since I was about 11 years old.  I remember seeing the neighborhood kid down the street from my grandparents riding up and down the road on some sort of 2-stroke bike.  I knew I had to have one.  The problem was that I grew up living a low-class lifestyle.  Mom was disabled and unable to work and we lived pretty poor in apartments.  To feed my new passion, mom would purchase Cycle Trader sales mags so I could at least look at all the bikes.  On some weekends, My grandma would bring me to dealerships so I could sit on all of the bikes – new and used.  Ill never forget the adrenaline I got when looking at the pink and white YZ250! soo bad ass.
Fast forward a few years, my grandma and Mom came together to surprise me with a dirtbike! well.. kind of.  They bought me a 81 Honda Xl 125.  Im talking metal tank endure with a knobby on the back.  Ill never forget my grandma teaching me how to ride it in the dark using street lights.  I rode that thing every day for years.  I took it in the ditches around town, up and down the road, and even to school.  At the age of 13-14 it finally died, and I was stuck without a bike.  Knowing mom couldn't afford a new one I got a job washing dishes to buy another bike.  After working for a while I was able to save up for a 94 Honda Xr250.  This thing was my baby!  I learned how to ride in more "dirtbike" areas like sandpits and trails.  I made few ruts in ditches so I could ride like the guys on the crusty vids.
I worked all through school so I could afford a truck and gas money to ride this bike.  I loved it but didn't feel like it was cool enough.  All my friends and cohorts had 2 stroke MX bikes! not those lame ass 4 strokes.  After Highschool I went in to construction instead of college because I wanted money for moto.  I was able to finally purchase a 2001 Cr250.  This bike was the cats ass to me.  I then began to ride with some local good guys and real MX tracks.  This sport literally kept my ass motivated to work.  I worked to ride and that was it.
Well of course at the age of 20 I found true love (not).  I met this chick, sold my bike, and had to enroll in college for  real job because that's what adults do.  I thought I was doing the right thing raising a family, working full time and going to college – things real men do.  But deep down I had the passion for MX still.  To be honest the only reason I went to college was to get a good job that had good medical so I could ride and not worry.  Over the next year I made my college major law enforcement, switched my full time construction job to working a full time prison guard job in MN's maximum security prison, and worked part-time as a cop.  I Worked my ass of to set my future up to be comfortable so I could ride with no worries.  I even purchased a brand new 2006 KX450f in 06 to keep me sane during this time.  I loved this bike soo much, but due to my schedule I wasn't able to ride much; maybe once a month at most.  Well in January 2012, I took a vacation day on a Sunday from the Prison and decided I needed a mental health day to ride an indoor mini SX track in WI.  Being not in the best of shape I got tired and ended up breaking my femur, pelvis and puncturing my calf.  Bummer. a month in the ICU and a year on a cane after that due to complications forced me to sell the bike to pay for life.  I actually scheduled my second surgery 1 year later early in the morning so I could get home at night to watch A1 in Anaheim.. 2013 I think?
I also attended the supercross finals in Vegas every year I could.  It was my treat to myself while I was busting ass.  Funny story – My wife at the time actually asked for a divorce during the 2013 SX final in Vegas! I guess she thought that was the perfect time. Bitch.
Lucky me she took everything I owned in the divorce.  I fell into a depression, blah blah blah…. Who cares? everybody has shitty times.  I started my new career as a cop in the worst way I could have. Depressed, poor and unhappy.  I got the job that payed well and had good medical but now I couldn't afford to ride.  Time went on and I met this unbelievable chick.  Brought me back to life.  Well 2 summers ago I finally got me a 125 to get back into riding.  Loved it so much that this year I traded it for a 2002 Cr250.  At 33 years old I'm finally in a good enough spot in life to enjoy riding with no worries.  I'm using the old 2 stroke to get me on the track and enjoy life again.
Ok, so that's the quick and dirty version of Mike's life.  In trying to make this email shorter I left out most of the down and depressing stories.  They are long, and im sure you're bored by now or simply don't care because you've never met me. I don't blame you – I would feel the same way.  I will say that all work and no play during those early adult years followed by achieving career success while losing my first family was enough to cause deep depression.  Also, seeing close friends get hurt at my Prison job, dealing with asshole inmates and being a cop at night while not having the family was maddening.
Ok, sorry.  This email is already way to long. So why am I telling you this?  The last two years I've really worked on myself.  Recently my wife and I have had a life altering thing happen to us with a child.  Also recently a friend lost his wife to cancer.. at the age of 40.
Ive been listening to PulpMX for years now.  Now that you have your own thing going I've been such a huge fan.  You seem like a down to earth dude who loves to ride.  I live, breath, sleep, work to ride moto.
Im not writing this email for you to feel bad for me.  Please don't, and I hope it doesn't sound like I'm looking for sympathy.  Im in a real good place in life – I moto, I hang with friends and my wife and I travel.  We have two bad ass dogs and huge garage!  Ive learned to take life by the balls and go after what you want. That's what this email is about.  This email is about me saying fuck it and asking you if I could be apart of the industry.  Even if its for one day, my dream is to hang with industry peeps doing anything.  Im an average dude who rides maybe twice a month – vet c class type riding.  Maybe I could be a part of testing for you?  Maybe we ride for a day? Maybe I ride my clapped out cr250 while you guys are testing and bring you guys Gatorade?   I Don't really care.  Ill test pressure washers for you.  I just want a day with you and the industry just to say I did it.  Life's short and I want to look back at my life and say "Fuck yeah Mike, you did it."
I have way more to say (I'm a few Natty light's in and could talk forever) but I just looked and this email is already way too long and Im sure you A: think im fucking crazy; B: deleted and blocked my email, or; C: filing for a restraining order.   Whatever the case is I honestly don't expect you to say yes.  This is me saying YOLO and giving it a shot.
Love your family, ride safe, enjoy life!,
Mike from MN
Mike, 
 Thanks for the email. Life is up and down isn't it? I hear you! It sound like you love moto a lot and I can appreciate all of your words because I was just like you…Hell I still am. Besides my family, it's all I think about!
 Maybe we can work something out next time you're down here for a race? Maybe a Vegas SX that doesn't suck or involve a divorce? If you decide to get down here for a SX, I am down to meet you at a track and go ride! Thats what we do here over at Keefer Inc. We ride fucking dirt bikes! A lot! Holler back when you get a trip planned down here for a race and we can try to make it happen. Don't just come down here to meet me and hang out! Come down here, go to a race, bring your wife/family, go to Disney and do the damn thing! 
Thanks for reading and listening to my tests! I appreciate it! I respect your hustle for dirt bikes! -KK
Hey Keefer!
I was wondering if you have done testing on compression sleeves for knees. Your knee brace review pod really helped in choosing a good brace, unfortunately I tried racing again and ended up prolonging an injury.
I am trying to recover after an mcl strain and my knee still has soreness and occasional 'unsteady' feeling, although I am still only 4 months post accident. Physical therapy and trying to build the muscles in the knee best I can, but I have a very tiring job where I'm standing and stepping up/down 12 hrs a day. A full on brace I feel would hinder the muscle building, but my thought was that a lighter compression sleeve might help with support and blood flow throughout the day.
Any thoughts on this I would appreciate, as well as your thoughts on ankle supports as well (like under-sock compression sleeves).
Thank you! – Ron
Ron, The best compression sleeves that I have ran is  2XU compression. Look them up. I've used them for a while when running, etc. and they keep my legs feeling fresh and solid feeling.
 Good luck with your recovery. KK
Hi Kris, love all the pods, tests, advice co hosting, articles etc!!! I picked up an '18 350 SX-F a few months back and love it. After my buddy telling me I had to change the stock bars for the past few months and listening to your handle bar pod, I'm going to switch. I haven't been able to ride for a few weeks due to work, and finally got to go Saturday. My arm pump was horrific and my not super picky self finally paid attention to the vibration you mentioned, and mentioned the husky didnt have because of the pro tapers. I've run pro tapers my whole life before this bike so I'm fine going back there. My problem is finding the right bend. I actually really like the stock bend. I run super flat, low sweep bars on all my mtb's so I love the stock bend. But what are the dimensions?!?!?! Pro taper "stock ktm/Suzuki" is different than "stock ktm/suzuki" dimensions from renthal but the numbers between the two companies stock husky bends seem close? Do they just measure differently? Either way, I'll going to go pro taper evo line, just wondering which bend.
One last quick comment, I love the 350 and am pretty happy with the power, I know an ecu would be the big ticket but I don't really feel the need for an 800+ upgrade for my weekends being a pro practicer. Any other cheaper mods/adjustments/tweaks you recommend for a 165 pound intermediate level rider? Drill the air box? play with this or that? I do love tinkering lol. I do have a screenless filter cage and the quick pull throttle cam in.
Thanks!!!!!! Tyler.
Tyler, 
 Go with the PT EVO Stock Husqvarna bend and cut the bar to 803mm (stock is 811mm). You'll love it. 
 You can go with a few holes in the airbox to help wake up throttle response down low. I have attached a photo of a Husqvarna one I did recently. 
 Thanks for listening and supporting our endeavor! -KK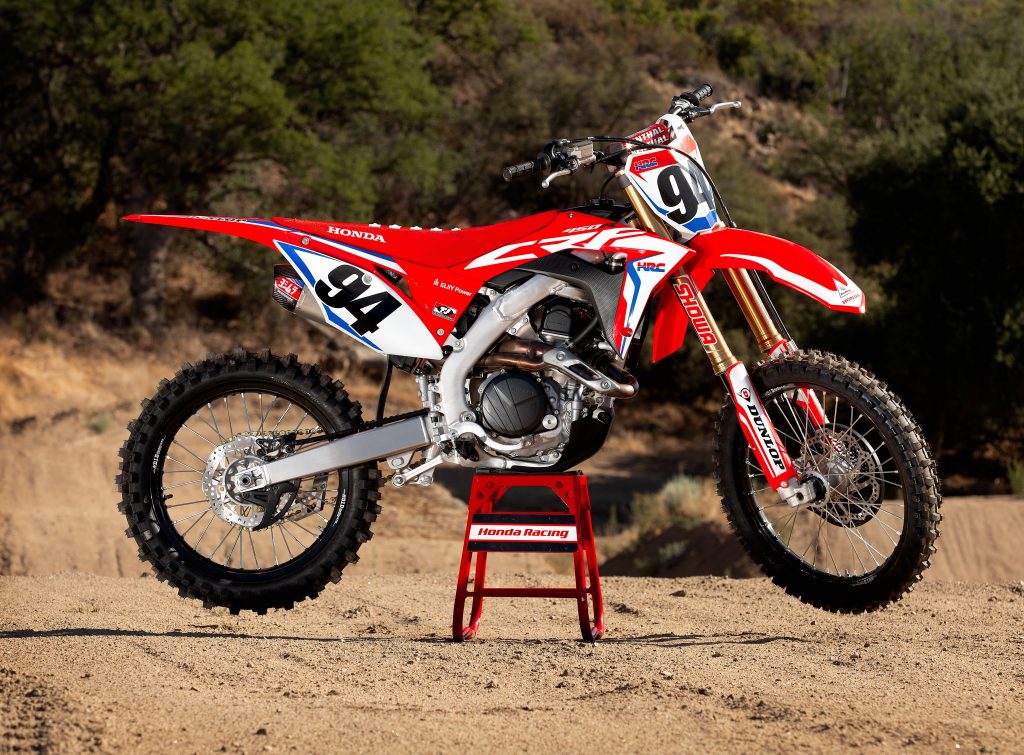 Hey Kris,
Hope all is well!
Had a question for you about the CRFWE 450!
So 2 minutes after the news broke about the works edition i called my local shop (they didn't even know about the bike yet) and I put a (refundable) down deposit on the bike to lock in a bike. For the money the bike is bad ass for what you get!
The sales guy I was dealing with stated that when the time comes Honda will pick 400 people in the USA to have the chance to buy the bike. (I'm paraphrasing, so attached is the convo)
Just wanted your opinion since you are more in the industry about the truth behind this and the bikes availability. I haven't really seen anything that flat out states that.
Thanks!
ALSO, on another note… just finished the Brayton bike review pod! Great content! Took the discussion to work today about running the 1050 cc of oil vs the 1300 cc of oil and the lack or gain of horsepower. Took up a good quarter of the day listening to the team of mechanical engineers I'm in argue about the cause and effect and why this happens. Thanks for the entertainment, always cool to make other people relate to moto! We were also able to come to an agreement of the "science" behind why it happens.
Tyler,
 This seems false to me…. 
 Honda is bringing 500 in the states not 400. Also they do not pick random people to get it. You dealership should get one or at most two of these "WE's" and it should be first come first serve per dealership. To me it sounds like your dealer doesn't know the full deal quite yet. 
 I am no way a dealer, but I do talk to the Honda guys regularly and I was told they are bringing 500 in the states. You should be good to go.. 
 Orrrrrrrr. Find another dealer! 
 Thanks for listening to the pods!! Fun for me to fill all of you in on some secrets as well!
 -KK