Photos By: Thee James Lissimore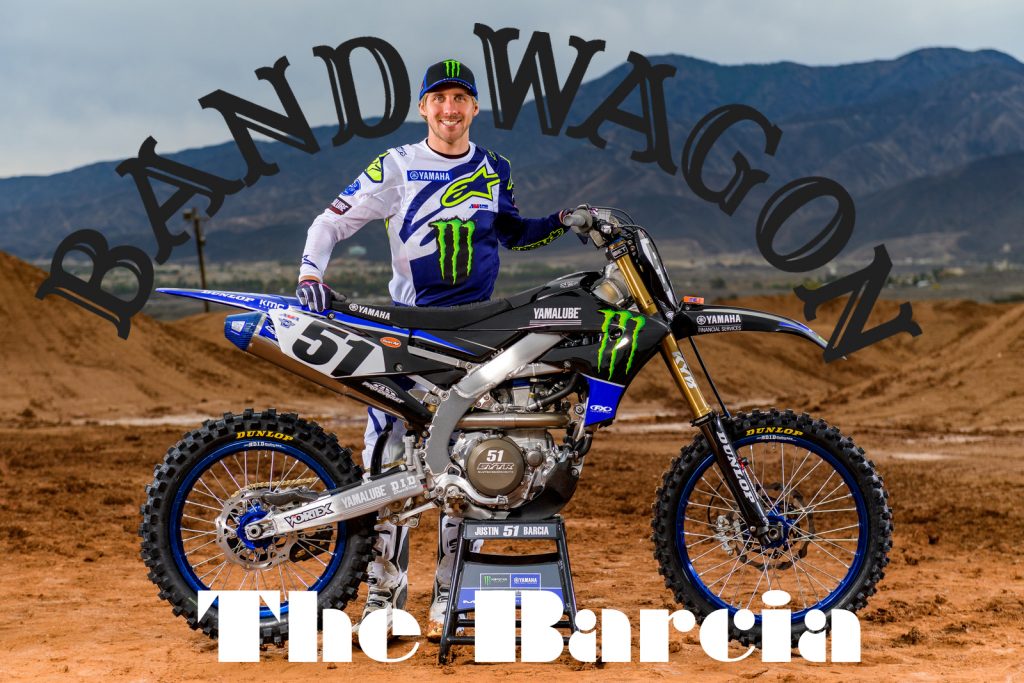 Wow, just wow, what a night of racing. For my money, nothing beats the season kickoff for fun, anticipation, and excitement.  The new bikes, new teams, new gear, and new network all add up to a ton of buzz. After a long off-season of training, crashing and press releasing, the boys were back to finally put wheels to dirt and balls on the crossbar.  Here are my thoughts on the top-ten finishers in the 450 class from a night of mud, sweat, and redemption in Anaheim.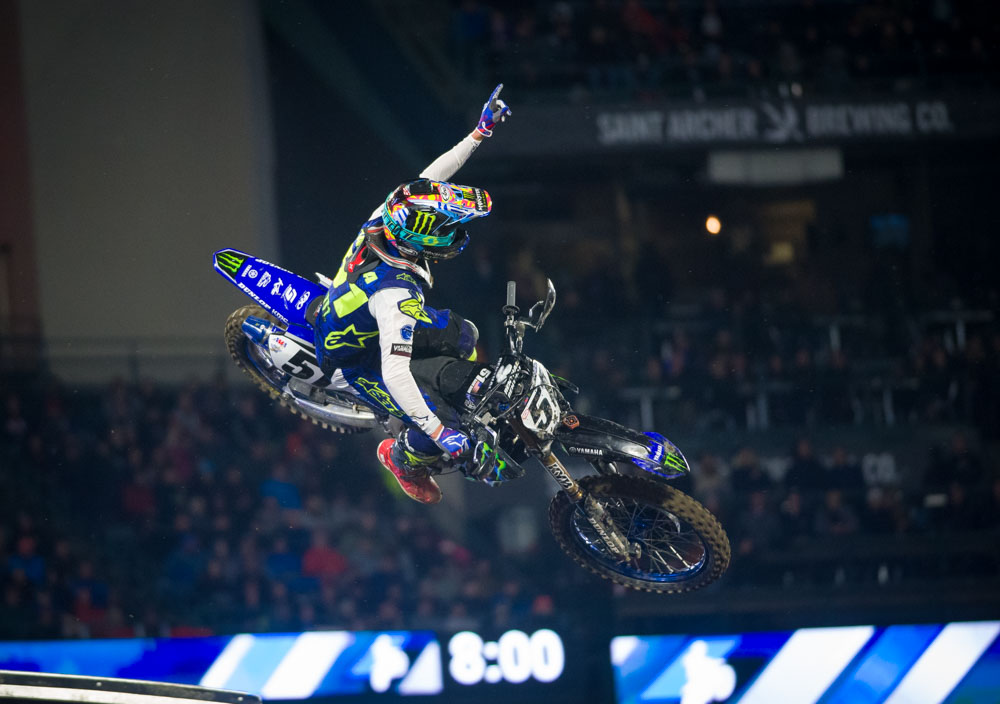 1st  Place – Justin Barcia: Riding rating  (10 rev-limiters out of 10)  Gear rating (6 natty New Yorkers out of 10) *Extra point awarded for Yamaha not allowing Alpinestars to him to dress him like a peacock barfed on a kaleidoscope.
Holy comeback Batman! What an amazing story Justin Barica has been the last year. After losing his ride and nearly retiring, he has clawed all the way back to the pinnacle of the sport. After last season's Lazarus performance, this can hardly be called a shock, but when you look back to his three years at JGR, it is paramount to a miracle. I have a hard time believing his new Yamaha is that much better than Coach Joe's was, but who knows? I'm sure it is a combination of many things, not the least of which is probably his happy home life.
Regardless of the reason, I am really happy for Justin and excited to see where this season goes for him and Yamaha. It is no secret that I was never really a fan of him in the past, but I really dig this new, kinder, less likely to snap your tib-fib Barcia. If he can keep the mistakes he has made in the past to a minimum, maybe he can bring home his first ever 450 Supercross title.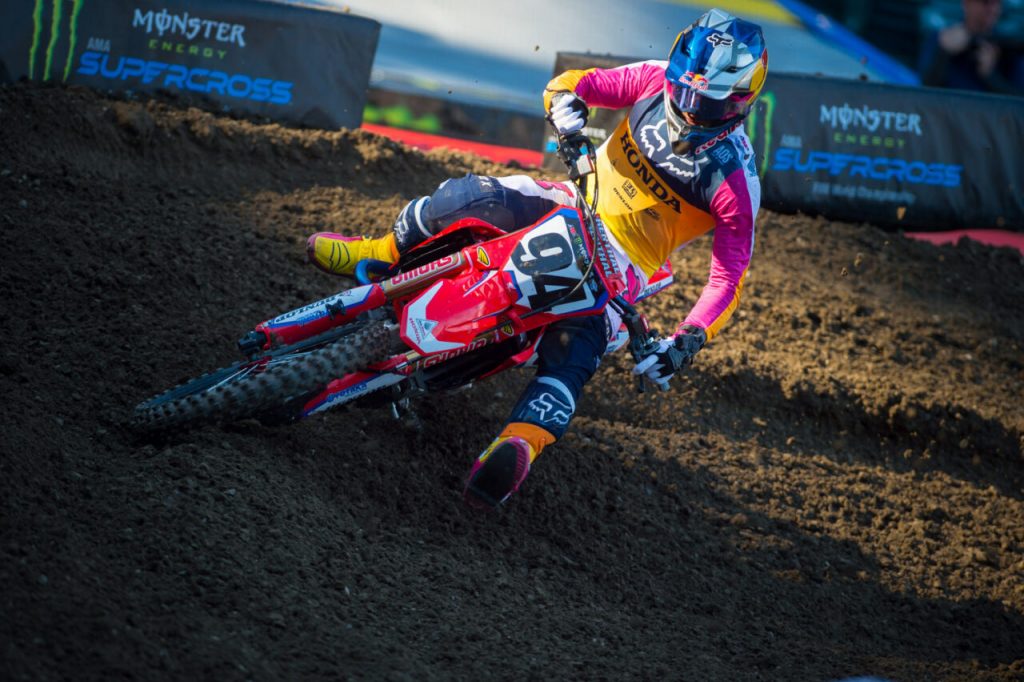 Photo Credit: Mike Emery
2nd Place – Ken Roczen: Riding Rating (9 Teutons out of 10) Gear Rating (9 packs of Skittles out of 10)
This just in- Ken Roczen is a freak of nature. To come back from not one, but two gruesome arm injuries and still haul a$$ is just amazing. Last night, he looked just like the pre-bionic Kenny, minus a bit of his old throw-it-away bravado. He rode fast, kept it on two wheels and rode like a champion needs too. He was patient coming through some fast guys after a fifth-place start and methodical on his march to second. With a better start, he probably could have won, but if ifs and buts were Skittles and nuts…
On the gear side, holy moly was he bright. That Fox gear was more nineties than an intern scandal, and just as controversial. Either you loved it or you hated it, and I loved it. I know my fat, middle-aged but would look ridiculous in it, but a man as stylish as Zee German pulled it off with ease. Here's hoping Ken can keep that CRF off the ground this season and give Honda its first legitimate shot at a title in well over a decade.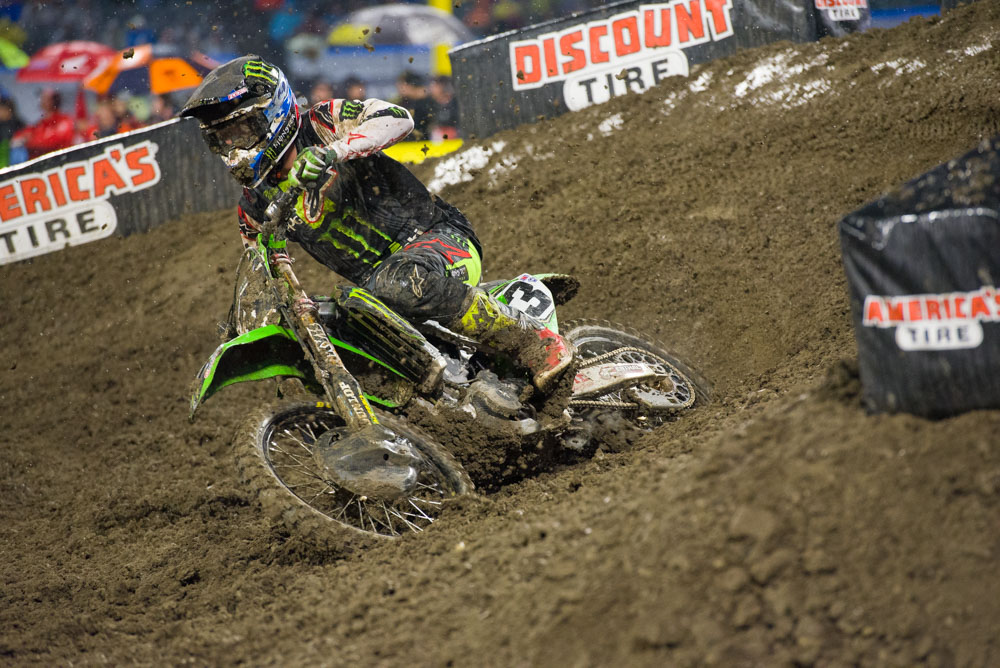 3rd Place – Eli Tomac: Riding Rating (8 Bob Gnarlys out of 10) Gear Rating (6 restrained Italians out of 10) *see Barcia above
When I heard this was Eli's first 450 podium at Anaheim one I could not believe it. This dude has won so many races in the last few years, it seemed inconceivable that he had never even made the top three. Of course, that probably goes a long way toward explaining how he could win half the races run in the last two seasons and still lose the title. To come back from twelfth to third in these ugly conditions is a great start for the current COW of the 450 division.
If he does finally capture the 450 crown, it will be solid races like this one that we look back on as the key to his finally getting over that hump. It did not look great early on, but Eli stayed uncharacteristically patient and kept grinding his way to the front. This was a great race and a promising start to the season for the rider many people think should be the 2019 Supercross champ.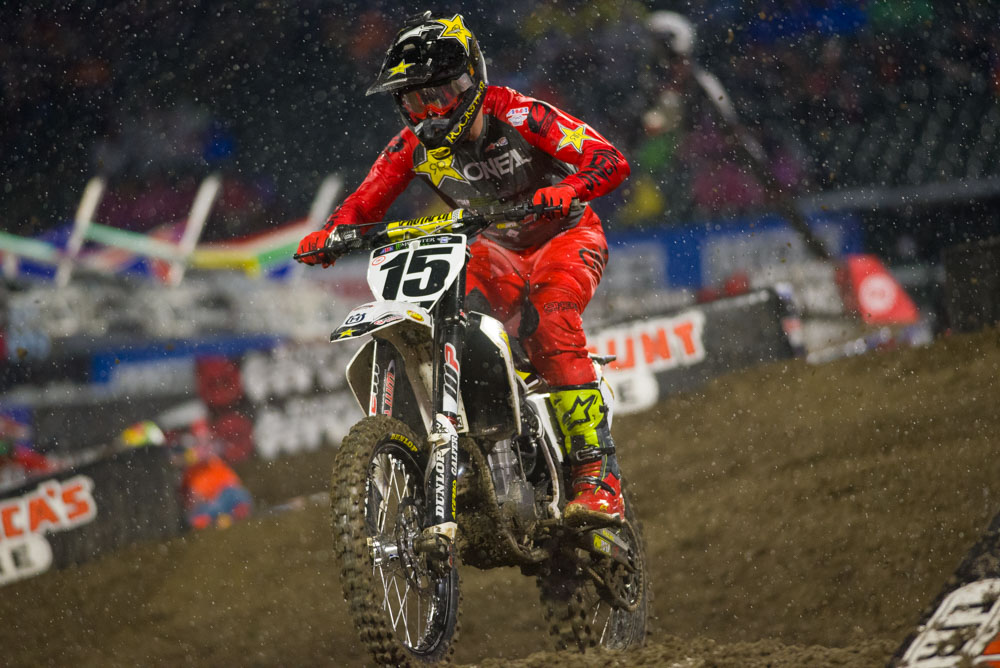 4th Place – Dean Wilson: (10 Bravehearts out of 10) Gear rating (8 Klean Kolorful Kilts out of 10)
For fifteen minutes and twenty-nine seconds last night, we had Camelot, Cinderella and Rudy all wrapped into one. Then the glass slipper cracked and well… that Husky did not exactly turn into a pumpkin, but it did seem to lose a little momentum. Tortured metaphors aside, man what a performance by Deano. At one point, I almost dared to dream that we might be seeing another Brayton at Daytona, but the relentless speed of the favorites eventually gobbled Dean up. Even though I know that Dean is getting help from the Factory Rockstar team now with Zach's injury, it is no less impressive what he did last night. Wilson has been on a lot of great teams over the years, but he was never as close to winning a 450 main as he was last night. It was a really amazing performance and a great comeback story in a night of comeback stories.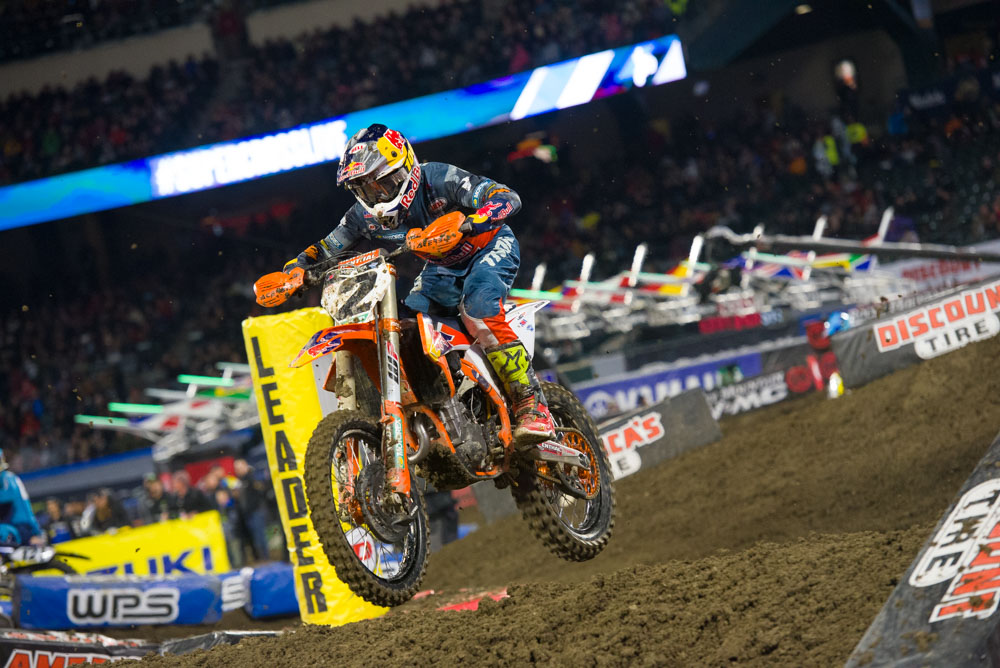 5th Place – Cooper Webb: Riding Rating (11 never-say-die North Carolinians out of 10) Gear Rating (7 thank-god-it-does-not-have-kittens-on-it out of 10)
A fifth may not look spectacular on the results sheet, but oh man, was this really a great ride by Cooper. On the first lap, he was on the ground and in twenty-first. To come all the way back to fifth in the mud and slop was a phenomenal effort and far more like what we were all expecting from the charismatic Carolinian. If this is an indication of what is in store on the KTM, the last two years of mediocrity will quickly fade out of memory. Hopefully, he won't need to come twenty-first every week though, or any shot at a title will quickly fade as well.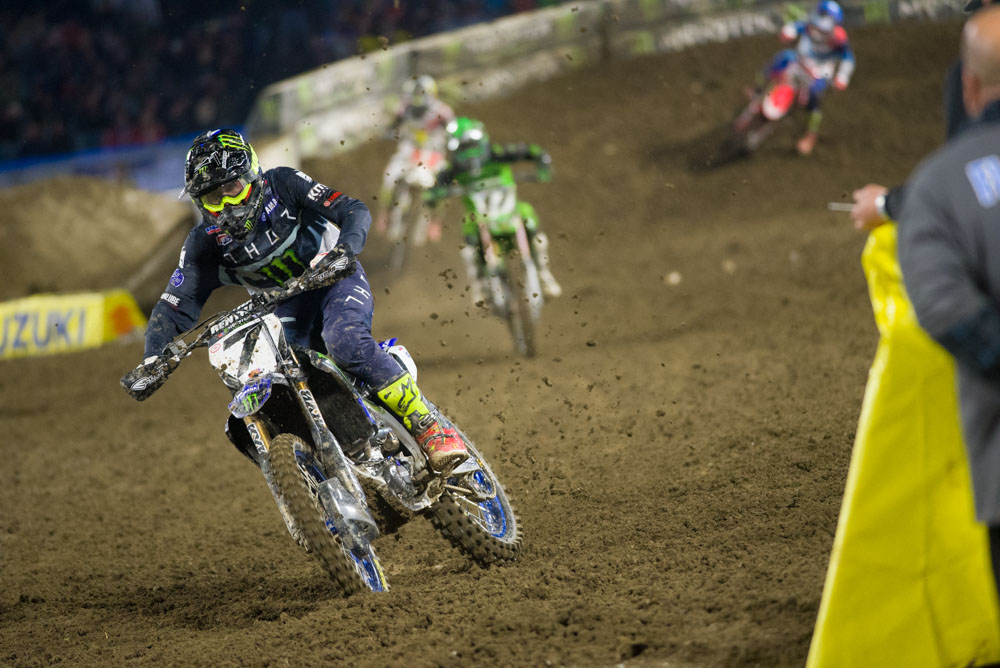 6th Place – Aaron Plessinger: Riding Rating (6 first-night-jitters out of 10) Gear Rating (7 thank-god-it-does-not-have-sharks-on-it out of 10)
As an acknowledged "mud specialist," Aaron Plessinger looked like a solid bet for a top-five pick on Saturday. In spite of his rookie status, a solid start and crap conditions looked like the perfect recipe for an impressive finish for the 250 Supercross champ. In the end, however, he only moved up one spot during the main and finished sixth. In spite of this, I would have to say it was a good start to a rookie season, He did not  "tighten-up" under the pressure of the big stage and work his way to the back of the pack. He rode well, got points and gave Monster Yamaha two bikes in the top ten. What else could you really want from a rookie and a solid wingman?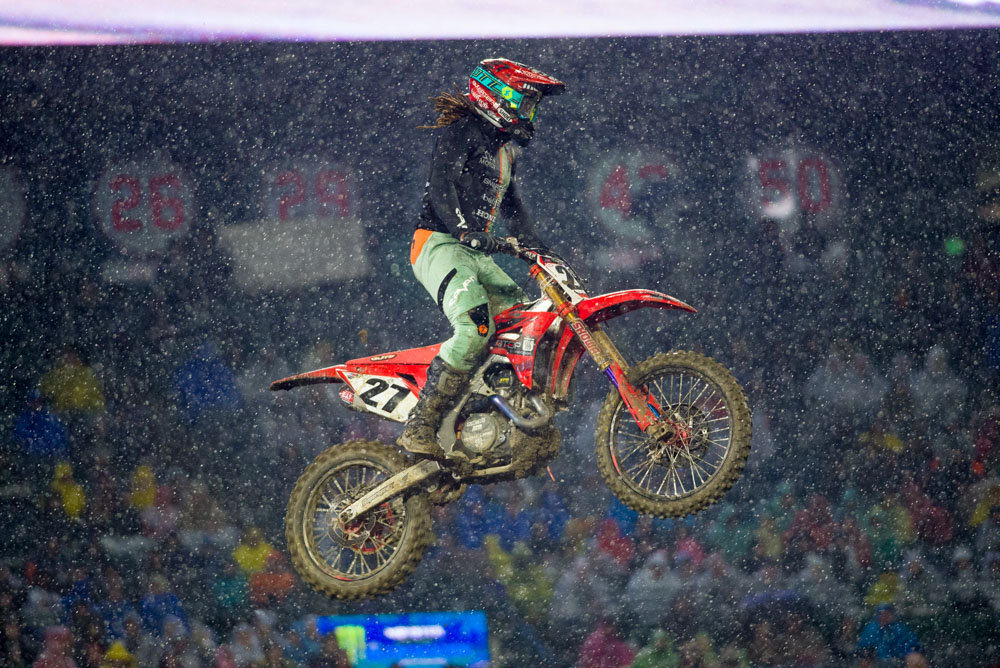 7th Place – Malcolm Stewart: Riding Rating First 13 Minutes (10 Mookie Fevers out of 10) Last 10 Minutes (2 ah craps out of 10) Gear Rating (2 really-not-a-fans out of 10)
Mookie, Mookie, Mookie…for thirteen-minutes we had on of the all-time amazing finishes in Supercross history brewing. Wilson first, Stewart (part deux) second – the Instagrams and Snap Chats would have gone wild, then "Mookie gonna Mookie" happened. So close, yet so far…
Even so, it was a great showing for Stewart and MCR. The team got a lot of airtime and he showed some impressive speed at the front. A seventh is certainly not a bad finish for Malcolm in the grand scheme of things, but man it could and should have been a lot higher.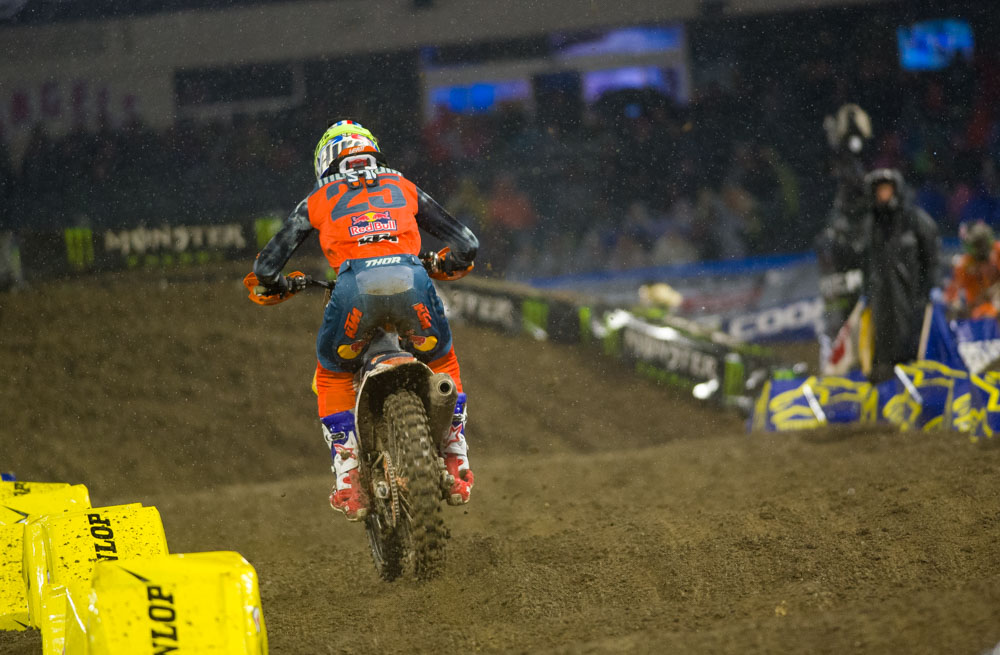 8th Place: Marvin Musquin: Riding Rating (3 this-ain't-gonna-cut-its out of 10) Gear Rating (7 thank-god-it-does-not-have-flowers-on-it out of 10)
Well, this is certainly not what anyone at KTM was hoping for out of their top championship contender. I know that Marv was coming back from a knee injury, but he is going to need to find another gear if he is going to capture his first 450 title. Tenth to eighth is not really a championship-type of performance. Maybe, he was just rusty and another race or two will have him at the front, or maybe, this is going to be one long season for the affable Frenchman. Hopefully, better days are ahead for the number 25.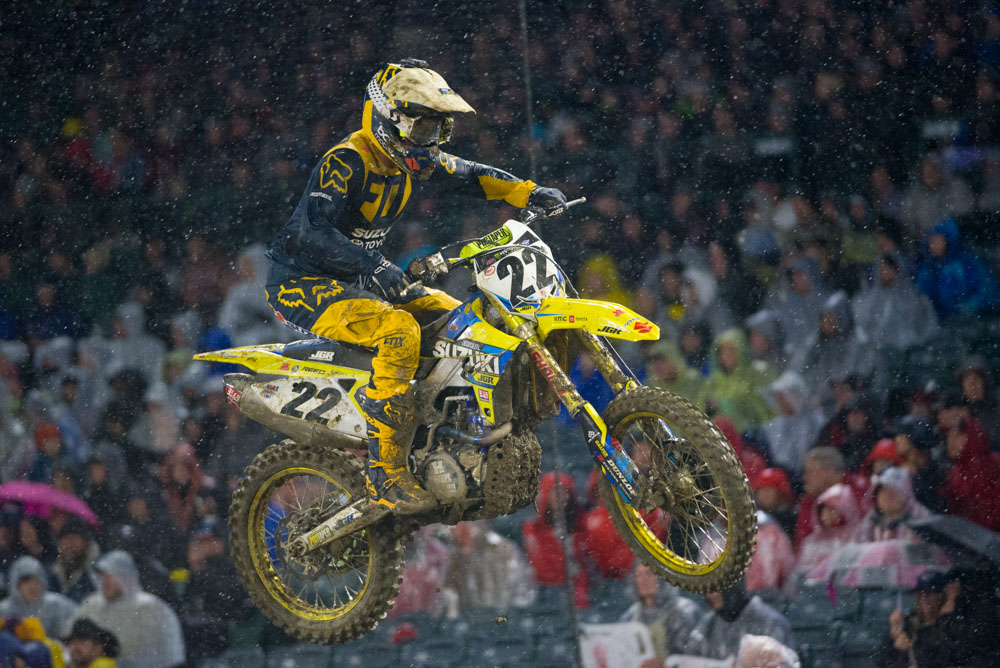 9th Place: Chad Reed: Riding Rating (7 Methuselahs out of 10) Gear Rating (7 RC-Hard-Chargers out of 10)
The fact that Chad Reed is even still out there is amazing, and the fact that he was able to come from seventeenth to ninth is a testament to his desire to keep at this. I don't think anyone expects Chad to actually win a race, but at least he is no longer the shadow of his former self we saw last season. Hard charges like this are a promising start to what I hope will be a much-improved season.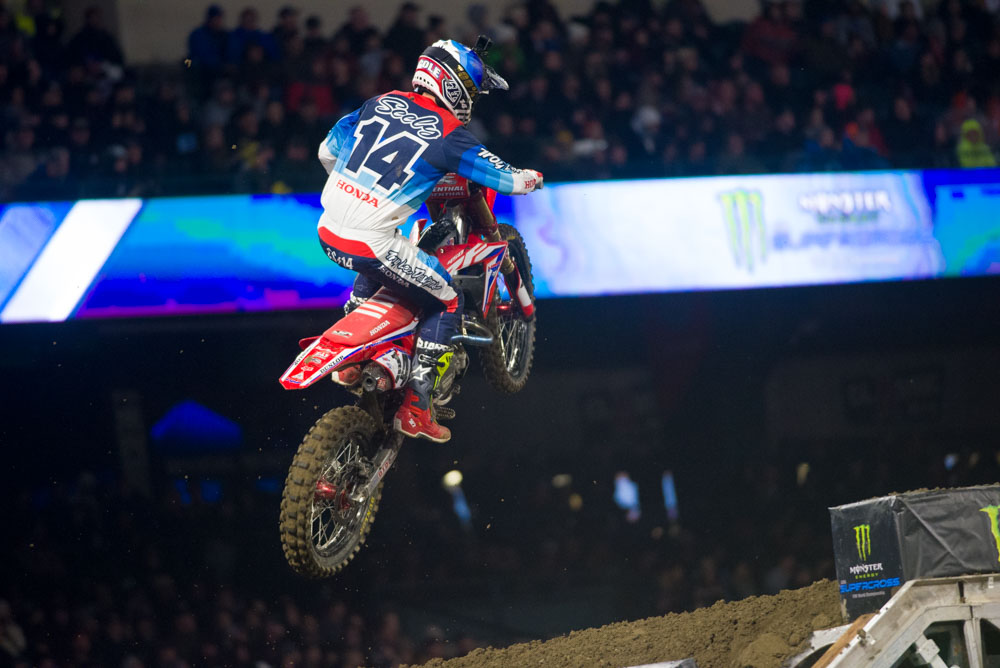 10th place Cole Seely: Riding Rating (5 rebuilding steps out of 10) Gear Racing (9 cool-as-the-other-side-of-the-pillows out of 10)
A top-ten does not sound like a great finish for a guy riding for factory Honda, but when you realize how jacked up Cole was 8 months ago, it looks pretty dang good. To listen to him after the crash, it sounded like he might never get on a bike again, but here he is in the top ten in the toughest class in the world. With his silky-smooth style and badass TLD gear, few guys look better than Seely and I think his finishes will soon catch up to his impressive aesthetics.