PulpMX.com Fantasy Wrap Up- Anaheim One
Supercross! Supercross! Supercross! It's back! As always we are beginning the season with a stacked 450 class (deep field bro's!) and a 250 class that is promising to provide entertainment all season long.
I was excited to see what the handicaps would look like for the first round. The Anaheim track looked great for the opener and the rain definitely kept us fantasy players on our toes. Did you change your team because of the weather?
Regarding the handicaps, I am always eager to check handicaps each week, to see where, if any, mistakes were made. This week I could only find one, Jacob Hayes at a 10 seemed like a free square. Let's dig in and take a look at the results.
 Most picked riders AKA "the chalk
If you missed this column during the "summer series" and/or you don't play daily fantasy sports, you might not know what "chalk" is. Simply put it's a term denoting highly owned players. From a game strategy perspective, it's important to think about ownership when setting your lineup. Avoiding a chalk rider that busts can give an owner a big edge, especially if you are on a low owned rider that delivers a higher score than the rider who busts. Be careful though, when the chalk goes off, if you're not on them, you will get buried. Note, at the time of this writing, the pick trend statistics were not available so I am making my best educated guess here.
In the 250 class, Jacob Hayes with his 10 handicap was at 51% owned. He qualified 9th overall and looked good all day. To me he was basically a free square, pick him and fill out the rest of the team. Jacob delivered a perfect 52 point score. I am also guessing that Jess Pettis had significant ownership, he qualified 12th, with a 9 handicap he seemed to have a lot of upside and also delivered 52 points for his owners. Update, Pettis pick trend was only 27%, pretty low!
The PulpMX Fantasy handicap crew did a great job on the 450's, I doubt there were any riders, excepting an all star or two, who had more than a 20% pick trend.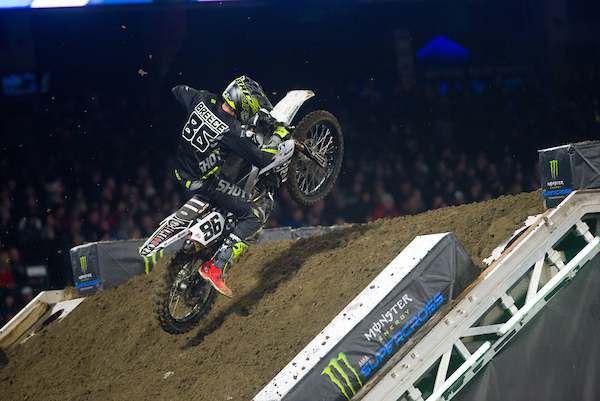 Low owned players who delivered – AKA great contrarian plays
Did you roll the dice on these guys? If you did, it paid off, and you probably had a great day. In the 250 class Mathias Jorgensen, a 16 handicap, qualified in 29th and put up a perfect 52 point score after finishing 17th OA. He wasn't picked by anyone, or at least under 1% of users picked him. Bradley Lionnet was most likely right there with him, he had a 15 handicap, qualified in 25th, and finished 18th OA, rewarding his 1% owners with 42 solid points. Nice job guys!
The 450 class saw 15 handicap Ryan Breece qualify in 28th, then finish 20th OA, rewarding his owners with 36 points. The only rider to better that was none other than Carlen Gardner who entered Anaheim Stadium with a 16 handicap, qualified in 27th, and finished 17th OA, rewarding his owners with a perfect 52.
Fantasy Duds
We definitely had a few fantasy team wreckers to begin the season. Unfortunately yours truly was on two of them in the 450 class, this was especially painful because I was 18 points off of a perfect score in the 250's. The Bear, Tyler Bowers did not have a good main event. He qualified in 14th and seemed a solid pick with a 7 handicap. He transferred straight out of his heat race, started the main well and then had a big get off in the first few laps. He had to pull off the track for repairs and reentered the race, beat up and three laps down, to finish 21st OA, delivering only 9 points.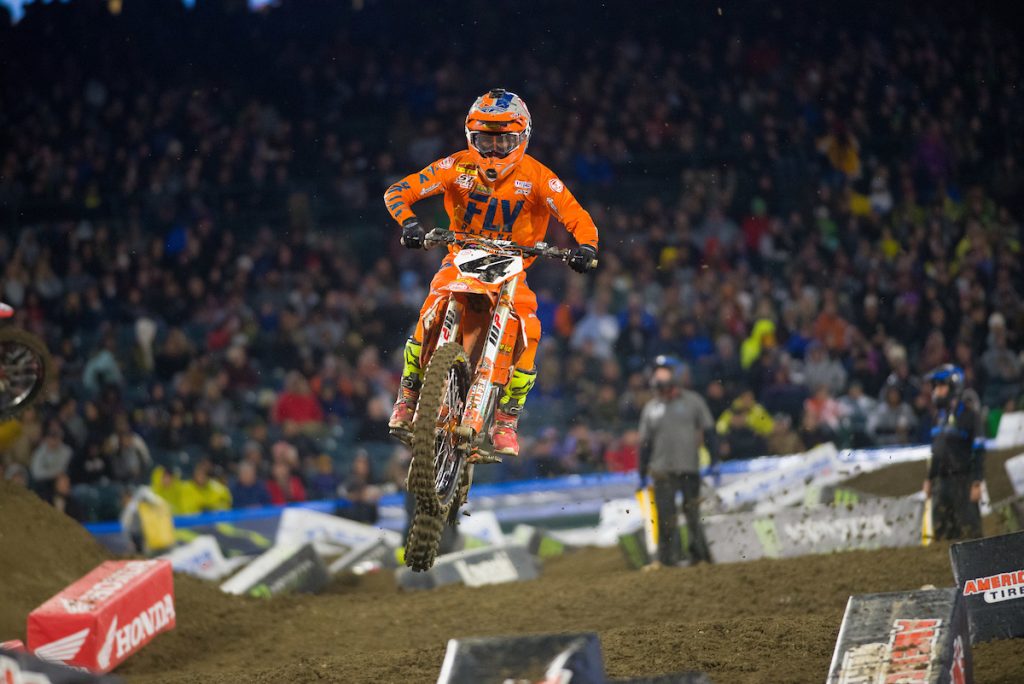 Another rider who did not have a good night was Blake Baggett. Blake looked fast all day and actually got faster as practice went on, finishing with the pole position on a rainy racetrack. With a 5 handicap and knowing he was in shape, he seemed a lock for 25 all start points. It was not to be, he qualified straight out of the main, had 5th gate pick and it went downhill from there. Blake finished a distant 12th, leaving his owners with only 16 points. To be fair, Jason Anderson did even worse, scoring only 10 fantasy points. I'm guessing that not many people owned him though as he was a 1 handicap and never looked right all day, only qualifying in sixth.
Fantasy Studs
 The fantasy studs are the riders who we expect a good score from and deliver. Let's take a look at who achieved stud status to start the season. The 250 class was sparse, we already mentioned Pettis and Hayes, outside of them we only had expected performances out of all stars, most notably Dylan Ferrandis, RJ Hampshire, and Colt Nichols.
The 450 class had quite a few strong performances. Mookie, Dean Wilson, and AP all scored 42 points. All three were solid picks even though they had fairly low handicaps, the highest among them was Mookie with a 4.
Scoring
Overall the scoring seemed a little bit on the low side of average compared to last year. We had a tie at the tops of the leaderboard at 322 points. When we break down fantasy points scored by the riders we see very few perfect scores, only three in the 250 class, (Pettis, Hayes, and Jorgensen) and only one in the 450 class, (Gardner). We also had very few riders score over 40 points, only three in the 250 class and two in the 450's. The rest were under 40 points. This is a sign that the handicappers did a really good job going into round one.
 Final Thoughts
There should be some edges to be had this week, due to some weird A1 overall results, leaving riders who would normally be all stars eligible for double points. The key will be in how they are handicapped. I'm guessing that Jason Anderson is going to look juicy, but will be a dangerous pick due to a rumored arm injury. We will also have Joey Savatgy, Justin Hill, Blake Bagget, Cole Seely and a host of others eligible for double points. It's going to be fun, I can't wait to see what their handicaps will be and look for an edge.
We will see you after Glendale, thanks for reading!