PulpMX.com Fantasy Wrap Up- Glendale Grenades!
Photos by James Lissimore
Last week I wrote about looking for an edge in scoring, as there were a bunch of riders who would normally be all stars and eligible for double points. They figured to be both safe, and pay off – and for the most part they did. For the most part… a couple sunk their teams; did you have one, or more of them?
I also talked about pick trends, the advantages of going against the grain – making contrarian picks, versus picking riders with high pick trends. Well, this week it looks like a lot of us picked the same riders, and more than a few of them are going to wind up in this week's "duds" section.
If you picked against the grain at Glendale and were one of the 11% who selected Blake Baggett, you probably crushed it. I did not, and my team sunk faster than Team USA at Red Bud, let's take a look.
 Most picked riders AKA "the chalk
Pulp favorite Adam Cianciarulo (AS3) was the highest picked 250 class riders with a 46% pick trend. Mitchell Harrison (4) followed him at 33%. Michael Mosiman (2) and Enzo Lopes (4) rounded out the top four at 32%. Of these four, two did well, AC and Mosiman, we'll get to the other two later.
In the 450 class things were a bit more spread out, we had Justin Hill (5) at the top with a 47% pick trend. Cooper Webb (AS5) was next at 38%. He was followed by A-Ray (13) at 31% and Joey Savatgy (4) at 29%. After that we had two all star riders picked at 24% (Marv and Eli) and seven riders picked with a 14% to 16% pick trend.
Of the top four picked riders, Savatgy busted. Does anyone else remember how I kept warning people during the nationals not to pick Joey? I'm sensing a theme here as he's now begun the SX season 16 – DNF. Cooper Webb (all star) was less than ideal, delivering only 19 points, even with a 6 handicap. Justin Hill delivered 30 points for his owners, and A-Ray, sent it for his owners with a big 38 point score!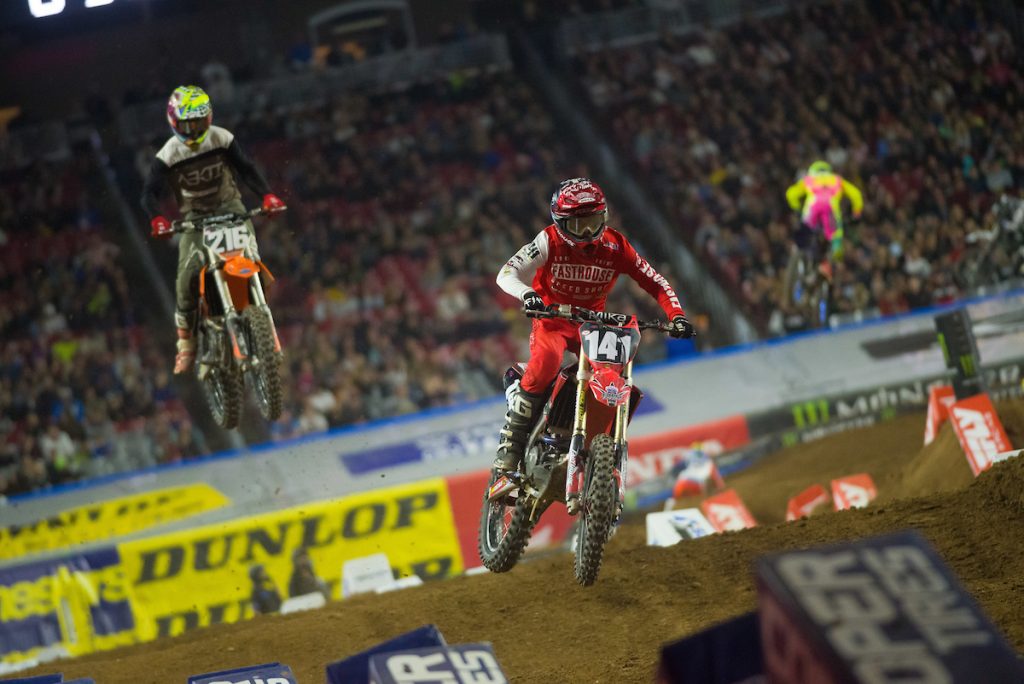 Low owned players who delivered – AKA great contrarian plays
 Every week a rider or two slides in under the radar and delivers a box truck full of points for their owners. This week in the 250 class we had two riders with a zero percent pick trend really deliver! Devin Harriman (16) put up 46 points with an 18th OA, and Deegan Vonlossberg (16) delivered 42 points with a 19th OA. Robbie Wageman (16) topped them all with a perfect 52 point score, congratulations to the 4% of you who picked him.
As always, the 450 class was a little harder to pick low owned riders who could deliver high scores. Nevertheless, we had Cheyenne Harmon and Ronnie Stewart deliver 36 and 38 point scores respectively at a 16 handicap. Carlen Gardner (13) had another good week for his fantasy owners, with 36 points. Kyle Chisolm (11) was a little higher owned at 9% "Chiz is gonna Chiz!", he also put up a 36 for his owners. Everyone else who up up 30+ points had double digit ownership percentage.
 Fantasy Duds
Did you avoid the fantasy team wreckers this week? Some of them were among the highest owned riders so they zapped many of us. That's the good news, also good news, we're only two weeks into the season, there's still plenty of time to make up lost points! This week's land mines included Joey Savatgy who crashed out leaving his ownership with zero points. Joey was the fourth highest owned rider at 29%. Justin Hill was less than stellar. He was by far the highest owned 450 rider (47%) and scored 30 points. While this was less than ideal, it wasn't horrible, he finished mid pack for fantasy points scored.
In the 250 class Mitchel "my bike is a grenade" Harrison was on exactly 1/3rd of PulpMX Fantasy teams and awarded owners with 5 points. Joining the 250 dud squad was Enzo Lopes who is showing speed, and crashing a lot. Enzo was in 32% of PulpMX Fantasy lineups and rewarded his owners with 6 points.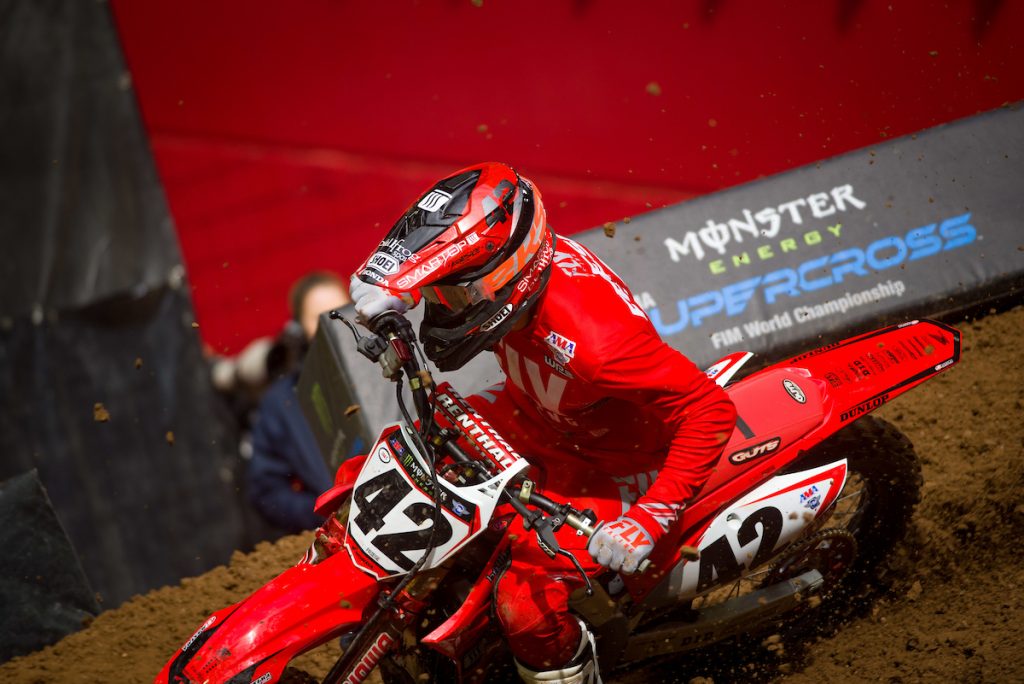 Fantasy Studs
 We already mentioned Robby Wageman's awesome 52 point day. The only other riders who scored more than 30 points were Devin Harriman (16) 46 points, Deegan Vonslossborg (16) 42 points, Chris Blose (3) 38 points, and Sean Cantrell (3) 36 points.
In the 450 class El Chupacabra (-1) had his best day ever, winning the damn race, AND scoring 46 points for the 11% of you jerkies that picked him. Nice job! Following Blake were Ronnie Stewart (16) 38 points, A Ray (13) 38 points, Kyle Chisholm (11) 36 points, Cheyenne Harmon (16) 36 points, Carlen Gardner (13) 36 points, Jason Anderson (-4) 34 points, Justin Bogle (8) 32 points, and Vince Friese (5) 32. Lots of 30+ point scores for the big bores!
 Scoring
 There were way fewer 40 and 50 point scores this week. Only three riders scored 40 or more points in the 250 class, and only Blake Baggett scored more than 40 points in the 450's. There were a lot of middling scores in both classes, lots of thirty-something point riders. Much of the suppressed scores can be attributed to the handicaps being very tough. There were no real mistakes, no free squares per say that everyone was on, and the few who seemed like they might be busted and sunk their teams.
Final Thoughts
Last week I discussed how it would be wise to build a team of riders who should be all stars but weren't, and to somewhat play it safe, as it's early still. This strategy worked for the most part, unless you wound up on one of the few riders who didn't finish the race. I'm guessing that the team owners at the top all had BB4 and a mix of safe riders filling out their roster.
Going back to Anaheim this week for round 3 and it looks like we might have another mudder. If we do get the mud, I expect Plessinger to be very popular, as we all know his mud skills and he is eligible for double points. I expect his handicap to come in around -2. In the 250 class Jess Pettis might be an interesting pick as well, he had a good ride at A1 and is also eligible for double points.
Finally, don't forget, it's a triple crown! This could result in higher scores, as you will know who is in the main events when you are picking your teams. This should make for a fun night of fantasy; I'm looking forward to seeing handicaps and watching some great racing!
That's it for Glendale, good luck with your A2 picks everyone and thanks for playing!