Welcome to the fourth round of the Monster Energy AMA Supercross Series "Daytime Program" Oakland Edisssssssssh. How many of you were pissed off that you had to watch the race Sunday afternoon? Probably a lot of you right? I for one decided I couldn't wait that long, so purchased the NBC Sports Gold Package, an HDMI cord, and watched it live! I am sure many of you don't want to purchase the package for an extra 80 bucks or so, but I feel like hard core fans will make this happen. Only the fare weather fans I feel were affected by the TV scheduling, so it's not something to get all crazy over. I come from a time where I had to hide in my bedroom and dial 1-900-INF-MOTO to get my results, so you will not see me complaining about a 16 hour delay in programming. Did I mention that when my parents got the phone bill, I immediately got my ass whooped? Yep! They weren't stoked on the extra 10-12 dollars they just unknowingly spent because their son wanted know how Denny Stephenson did. Anyway, here are some things I noticed and found out about the Oakland round on Saturday.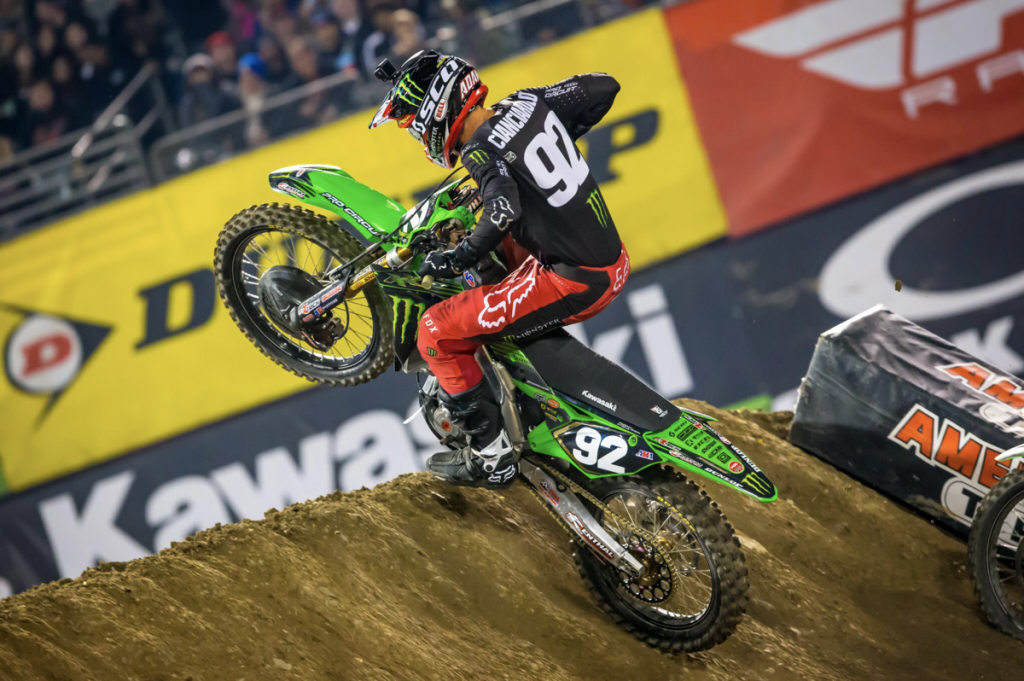 Adam Cianciarulo: I get super excited about the little nuances of riders techniques and saw something that AC did in practice/qualifying that was super smart. In the left hander before the first whoop section there was a bowl turn that AC rode high on purpose. At the end of this bowl turn it immediately dropped away instead of the usual/gradual slope that they usually have to them. The first whoop section was tough as it didn't have a starter whoop so it was tough to get set up and on top of these particular whoops. Most riders had to really pop the clutch to get their bikes to hop up on top or they had to wheelie into them. AC railed the whole bowl corner, stayed up high and used the end of the berm (where it immediately dropped away) to load/compress his suspension. That way he could get the rebound affect he wanted to get on top of the whoops much more efficiently and easy. I saw no other 250 rider doing this and it made me immediately scream at my computer screen "THAT WAS BAD ASS"! Yes, he also won the main event, but whatever, I just care about what he did in the daytime qualifier. 
Colt Nichols: Colt had more speed at the beginning of the race and I think if he could of made a move on AC early, I think the results might have been different. AC mentally broke Colt and frustrated him enough to where Ferrandis caught and passed him. Colt's strengths are whoops and rolling corner speed. He has a ton of each. Oh and his bike is insanely fast. I have had a couple "other" factory 250 riders comment to me that the Yamaha's were faster than their other colored factory bikes. Hmmmmmmmmmmm….. 
Dylan Ferrandis: Have you ever known a french rider just to be a hammer head the of rider? You can't name one right? I mean all of these French riders are so light on their bikes and have so much finesse that it naturally makes it fun to watch them. Ferrandis manuals rollers, hops bumps, stayed lower in the sand turn, and it was all fast. Ferrandis needs to get a start the next couple rounds, get some "W's" because he hasn't had a win this year and he's only five points down to the leader, Nichols.  
Jess Pettis: Jess is getting great starts and is picking up his speed as he is leading these heat race laps. As a rider, I know what leading a heat race can do to your confidence and knowing you have a team like KTM Canada behind you is only going to make this kid excel in a quick manner. He needs to pick his whoop speed/technique up a little and once he does this there is no reason why he can't be in that top 7 at the checkers. He's Canadian so he's a nice guy too. Go up and chat with him, he's a super cool kid. 
Jimmy Decotis: Who knew Jim could kill the whoops? Who knew that the RM-Z250 was fast? Jimmy looked awesome Saturday during qualifying, in his heat race, and his JGR Suzuki has been getting him great starts so far this year. For a small inseam'd rider Jimmy carries so much speed into the whoops and his Suzuki stays flat across the tops of each whoop. Decotis also knows he belongs up front and that means it's not gong to be long until we see him on the podium once again.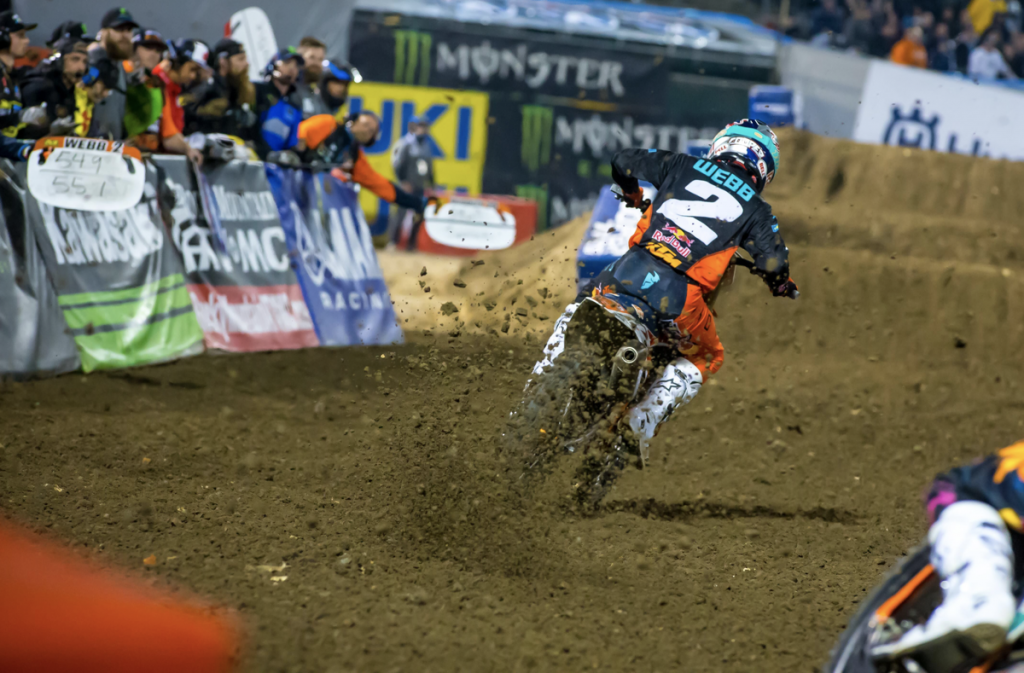 Cooper Webb: Coop led every lap in the main event at Oakland! Again, do I have to remind everyone I knew Cooper would be better, but that being said, I didn't think he would be this great. The KTM's are getting great starts and look balanced around the track. Did you guys also notice how aggressive Coop was the first couple corners of the Main? Go back and check it out, it's gnarly. Hello, red plate in San Diego! 
Marvin Musquin: No doubt Marvin had the speed to win Oakland, but that crash cost him big time. Musquin's knee is improving which means he is starting to look like his usual smooth/crafty self. Marvin's "jumping through whoops" technique may not work the best out west, but when it comes to east coast Supercross rounds it will be more affective and work to his advantage. Funny how more top riders are adopting this technique in the Main Event because the track can't simply hold up all night. It's what I have been trying to tell JT for a while now.   
Eli Tomac: Anyone have a clue? Me neither? Tomac is only three points out of the lead, but just doesn't look like Tomac right? I am coughing up Tomac's lackluster early round raw speed up to growing pains with the new Kawasaki KX450. He is still the favorite and to me will figure it all out and win the title.  
Justin Brayton/Tony Alessi: I spoke with Tony Friday before Oakland. He said Justin tested the cable and hydraulic clutch the week prior and still wanted to stick with the hydraulic set up. Justin's ride was better this week with a eighth, but to me has a lot more in the tank for the east coast rounds. Watch for Justin to get a lot better by the time the east coast swing hits and we get to some domes.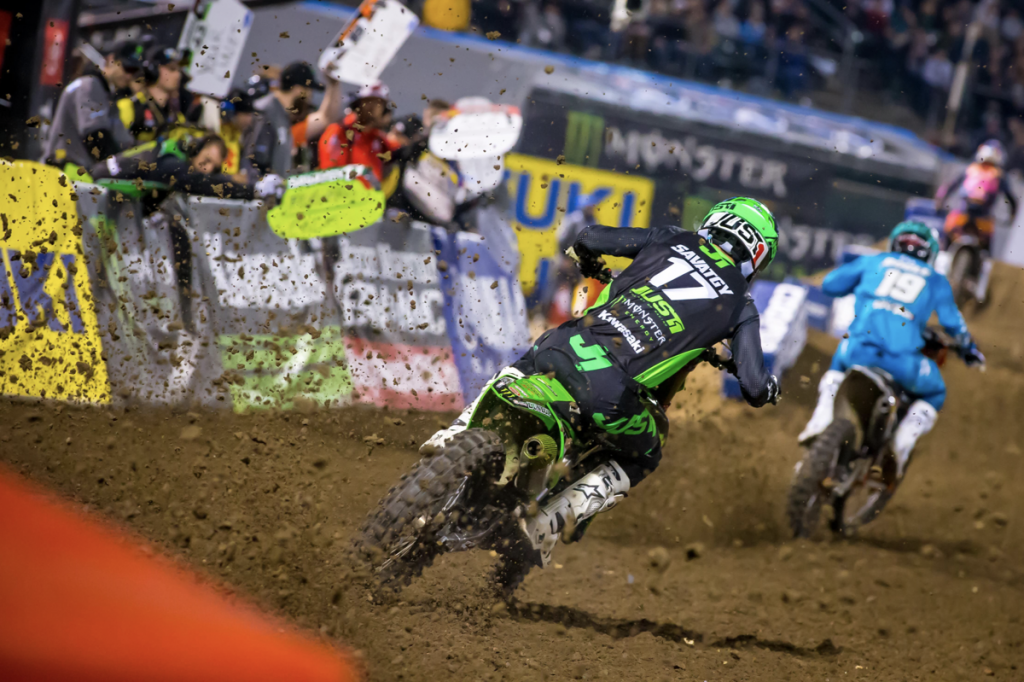 Joey Savatgy: Holy crap Joey was good and his night ended in heart ache with his Kawasaki expiring with a locked up engine. With Tomac's bike smoking earlier and Joey's bike locking up something is definitely going on with the factory KX450's. Savatgy's technique is pretty damn impressive and he looks really good on the bike. Watch how fluid he is around the track with his corner entrance speed and how he picks his lines around the track. I watched it a couple times and he is very precise on where he puts his machine. He rides more European than American and I have grown to really appreciate how much Joey has evolved. 
Best Dressed: Sorry folks, but over here at Best Dressed if there wasn't anything that stood out, we will not give out the award. This week no award has been given out because we simply didn't see anything that was that remarkable. We are not in the business just to hand out awards every week when it's gear that we have seen worn before. Sorry Lit Kitters…..