PulpMX.com Fantasy Pick & Trends
Over the last few years there has been a lot of discussion about riders moving up to the 450 class becoming "one of the guys". The arrival of a legitimate title contender is now measurable thanks to PulpMX Fantasy. It struck me just last night that we now know when a rider has become "a guy", because we have numbers to back it up.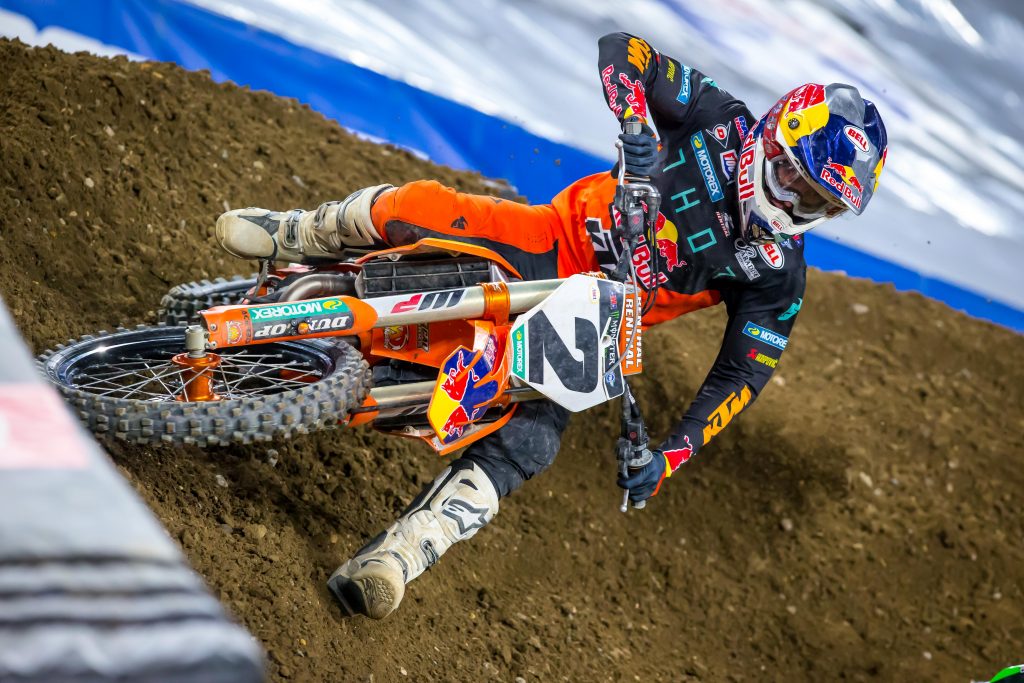 Their handicap
When a rider in the 450 class consistently hovers at an all-star 1 or 2 handicap I think it's safe to say that they have arrived. Two weeks ago, Copper Webb, despite winning back-to-back races entered MN as a 4 handicap. As I mentioned in this column last week, I thought he was a lock pick at a 4 and results proved it to be true. Cooper arrived at Dallas with a 2 handicap, won his third straight main event, and will remain a 1 or 2 for a long time to come. It's safe to say he is officially a title contender and "a guy". The handicaps prove it.
Handicaps were definitely a bit challenging for Arlington, they cleared up a little bit during practice, but I still thought that they were tight. I think the scores, which were on the low side this week proved this to be true. Let's take a look at this week's winning team!
Congratulations to Alan_Foster for taking down the overall this week. Alan built an interesting team in that he didn't select a rider who flew under the radar per se. Instead, he found the correct combination of high scoring riders, all with fairly significant pick trends. He also had a nice build in that he correctly zagged, avoiding the high pick trend riders who busted, more on them in a bit.
His 250 team included Chase Sexton (3AS), Martin Davalos (0), Marshall Weltin (14), and John Short (8). They accounted for 136 points. His 450 team included Marvin Musquin (2AS), Chris Blose (13), Joey Savatgy (0) and Cole Seely (1). They also accounted for 136 points. As I mentioned here last week, the secret seems to be out about Pro Circuit 250's and holeshots. Alan was in on it as he correctly chose Austin Forkner for an additional 15 points, giving him a total of 287 points. Congratulations Alan and great job with the team!
 Most picked riders AKA "the chalk"
Once again the 250 class had the most high percentage pick trend riders, yet the highest picked rider of the all was Zach Osborne in the 450 class. Let's take a look.
The 250 class had four riders who had a pick trend greater than 30%, Martin Davalos (0) lead the way at 49% and 36 points scored. Chase Sexton (3AS) followed at 34% – 26 points scored, Blake Wharton (6) at 32% – 8 points scored, and finally John Short (8) at 31% – 32 points scored.
The 450 class only had two riders with high pick trends, Zacho (2) at a huge 53% – 3 points scored, and Chris Blose (13) at 45% – 38 points scored. It was definitely a good week to avoid the high pick trend riders as we saw Blake and Zach fail to deliver good scores for various reasons.
 Low owned players who delivered – AKA great contrarian plays
 Mt. Marion New York's own TJ Albright (16) 0% pick trend snuck under the radar of all team owners this week and put up a great 42 point score. He qualified 31st and put it in the main event finishing 19OA, great job! The 250 class also saw the return of Anthony Rodriguez (5) – 9% picked.   ARod qualified 13OA and finished 11OA for 34 points.
Ben Lamay and Carlen Gardner continue to get the job done for their fantasy owners in the 450 class. Carlen (12) – 34 points qualified right on the bubble in 22nd place, then put it in the main, finishing 18OA for 34 points. The Alaskan Assassin continues his good performance and low ownership. Lamay (8) – 9% ownership put in a strong ride for 15OA scoring 32 points for his team owners.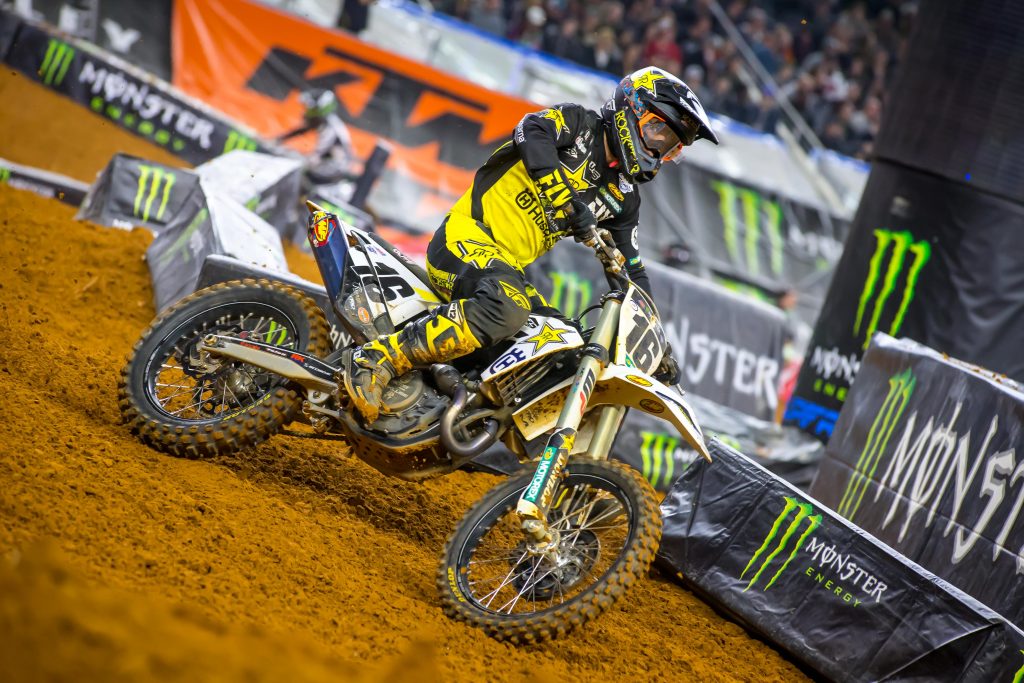 Fantasy Duds
Poor Zacho. I'm sure you have all heard Steve's post race interview, where Zach acknowledges that one of the first things to go through his mind upon crashing was letting down his FANTASY team owners. What other professional rider would admit that? Zacho will be a great pick going into Detroit for the 47% of team owners who are eligible to pick him.
Joining Zach on the dud squad was Eli Tomac (2AS) – 29% picked. Eli had another of his patented mystery rides. He was the first lap leader, had a minor tip over going back to 7th and somehow slipped all the way back to 12th place, scoring only 13 points for his team owners.
Blake Wharton (6) – 32% pick trend was the only high pick trend rider to bust in the 250 class. Blake qualified well 7OA and was running in 8th place when a mechanical issue ended his night for the evening. If you were one of the 32% who picked him, chalk it up to "that's racing".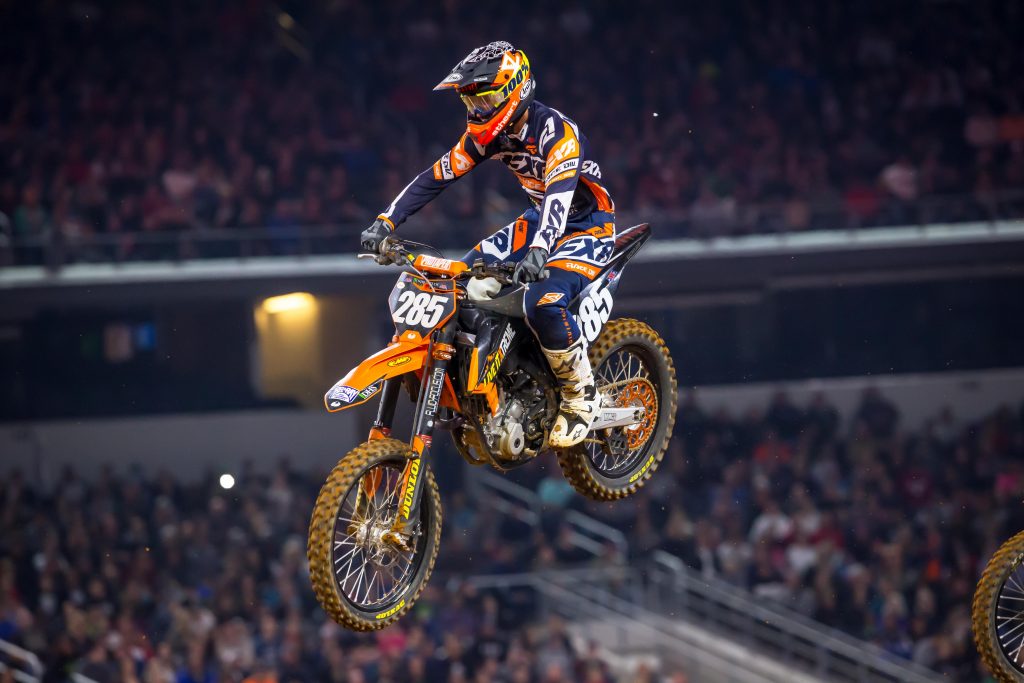 Fantasy Studs
 Marshall Weltin (14) – 21% pick trend, Steven Clark (15) – 16% pick trend, and TJ Albright (16) – 0% pick trend each scored 42 points for their team owners. Marty Davalos (0) – 49% picked 36 points followed them. Of the high scoring riders in this class, I thought that Weltin and Clark were pretty obvious picks based on qualifying, neither disappointed!
Scores were a bit lower in the 450 class, Chris Blose (13) – 45% pick trend lead the way with 38 points. He was followed by Cole Seeley (1) – 21% pick trend, 36 points. Cole was another solid pick who went a under owned in my opinion. He has been showing consistent building results, and that continued in Arlington. Keep an eye on him for this weekend's shootout in Detroit!
 The 100% "Lead Pipe Locks"
Not a lot of variance in the 100% Lead Pipe Locks this week from the podcast crew. Here are their picks.
250 class Paul: Marshall Weltin, Dan: Mitchell Falk, JT & Steve: Martin Davalos
450 class: Steve, Dan & JT: Chris Blose, Paul: Zach Osborne.
Paul nailed it with his pick and thoughts about Marshall Weltin, Dan chose Mitchell Falk who wound up being out for the night, and JT & Steve went with Marty who was a solid pick. Their 450 picks were 75% for Chris Blose and they were 100% correct, he had the highest score in the 450 class this week. Paul, the lone outlier here went with Zach… say no more.
Steve & JT had the highest scoring 100% Lead Pipe locks with their combination of Marty and Blose scoring 74 points.
First Lap Leaders
Pro Circuit riders are dominating the first lap of 250 main events this year and Dallas was no exception. 27.3% of team owners chose a first lap leader and 88.3% of them were correct in choosing Austin Forkner. The 450 class has been much more difficult to pick. This week 20.9% chose a first lap leader and only 6.6% correctly chose Eli Tomac. (Guessing most chose Cooper Webb or Roczen)
Final Thoughts – Detroit Picks
Detroit is a Triple Crown geeks! This simplifies team selection, as we will know who is in the night show before first gate drop and lock. The best strategy here is to go through and pick the highest handicap riders who are in the main events. If you want to be a bit contrarian, select one, or maybe two riders who are more in the middle, and hope they have a better than average week. Remember, any 16-handicap rider who makes the main is guaranteed an adjusted score of 6th place – double points. In order to beat that score you will need to choose a middle handicap – non-all star rider capable of finishing with an adjusted score of 6th place or better. Simple right?
Also, don't forget to pick first lap leaders; you get three chances to get it right. The Pro Circuit guys have had phenomenal starts all season, the trick will be to choose between Forkner and AC. Cooper Webb has continued to get good starts in the 450 class and will also be a solid choice.
Well that's it for this week. Thanks everyone for reading and playing. Please remember to support the PulpMX Fantasy sponsors when you shop for all of your off road, motorcycle and MTB needs.
Hope I see you on the leaderboard!