Photos by Rich Sheppard
The second Triple Crown of the Monster Energy Supercross Series hit Detroit Saturday and although it wasn't quite the race we had last weekend, it still was much better than the first Triple Crown in Anaheim. There were only a few things I noticed Saturday night that I thought would interest you, so I put them down right here for you all to read…
Settings And Secrets: I don't get why riders/teams are so damn secretive with settings. Look, I am in the confidentiality business as well and I get keeping things close to your chest (in order to protect your product), but in racing, the changes that Eli Tomac makes do not ALWAYS necessarily roll over to Ken Roczen's bike. I understand some things may be able to get picked up by other teams if some settings are leaked, but come on, let us in on a little something, something ok? Don't tell me Tomac made some changes and now he's all stoked, but we are expected to sit there and just wonder what he did? Get us involved! Let us in! Just a peek! Can't we just get a freakin peek! When the gate drops, it's 80% rider and 20% motorcycle so let's try to be less secretive. If you stiffened the compression up on your shock, tell us that! It's not rocket science!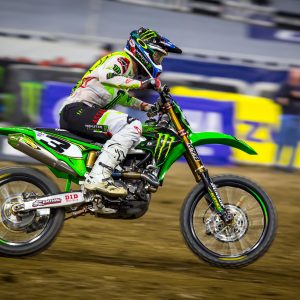 Eli Tomac: Tomac is gnarly when he likes his bike. I also know that his Kawasaki works better on harder pack tracks and the KTM's seem to perform well on tackier/softer tracks. You know how you can tell when Tomac is clicking with his bike? Watch his corners! Watch how he stands up way more than any other rider through bowl corners. He likes to stand and crouch and not sit. Tomac hasn't done this since last year in Supercross, so we will see if these "new" settings helps him in the ATL where it is notoriously rutty.
Chad Reed: Old dudes kick ass! We said on the Pulp Show that Reed "could" podium if the stars aligned and this format has done that somewhat for Reedy. He got a holeshot in the first Main Event and decent starts in the next two put him in good positions with good riders to latch onto. The whoops were big in Detroit and that also notoriously helps Reed. If the whoops are hard pack and steep, Reed will be good. I think he needs to work on his corners a little as that is where he would lose some time to his competitors. I am happy to see Reed show these kids that there is some fight left in this old dog. Plus who knew that Reed would be JGR's saving grace for the series! Can you say OUTDOORS Reed? Say it! You know you want to!
Cooper Webb: Coop didn't look like his usual self the first two Main Events, but at least he admitted he went the wrong way with his "setting" and came back to his old standby "setting". Do we know what that was? Of course not, but at least Webb offers up a little more insight when he speaks than some others. I also like that Cooper was adapting to tripling before the finish in the last Main, which helped him not get caught by a hard charging Baggett. Oh and yes, Webb is still using a "Baggett setting".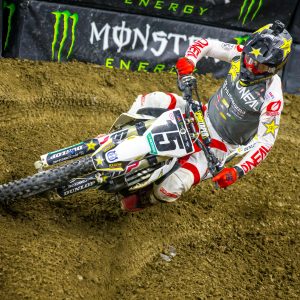 Dean Wilson/Best Dressed: Dean was fast and playful all day until he got tagged by Roczen in the last main event, which wasn't intentional by the way. Dean was great in the whoops and you can tell he is getting used to his new WP suspension setting. Look for Dean to podium soon as his quaffing times are getting better and his starts are coming around. Dean's O'Neal gear was also so clean as it tied in perfectly with his Rockstar Husqvarna. I love white gear with some off setting red highlights because although it's clean looking, it pops for the cameras as well! Congratulations to O'Neal and Dean for winning the award that is only given out to deserving candidates.
Chris Blose: Blose is a west coast 250 rider that is making money moves and riding the 450 class back east (to get some added seat time under his belt). Blose's strengths are that he will be good in the whoops and will be one of the strongest "non factory" guys in the Main. His Main Event results haven't showed up yet, but give this guy a couple more rounds and I think you'll see him get near the top 10. Look for Blose to also be solid in Atlanta for the 250 East/West Showdown as he was rally good last year in the soft ATL dirt. That's some insight for you fantasy guys for next week!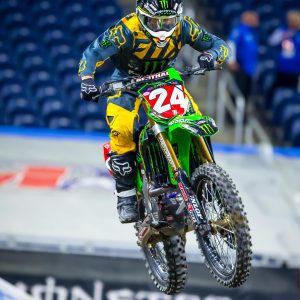 Austin Forkner And Pixie Stix: Austin is getting good starts, is hauling ass, winning races, has a hot chic, eats sugar, and gives all of us some good interviews. He also isn't afraid to send it, which gets him in trouble sometimes, but also rewards him big time. Big risk, big reward they say and Austin is showing all of us that right now. I think it's cool he listens to music at the gate, sucks down Pixie Stix and just has more of a care free attitude. I can't wait for the Cianciarulo/Forkner battle in Atlanta! It's pretty sad when our characters are so boring in Supercross that us fans get excited when someone eats sugar. Insert sad face here…..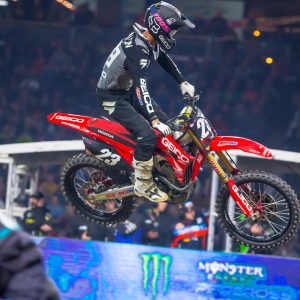 Chase Sexton: The kid is beautiful to watch ride, but man does he make same mental mistakes at the wrong times. Sexton never looks like he's trying and to me rolls his corners better than Forker, but his mistakes catch up to him. Forkner cleans back sides of his landings while Sexton hangs them up and that can cost you in a ten minute race. Sexton is going to be a great 450 rider when he gets some size because he just looks like a Roczen-ish/Craig-ish type of rider. To me both of those aforementioned riders are better 450 guys than they were 250 class riders.
Kyle Cunningham: I would think Kyle is the second oldest in the 250 class right? Kyle has been riding great on inferior equipment, which leads me to believe he will get even better as the series goes on. His engine only had a few mod parts done to it, but his Honda CRF250R is slowly coming together. I love this kind of shit! Dude wants race and he finds a way to do just that. Don't have a full race motor? Screw it! Let's go race anyway! Love that attitude from Kyle.