PulpMX.com Fantasy Pick & Trends
Shootouts and showdowns and AC, oh my!
I think it's safe to say that the entire motoverse was pretty damned excited to watch Pro Circuit Racing Monster Energy Kawasaki teammates Austin Forkner and Adam Cianciarulo finally match up in a race where it counted. As it turns out, that race was the highlight of the evening, Forkner found himself out front, and it looked for a minute like he might run away with the win. It wasn't meant to be though. Cianciarulo clearly had a better flow around the demanding rutted track and chopped his lead down, then made a pass for the lead and never looked back, taking his third ever showdown win.
It was a great show, but to me the rest of the night was lackluster. The track didn't make for great racing. In the 450 class the running order remained pretty static with Cooper Webb holeshotting and leading every lap.
What does this mean for fantasy? Lots actually. If the riders on your 250 or 450 team got off to a bad start in the opening laps, it's highly likely that you might have been watching a low and unchanging point total all night long. Or worse, that you might have been watching your point total drop as the night progressed.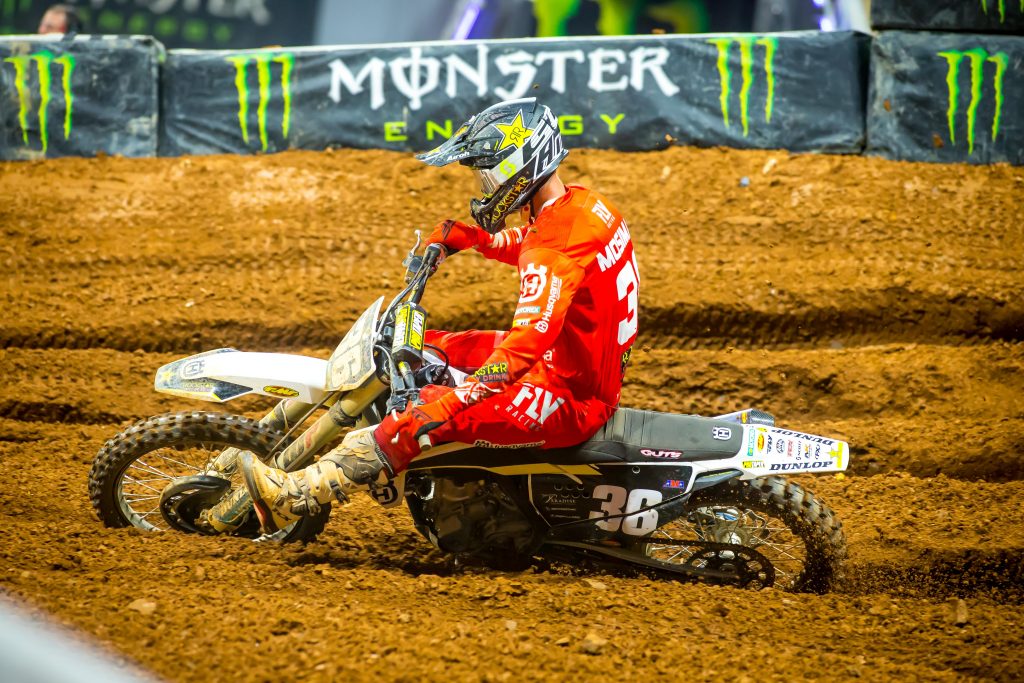 It was kind of a weird night all around, especially for fantasy. That didn't stop one owner from rising to the top though.
"Bradschn" topped the field this week with a fantastic 298 point score. He got there with a perfect 250 team lead by Michael Mosiman (7) – 46 points, Brandon Hartranft (6) – 38 points, Anthony Rodriguez (14) – 36 points, and Dylan Ferrandis (3AS) – 26 points. It was the highest scoring combination possible to pick.
His 450 squad was also very strong, but not perfect. It was lead by Cedric Soubeyras (11) – 38 points, Alex Ray (11) – 30 points, Kyle Chisholm (8) – 28 points, and Marvin Musquin (2AS) – 26 points. I'm kind of surprised this guy doesn't run a French flag as his avatar!
Bradschn also nailed both first lap leaders (Forkner and Webb) for an extra 30 points. This is the second week in a row where the overall winner could have been beaten, there was definitely room to do so with his 450 class team, but he was successful in that he avoided two >30% pick trend riders who both had really bad nights, let's take a look.
Most picked riders AKA "the chalk"
Dylan Ferrandis had the highest pick trend of the week. The French rider entered the Mercedes Dome with a 3 all-star handicap and set the fastest qualifying time of the night. PulpMX Fantasy team owners must have liked what they saw, as 44% of them selected Dylan for their team. Brandon Hartranft (6) followed at 34%. Jimmy Decotis rounded out the top 3 with a 32% pick trend, more on him in a bit.
The 450 class also had three riders with a pick trend above 30%. Zach Osborne (1) lead all of the premier class riders with a 39% pick trend. ARay, ARAY! Followed, 38% of PulpMX team owners sent it and he rewarded them with a decent for the evening 30 point score. Dean Wilson rounded out the top three for the class with a 34% pick trend.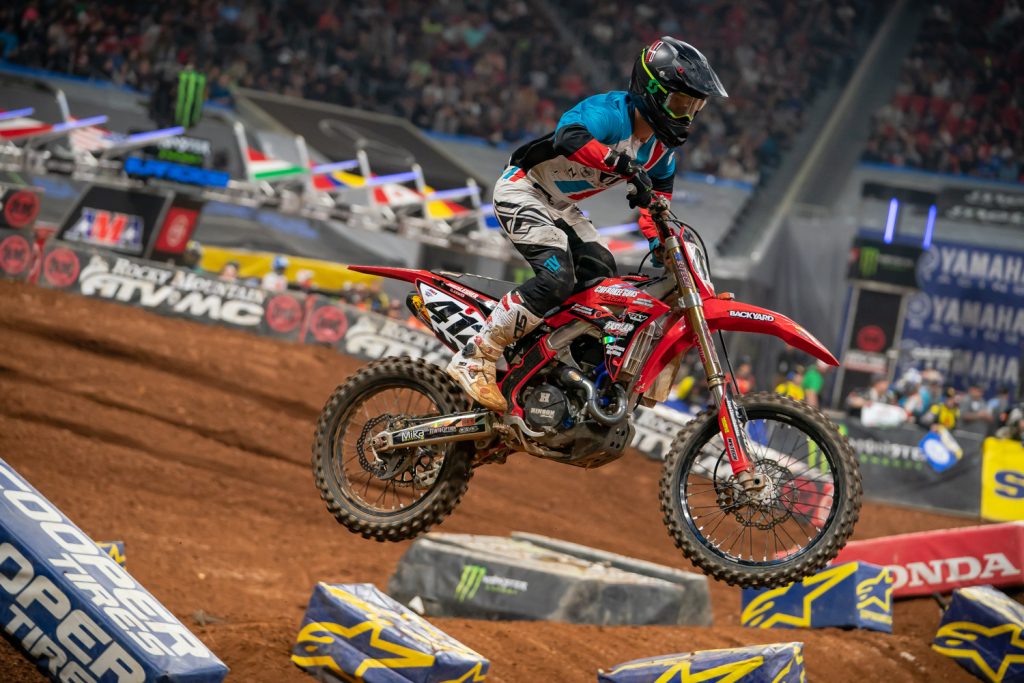 Low owned players who delivered – AKA great contrarian plays
 The low owned point scoring primarily happened in the 450 class this week. Jared Lesher (16) had a 0% pick trend and scored 36 points for nobody. It's easy to see why as he qualified in 38th place, as part of a huge log jam of riders with 53 second qualify times. Justin Brayton was also very low owned at only 5%. The Hawkeye rewarded his team owners with 30 points. While that doesn't sound high, it has to be considered in context, as overall point scoring was low this week. Thirty points was the fourth highest score for the week. Aaron Plessinger (0) rounded out the low owned crew with an 8% pick trend and rewarded his owners with the second highest score of the week, 36 points.
Not much happened in the 250 class here. Alex Rodriguez (14) was the only high scoring – low owned rider. He was selected by only 4% of team owners and rewarded them with 36 points on the evening. Great ride ARod!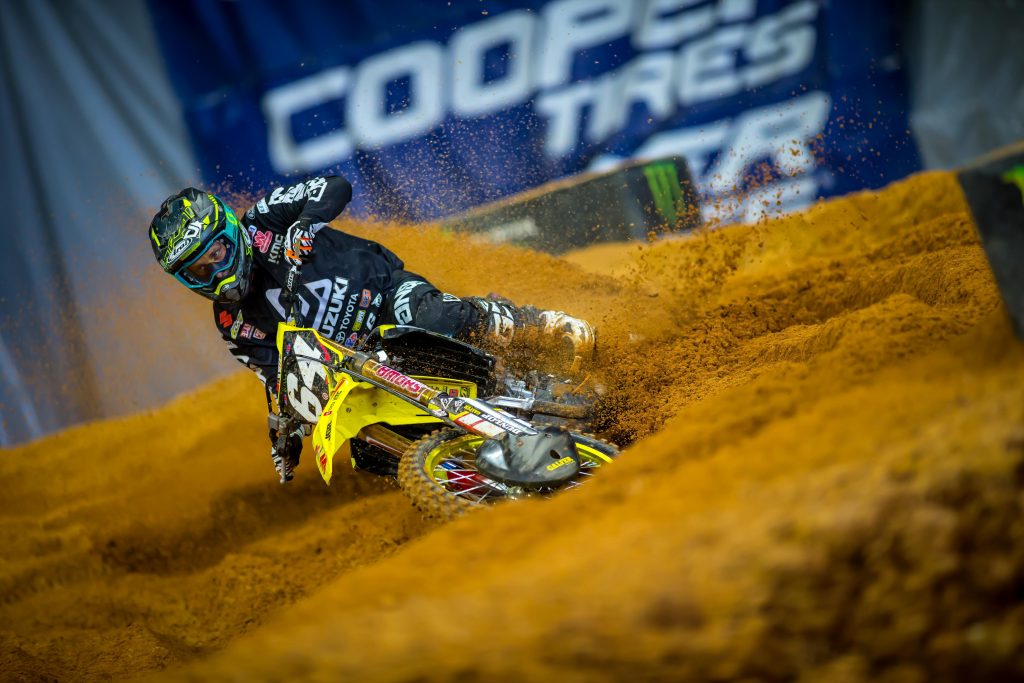 Fantasy Duds
Were you one of the players who rolled fantasy snake eyes this week and selected both Jimmy D and Zacho? Odds are that it happened to more than a few team owners as they both had very high pick trends on the week. Both riders completely torpedoed their teams.
Jimmy D had a horrible night. He qualified well, but couldn't get out of his own way when the gate dropped. To add insult to injury, the Southwick local laid it down in the sand section during his LCQ. This took 32% of team owners out of contention for the week. Zach also had a pretty horrid evening. He qualified in 6th place, finished in 6th place in his heat race, then got off to a bad start in the main, working his way up to 14th, before a mechanical pretty much ended his, and his team owners' evening. Zach had a 39% pick trend and delivered only 2 points.
Fantasy Studs
 The big scores were in the small bores again this week! Michael Mosiman (7) – 22% pick trend was the highest scoring rider this week. His 9th place real world finish rewarded his team owners with 46 fantasy points. Brandon Hartranft (6) – 38 points, ARod (14) – 36 points, Jacob Hayes (6) – 36 points, and Martin Davalos (1) – 32 points all rounded out the +30 field in the 250 class.
450 class scores were much lower. Cedric Soubeyras (11) outscored everyone on the 450 line with 38 points. The crafty Frenchman (are all of the French riders technically "crafty"?) bested Aaron Plessinger (0) – 36 points, Jared Lesher (16) – 36 points, and finally, Mike Allessi (10) – 34 points. Nobody else scored more than 30 points.
 The 100% "Lead Pipe Locks"
 This week we had the full compliment of podcast experts making their 100% Lead Pipe Locks. Steve chose Jace Owen and ARay for 30 points, Dan went with Jimmy D and Aray and also scored 30 points, JT went with Blake Wharton and Zach for 2 points, and Paul went with Kyle Peters and Chiz for 34 points.
For the second straight week Paul had the highest point total with his 100% Lead Pipe Locks, nice job!
First Lap Leaders
Is anyone surprised that a Pro Circuit rider took down yet another 15 point score by being first across the line? My problem this week was trying to pick between AC and Forkner. As it turns out 75.6% of the 25.7% of teams who picked an LL in the 250 class didn't have a problem deciding, as they correctly went with Austin Forkner.
The correct pick trend in the 450 class wasn't nearly as high as the quarter liter crew. 20.5% of team owners chose an LL and 38.9% correctly chose Cooper Webb to lead the pack to the finish. This is actually a pretty high pick trend for the 450 class.
Final Thoughts – Detroit Picks
Daytona is up next. I used to love the old long winding Daytona raced during the daytime with pits dugout of the infield and dirt that looked like it came from Iwo Jima. Today's track is crammed into the inside of a corner and is much closer to a normal Supercross, so I don't really buy into any of the talk about what type of rider should do better there.
That being said, the fantasy game is all about the numbers and game theory, so lets take a look at some good possibilities. This could be another good week to play the recency bias angle. Zacho burned almost 40% of the field in Atlanta; he now enters Daytona as a 4 handicap. Cole Seely, is also very capable of running in the top 10. He has had a bit of bad luck lately. He qualified well in Atlanta but got a horrible start. Nevertheless he fought his way up to a 10th place finish on a track that did not encourage passing, he should make a strong pick this week.
The 250 class resumes normal activity this weekend at Daytona. Last week Blake Wharton failed to qualify, this week should be a good bounce back week for him; he will enter Daytona as a 6 handicap. Marshall Weltin could also be a nice sneaky pick at a 12. He put up a nice score at Arlington with a 17th place finish, so keep an eye on him.
Well that's it for this week. Thanks everyone for reading and playing. Please remember to support the PulpMX Fantasy sponsors when you shop for all of your off road, motorcycle and MTB needs.
Hope I see you on the leaderboard!