I had an idea to talk to our buddy A Ray before the race and get some expectations of his day and racing at Daytona, etc and then after a triumphant Daytona main event, touch base with him after the race to see if he met his goals. Well, it didn't go well for Alex, he had some issues with his bike and himself and didn't make the main.
Stand up guy he is, he still did the interview after the night show- I would've understood if he didn't. Here they both are:
Alex Ray Pre-race
First of all, how you feeling?
I'm feeling good. Got some good training in this week with my trainer, and I didn't get much riding done.
Why?
Just some bike issues, stuff out of my control which is no big deal. The team is taking care of it.
When you say "didn't get much bike time in," do you mean zero?
No. I rode for about thirty minutes this week. So pretty much zero, yeah.
This place, Daytona. What do you think a bout racing here? Do you like it? It's so different.
It is different. I actually do like it. I've never really had much luck here, but hoping to turn that around. The track looks good. More supercrossy this year, like a lot more supercrossy. Holy shit. But I'm hoping to turn that around.
Does it feel unique racing here? Does it feel special? Do you appreciate it?
Yeah, I do appreciate it. It's a weird venue but it's so awesome. Just with all the bikes here, it's bike week. I feel like it's a privilege to get to race here.
Do you know the history of this race?
Yes and no. I know we've been coming here for a long time. I've watched tapes here, Travis doing a backflip. Jeremy racing here.
So you kind of the history of it. It used to be in the middle of the day. It used to be 30-man main events. It used to be 35 minutes. It was gnarly. That's how it used to be. Track changes during the night. I always find that the guys that do really well here are able to almost adapt to the braking bumps and the ruts and everything and change their lines during the main event, or make little doubles out of the bumps. Do you agree?
Yeah, I do agree. It also forms a lot of inside lines, singles. The track changes so much because we deal with the sand. The whoops, they get sketchy because everything's pretty much made out of sand. You've got to stay on your toes here for sure.
What's tougher – an outdoor national or this place? I've talked to guys that say this one's gnarlier, because you cannot let your guard down.
There's no resting. You throw in ruts, braking bumps, and then just a supercross triple or whoops or this gnarly freaking three-four-four-four-four-six-eight, whatever.
This was during press day yesterday.
Oh my god.
You were doing it or no?
You know me. I'm going to try it at least. It may not go well, but I'm going to try it.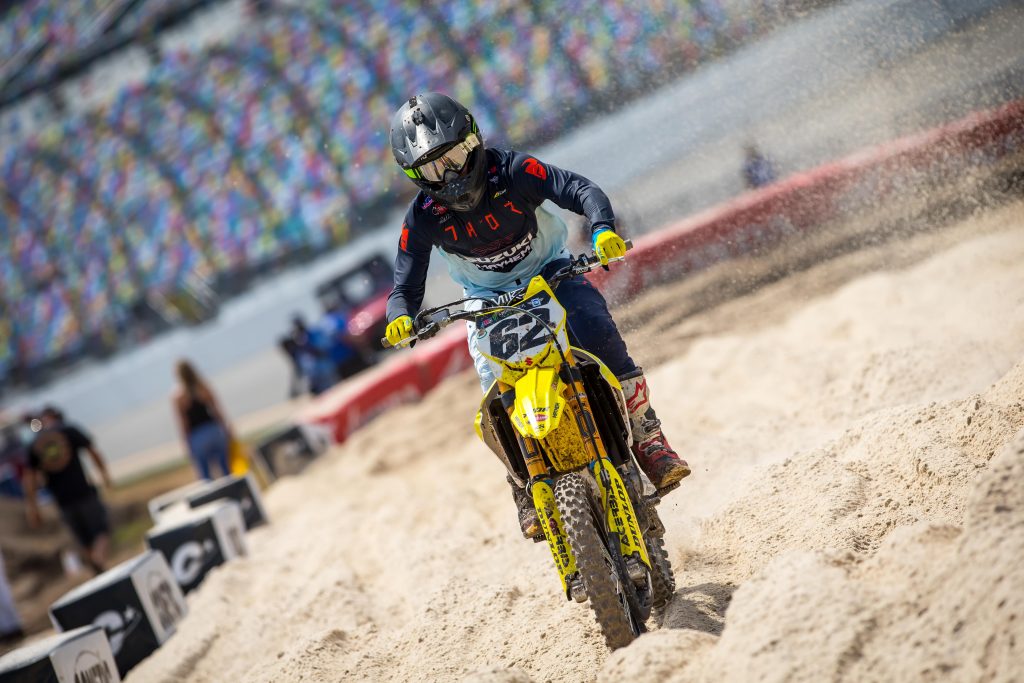 What's your first memories of this place?
Looping out over a step-on, step-off.
Really?
Yeah.
This is JT gear Alex Ray?
No, this is Fly gear actually, before the JT gear. 2011, my first year.
Jericho?
No, my dad.
What happened?
First year of supercross racing. I was 16, 17. Just could not handle… I shouldn't have been on a 450. I was fast, but 450 supercross track, me being that young, it was just dangerous.
So you didn't make the night show?
No, I made the night show. This was in the night show. This was in the LCQ. I came into a rut and got off-centered and just whiskied, just wide open.
On and then looped out?
Yeah, on and then just looped out. The whole crowd was like, "Whoa!" Me, I was like, holy shit. They were reacting to me, and I just threw my hands up like, "Yeah!" I don't know. I was retarded.
We talked yesterday during dinner that you didn't always make night shows. Was here one of them?
No. I've always made the night show here.
Because you're such an outdoor guy?
No. I don't know why. I guess with the sand and everything, I can just grip the throttle and break the throttle tube off. I don't know. I guess it just works here in some spots, some areas. Always made the night show here. There was definitely a few races where I didn't.
What was your first year here? Do you remember?
2011.
Who's winning that? RV? I think that's an RV year.
Yeah, probably.
Did you ever do anything else in Daytona? Have you done Razzle's? (Daytona Beach strip joint)
Yes, I have done Razzle's. Everyone's got some memories there, but I will not be in it this year.
I'm not saying you are. So, you had some drunken nights at Razzle's back in the day?
Yeah. Probably some underage drunken nights.
Did you ever go to Daytona Beach and drive a car down the beach or anything?
No, just Razzle's. Screw the beach. Just Razzle's.
That is Daytona history. So for tonight, you're coming off a 17th in Atlanta.
No, 19th. I had a crash.
What are we thinking about?
Just improving. Just putting the pieces together. Just plugging off laps.
What would you be happy with?
Happy with 15 right now. 15 or better right now. 16, 17, 18…
What if you were 16th but you beat Chiz?
That's a win. That might be Razzle's worthy, actually.
16th, beat Chiz, go to Razzle's.
Beating Chiz, he's a great rider and all, but me, I just need to be consistent, stay focused in the main event and just plug off laps. I'm there. I'm a guy. I need to just put my head down and charge, I guess for the goal.
I'm there, I'm a guy?
Yeah. I'm a top 20 guy. I'm one of the guys.
You are. I agree. This is the pre-race Pulp Cast. Let's line it up after and see how did you after the night.
You have me nervous with the way you're looking right now.
No, we're going to talk about your goals and if you met them, if you exceeded them, and whatever else.
I'm blaming you for the dinner last night if I don't do good.
Fantastic.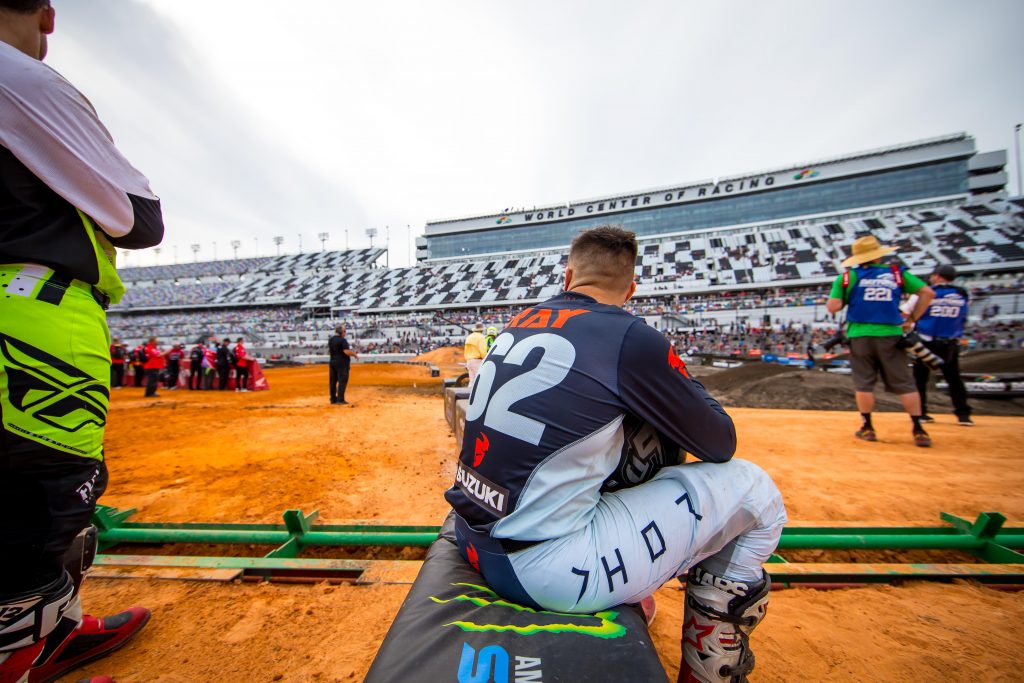 Alex Ray Post-Race Podcast
I thought we would do our post-race podcast and it would be a successful night, it would be happy and we'd be talking about the day. Instead, small bike issue didn't help and not a great night.
No, just had some issues today. Didn't ride my best. My speed was there. I was there. Everything was good.
Qualified okay.
Yeah, qualified okay. I put myself in a great spot. Like you said, I had a little bit of a bike issue and it sort of hindered me a lot in the heat race a little bit, the LCQ pretty bad. Just got to move forward. Forget about it, throw it away. I don't know. I think I'm going to go play in traffic tonight. I'm not feeling the best.
Before you do that, take me through the Dakota Alix move. He got alongside you. You gassed it. Dove it in.
Yeah, I was like, no. If it was dirt, it would have been good. I would have just ran him high, but the sand, we just locked bars. Everything was just sketchy and we just went down.
Earlier today, you crashed off the pavement. You skidded. You ripped your riding pants and everything. It wasn't good.
No.
Ripped your side panel off.
Yeah. For some reason I just kept getting cross-rutted in those whoops. They had the long ruts in there. I guess I was just looking down at my front fender. Got cross-rutted, shot right, and then hit the pavement and just slid belly first on the pavement. It wasn't good.
DV tweeted about it.
Yeah. Luckily I had my phone turned off. That was ideal. If I would have seen that, I would have probably came and found him in the pits.
It was not a good night. Again, this post-race thing was supposed to be cheery and jubilant, but it can't be.
No, I'm down in the dumps right now. I got a tear in my beer.
It's Daytona.
I know.
Your dad was here and everything.
Yeah, my dad came all the way down here. I just couldn't perform for him. I'm pissed. We got how many more of these? Seven more?
Seven more.
All right. I'm going to open a can of whoop-ass for the next seven I guess and make up for the few bad nights that I've had. It sucks. I don't want to be in this spot, but I guess it's just part of the process. We'll move forward.
Trust the process?
No. It's part of the process and we will move forward. I'm not trusting shit.
Alex Ray post-Daytona Pulp Cast. Thanks for doing both these today.
Steve, do you trust the process? For your mountain bike?
Yeah.
I guess I'll trust the process, too.
I don't know if you should trust the process of having a bike issue. That's not good.
No, I'm not going to trust the process of having a bike issue.
Let's not trust any processes.
All right.
Want to go to Razzle's? 
No, I'm going to bed. I'm tired. I'm an old man, dude.
Maybe you should forget about this as soon as you can back at Razzle's? 
Yeah, but that's never good. I'll get in too much trouble. It's better to just go back to the hotel. You just wake up…
I know you have a girlfriend and all that, but she's not going to listen to this.
Yeah, but she's expecting a phone call when I get back to the hotel.
Just think how great it would be if you had some boobs in your face.
I know. It's Daytona bike week. I bet there's so many leathered titties out there.
See? Leather titties will make you all forget about tonight.
I'll take my race bike down the strip and have some chick flailing her titties behind me.
Let's just call it a night.
Yeah, we'll just call it a night. Who knows. The way my night's been, it wouldn't be good.
This is Alex Ray. Post-race Daytona Pulp Cast. Daytona, go fuck yourself.