10 rounds down and another uniquely Daytona round of infield Supercross racing is in the books.
Daytona is always a coin flip on the schedule. As we know according to RC the series STARTS at Daytona. Sometimes the track is incredible, sometimes it makes you go "hmmmmmm" with its frustratingly simple layout and confounding obstacle construction. In 2008 it was all bets are off as the race resembled more Jet Ski National than even motocross let alone Supercross. For 2019 though, the track turned out to be treacherous and formidable despite having only 6 turns. 6 FLAT turns. Throw bowl turns in where these 6 corners were and the racing action only gets better. The beach sand beginning in the second turn was a joker lane hidden in plane sight. It was an ever-changing section that never developed a dominant line because nobody ever found comfort there. It harkened back to a pre-Dartfish era of racing where there was no algorithm to tells these guys which "marks" to hit to maintain their best route to the top lap time. Progression has me both interested and dismayed. It's cool to see the race pace increased due to these advancements but there's also something lost when there is a cheat sheet that they all have access to in finding this new pace.
Less capable (mistake-exposing as opposed to masking) machines would separate the field in a more authentic manner but that ship has sailed. RIP. As a final thought on that note, do we really want to see a field separated by actual talent or do we prefer the racing of today where the machines cover up talent-shortcomings and make the racing tighter than ever? I think it comes down to what we're really after. As fans, we always want better battles, tighter racing and nonstop action. As former racers, current competitors and teams, we want to see the best of the best and in the current form, those racers blend in with the 2nd tier because of the Dartfish cheatsheet, holeshot devices and 4 stroke tractable HP. What can you do? It's progress and there's no rolling back these changes. Embrace it and move on. I really do think we've waved goodbye to the era of the dominant speed-racer. A few years ago actually with the retirement of RV.
Daytona has always been a great race for Blake Baggett. He won there on a 250 and has podium'd on the 450 as well, even before he rebirth himself as a great Supercross racer. These guys are so mental and Blake's prowess at Daytona was a solid example of this mind over matter. There's no denying that Daytona is closer to motocross than Supercross in terms of dirt make up but not so far removed from the Supercross form that it was just understood that Blake would be "outdoor great" there. It was his perspective. Over his career, Chad Reed would do the same thing in regards to San Diego. These elite guys just get an idea in their head and if something clicks, it is cast in stone and they find a way to make it happen year after year. It's not a means to an end, it's them targeting the end and constructing the means and applying it in their own head. AKA: Confidence.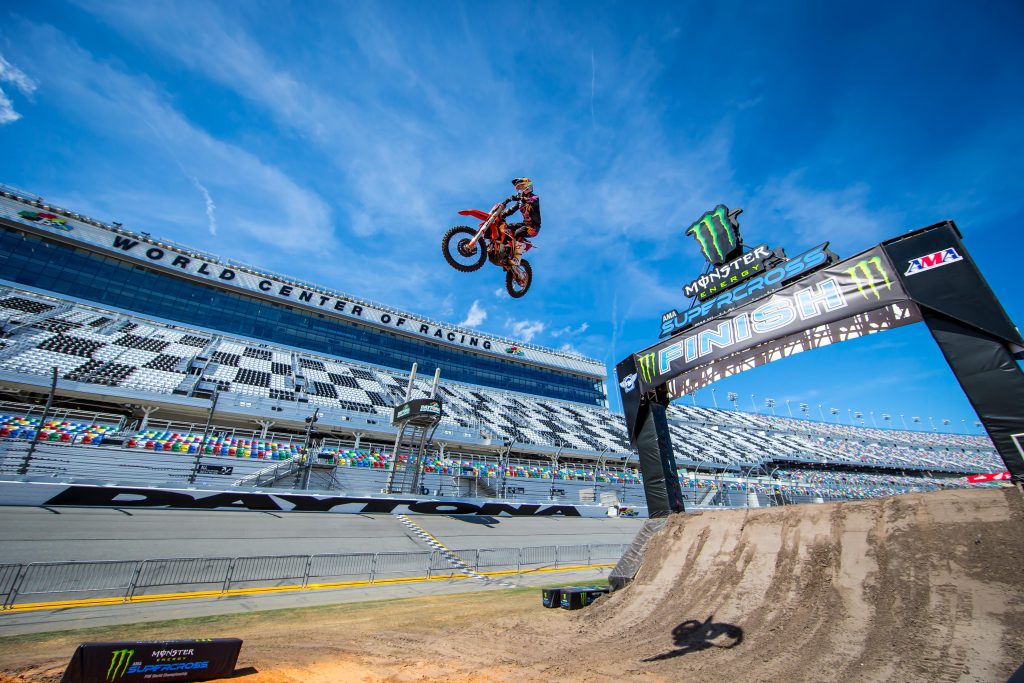 Confidence is an apparition. It's omnipresent, chase-able, corral-able and attainable but it is NEVER graspable or retainable. There is nowhere that this fact is more apparent than the world of sport and more specifically, individual sport. Cooper Webb may be the most ideal example of the fickle existence of confidence we have in the sport. On a 250, Cooper's confidence was about as close to physically visible as we've seen. It shrouded him on the track, on the podium, in every interview… he actually made a case for this whole confidence theory I'm speaking of, being nonsense. Subsequently, when he boarded the YZ450F for two years at Yamaha, the theory was in full display. The results vacated the Cooper Webb aura and so did the confidence. It's a cause and effect when it comes to confidence and unless you are a Legend like Chad Reed who is known for his "Reedlogic", you better learn how to chase and momentarily live within the "confidence-field". Envision it as the earth's gravity-field. It's exactly as tactile and graspable as that.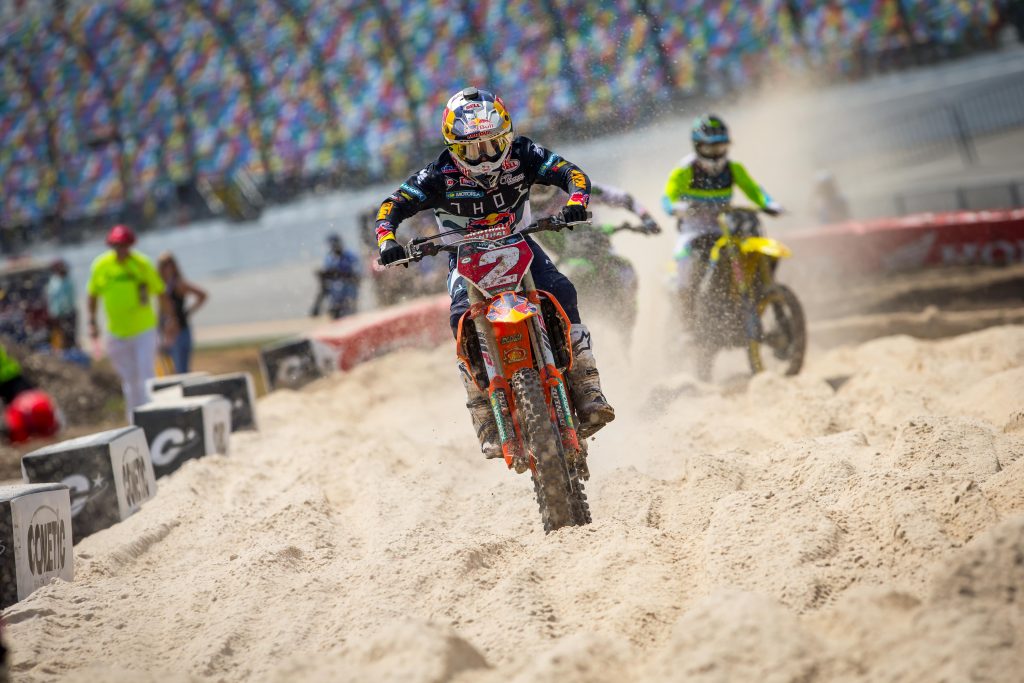 We thought that after those two, barely mediocre years, aboard the 450 Yamaha that Cooper Webb was somehow too scarred to recreate himself when he moved to the KTM. Through the first few races of 2019 it really looked like that story may prove itself out but then the once unshakeable 250 rider sniffed that familiar scent of confidence, it was like a wall broke down. It was a forcefield that had been created during that two year period that would not allow the confidence-field to enter his personal space. It was visible but too far to grasp or sniff but with just one result (Anaheim 2) the confidence-field crashed through that barrier like an electron-magnet and the confidence jumped all over Cooper Webb like Rose did on Jack in the back of that fogged up car in stowage on the Titanic.
You can't shake that kind of magnetism and this 2019 bid for Supercross dominance has been seized by a new #2… the same number who last achieved dominance in this parity-filled era.