In 1973, Honda took the motocross world by storm with the introduction of the first CR250M Elsinore. The '73 Elsinore (named for the Elsinore GP, America's most well-known off-road race at the time) was Honda's first two-stroke and first attempt at a motocross racer. Fast, light, well-built and affordable, the CR set new standards for quality and performance. 
After making huge waves in '73, the Elsinore was forced to play second fiddle in 1974. The introduction of Yamaha's works-replica YZ250 signaled the end of the Honda's performance advantage. The YZ was lighter, faster and ultra trick, but nearly twice the price of the CR. Even though it was no longer the top dog of the 250 class, the Elsinore continued to sell in huge numbers due to its significant price advantage and solid overall performance.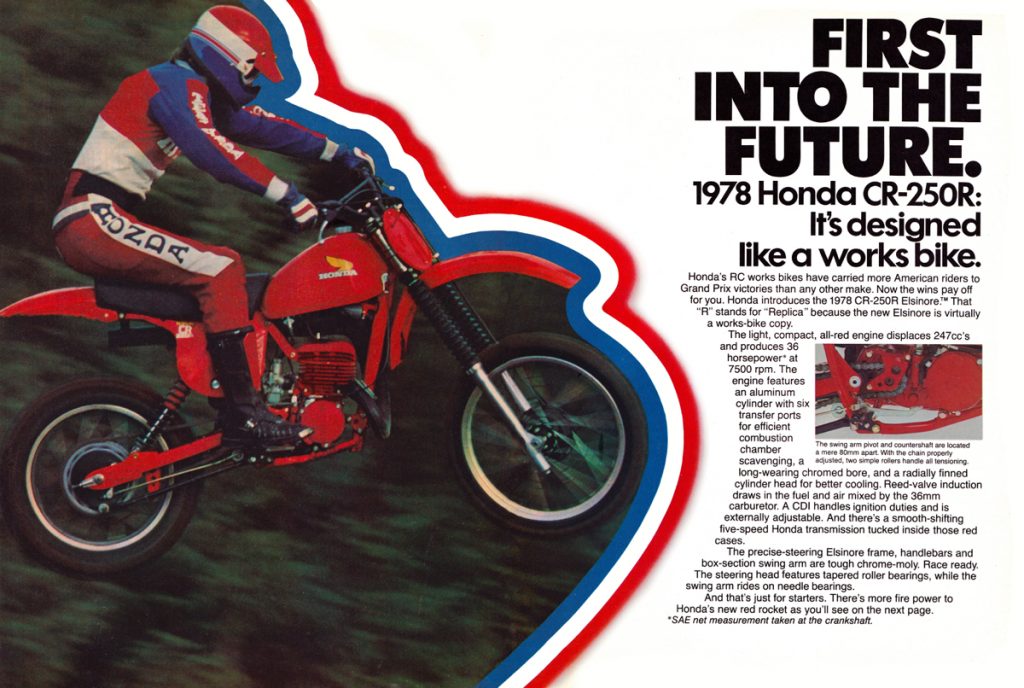 The first Honda to wear the "R" designation (for works "Replica"), the '78 CR250R Elsinore was a major leap forward in performance for the brand. 
After 1974, Honda continued to offer only incremental updates to their 250 racer.  The transition to an "up-pipe" and a color swap from silver to red counted as major updates in the red camp as the competition blew past its meager suspension numbers and outdated performance. By 1977, this performance gap (and unsold dealer inventory) had grown to the point that Honda decided to take the year off to regroup. 
After the '77 hiatus, Honda came out swinging in 1978 with an all-new and hugely improved CR.  The new bike was redesigned from the ground up and featured long-travel suspension, works styling and an ultra-compact and potent motor. Because Honda chose to market the new machine as a true "works replica" the new CR dropped the "M" designation and adopted a new "R" (for replica) moniker at the end of its name.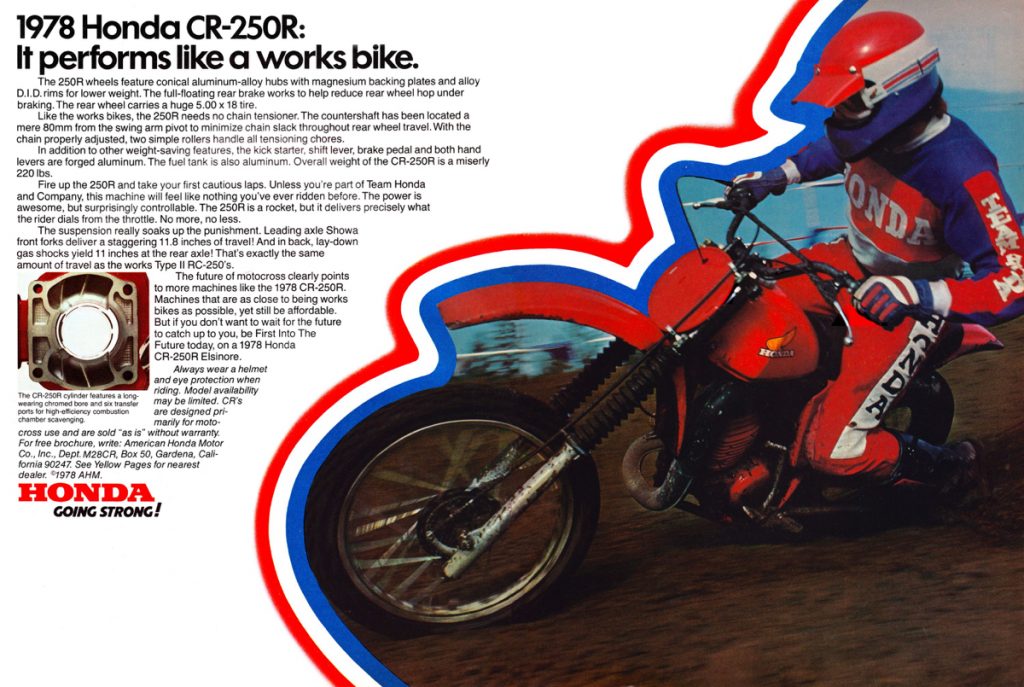 Ultra-light and wicked fast, Honda's CR250R only needed some suspension upgrades to be able to win at any level in 1978. 
While not a perfect racer, the new CR250R Elsinore proved a significant machine for Honda. It showed that Big Red was not content to sit back and let Yamaha and Suzuki lead the way. After several years of complacency, Honda was back and ready to prove that they were going to be a motocross power for years to come.