The 2020 KTM 450SX-F is here and even though I was reluctant to let go of our 2019.5 KTM Factory Edition test bike, I was excited to try out the 2020 even though there aren't many differences from the KTM FE. I did manage to ride the 2019.5 FE and 2020 SX-F back to back and I came away with the following information. 
WP XACT Suspension: Don't let the name fool you. WP just did some re-branding and is now using the XACT name for 2020 WP suspension. This is NOT some new technology that just came out, it's just a name change. However, with that being said, WP/KTM did change quite a bit to the 2020 suspension settings as they now have their own proprietary setting for the KTM 450 SX-F model (which means they do not share a setting with Husqvarna anymore). KTM went with a stiffer setting (over Husqvarna's settings) and to me it's built for a more aggressive type of rider. The AER fork moves in the stroke nicely, has decent amount of comfort on small bump absorption, but that can change throughout the course of the day. It's an air fork! The WP fork can get a little firmer feeling initially  with a mid stroke that gets harsher as the track develops (aka bumpier). The shock is superb and only feels a little soft at the end of its stroke. Turning the high speed in 1/8-1/4 turn helps with this. Make sure to keep the sag around 104-105mm and you'll be rewarded with a balanced machine. If you're over 195 pounds, go with a stiffer rear spring and that will help balance the bike out under acceleration (will not squat as much).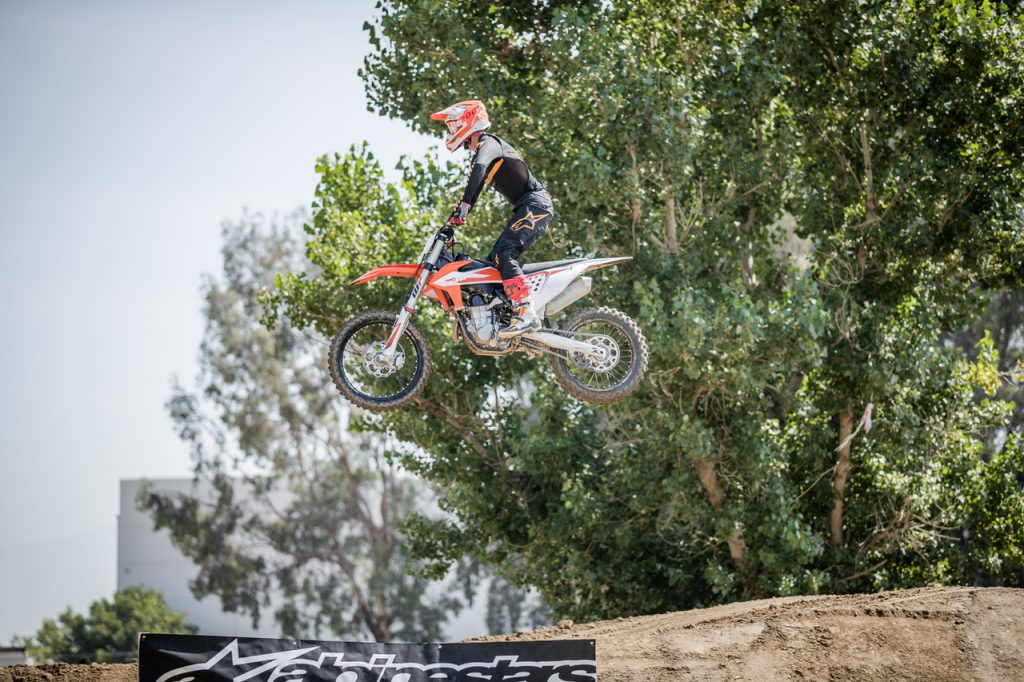 Gearing: KTM went from a 13/48 to a 13/49 to help third gear recovery. Having a 13/49 helps the transition when shifting from 2nd-3rd gear and lets the rider feel increased rpm response. I approve of this gearing! Or you can try a 14/52 gearing and get more rear wheel traction. 
New Mapping: I love that the KTM's come with a on-the-fly handlebar map switch that offers two maps to choose from (without having to stop). For 2020 map one is what they call the 'standard' map (same as 2019), which is designed to have a controllable longer/linear power that is geared towards the non aggressive type of rider. Map two is changed for 2020 and is what KTM is calling the 'aggressive' map. It is supposed to be stronger across the board and although it is, it still is very linear feeling. Map two will not explode you out of a corner like a Honda CRF450R, but instead give you some added bottom/mid rpm response as well as have a more free feeling engine character. To me the lack of engine braking for 2020 (on map two) makes the bike feel even more playful, which I love when the track gets rough. TC is still available and works just as good as 2019 so don't be scared to try it. If you ride hard pack tracks or slippery terrain do yourself a favor put your 2019-2020 KTM 450 SX-F on map two with the "TC" light on. It works well and you'll be passing those other colored motorcycles that do not have that button. 
Piston Design: There is an updated piston skirt design for 2020 that is said to help improve durability. Don't worry I will be the judge of the said durability improvement so make sure you stay tuned to future Rocky Mountain ATV Keefer Tested Podcasts.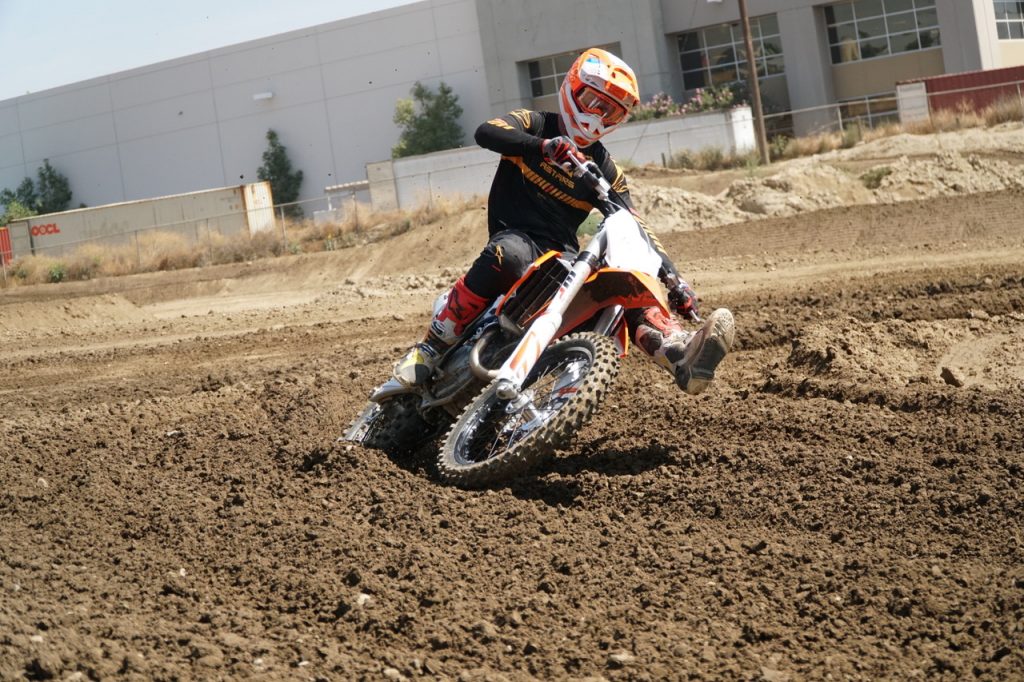 Dunlop MX3S Tires: Everyone enjoy these tires on the 2020 KTM's because we will not see them come 2021 on production machines! Dunlop is forcing manufacturers to go to the MX33 come the year 2021.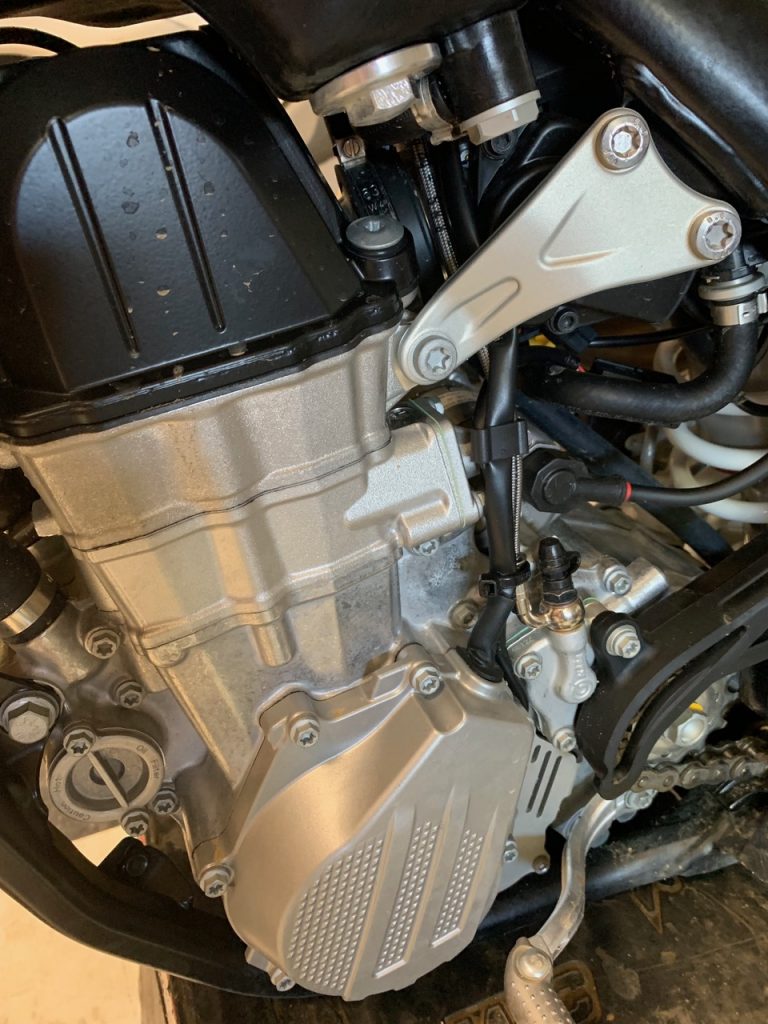 Engine Feel (On Track): The engine on the 2020 KTM does feel slightly different than the 2019. The overall engine character still has that smooth easy to ride feel, but with slightly less engine braking. Coming into corners you can feel less drag on the engine and less movement in the chassis. When in map two there is also more mid-range rpm response on the 2020 thanks to the mapping changes and left side cover holes that come stock now on the KTM. No more lean top end de-cel pop and rich bottom end feel that hampered the 2019 version. If you're looking for a hard hitting 450 engine character this isn't your type of machine. A Honda or Yamaha might be better for you. However, if you're looking for an easy to ride, connected to the rear wheel feel, deceivingly fast type of power, the KTM could be just what you're looking for. It is my favorite type of engine character because it can please a wide range of riders. This engine character will not beat you up or scare you away if you're in the market for a 450cc power plant. 
Suspension Feel (On Track): KTM/WP will tell you that they set up their 2020 suspension settings for a more aggressive type of racer and that is what it feels like. They succeeded in getting less mid stroke harshness (de-cel) out of the AER fork, but to me the fork seems quick. Going from 18 clicks out to 15 clicks out helped slow the front end down when hitting braking bumps or slamming into jump faces at speed. The action of the fork is smoother feeling than last year's fork setting, moves more in the stroke, but gives the rider a considerable amount of front end traction (for an air fork) on braking bumps. This fork will feel low if you're a heavier or aggressive type of rider, so going up from 10.5 to 10.7 bars will help hold up for riders over 195 pounds. Slowing the rebound down a couple clicks like we mentioned earlier will also slow the action down a little and keep it from diving too much on jump faces and g-outs. Also don't forget to bleed your AER fork before every ride. Yes, it has bleed holes.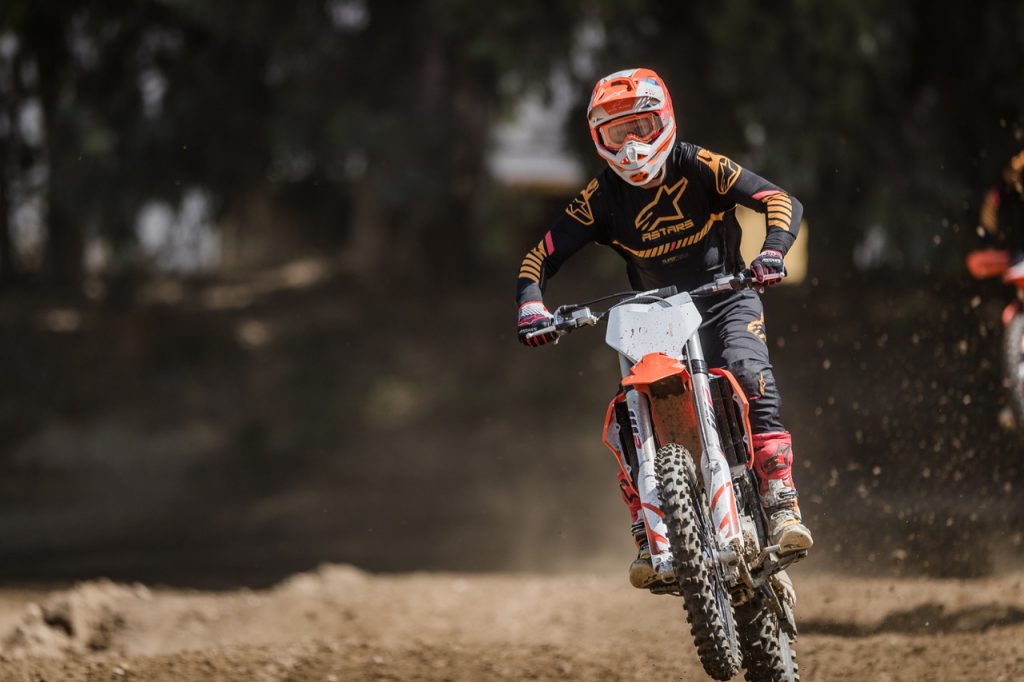 The WP rear shock still likes a sag of 105mm, but the overall feel of the shock is slightly empty feeling (soft) at the end of the stroke. If slamming into steeper jump faces or g-outs you will bottom out and see rubber marks under the rear fender fairly quickly. If you're experiencing a lot of this, stiffening your high speed compression a quarter turn and turning in your low speed compression a couple clicks will help the shock's end stroke feel. What the 2020 rear shock does do better than the 2019 is offer more rear wheel traction on acceleration bumps. The rear wheel drives through square edge chop better and doesn't give the rider a harsh/spike feel like the 2019 shock did at times.
Subframe/Motor Mount Bolts: Keep an eye on your two rear subframe bolts and engine mount bolts. On our steel frame test bikes they worked their way out a little so make sure to keep some blue Loctite on them and check them every so often.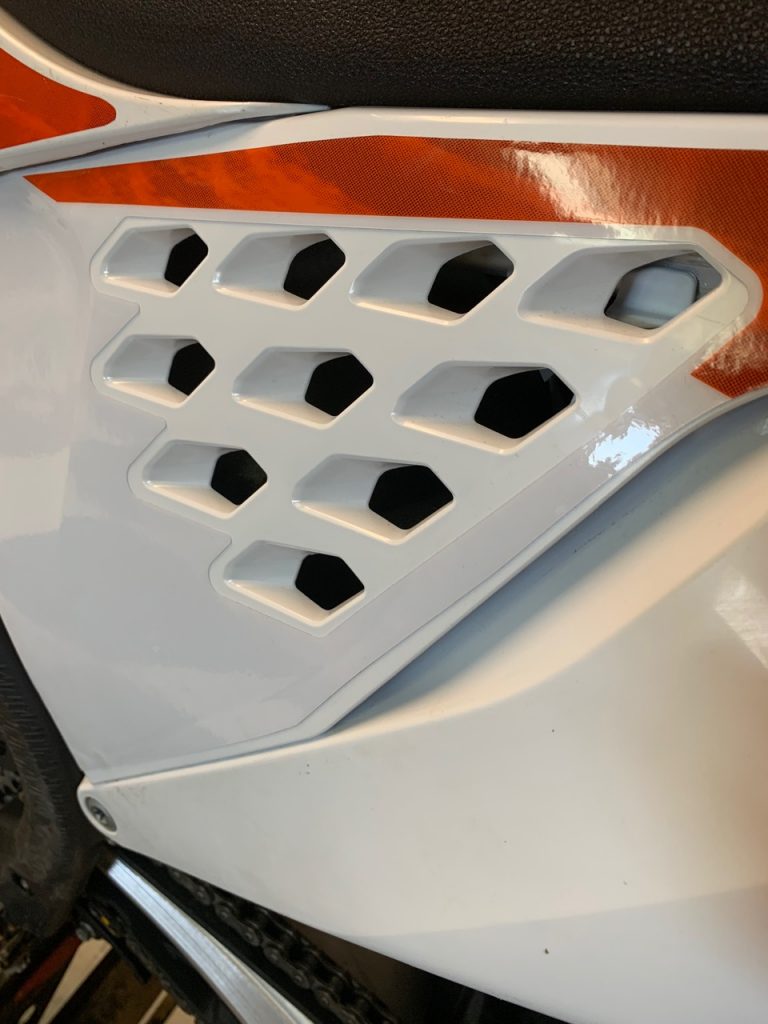 Handlebar: The NEKEN bar is straight and flat, but long at 813mm. Do yourself favor and throw these in the trash. They are stiff and make the KTM feel more rigid than it really is. Get a set of Pro Taper's and cut down on the vibration and increase hand comfort.
 What Do I Really Think: The 2020 KTM 450SX-F is one of the easiest bikes to ride and can be enjoyed by a wide range of riders. I like this attribute! It's user friendly 450cc nature is not too aggressive for the less experienced type of rider, yet still can get a very experienced rider around the track in a hurry, without a lot of effort. The WP suspension is better to me than the Husqvarna, but also gives the rider slightly more comfort on small bump absorption than last year. Would I still want a spring fork? Of course I do! Going to a Cone Valve fork and leaving the stock shock is a great option if you have the money. The overall feeling of the bike is light around the track and allows the rider to open up his line choices. I will be testing the 2020 KTM 450 SX-F more in the coming weeks and will be getting you some optional settings to try so make sure you stay tuned to pulpmx.com and keeferinctesting.com in the future.