10 Things About The 2020 Husqvarna FC250/350
Husqvarna brought us their 2020 FC250 and FC350 to us this week, so in standard Pulp MX/Keefer Inc. fashion we wanted to break down the ten most important aspects of both bikes to you. For 2020 minimal changes were made to the FC250/350 and those changes Husqvarna made were to the suspension valving, airbox/side panel (drilled holes), gearing change (FC350 got a 14/51 ratio), and of course BNG's. We will be riding both of these machines more throughout the weeks so stay glued to pulpmx.com and keeferinctesting.com for settings info.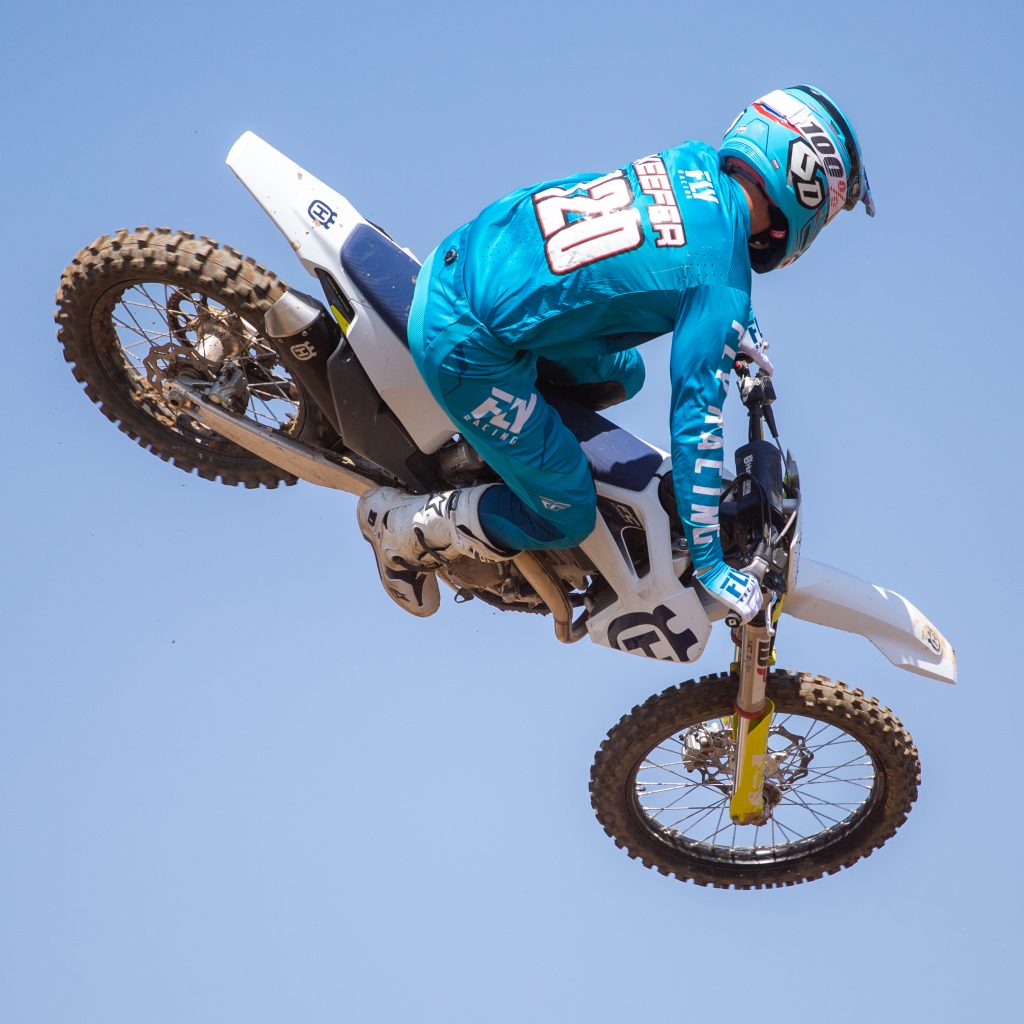 Engine Feel: Does the FC 350 have the torque of a 450? Does the FC250 have the torque of a Yamaha YZ250F? No, they don't! They are smoother than those other bikes off the bottom end and have a more linear roll on power delivery. Is this a bad thing? No, it isn't. It just means you're getting a more controlled engine character with a wide power curve. 350cc's of power is usually plenty of power for most consumers, but if you're looking for more torque and want to be lazy, the 450 will be better. The FC250 and FC350 both have a similar engine character where they are sneaky fast. Sneaky because they build rpm's calculated and smooth then all of a sudden you find yourself over jumping a certain section of jumps. This takes a few laps to dial in, but once you do, you will be able to appreciate how much easier this type of engine character is to ride. Both engines make a lot of rear wheel traction so don't expect a ton of hit anywhere through the powerband on these models, so the "Tony Alessi Water Truck Lane Test" may not be the best guide on how good these engines really are on the track. Both machines have tons of over-rev, so if you're into short shifting, these bikes may not be the best for you. They both liked to be revved! The Husqvarna's are not torque monsters like the Yamaha's, but if you want to let each gear eat, both machines will allow you to ride that way. You would think without tons of torque feel, the FC250/350 wouldn't have a lot of recovery when in the wrong gear through corners. To my surprise both engines have superb recovery time and will get you back down on the track, in the meat of the power, in no time.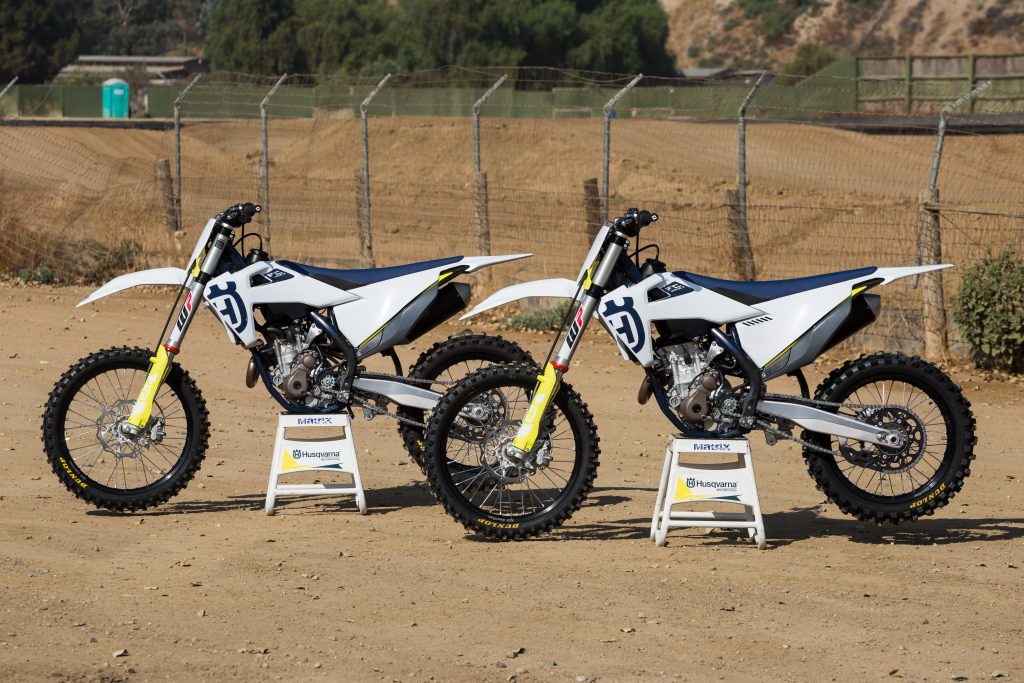 Weight Feeling (Chassis): The 2020 Husqvarna FC250 weighs in at 218 pounds and FC350 weighs 219 pounds dry. That is only one pound! The 250/350 feels lighter in corners than they do in the air, which is very odd to me. However the good news is that you are able to cut down from blown out berms or ruts very easily on either bike. The FC250 feels more like 5 -7 pounds lighter than the FC350 on the track, do to it's more free-feeling engine character. The FC250 has a very free feeling engine (in each gear) and the inertia of the FC250's engine is much less, so that makes it feel more than a pound lighter on the track. Compared to a FC450, the FC350 feels slightly lighter through corners and on sudden direction changes, but to me there is more of a weight feeling gap between the 250/350.
Straight Line Stability: As light as both machines feel on the track the FC250/350 stay pretty damn straight (on-throttle). When accelerating out of long sweepers the rear end stays more connected to the ground than previous year models and track straight. The stiffer frame helps this rear wheel contact and is very noticeable under heavy load. There is nothing unexpected that happens when pushing the limits on these machine. If you hit the same bump 20 times, both machines will react the same each of those 20 times.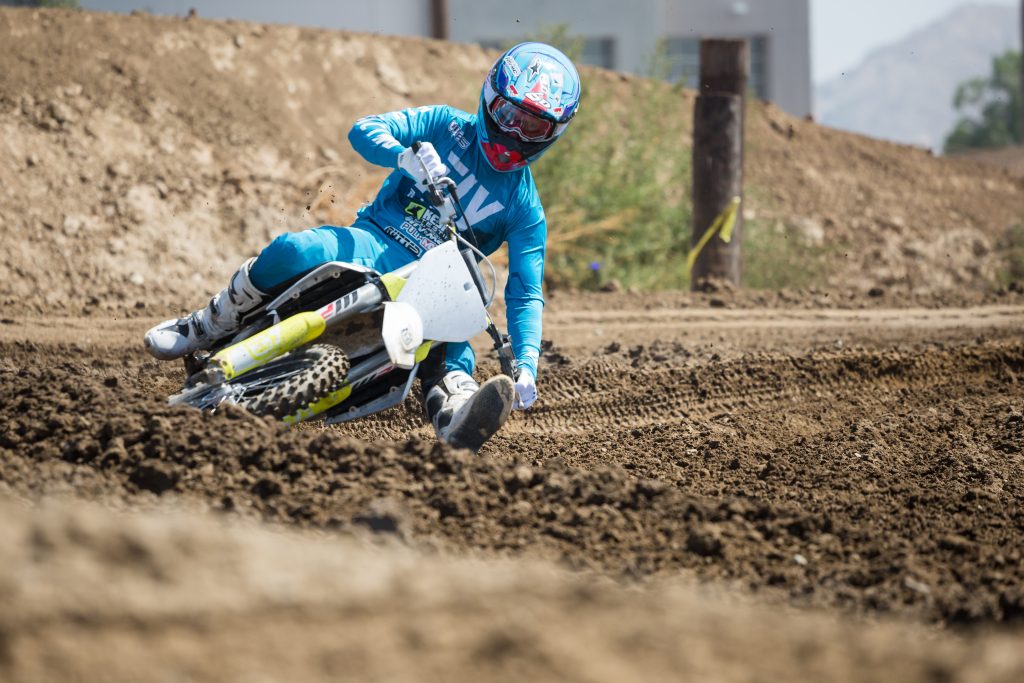 Suspension: Both sets of 2020 WP suspension on the FC250/350 are on the soft side. All three test riders (165, 170, and 185 pounds) thought the fork on each model needed more air. On the FC250 we went up to 10.7 (10.6 stock) bars and on the FC350 we went up to 10.8 bars (10.4 stock) and that helped both bikes from diving on de-cel. Both shocks are empty (soft) on the end stroke (g-outs, jump faces) so adding some high sped compression (1/8-1/4 turn) helps hold up the rear end in those areas of the track. After changing the fork and shock, both bikes will ride higher in the stroke and actually have more comfort on de-cel. All riders thought the suspension (after this change) was more balanced and all riders could push harder into bumps with more aggression. We will be getting you specific clicker settings in a future article coming in a couple weeks right here on pulpmx.com and keeferinctesting.com.
Engine Braking (FC350): I noticed that in second gear the FC350 had quite a bit of engine braking, but in third gear the engine braking was significantly less. Usually with other bikes there isn't the much engine braking change from second to third gear, so to combat this I tried to downshift late into corners, so that off-throttle pitching sensation wasn't as apparent. I will be testing some gearing on the FC350 to see if I can help this sensation very soon. The FC250 didn't have nearly as much engine braking as the 350 and had more of a free feeling second gear de-cel (freewheel) coming into corners.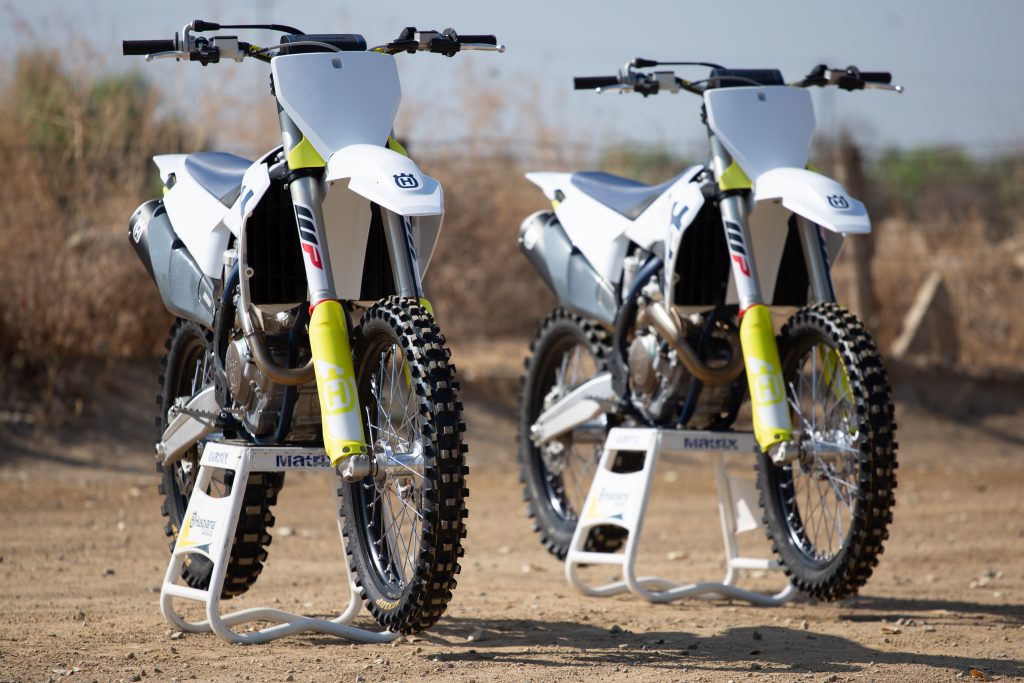 Engine Maps: On the FC250, Map 2 was a great all around map for all three testers we used. Map 2 didn't come on stronger than map 1, but gave the Husqvarna more rpm response and mid range recovery time, while pulling harder up top. Map 1 was a little stronger off bottom end, but was too short for our testers taste. The FC350 had slightly less engine braking in map 1, but just didn't have that excitement that map 2 had through the mid range so we chose to ride in map 2 and deal with the engine braking in second gear. In map 2 we could shift to third gear sooner than in map 1, so that was also a positive for the track we tested at. The TC button simply doesn't get enough play with test riders, but the TC button does work well for conditions that are slick, hard pack, and/or slippery. Find the preferred map you like to ride in and use the "TC" button when the track turns for the worse.
 Seat: Do yourself a favor and get a GUTS seat cover and take the violent stock seat off ASAP. If you plan on doing longer motos, save your butt and get a friendlier gripper seat.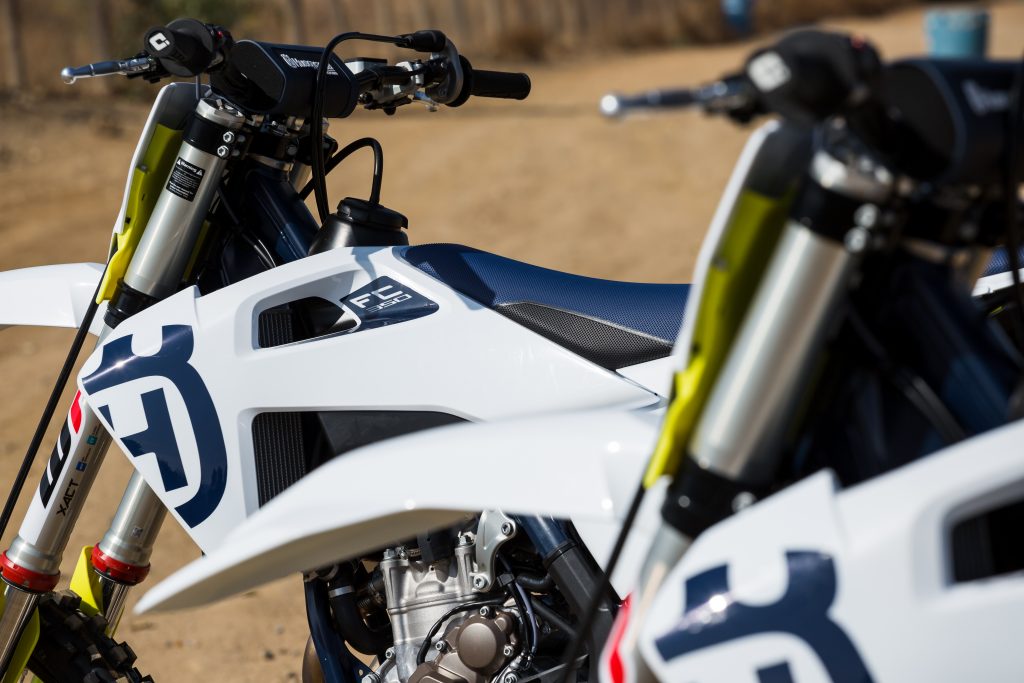 Rider Triangle: I like the Pro Taper EVO bars the come on the Husqvarna, but when standing they are a little low in height for me. Going to a Pro Taper "SX RACE" bend keeps me from being hunched over when standing around corners. If you do like the low/flat profile of the stock bar, try cutting it down to 803mm for better corner entry as the stock length is a little too long.
Which Bike Is More Fun To Ride: I get this question a lot so I might as well answer it. I really like riding the FC250 a little more than the FC350. Why? To me it has to do with how the bike handles. To me the FC250 is much more playful in the corners and feels lighter around the track. You have to ride both bikes aggressively and unlike a 450, you just can't lug either bike around or be lazy, so I prefer a bike that will be lighter feeling around the track. Now don't get me wrong… The FC350 is fun to ride, but for me I would take a 450 over a 350 because they both feel similar in weight around the track, so why not have more power at my throttle hand. The FC450 is also very linear off the bottom end and not intimating like some other 450 power plants. Now I know that not everyone is like me, so I can see why a FC350 could be less intimidating to a vet or novice type rider, which is why one of my vet testers wants one now!
Clutch/Brakes: The Brembo brakes that come on the Husqvarna FC250/350 are one of the strongest brake systems available. If you're coming off of a Nissin equipped machine, getting used to the Brembo system may take some time for you to get your braking points down. The Brembo's are strong and powerful so not a lot of pressure is needed by your finger at the lever. The Magura clutch is a little more on/off feeling than that of the more linear Brembo hydraulic system on the KTM, but either will not fade on you during a long moto. The Magura clutch has a smaller window of engagement that will take some time for riders that are used to a cable clutch, but once you find that engagement point, that foreign feeling will disappear from your mind within a few times out on the track.