For this installment of Classic Ink, we are going to take a look back at the motorcycle that launched a thousand careers, the 1981 Yamaha YZinger.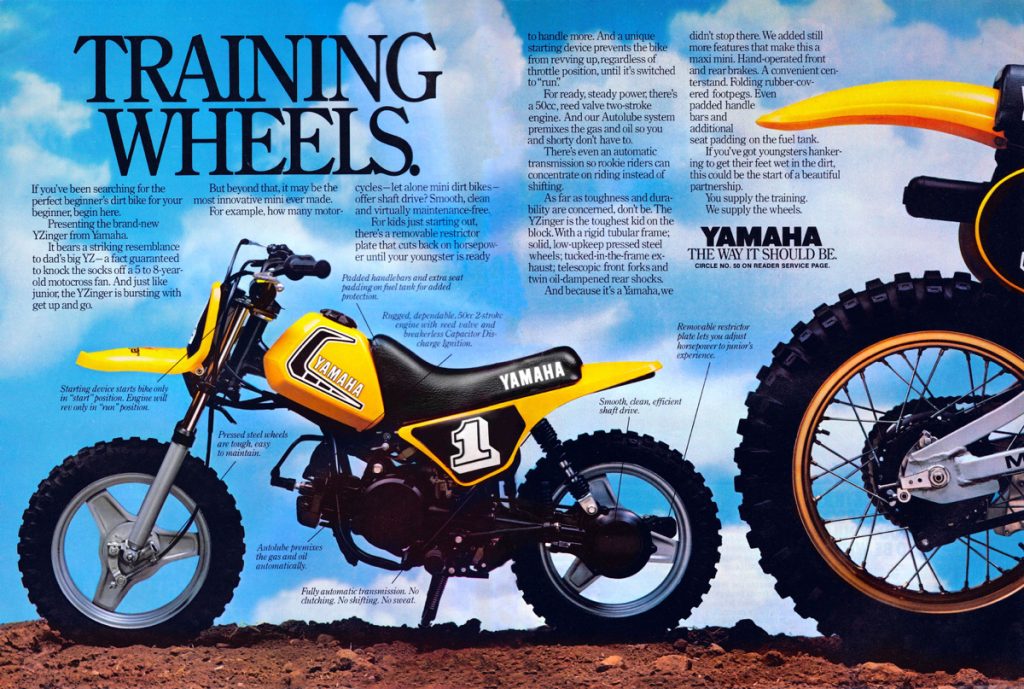 Looking for all the world like a ¼ scale YZ465, the new YZinger captured the imaginations of pint-sized Bob Hannahs the world over in 1981. Photo Credit: Yamaha
In 1980, the mini bike world was a pretty wide-open place. On the sedate end, you had bikes like Honda's Z50R Mini Trail, with its indestructible four-stroke motor and mild-mannered personality. On the racy end, you had machines like the Suzuki RM50 and Yamaha's own YZ50. These 50cc mini rockets offered manual clutches, motocross-bred suspensions and powerful two-stroke motors. For the aspiring Erik Kehoes and Mike Healeys of the world, they delivered impressive performance, but for the average beginner they were a bit too hot blooded.
Realizing there was a market between these two extremes, Yamaha set out in 1981 to offer a new machine that could capitalize on the reputation of their championship-winning YZs, while still offering Junior a chance to get his boots wet without fear of being ejected into a snow fence. This new machine took the styling of the YZs (right down to that big number one on the plates) and wrapped it in a beginner-friendly package that even absolute novices could handle. Dubbed the "YZinger" or "Pee Wee" (giving rise to the "PW" in the current PW50 name), this new machine featured a simple and reliable two-stroke motor with Yamaha's "Autolube" oil injection and a fully-automatic clutch. Suspension travel was limited to keep the seat height low and drive duties were handled by a shaft to keep maintenance to a minimum.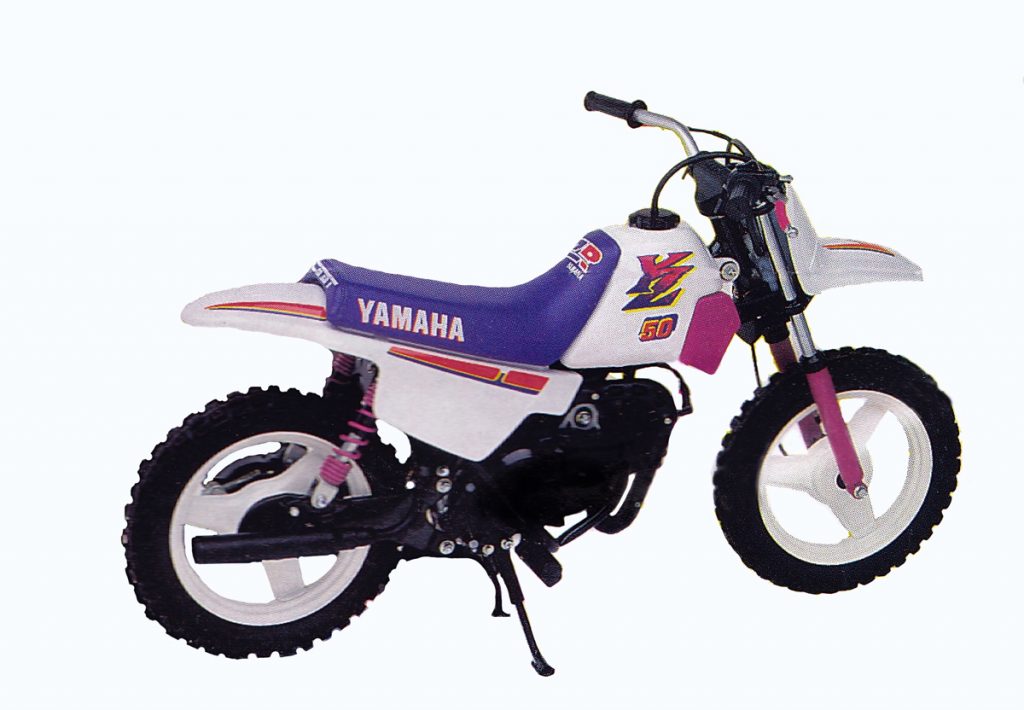 The Beast: In the nineties, you could get your PW50 Bradshaw flavored. Photo Credit: Yamaha
On paper, none of this was mind-blowing stuff, even in 1981. Auto-injected two-strokes had been on Yamaha's Enduros for a decade and full-automatic transmissions had been common on snowmobiles and oddballs like Rokons for years. Where the YZinger broke new ground was in the combination of these technologies into a solid, reliable and easy-to-use package. With its Autolube injection and shaft drive, the YZinger was all but maintenance free, and with its low seat height, spunky two-stroke motor and stable handling, it was very confidence inspiring. Dads loved it because it never broke, and kids loved it because it looked cool, sounded cool, smelled cool, and did not try to pitch them off.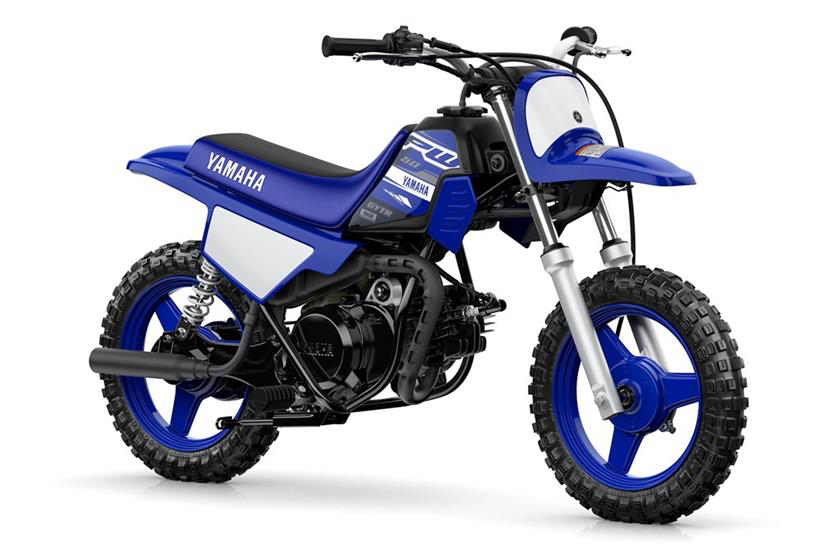 Once junior outgrew the capabilities of the stock PW50, dads everywhere went looking for ways to pump up the power and jack up the suspension. 
Within no time, the YZinger became such a phenomenon that people started racing them. Custom chassis designers tripled suspension travel and motor builders worked to breath fire into the PW's previously pedestrian power plant. By the mid-eighties, mini gates were full of fully-built custom PWs with skyscraper suspension travel and raspy rocket-powered motors. During this era, nearly every racer who would go onto greatness in the sport cut his teeth on one of these highly-modified PW50s 
Eventually, the explosive popularity of these modified PWs would lead to a cottage industry of purpose-built fully-automatic 50cc mini racers. Companies like Cobra took the work out of (unless of course, you count the extreme maintenance these bikes required) building a competitive pee wee racer. Faced with a new slew of purpose-built racing competitors, the venerable PW50 was once again relegated to the world of back yards and beginners in the 2000s.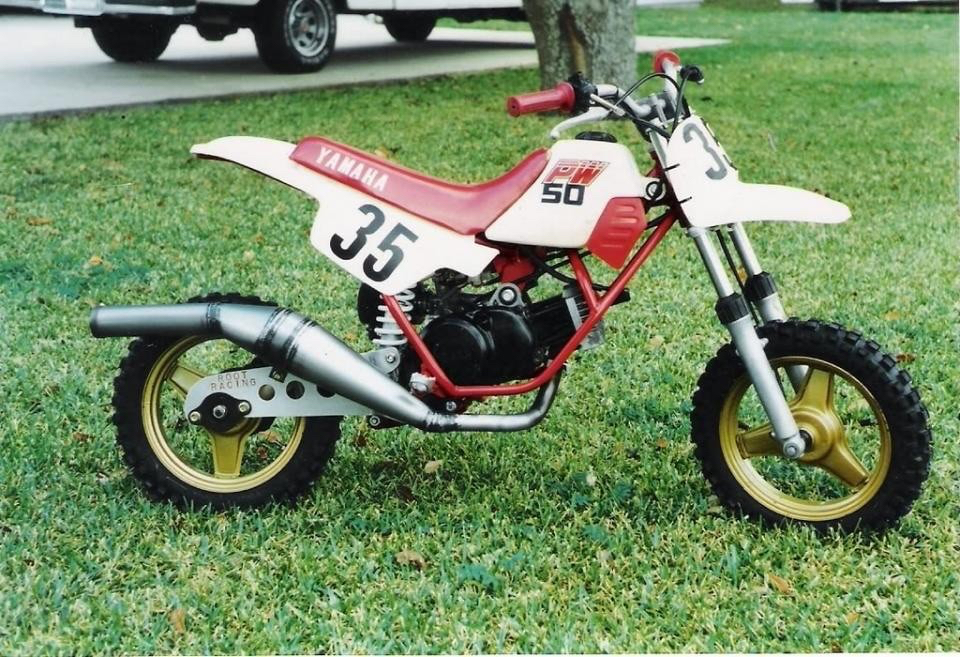 Today, the PW50 continues in Yamaha's lineup largely unchanged from its 1981 origins. 
Today, the PW50 remains in Yamaha's lineup as the preferred first mount for future mini dads everywhere. Largely unchanged for an astounding thirty-eight years, the PW is still the same easy-to-manage, reliable, and rugged mini mount it was all those years ago. No longer a racer, the PW50 is still true to its original mission and stands as one of the greatest and most influential motorcycles of all time.