Round five of the AMA Monster Energy Supercross Series in Oakland proved to be much more exciting than the triple crown last week in Phoenix. A lot of riders commented on how good the dirt was this year in Oakland, due in most part that Oakland didn't get too much weather, the week leading up to the race. With only 39 450 riders and 45 250 riders entered this week, it seems that we are getting lower than usual numbers, while it still is early in the series. Hopefully San Diego will bring more riders out to race, but in the meantime lets talk about some of the notables from the "Black Hole".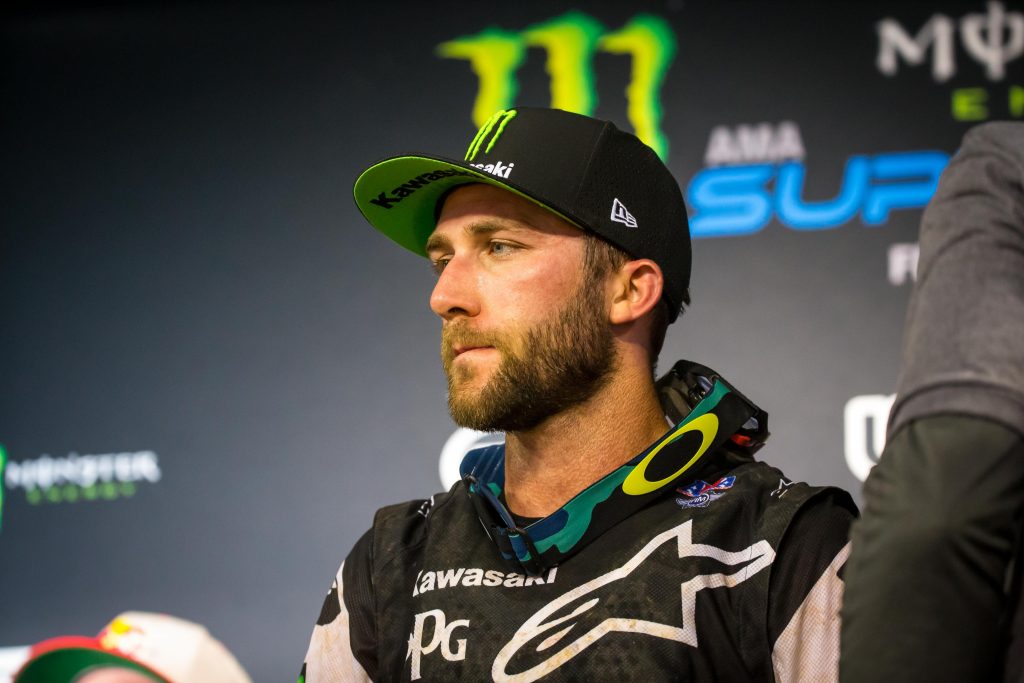 Eli Tomac: Eli wasn't going to be denied Saturday night. You know how you can tell if Eli is feeling it? Watch how he rails berms. If he hits these bowl turns like an outdoor berm, with his back end sliding all the way around it, like he's rear steering the bike, you know he's loose and going to be a tough guy to crack. When he has to pick his way into a rut with his front end, be smoother on the throttle, he seems to have a harder time. I think that getting second to Kenny in the heat race and watching Baggett's lines helped Tomac settle in when it came time to race the main event. Eli has a perfect blend of finesse and bulldog within his technique and that came out in Oakland. I haven't spoke much about the Eli and Adam's green machines, but I will have to admit they have looked the best out of all the bikes over the course of five rounds. While some other machines looked really good at some rounds and not so good at others, the Kawasaki's have looked balanced on every type of soil the series has produced for the riders.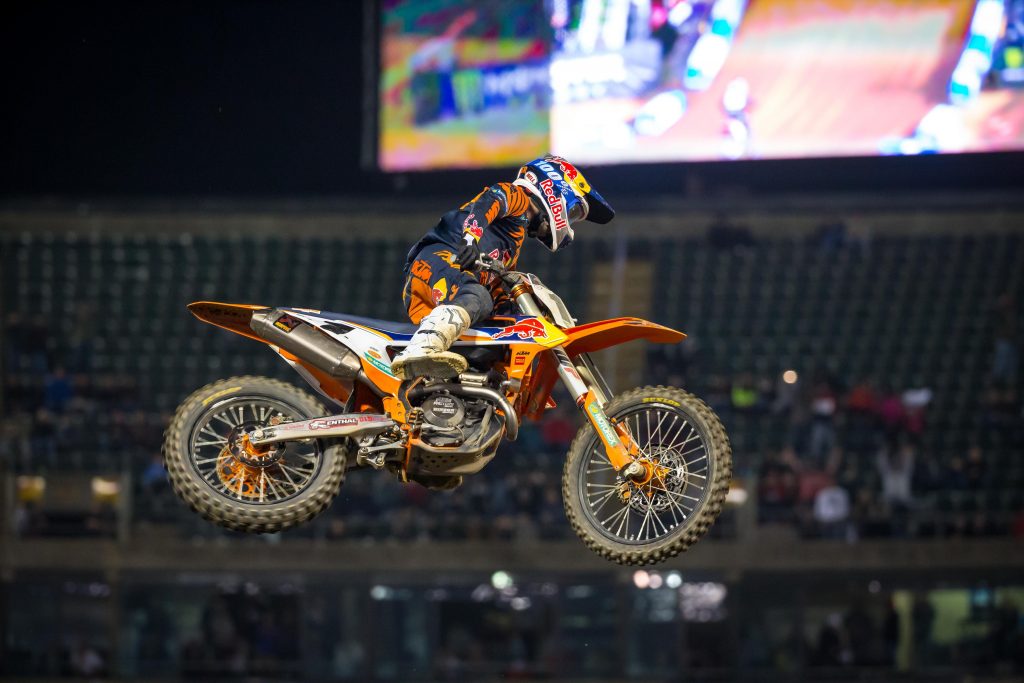 Cooper Webb: This is a Cooper Webb that we have not really seen. He doesn't look especially great in qualifying or in his heat and doesn't even look that great early in the main event, but he comes on after the half way mark. It has been said that Webb has been setting up his bike for the main event instead of earlier in the night show and it shows right? Just when you think Eli is going to run away, here comes Coop ripping through dudes! If the main event was a couple more laps we could have seen Coop take his first win of the season. Webb is more than a few points back in the series championship, but look for Webb to start creeping up as we head back east. Softer dirt means whoops will be breaking down, which means Webb will be better.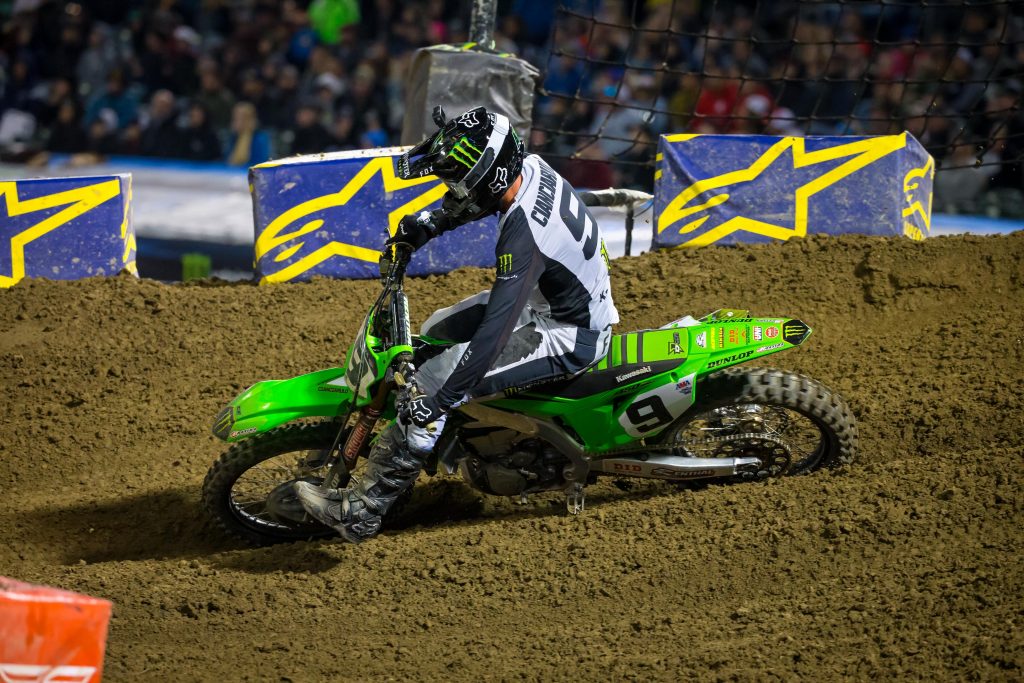 Adam Cianciarulo: AC had a hell of a crash last week in Phoenix and if you know what a bruised tailbone feels like, you can imagine what the dude was feeling like all day. AC seemed a tick off of the top three late in the race, but that could just be from not riding all week. I like that the rookie knows when to hang it out and knows when to back it down to collect some points. It will be interesting to see how his body holds up to this long series!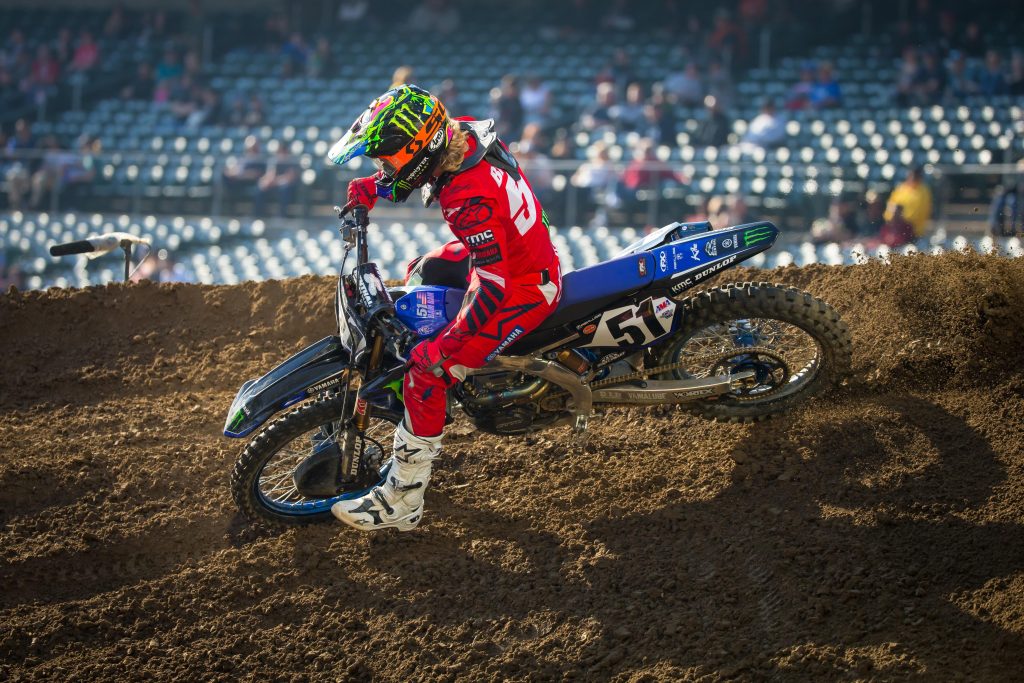 Justin Barcia *BEST DRESSED WINNER*: For how bad of a night it started out for Justin, it ended really well. A sixth place doesn't seem like much, but Barcia came back outside the top ten and put in a solid ride. Barcia hasn't had a good round since St. Louis, but to me after blowing an engine in the heat and then coming back to race well in the main, that right there should be a win to Justin and the Yamaha team. It took the Yamaha squad around 11 minutes to do the engine swap and from what I am told they do practice this in house during the off season, so they're prepared. When talking to Tom Danielson (Justin's trainer), he said that they had just over 5 minutes to spare before they had to be at the gate. Nice! Oh and if you wear red on a blue bike you most likely will be getting the BEST DRESSED AWARD!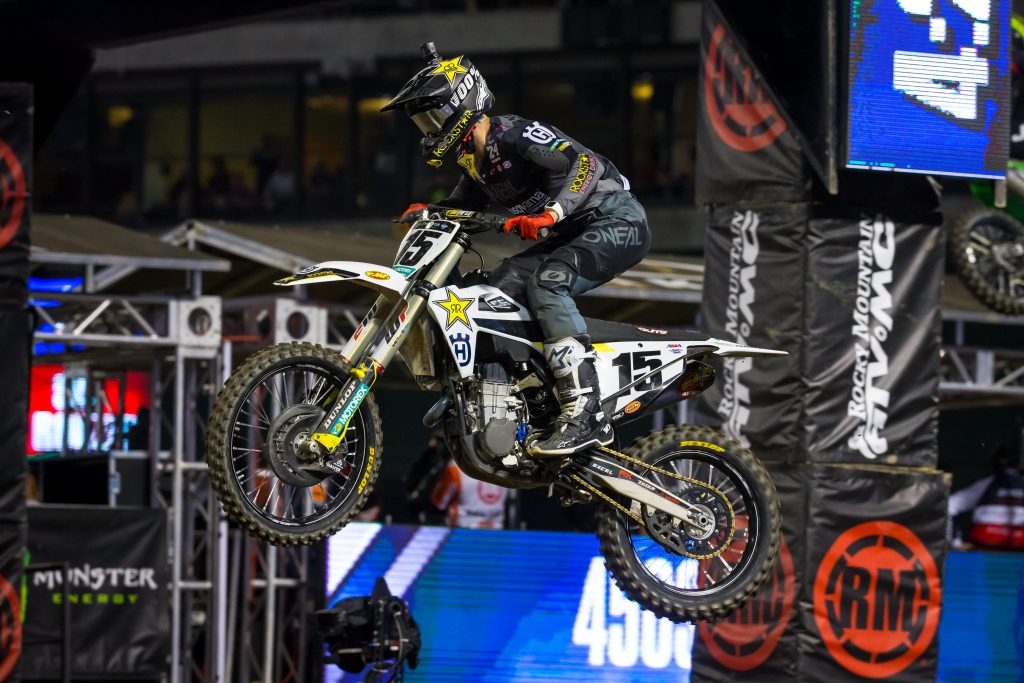 Dean Wilson: Dean said he cased the shit out of a rhythm section during daytime qualifying and thought he might of broke his wrists, but they ended up being just sprained. Again for people that don't know our sport, a seventh may not seem like much, but if you're in the top eight in a main event, you're doing really well in 2020. Dean is coming back from a huge injury that he encountered at Monster Cup, so to me, this ride in Oakland has to be the best one he's had all year. He was near the front, had great battles with Barcia, and was only 14 seconds off of fourth place!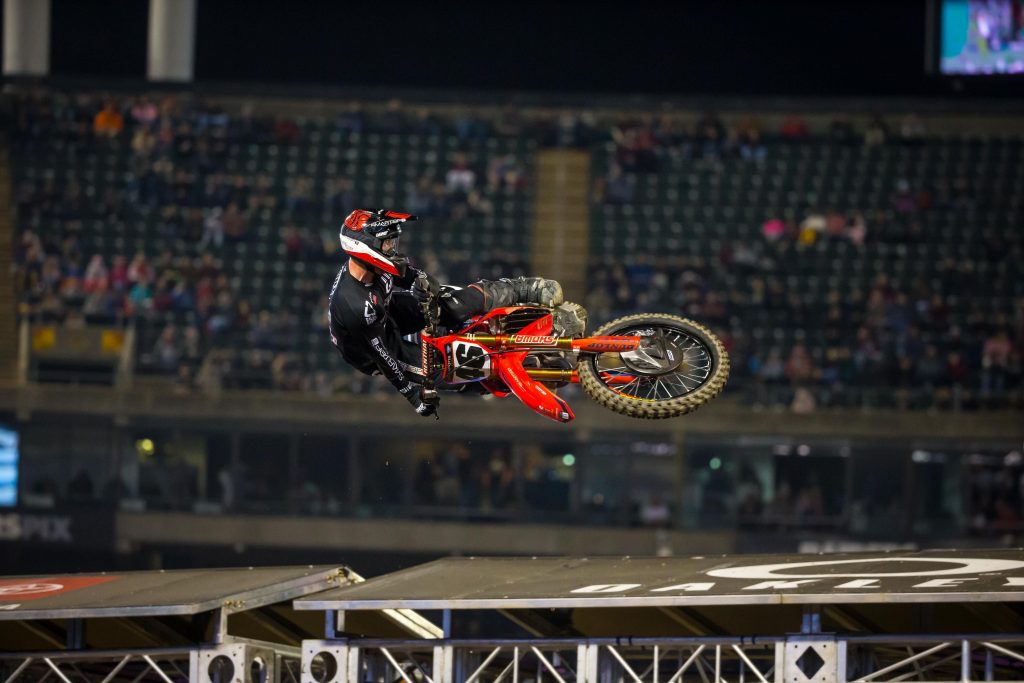 Justin Hill: A heat race win and a good ride in the main event has Jr. feeling it. I love that he gives great podium speeches and is just a happy kid. People underestimated Hill coming into 2020 because of his fitness, but I think Genova did a smart thing by hiring this guy, because he is capable of a podium and a lot more heat race wins this season. More time on the camera is good for the rider and the team.
Kyle Chisholm: Text from Chiz: "Still on stock ECU and went back and forth with the exhaust because I was testing a new muffler spec. But basically the launch mode button came on down in staging before free practice, so the bike would not start. We pushed it back, so I got no practice. Yamaha hooked the black box to do diagnostics but it showed nothing. So they inspected everything and couldn't find anything. Since there's not much time between free and first timed practice they disconnected that button and I rode it in the pits but it cut out again. We had no time so they left the box hooked up to watch it while the Yamaha guy watched my practice, but we were worried it would cut out again, so I literally just rolled around and then it seemed ok. I literally did like two qualifying laps. Didn't have free practice, rolled around, and did a couple laps in first timed so barely any riding. The diagnostics still showed nothing so they put a new battery and wire harness in and it seemed fine all night after that. I basically got one timed practice all day besides rolling the second practice a little bit. The Yamaha guys were awesome in helping me. My bike was at Yamaha more than in my own pits". lol (Editor's Note:) Chiz's laps were so limited, that I couldn't even find a picture of the dude from Oakland!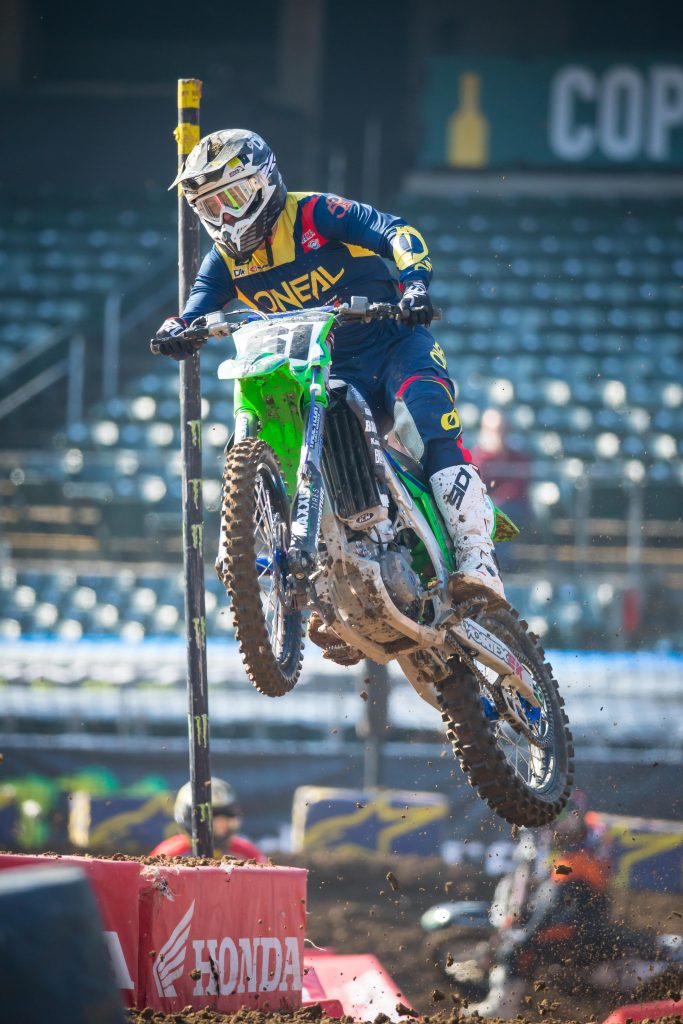 Alex Ray: Me: "How about that fuckin Chiz guy"? A-Ray: " I don't want to talk about it, but seriously, the dude rides one practice then makes it out of the heat and smokes me in the main. I got close at one point and then I just watched that old SOB just ride away"!
Jason Clermont: Ehhhhhhhhhhhh. Bueller…. Bueller…. It's a KX450! Not a Yamaha or a Suzuki.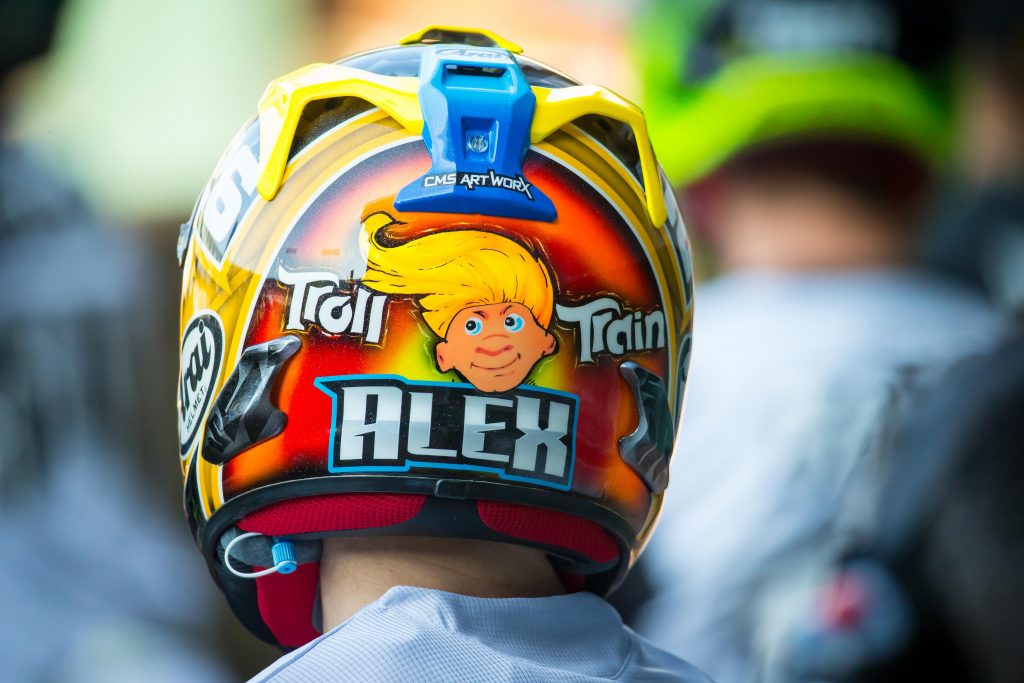 Alex Martin: If you say the JGR Suzuki doesn't have enough power, I am going to slap you across your face! A-Mart has been getting good starts, but just seems to have a rough time during the main event. However at Oakland "The Troll Train" rode great and damn near had a podium! Not having a long whoop section helped, but nonetheless he rode great and JGR should be happy about this ride. Please be careful out there on the 450 when we go east, Alex. Please!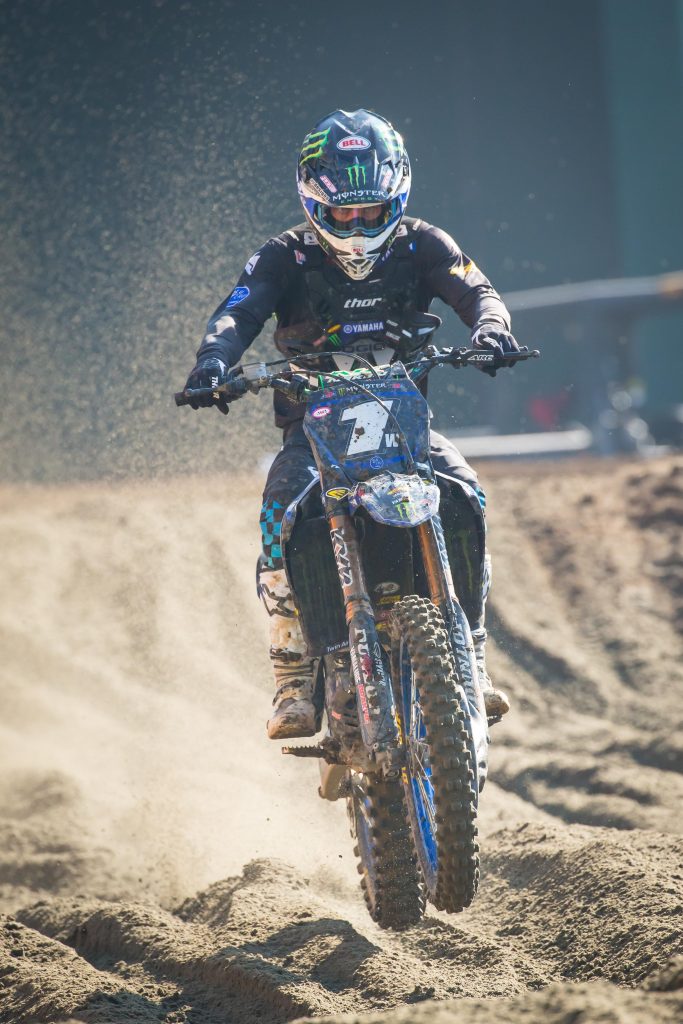 Dylan Ferrandis: The boos have to stop. We are done! Craig and him are cool, so why can't you Americans be cool? Come on! We are better than this. Ferrandis put a text book pass on Forkner and set sail. Well done Dylan.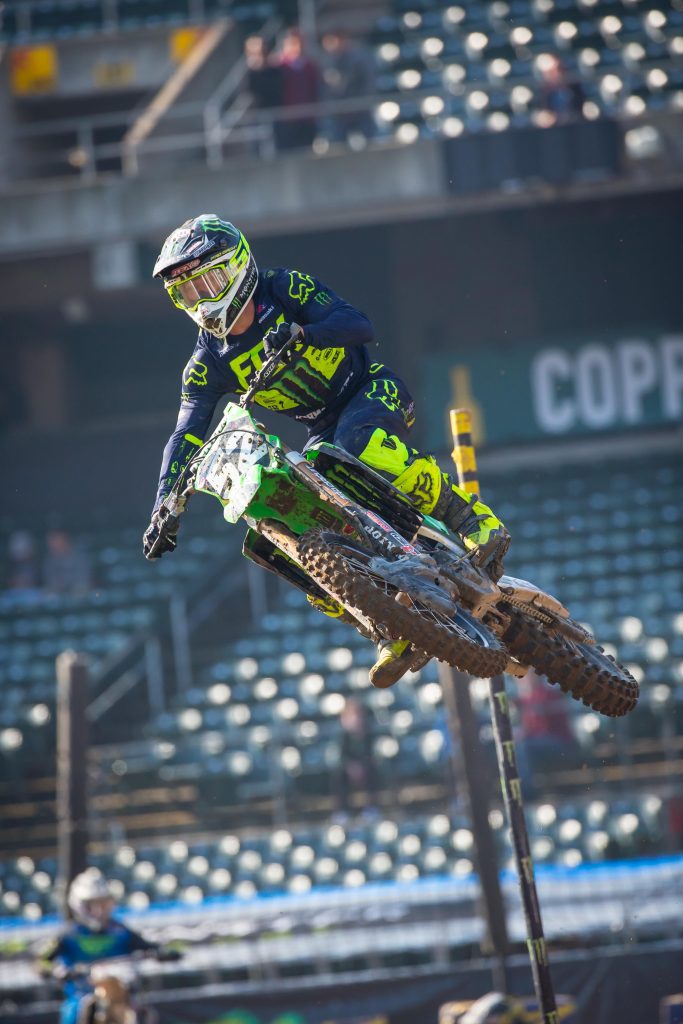 Austin Forkner: I feel like there are some Forkner haters out there and I don't know why? I like that the kid rambles on at the podium, at least he's not a robot. I like that he has a fiancé that is insanely hot. I like that the kid is in love. I like that he puts his balls out there every time he races and is aggressive. I like that he has a personality. Forkner rode great all night, but Dylan was just faster in the whoops. Austin was jumping them as Dylan seemed to find that smoother skimming portion, near the edge of the track and made most of his time up there. These two will be going at it for the rest of the season.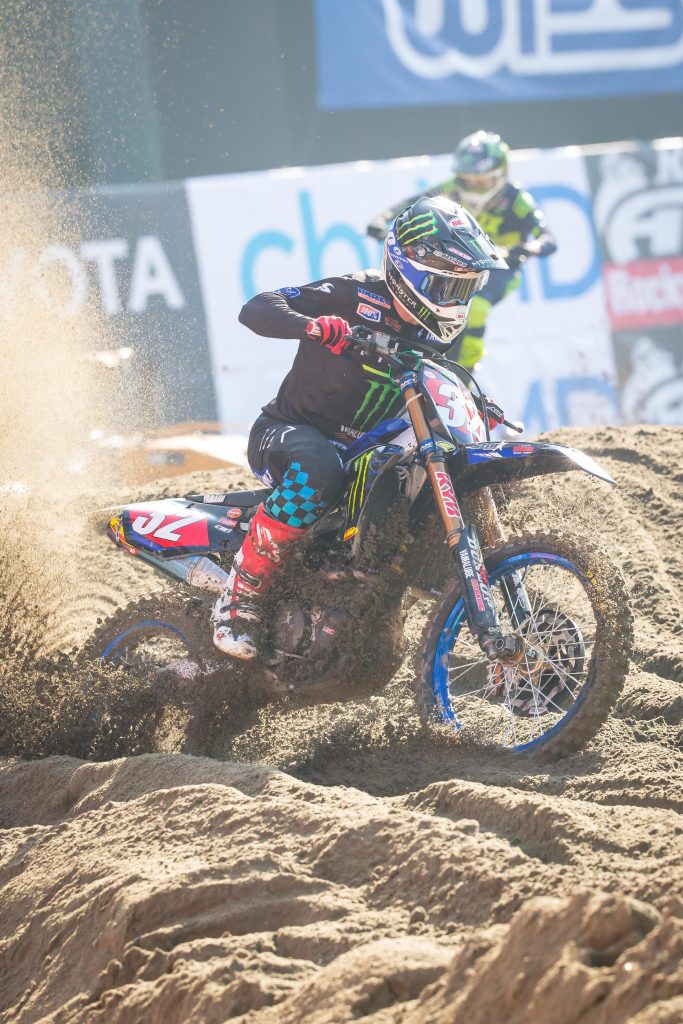 Justin Cooper: I honestly believe that he will get it pulled together in San Diego and show us why he should be the west coast 250 champion this year. Did you see the start he ripped from the outside in the main event? Wow! That bike must be fast, but I wouldn't know!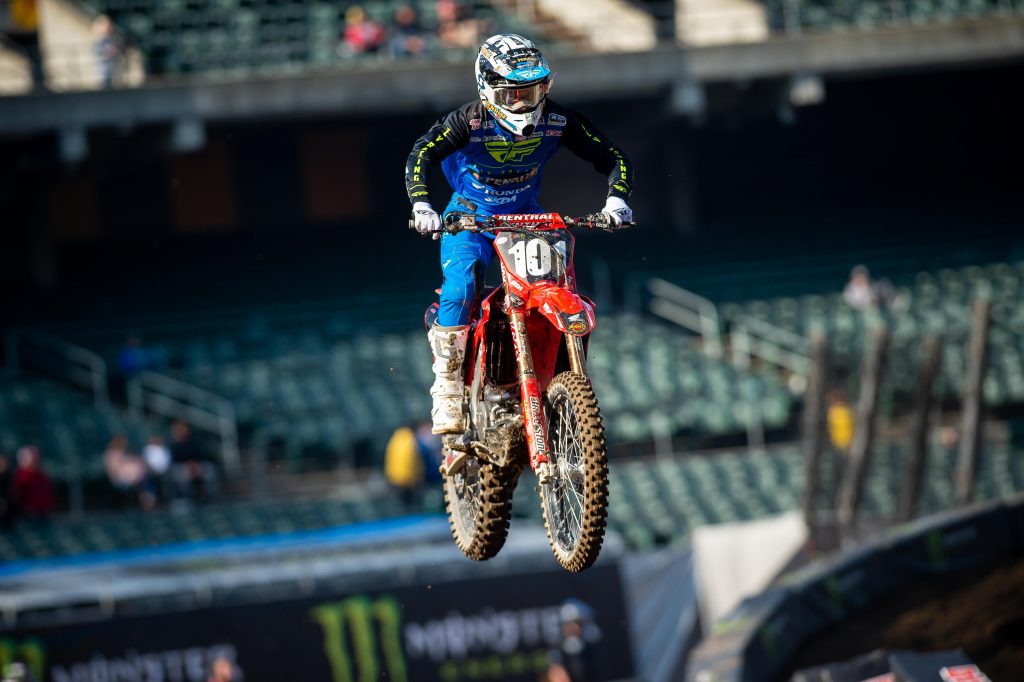 Luke Clout: I am a big fan of Luke's brother, Aaron, but I will talk about Luke a little instead. Clout has been getting more comfortable with our series and is getting aggressive. He is finding his place and is not scared of these top dudes in this class. You can see it from round to round that he is getting out near the front in practice and is following the "faster riders" so he can learn. How about that Penrite Honda? They are getting great starts and seem to be able to get the riders over rhythms without too much effort! I think it's pretty cool to see Luke drop down to the hyperactive 250 class and getting great results. Paging Geico! Team Geico!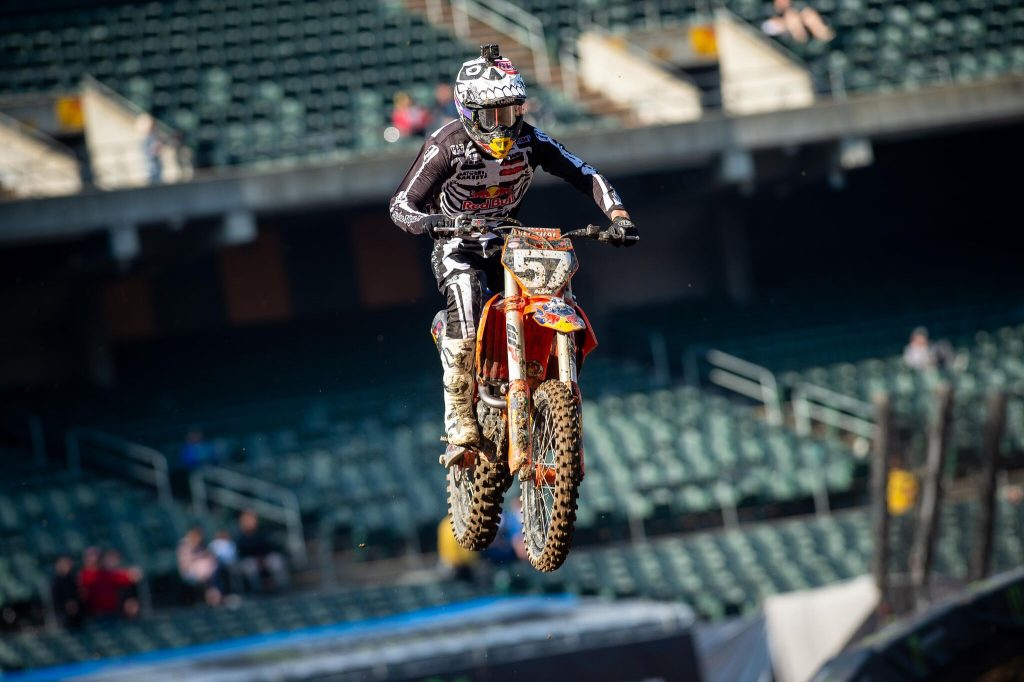 Derek Drake: 15th on lap one, but a  the start to 7th! No one will know how good of a ride that was. Drake came back to pass his teammate Hartnraft when he got a 5th place start. That's got to feel good when you are back at the hauler.