Atlanta's track layout wasn't that spectacular, but the 250 and 450 main events proved to be a fun one to watch. I know a lot of people have been critical of the tracks being too basic, but when you have a track that breaks down as much as it did in the ATL, you simply DO NOT need it to be that tough. I thought the track layout was just tough enough to make it difficult on the riders, late in both main events, but also wasn't too dangerous where we would be taking the riders out of the series with injury. Here are a few things I took away from Atlanta.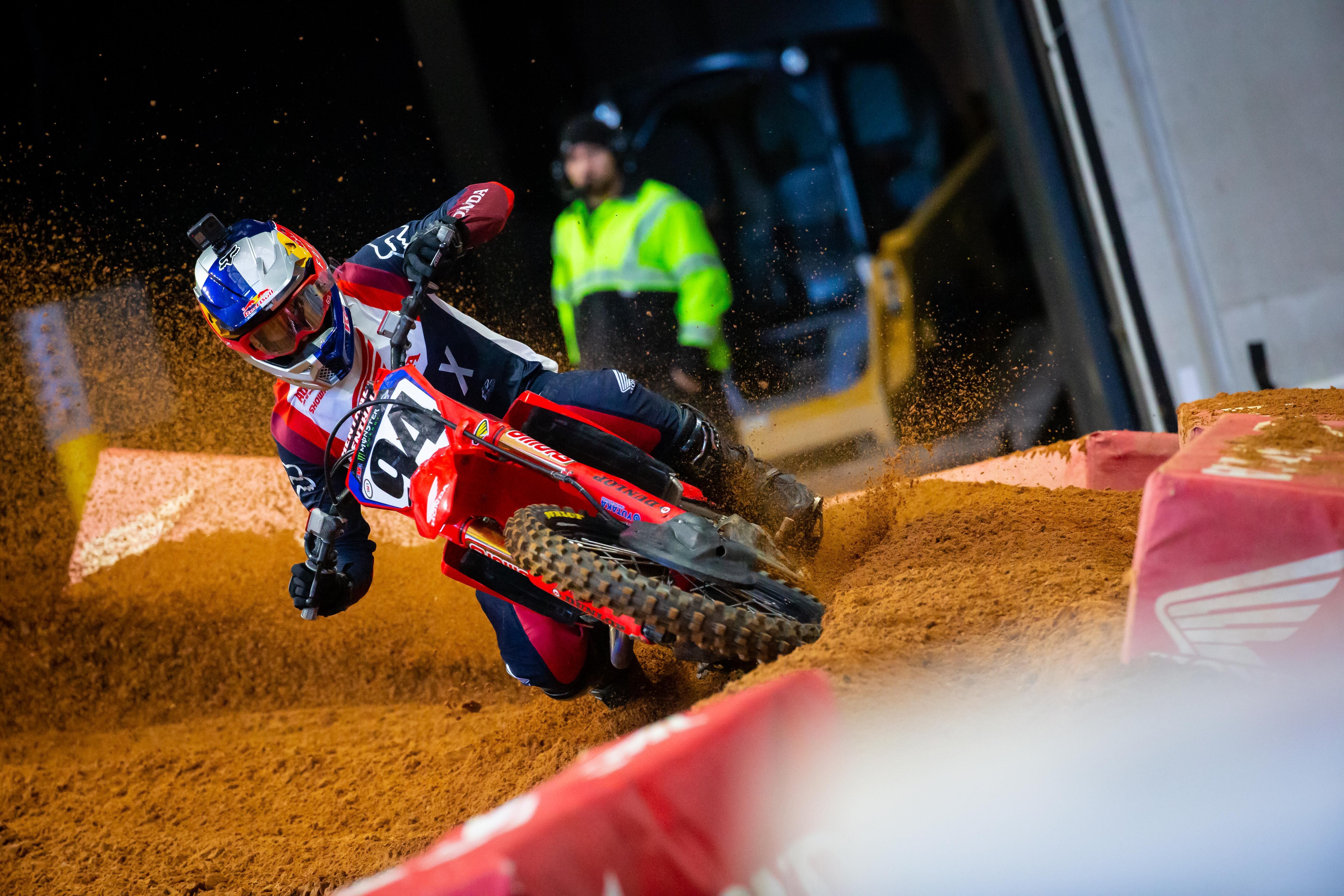 Ken Roczen: Soft conditions. Rutty track. Good start. These are all the things Kenny and his Honda love. No one can touch Kenny when the conditions are soft and rutty. No, not even Eli. Why? The way Kenny rides is so smooth and technical that he simply makes less mistakes than Eli Tomac. Kenny was never in any danger of losing his lead and with a couple suspension changes to his factory CRF450R earlier in the week, had him feeling confident. Winning Daytona and beating Tomac is going to be a tall order for Kenny, so getting a start there is going to be crucial to his success. Daytona is soft, but the riders are still able to move around and that kind of track is tailor made for #3.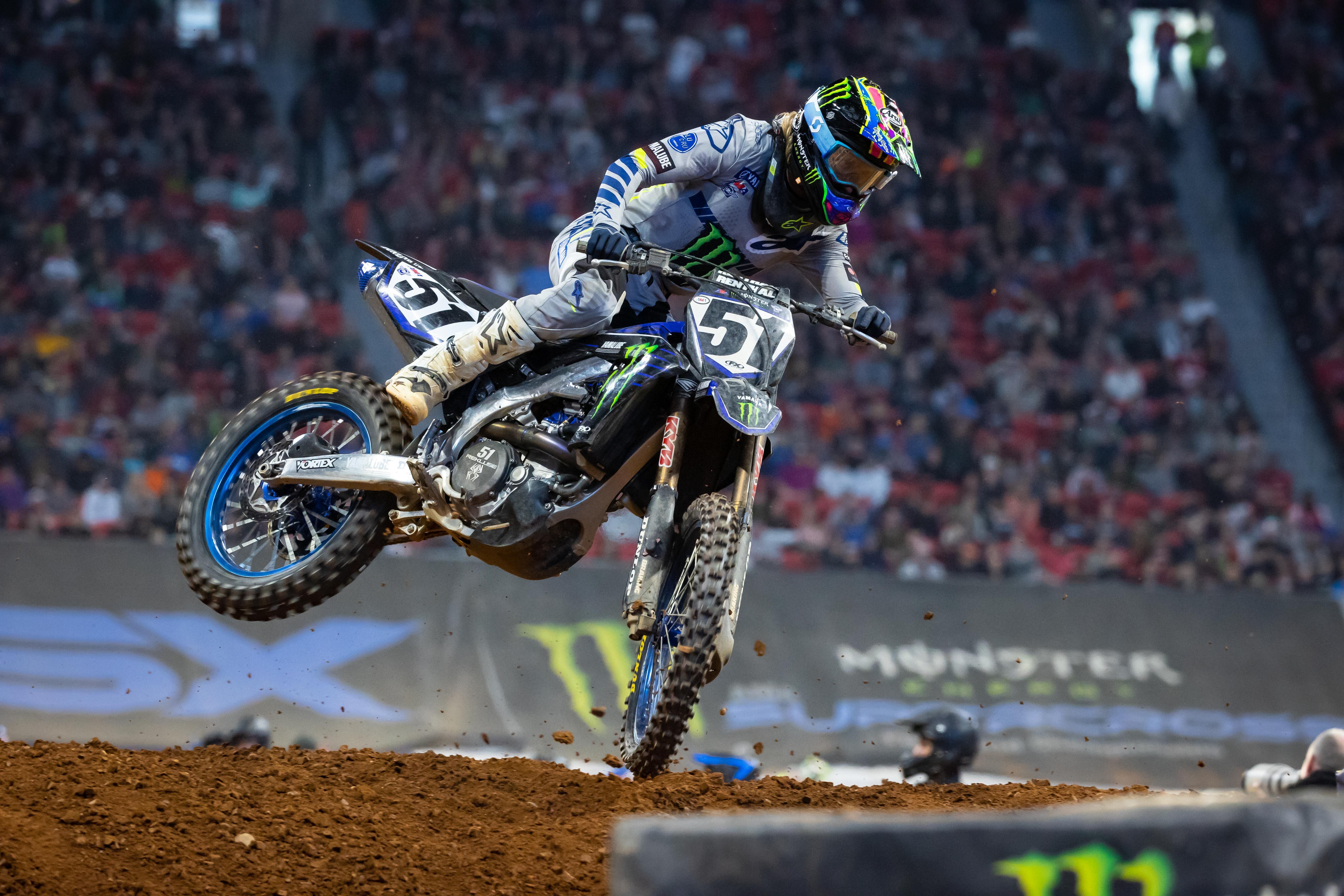 Justin Barcia: Even when the camera is not on Barcia I can still hear the dude on the track through my television. He literally is revving the shit out of his bike so much that it echos over Ralph and Ricky. I love this guy and the heart that he puts into his racing. However, I do want to mention that I think it's hilarious that he's pissed off at Tomac for bumping him in the main. Tomac and Barcia got into a heated wordsmith game after the checkers, but are you serious Barcia? I mean you did the same thing to Tomac in San Diego and you were wondering why Tomac was pissed at you? Let's be honest here… If you're going to ride aggressive like Barcia does, then you're going to have to expect it back at some point and time right? On a more positive note, Barcia is riding great and looks to be one of the top five guys who can charge through the pack, after a bad start, to get on the podium. Dear Yamaha, you might want to think about a contract extension soon?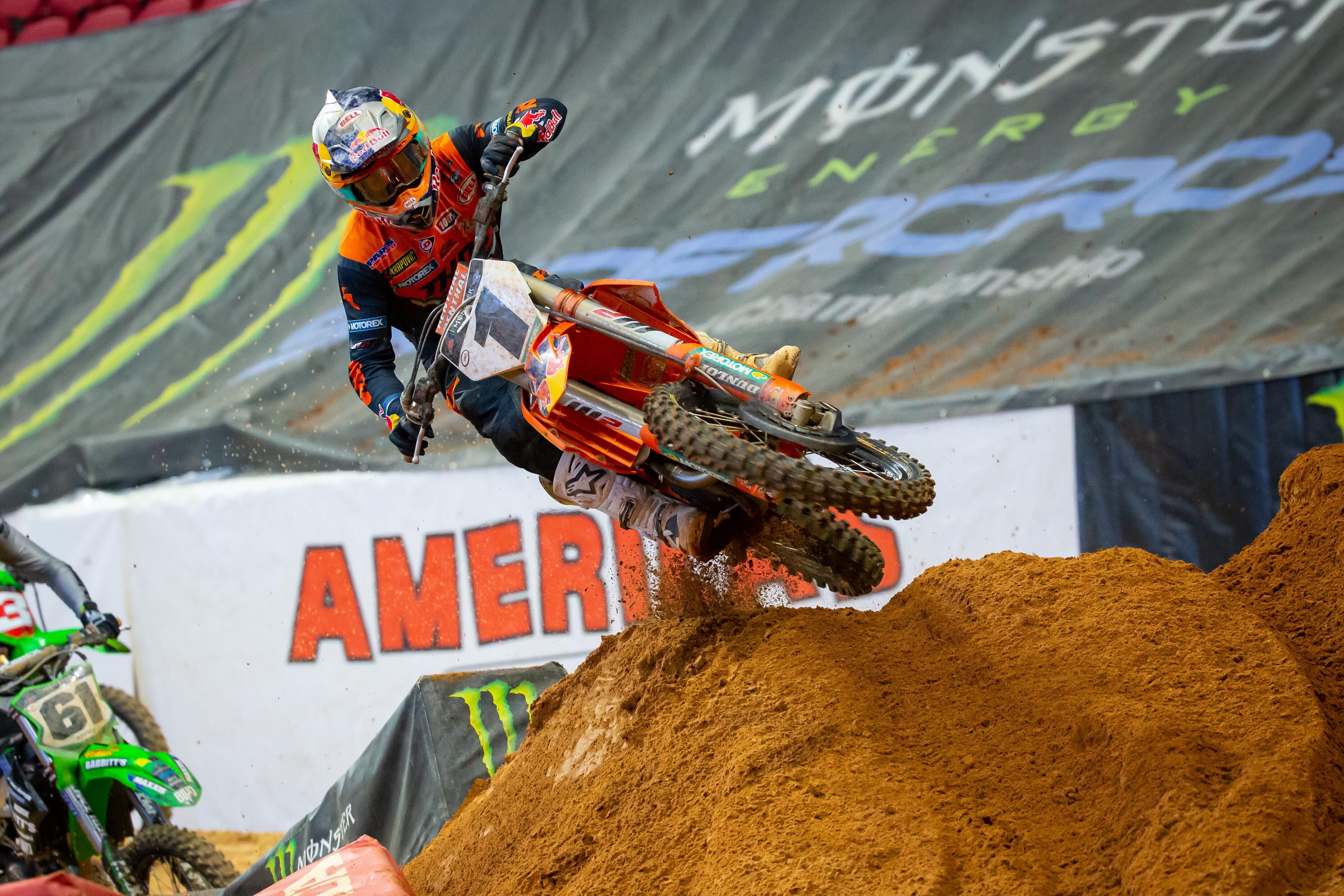 Cooper Webb: Heart. Balls. Desire. HBD! This is what Cooper is made of. Like I said earlier in the year, there is no one else with the mental fortitude of this guy. SX and an injury like a hematoma on your back do not mix. This is not something normal dudes just go race with. Coop was way back in 12th or so on lap one and just started slowly picking dudes off one by one. To dig that deep, late in the main, to get a podium, is unreal. I wish I could bottle up what Cooper has mentally and sell it! I would be rich and the racing would be even better to watch for us fans!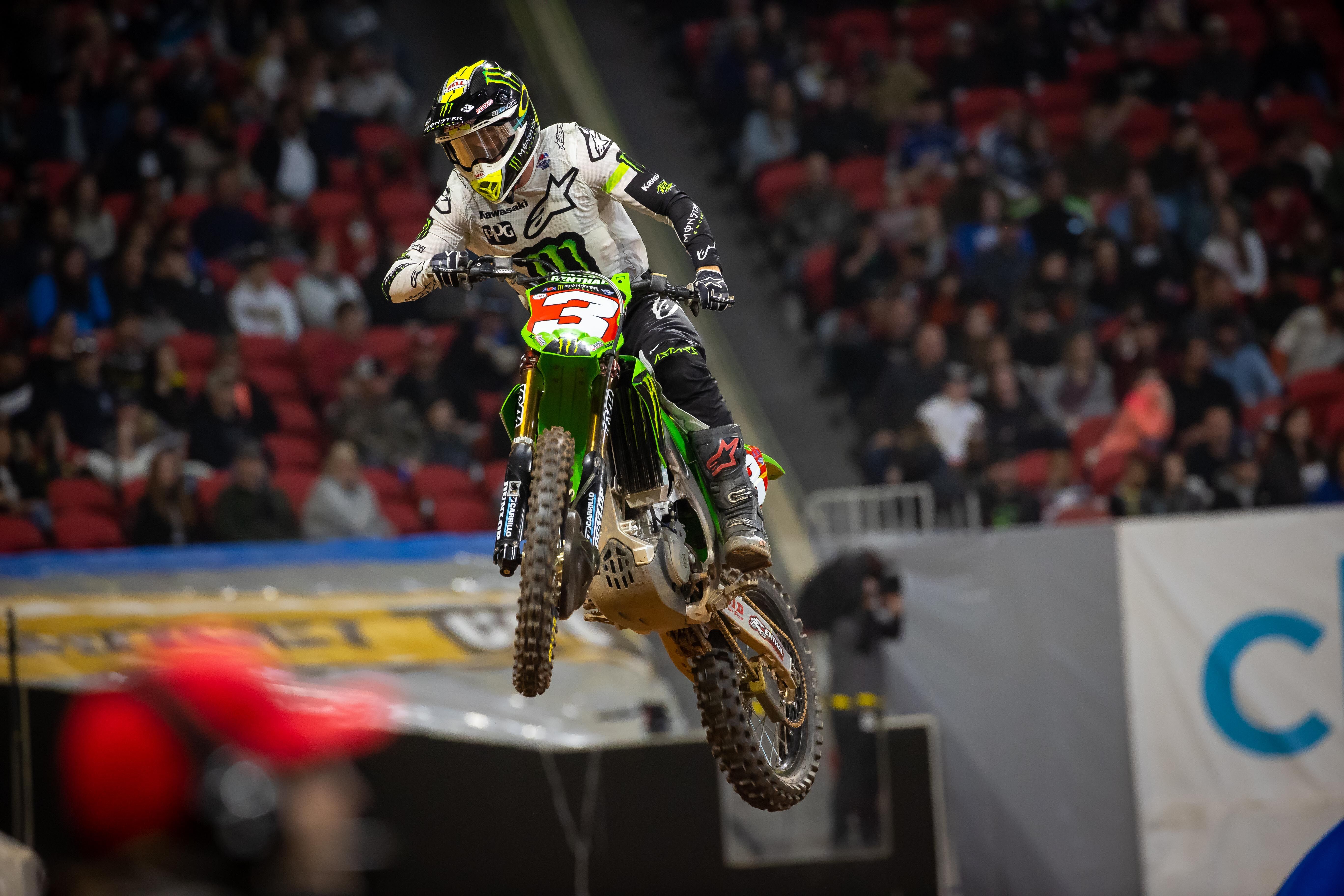 Eli Tomac/Blake Baggett: I was waiting for BB4 to do the old Mike Alessi Glen Helen trick on this one. I am not going to hate comm this because this was just a racing incident. Eli wasn't expecting Blake to cut down that hard into the corner and they collided. Nonetheless Blake wasn't stoked and gave Eli a little push to show him his displeasure. The contact hurt Blake's bike and he wasn't able to move back up like Eli did. This one isn't over folks. Stay tuned as Blake will be good in Daytona as well and I expect some form of retaliation.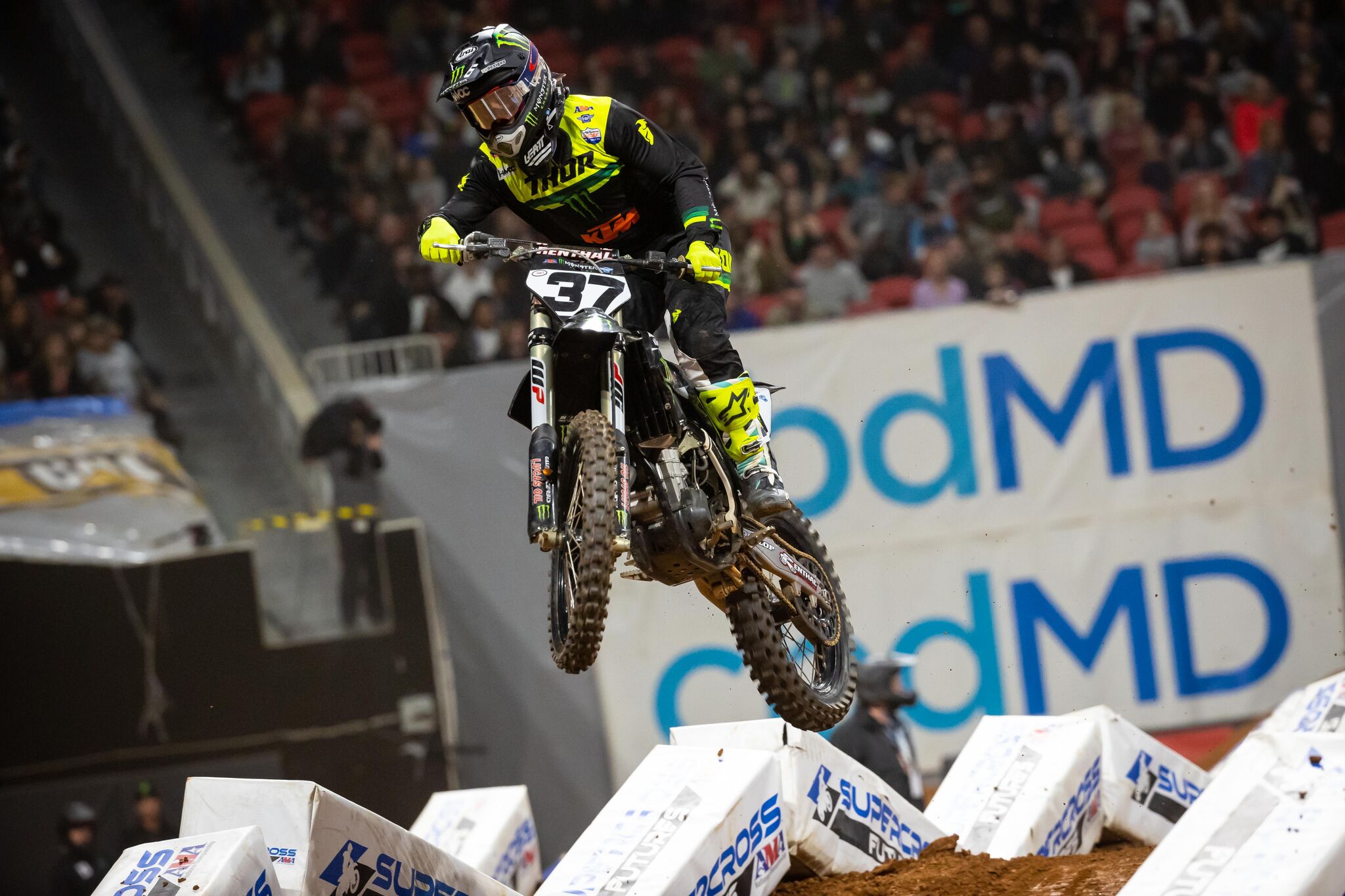 Martin Davalos: Damn! Almost a podium for Martin! I think with a little more 450 race fitness Davalos could have been second. He was a lap away from a podium, but when you have never got a 450 podium, it's tough mentally on you during a race. You start think about it. You make a mistake. You start to think about the bonus money. You make a mistake. You hear the guy behind you coming. You make a mistake. It's a snowball effect! Now I am not speaking from experience of course, but I have heard this from many other top racers that was in Martin's position. I believe he will get there and I keep saying this Tedder team is a team I would want to be on! No pressure and factory equipment is a win/win!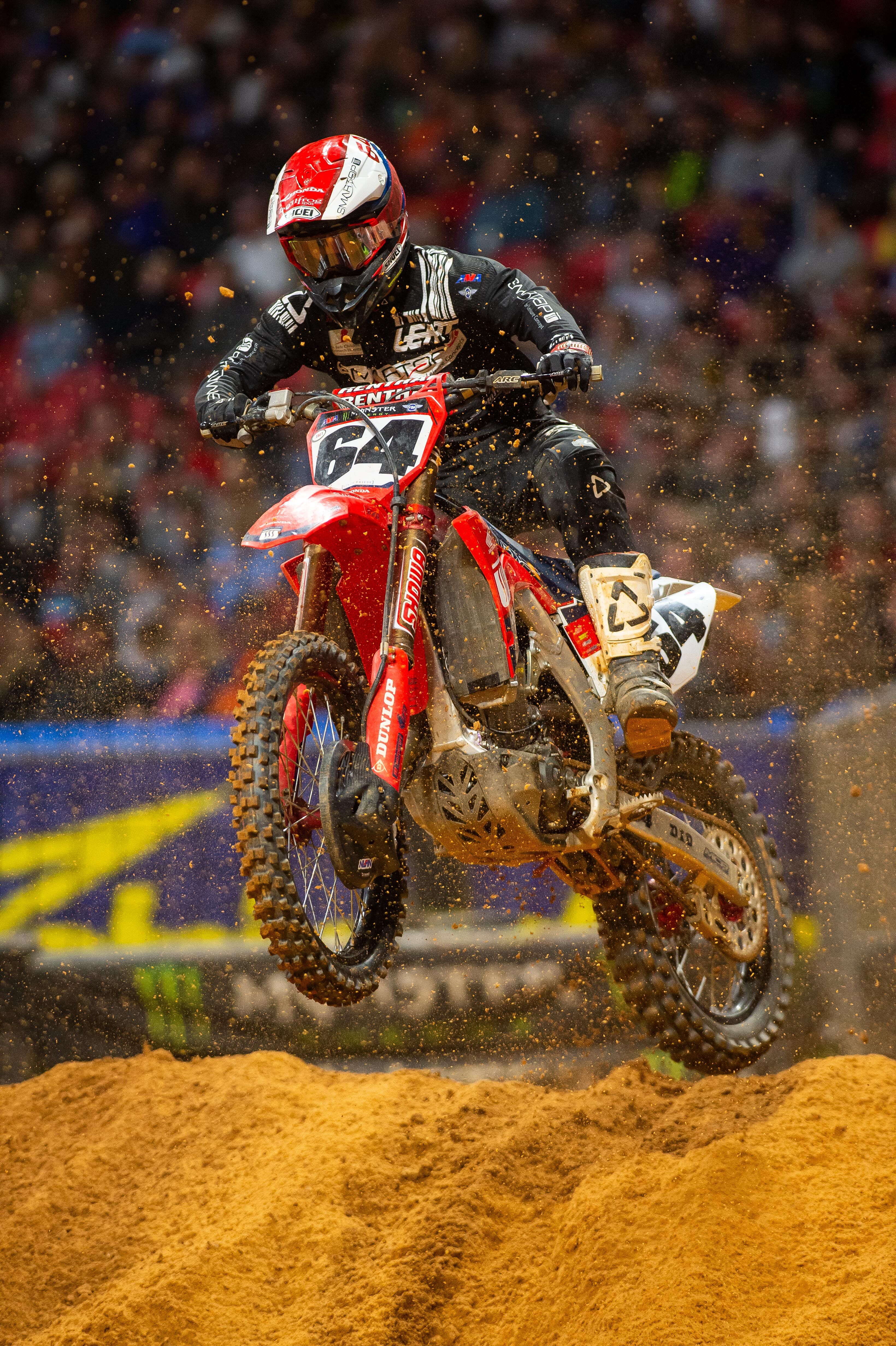 Vince Friese: Who said Vince was a road block? The dude is ripping and is one of the most improved riders over the past couple years. I mean who would have thought the name Vince Friese would be in the mix to talk about a podium, let a lone a top five in a field like this. Vince's ninth place doesn't show how he actually rode! He was legit! He was faster than Hill, but ended up making some costly mistakes. Getting involved in that three rider pileup through the corner before the whoops didn't help! Watch out, here comes Vince!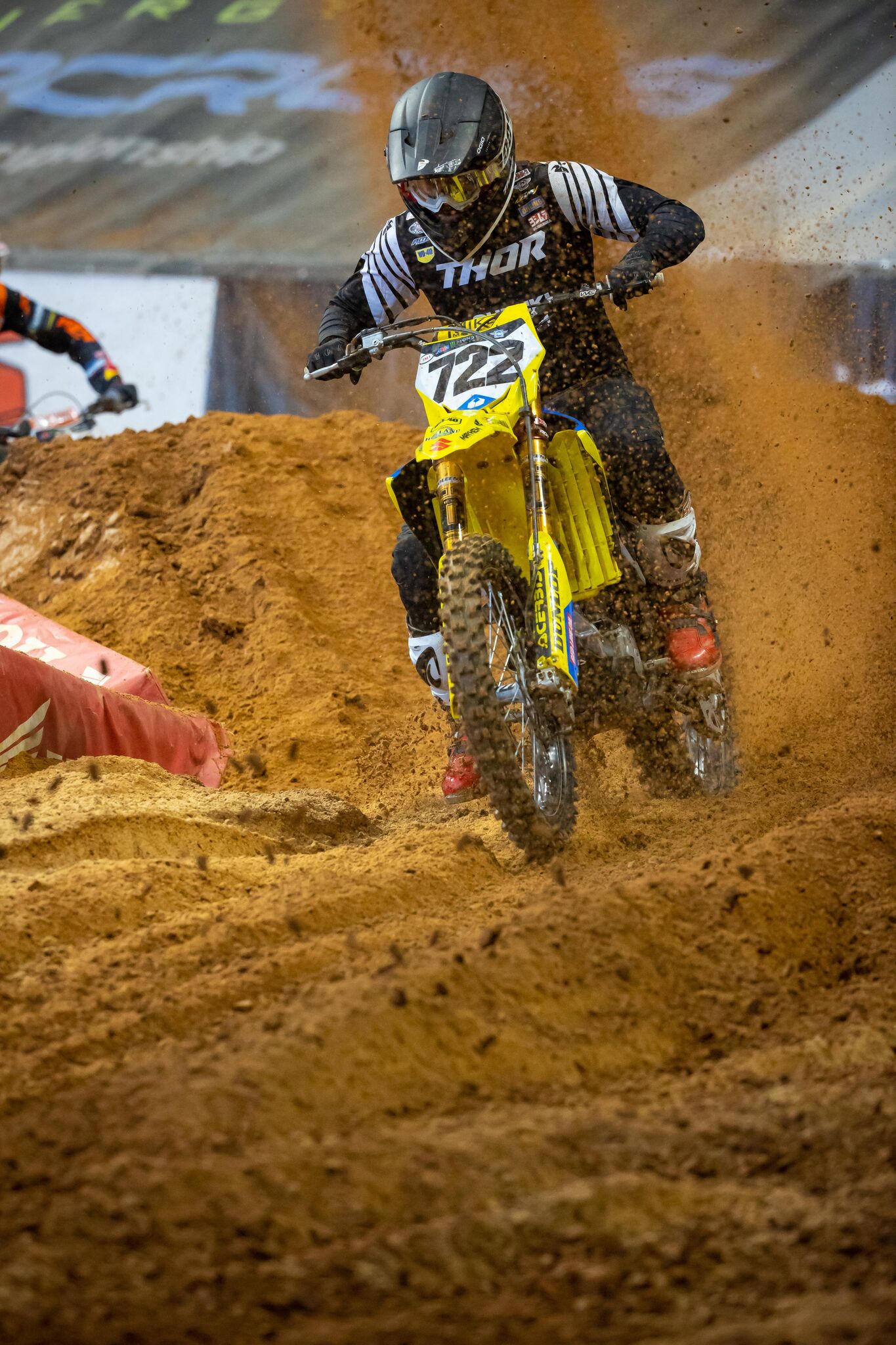 Adam Enticknap: I have been watching 722 all year and even though he hasn't put it into the main that much, he has been riding the best he ever has. His whoop speed is better and his starts are also much better in 2020. The HEP Suzukis are fast! Adam has put himself near the top four in every LCQ and would have more main events underneath him if it wasn't for some bad luck. If you know Adam, you know the dude has a ton of shit going on, so to see him improve his riding is really impressive to me.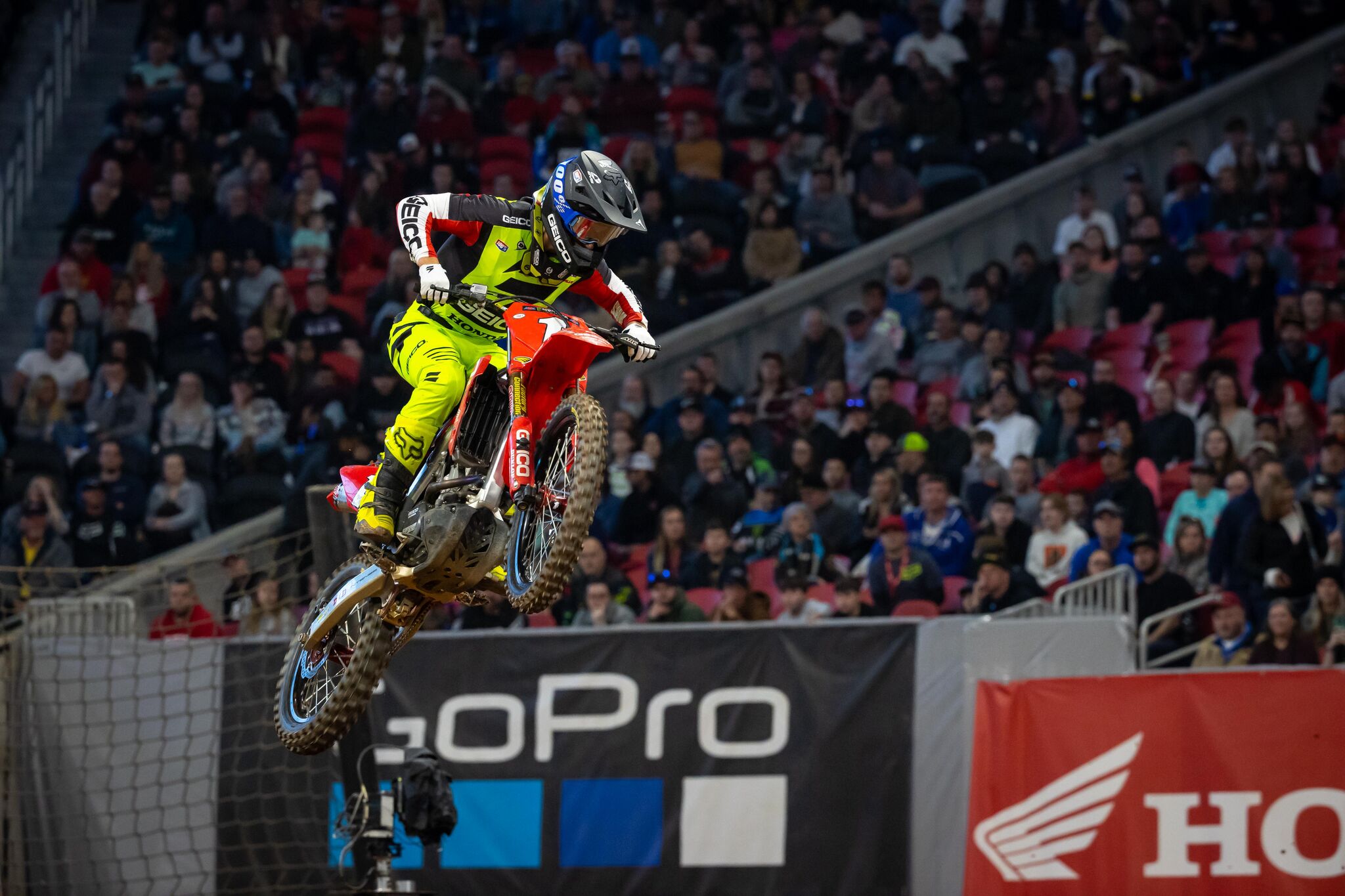 Chase Sexton: I honestly can't wait for this dude to ride 450s. Chase is so smooth and effortless it's almost like watching a taller version of Roczen. By the looks of it his GEICO Honda looks to be working well when the track breaks down and he also has the power to clear big rhythms without seat bouncing. This is his championship to lose. Look for Pulp MX to ride this bike soon and get you some real world feedback without any drama. Thank you Team Geico Honda!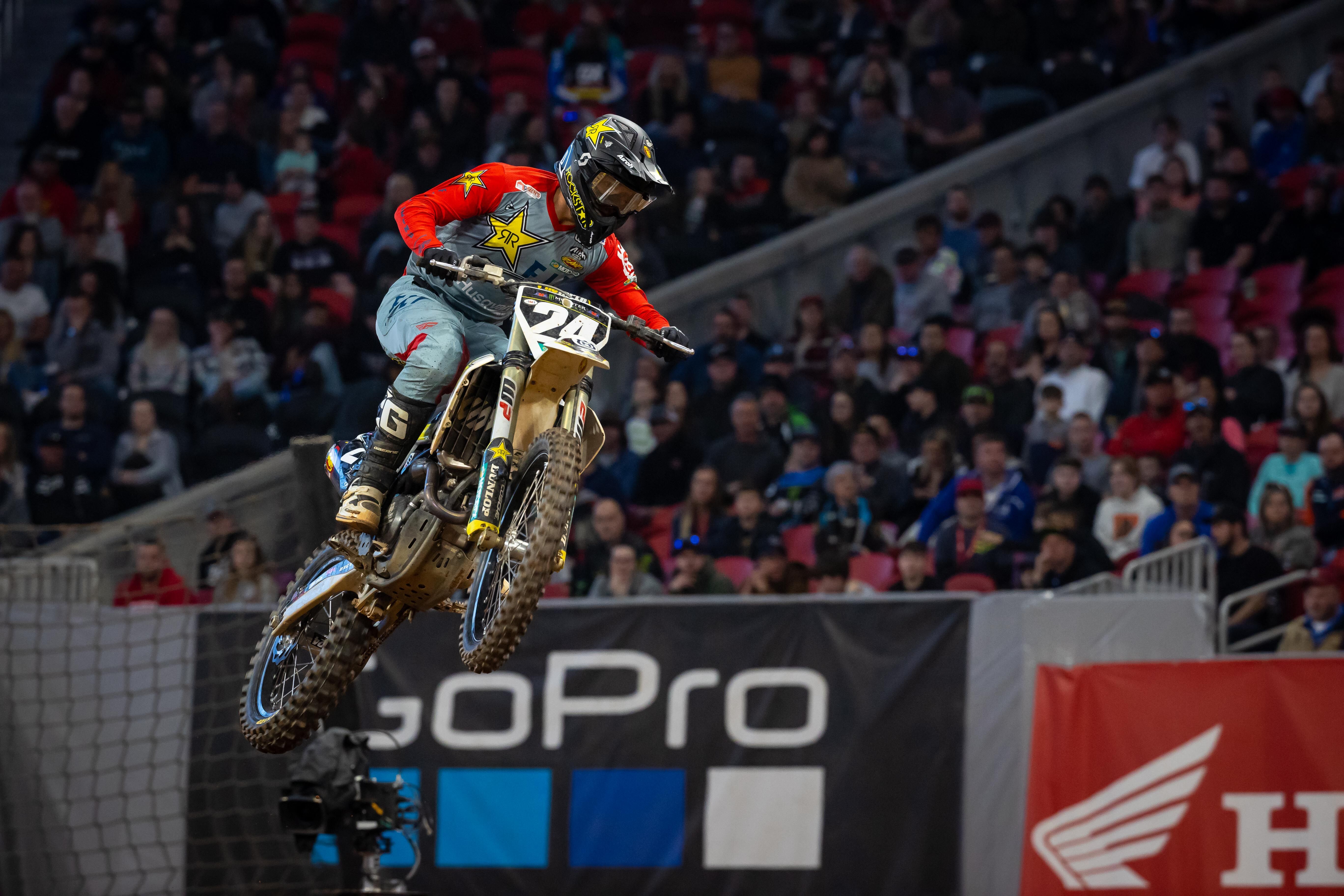 RJ Hampshire: I don't think anyone rides as hard as RJ does in the 250 class. There is a lot more fight in RJ this year and I do believe he could win one of these things if Chase has an issue. Another Pulp MX mention on the podium too!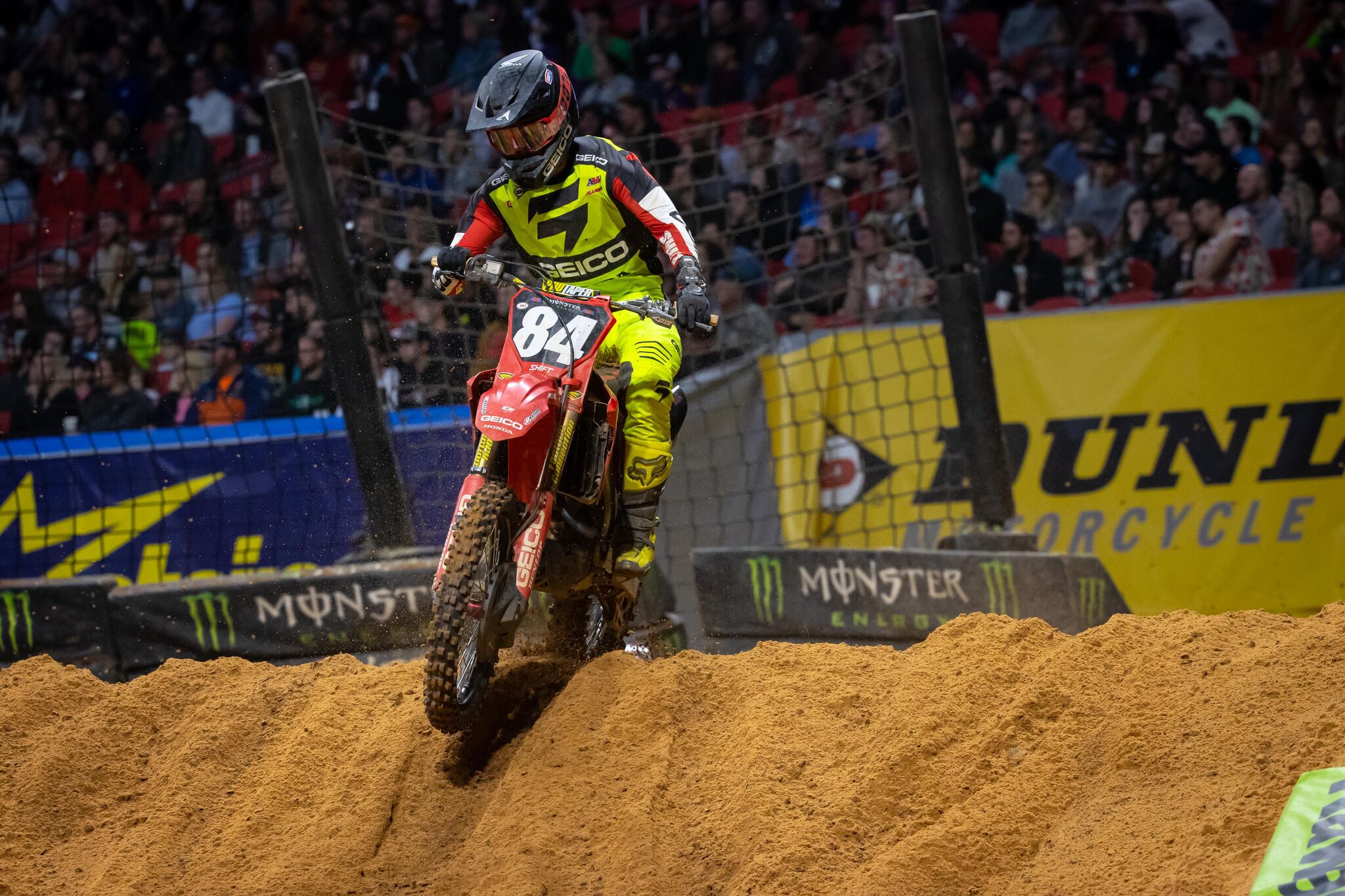 Jo Shimoda: I have been watching this kid at the local tracks for years and always have been enamored by how precise his riding style is. I mean let's be real here. Have you ever seen a Japanese rider this smooth on a Supercross track? That is a big HELL NO! Shimoda is silky and is very clean in rhythms and that kind of riding got him a fifth on Saturday night. Look for more of this kid in the coming years as I really do think he could be a regional SX championship guy in 2021.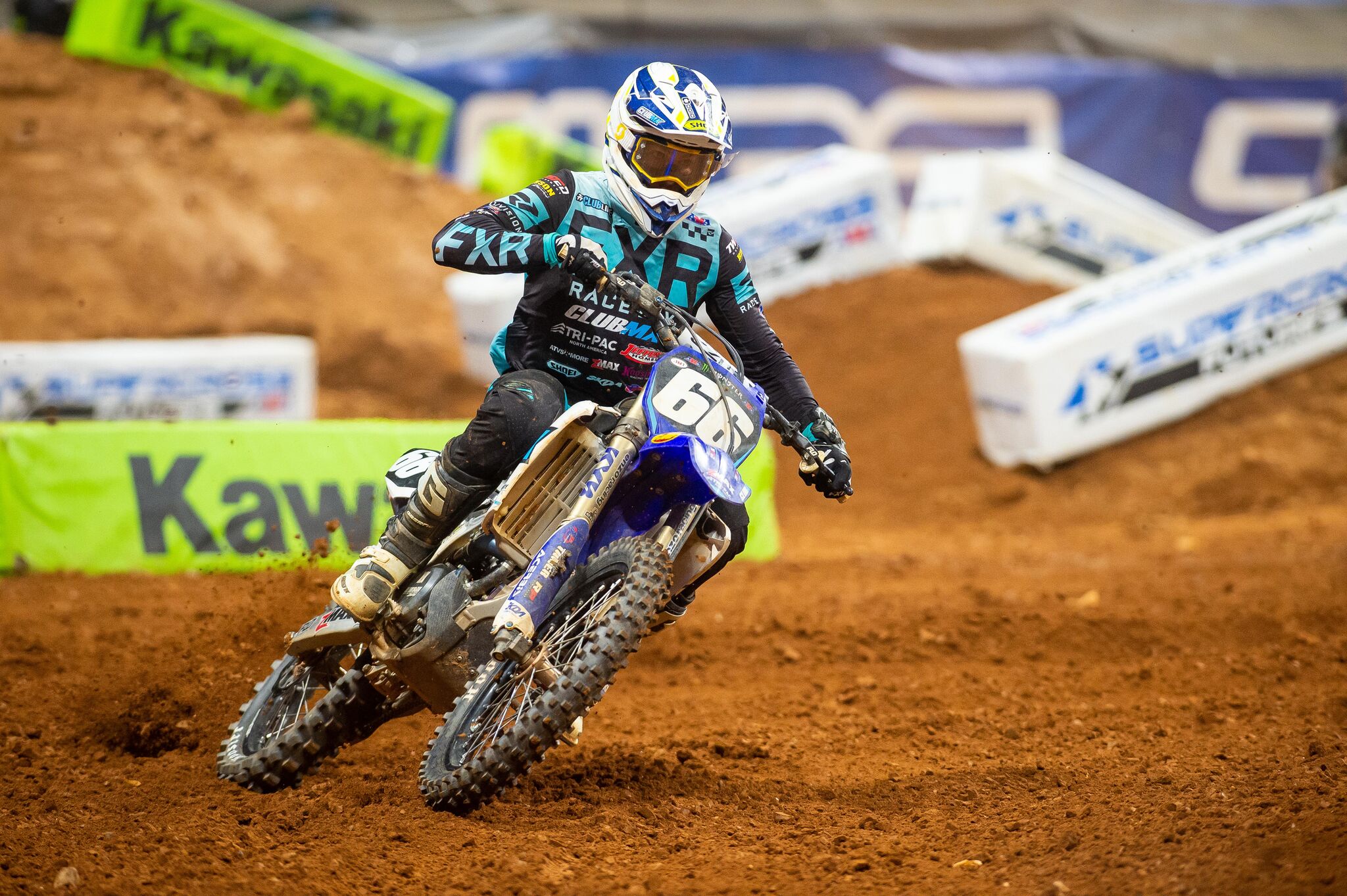 Enzo Lopes: ENZO! The kid started 11th and worked up to 6th by the time it was all over! He is another 250 rider that rides a gear high, similar to Mosiman. Enzo has insane rolling corner speed and I like that the Club MX team has given him a great bike to race. Consistent top five finishes are not impossible for him this year and I could see a team signing him. It would be cool to see him get back on factory equipment and really make a run for a full season. Enzo is also a great outdoor rider and with his SX skills on the come up, this could be a great deal for a team like PC or Star in 2021.