Of all the brands Matthes and I have done these top-ten lists for, Husqvarna is by far the most unique. Originally the product of a Swedish arms manufacturer, Husqvarna enjoys one of the most colorful and interesting histories in the sport. They were at the forefront of the move to two-strokes in the sixties and pioneers of the move back to four-strokes in the nineties. They played a huge role in the introduction of the sport of motocross to America and dominated the world of Enduro for decades. Long before the Japanese were even considering racing motocross, the Swedes were thundering to World Motocross titles on their booming thumpers. 
Along the way, not everything has been wine and roses for the historic marque. In the eighties, increasing competition from the Japanese and lagging sales led Husqvarna to sell off the motorcycle portion of their business to Italian motorcycle conglomerate Cagiva. The Cagiva era was not quite as successful as the sixties and seventies had been for Husqvarna, but the Italian machines proved competitive in Europe with riders like Jacky Martens and Alessio Chiodi at the controls. In a rather surprising turn, BMW purchased Husqvarna in 2007, but none of the bikes from the German era merited a mention on this list in my humble opinion (although the 2011 TC449 might make my list of the ten worst-looking Huskys). 
In 2013, the modern Husqvarna era began with the acquisition of the brand by KTM. This brought with it an instant bump in credibility, competitiveness, and in my mind, appearance. The modern Huskys may only be white KTMs, but they are pretty white KTMs. For purists, none of the machines after 1987 are real Husqvarnas, but you have to appreciate the effort KTM has put into bringing back some of that Swedish flavor in the styling of the current machines. 
As with our previous Top Ten lists, this one is based purely on my opinion and is surely going to be influenced by my mediocre eyesight and history of concussions. As before, Matthes is going to chime in with his thoughts on my picks. As an added bonus, we are going to have one of Husqvarna's early eighties motocross heroes Andy Jefferson chime in as well. Some of you may remember Andy for his nickname, the "Bro Show," and others may remember him for his place in history as the first black rider to make a premier class main event back in 1983. Today, Andy is still involved in the sport and works in the marketing department of Husqvarna. 
Here are my picks for the ten loveliest Swedish/Italian/German/Austrian Husqvarnas of all time.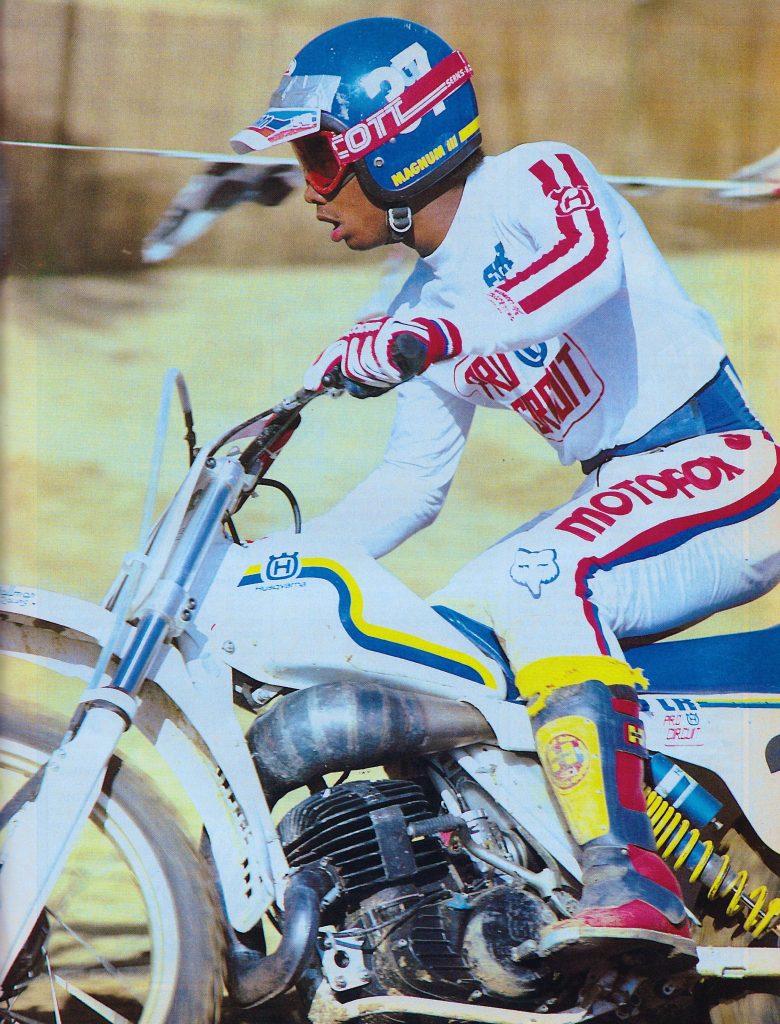 Andy Jefferson was one of the most prominent riders racing for Mitch Payton's Pro Circuit squad in the early eighties.  Even in 1983, this Husqvarna's air-cooling, spindly forks, and dual-shocks were decidedly behind the times. Photo Credit: MOTOcross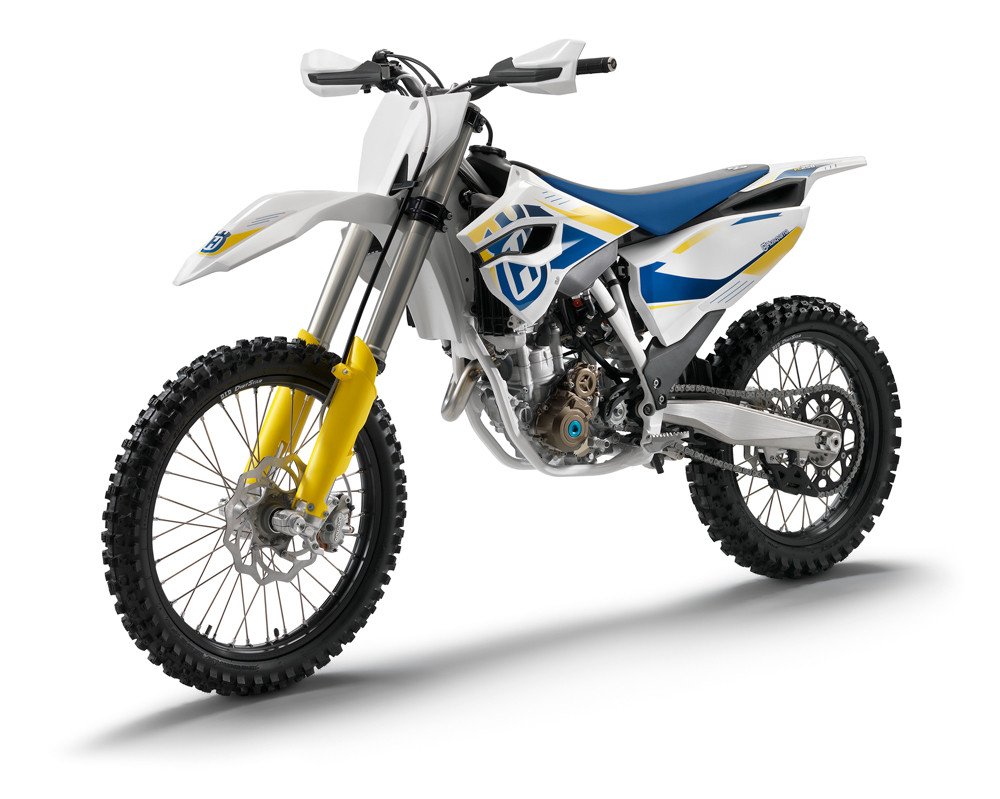 10th Place – 2014 Husqvarna FC250
Blaze: This was a big year for Husky. This 2014 is clearly a white KTM with some slightly less-attractive bodywork. The shrouds on these first Austrian versions are a little odd for no other reason than they did not want them to look like a KTM. The front fender and side plates are also less attractive to my eye than the KTM versions were. For me, the biggest thing this bike has going for it is the retro Husky colors. The graphics are a bit busy for my taste, but after two decades of quirky Italian styling, this return to the classic look was a breath of fresh air. Stick some different graphics on this (like the 2015 version for instance) and there is no way it makes my list, but this homage to their illustrious past was enough to slot it into tenth place on my list. 
Matthes: Yeah, this one should've been higher in my opinion and also, I cannot believe Blaze doesn't have the JT/Lammy bikes on here, I thought they looked pretty good. Not top five good but in the mix for a top ten. They were so different looking but in a good way. This bike had the old-school look with the logos and I like the yellow fork guards also. At least they tried to do something a bit different than a KTM here.
Andy: This was the start of the new era of Husqvarna Motorcycles. This bike was put together very quickly, they did a good job bringing back the Swedish Blue and Yellow colors. Taking the bike back to its Swedish roots.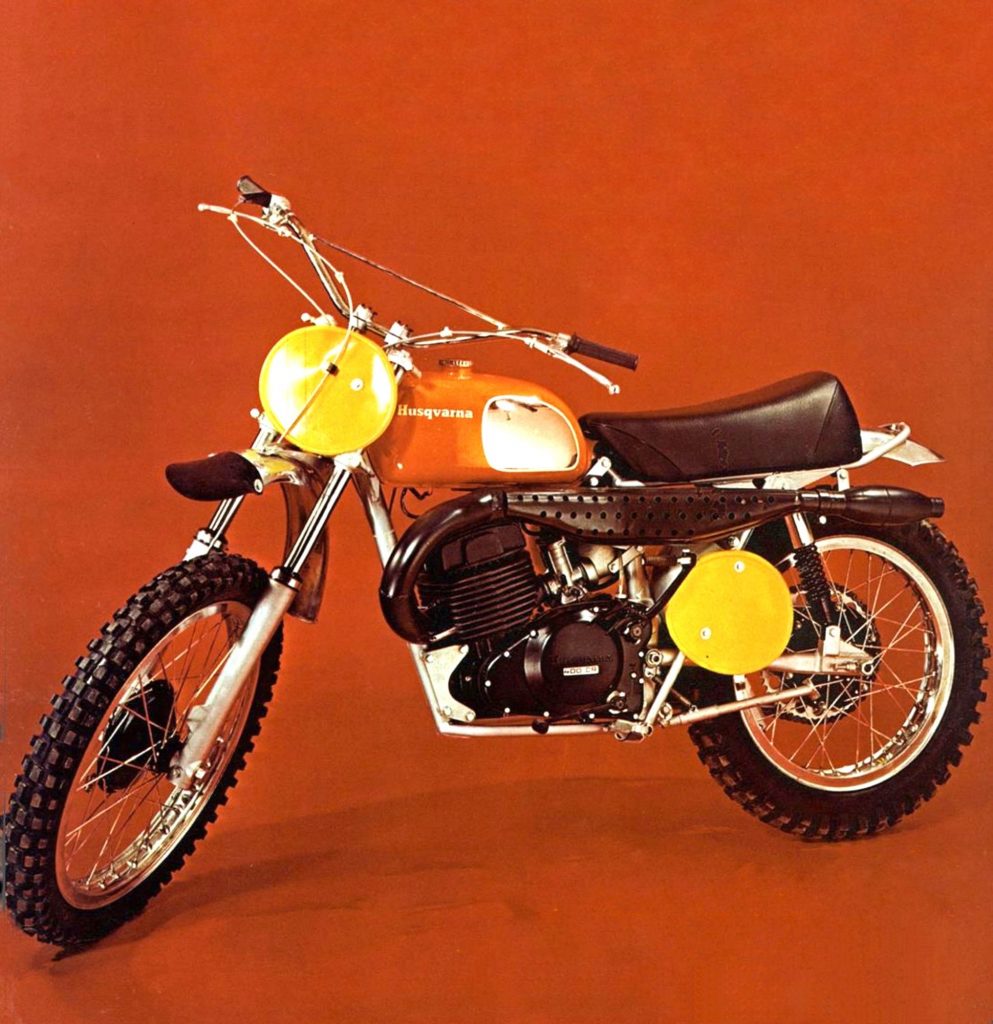 9th Place – 1972 Husqvarna 400 Cross
Blaze: As I have said in the past, bikes produced before the eighties are generally not my cup of premix.  I became enamored with motocross in the eighties and I always looked at the older air-cooled machines as cobby relics of the past. As I have gotten older though, I have developed more of an appreciation for a few of these classics. 
One such machine is the Husqvarna 400 Cross. Raced by Bengt Aberg to the 1969 and 1970 500 World Motocross titles and ridden into immortality by Steve McQueen and Malcolm Smith in On Any Sunday, the 400 Cross stands as the quintessential seventies Husky. By modern standards, it looks spartan and slightly austere, but its colors, clean lines, and tasteful chrome accents are timeless. I have always loved the look of the chrome tanks on these early Huskys and these 1969- 1973 versions are my favorites. I prefer the round shape of these tanks to the more oblong versions they adopted later. Once they started lengthening the travel and stretching out the chassis, these Swedes became less attractive to my eye. For me, none of the later seventies models ever captured the raw power and beauty of the original 400 Cross. After all, if it was good enough for Steve McQueen, it is good enough for me. 
Matthes: Nope, I'm showing my youth here but this thing is butt-ass ugly. Sorry, not sorry.
Andy: I remember seeing these bikes when I was a kid and thinking it was the coolest looking bike around. It looked so powerful and all business. It was very loud with that exhaust pipe. Gudder style rims??????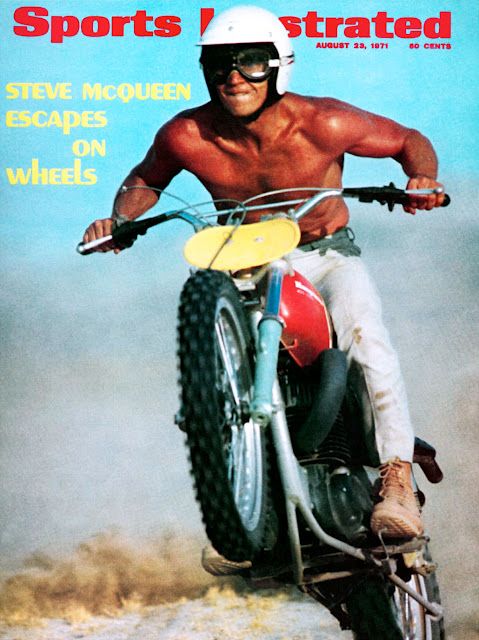 Pure badassery people!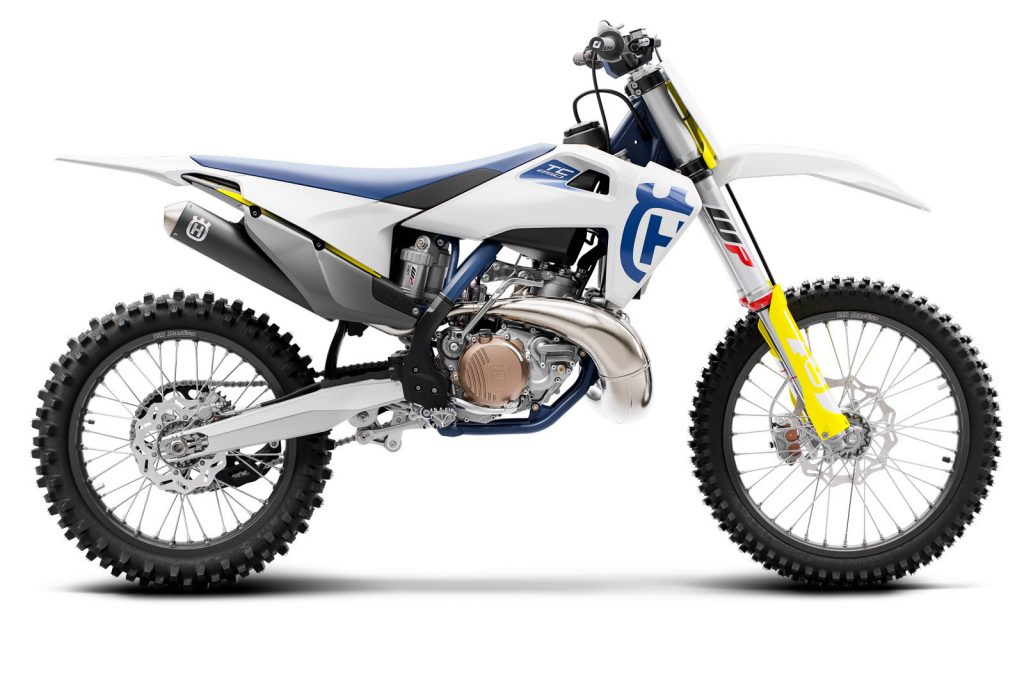 8th Place – 2020 Husqvarna TC250
Blaze:  There are a lot of things I like about this design, starting with the classic Husky logo and overall minimalistic graphics. I dig the choice to go with a blue frame and most of the bodywork and styling are top-notch. I'm not a big fan of black wheels but they are all the rage so I will just have to get over that I guess. For me, the only real design detractions I have are the odd side plates and weird handholds on the rear fender. I know Jody approves, but they just don't flow with the rest of the design. They even doubled down by making the lower section of the side plates a different color. With backgrounds affixed it gets better but I think this odd design sullies the looks of an otherwise stellar package.
Matthes: The two-tone grey/white side plate thing loses me here. Blaze is drunk again folks. Also the more I sit here and type and think about it, the more I'm anti-KTM for this list. You can't slap white plastic on a KTM and think it's anything more than a white KTM. Sorry, not sorry again.
Andy: I love this bike with the classic Husqvarna logo. The evolution of this 2-stroke is amazing; the motor has tons of bottom end and revs to the moon. I think this bike looks very clean and simple.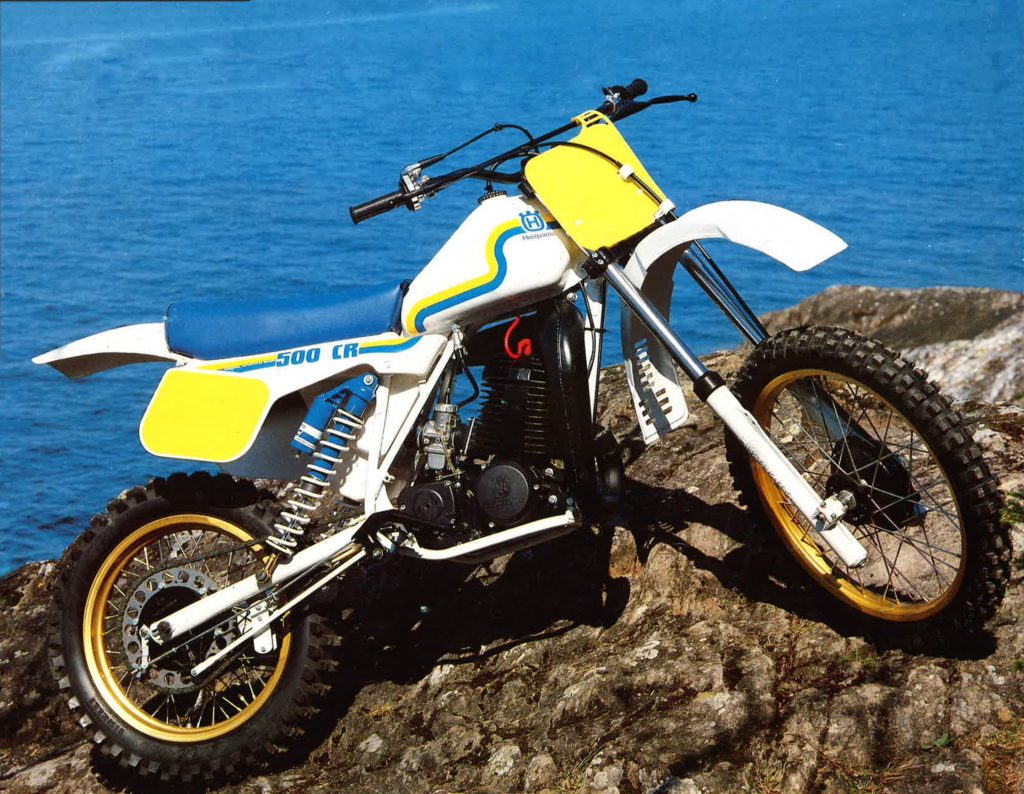 7th Place –1983 Husqvarna 500CR  
Blaze: Now this is a proper Husqvarna! After decades of chrome-tankers, this 1983 model was the first to depart from tradition and introduce the iconic white, yellow, and blue color scheme. To me, this is how a Husqvarna should look. Those born before or after me may differ, but this is how Huskys looked during my formative years in moto. Even in 1983, this bike's dual shocks and spindly rear swingarm made it look slightly outdated but I love its quirky Swedish appeal. They stuck with that technology longer than most, but I don't think today it detracts from its aesthetic appeal. I love that monstrous air-cooled motor and huge expansion chamber as well.  Yes, the bike is old-fashioned, but that is part of its charm. Newer machines may have sleeker lines, but very few of them can compete in a beauty contest with this big Swede. 
Matthes: Yeah this thing looked like it was from 1942 even in 1983. That's ok like Blaze says it has its charm. The white lower fork legs were cool for sure and it badly needs a safety seat as well. I'm not sure this belongs in a top ten best looking list, more like a "top ten weirdo Huskys list".
Andy: Swedish simplicity, the bike looks so sleek and the lines are very smooth. At the time most brands had gone to a single shock. Husqvarna still believed that 2 shocks were as good or better than one shock. Air-cooled, Drum brakes, 35mm Forks. Made the bike a bit of a hand full. But still one of the best looking bikes of the era.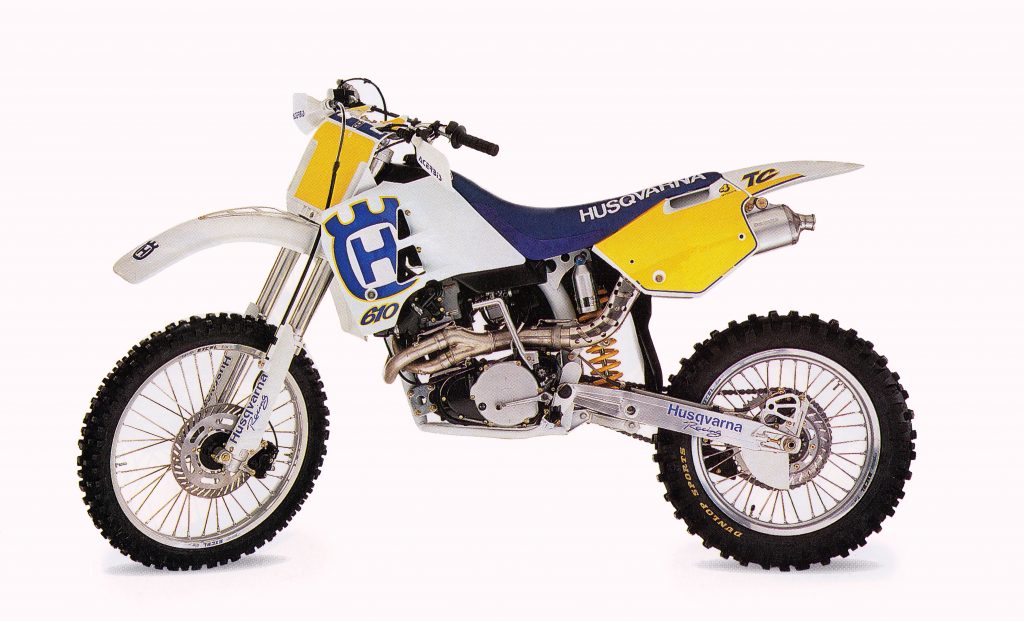 6TH Place – 1993 Husqvarna TC610 
Blaze: This 1993 Husky TC610 is from an era before the four-stroke renaissance and it is just one badass beast. I remember thinking the big dual exhausts that Husky always employed on their thumpers was so cool and unique. Now every Tom, Dick, and Harry has one on his CRF but in the eighties and nineties, this was exotic stuff. I really loved the styling of this bike in 1993 and still do today. Those huge Husky logos on the shrouds look great and those massive header pipes give this machine a menacing and purposeful appearance. 
A good buddy of mine had the two-stroke 360 version of this bike in 1993 and I hated everything about its performance but loved its looks. A year later they ruined it with some weird booger yellow bodywork but Husqvarna killed it in 1993. 
Matthes: I thought this bike was bad-ass back in the day and still do. I remember thinking "WTF is up with those headers??" also. Every few years a KTM (pre-Dungey) or Husqvarna or Cagiva would drop an all-new model on the Wrecking Crew and you'd get all excited before they would just ruin it for the most part. You ride a 610 Thumper in 1993 and you're a badass, it's that simple.
Andy: The bike looked really futuristic at the start of the 4-stroke era.  Swedish styling with the yellow accents makes this bike very cool.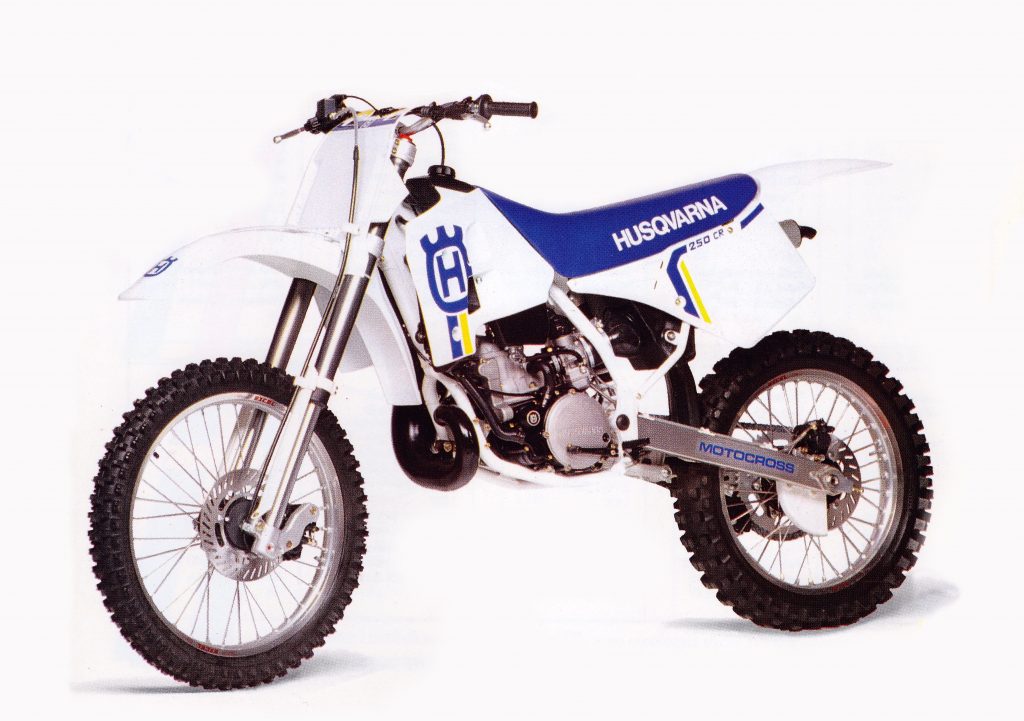 5th Place – 1991 Husqvarna 250 CR
Blaze: After the Cagiva takeover in 1987, Husqvarna's model lineup was a confusing mix of Italian and Swedish machines. Models like the 125 and 250 WMX were re-badged Cagivas, while models like the 510 WMX and nearly the entire Enduro lineup were mildly refreshed '87 Huskys with a few suspension upgrades. In 1991, all that changed with the introduction of a completely redesigned model lineup that introduced all-new styling across the board. 
While there is still a little Cagiva DNA in the bodywork of the 1991 Huskys, the overall design is fresh, simple and beautiful in a way that previous Cagiva models never attained. This is the model that contemporary Husqvarnas harken back to with their looks and graphics. To me, this is the styling high-water mark for all of the Italian Husqvarnas. I liked the '92- '93 machines as well but they are fussier and less straightforward than this beauty. After 1993, the Italians started hitting the whacky weed pretty hard and the bikes got progressively quirkier and less attractive in my eyes. For my money, the nineties Husqvarnas don't get any better than this. 
Matthes: I forgot about this bike and also that Cagiva bought Husky at one point. Was this thing in the shooutouts? I don't remember reading any tests of this bike at all. When Yamaha went from yellow to white, it was so much better and for that reason, I think white dirt bikes are bitchin. I don't know anything about this bike, it's stuck in some sort of black hole for me, looks pretty cool though.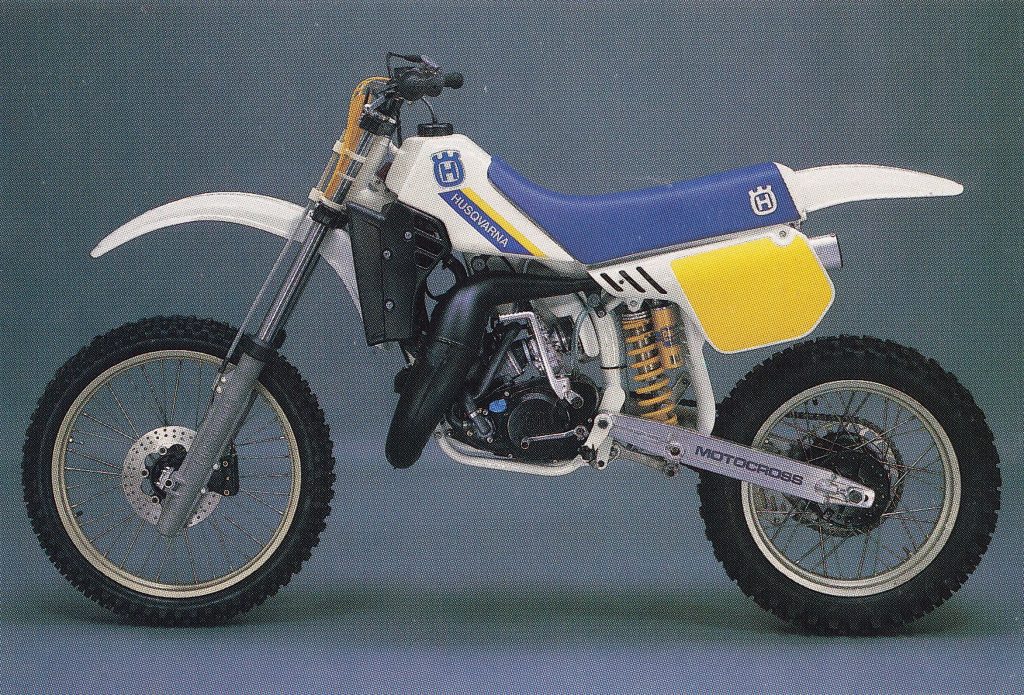 4th Place – 1986 Husqvarna 250CR
Blaze: This is near the end for the original Swedish Husqvarnas but at least they went out with some good-looking machines in the stable. All the 1986 Huskys were handsome and I think this bodywork still looks great even today. The gray forks are a bit odd, but the rest of the bike is downright handsome. The mid-to-late eighties were such a great era for motocross styling and this '86 250CR fits right in with the best of the Japanese in that department.
Unfortunately, it was not as effective on the track, but that has nothing to do with its curb appeal. In that department, this sexy Swede is right up there with the best from any era.  
Matthes: Remember what I was saying about the safety seat? Makes bikes look a whole lot better right? Well, so does water cooling I guess. This is a good looking bike, but the left-hand kick start and pipe is still weird. Grey forks, no thanks, and a yellow background were pretty useless for just about anyone outside of 500cc pro's but it ties in nicely with the tank graphic.
Andy: This bike looks timeless. Still very simple and sleek.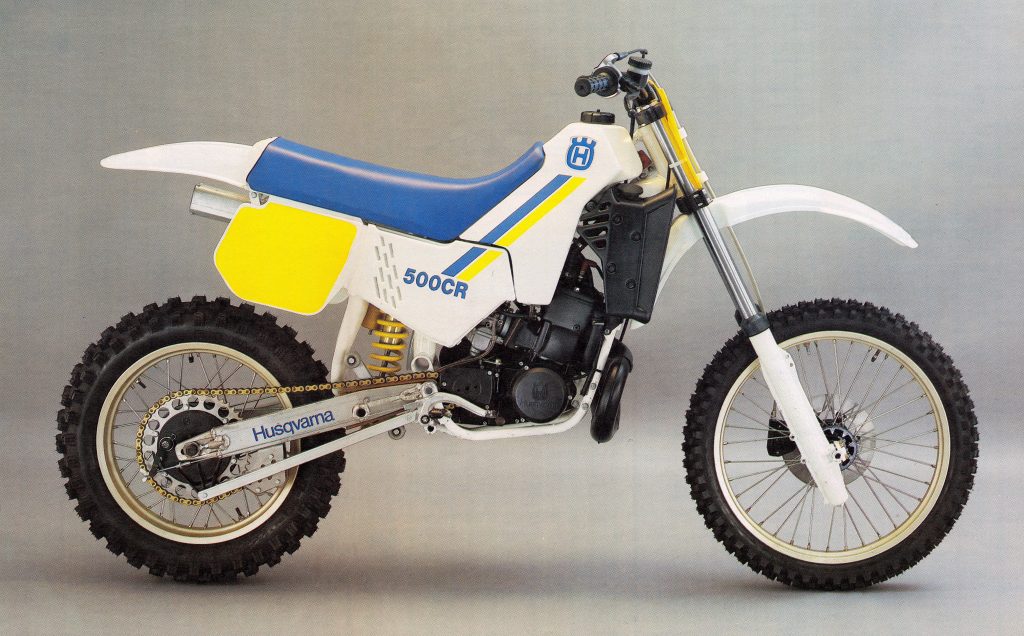 3rd Place – 1985 Husqvarna 500CR
Blaze: If the Mighty Thor rode motocross, this would be his steed. The 1985 and 1986 Huskys are very similar in appearance but I do prefer the looks of the '85 ever so slightly. The white forks are an interesting choice I don't fully endorse but I do think they look better than the '86 gray versions. I love the graphics this year and prefer them a tiny bit over the very similar but still attractive '86 versions. In truth, we are really splitting hairs here as both models are drop-dead gorgeous and nearly identical in appearance. Both share that sexy works-style drop tank and iconic Husky bodywork.  For me, this is the high-water mark for the Swedish era of Husqvarna. 
Matthes: This thing was cool when it came out. Trust us on that, it would be number one on my list. Laporte and Dymond rode them this year in the 500 nationals and it's an underrated bike in MX history (looks-wise). White lower forks are fine Blaze, calm down.
Andy: This bike looks very big and not as sleek as some of the other Husqvarna designs.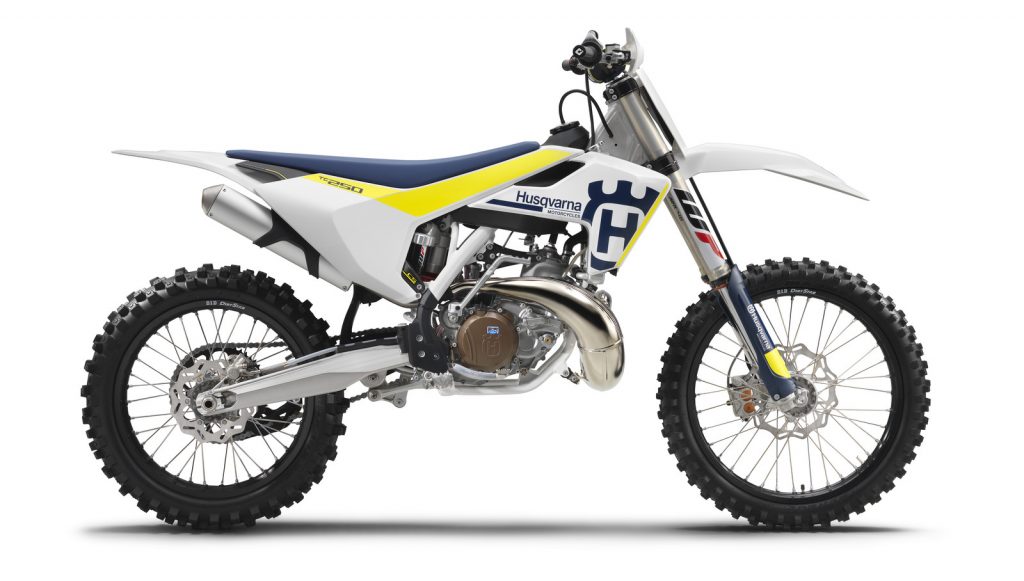 2nd Place – 2017 Husqvarna TC250
 Blaze: I know some purists don't consider the new Husqvarnas real Huskys, but that really should apply to any pseudo-Swedes produced since 1988. Whether German, Italian, or Austrian, they all have been "Husqvarnas" in spirit if not in actual heritage. If I was Swedish I might feel differently, but to me, it doesn't really matter either way. A good-looking bike is a good-looking bike regardless of where it was assembled.  
In this case, it happens to be one damn fine-looking machine indeed. For me, some of the earlier KTM versions were a bit busy and the current models are saddled with a goofy side plate. What that leaves is this near-perfect combination of clean KTM styling and classic Husqvarna graphics. Yes, it looks a heck of a lot like my 2016 KTM, but I loved the looks of that too. This side plate design is so much better than the current version that I still can't fathom how the 2019 change ever got approved. Sleek lines, clean graphics, and sharp colors; KTM… um Husqvarna got it right in 2017 
Matthes: It's a white KTM Blaze, I'm out.
Andy: This is the classic Husqvarna look. It is a beautiful motorcycle and checks all the boxes in performance and style.  Very lightweight, great power, great brakes, and a hydraulic clutch. I like the Logo and the Husqvarna name on the shrouds.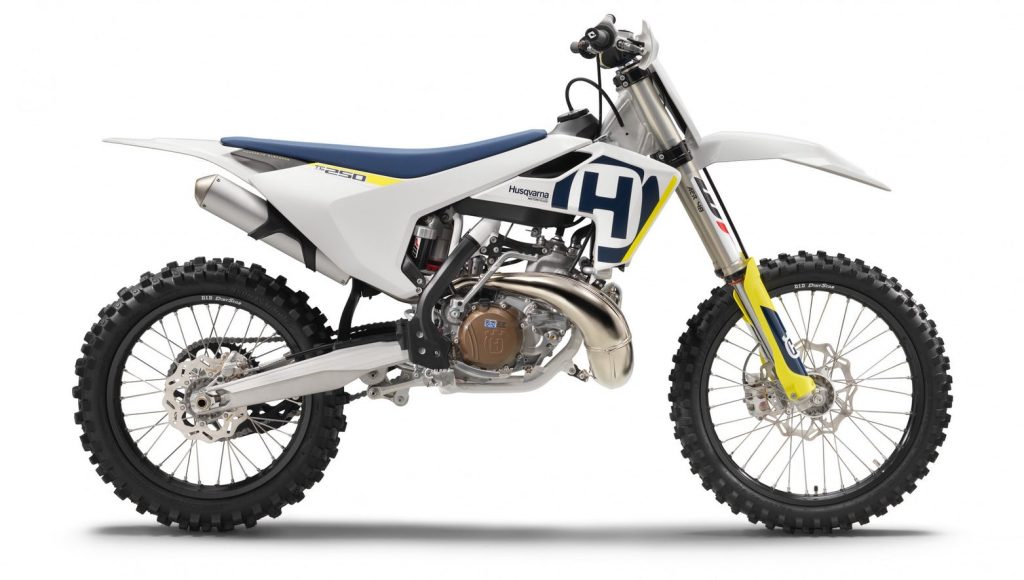 1st Place – 2018 Husqvarna TC250
 Blaze: In first we have the nearly identical 2018 Husky. I went back and forth between the '17 and '18 versions and settled on this one based mostly on my preference for the yellow fork guards and slightly subtler graphics. Both are beautiful and devoid of any goofy touches. This bike may not have the Swedish heritage of some of its forebears but it certainly checks all the boxes in terms of styling and appearance. Just a beauty any way you slice it.
Matthes: Still a white KTM, they couldn't even be bothered to change one thing on these bikes. Sorry, I'm out. Long live the 1985 Husky 500 as the best looking Husqvarna ever!
Andy: This bike looks a little better than the 2017 model. Yellow fork guards make this bike appear lighter.  Just like the 2017 bike, this is great styling, Very light, with great power, great brakes, and a hydraulic clutch. What more could you ask for?
For your daily dose of old-school moto goodness, make sure to follow me on Twitter and Instagram – @TonyBlazier
For questions or comments, feel free to drop me a line anytime at TheMotocrossVault@Gmail.com