For some background on this story, click HERE to see the original poll question
The fans have spoken and unfortunately the Ferry #23 UFO jersey "won" the poll and shall come down off the wall to make room for the very special Roczen Atlanta win jersey we've gotten.
I'm good with this people, I have three other jerseys on the wall of Ferry and this one, although rare, isn't my favorite by any means. It's kind of ugly actually. Surprised that A Ray's jersey was second though, a lot of you people were upset by his jump to Swap Moto Live but it's all good between all of us, still I like the loyalty! Keefer being so high was shocking, you guys are dicks. Wey #26 Moto XXX being the lowest vote, even lower than a Stew jersey was amazing.
Glad to see Ferry taking the news well though, he's not that heartbroken!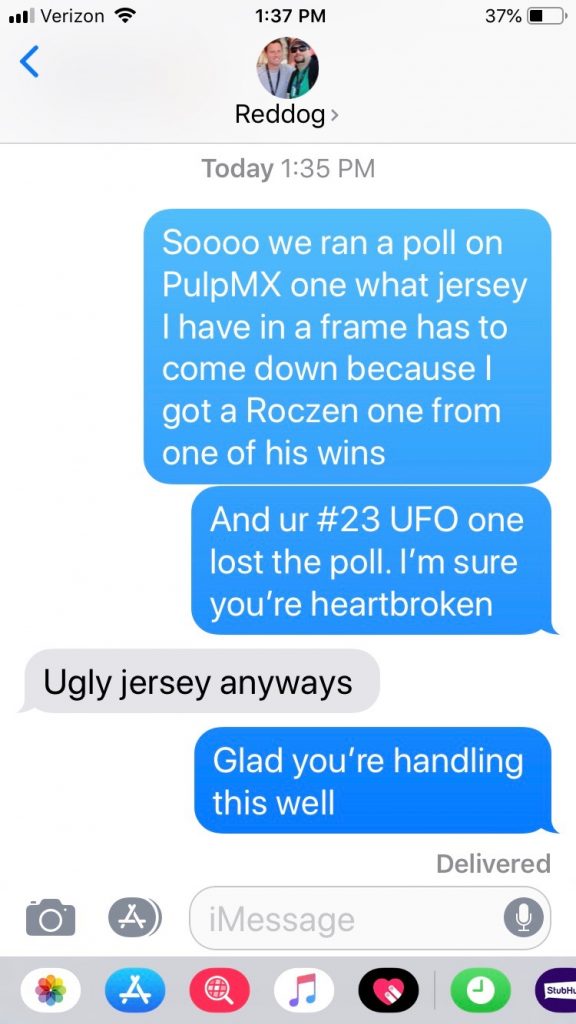 Without further adieu, here is the rundown in order:
Ferry 23 (408 Votes)
ARay Steves Face (330 Votes)
Keefer 706 (303 Votes)
Smith 35  (220 Votes)
Tortelli 13 (104 Votes)
Pederson 1 (95 Votes)
Thomas 66 (76 Votes)
Ferry 15 (73 Votes)
Holley 12 (43 Votes)
Lechien 100 (41 Votes)
Ferry 3 MXdN (33 Votes)
Reed 22 (32 Votes)
Osborne 8 MXdN (30 Votes)
Windham 14 (23 Votes)
Emig 1 (22 Votes)
Stewart 7 (14 Votes)
Cianciarulo 292 (14 Votes)
Wey 26 (11 Votes)
Check out the Pie Chart below to have a look at how the results tallied up!
Total votes in bold with the percentage of votes in parenthesis. The results are not in order, just going around the chart in clockwise order. The ousted jersey is highlighted in green below.