It's just grips right? WRONG! Lock on grips come stock on the Husqvarna and KTM off-road motorcycles. I get why they do, as they are easy to install and it takes literally a minute to install fresh grips without having to worry about the grip bonding to the handlebar via glue. I have been kind of old school in my "grip ways", as I am usually a glue on type of rider, but thought I would throw up a review of what I thought of the ODI V2 Lock On Soft Grips. Below is how they perform, fit, feel, last and how they compare to glue on style grips. 
The V2 grip is designed with a low-profile pyramid pattern and a custom-designed half-waffle pattern that eliminates the inside corner where other grips may irritate your hands. Since you don't need to glue or wire the grips in place, a lock-on grip can be installed in less than a minute (and riders who destroy their handlebars at the races can change to new bars without waiting for grip glue to dry). I do really like this feature of the lock-on grips, but at times I didn't like the stiffer feel that the left side can give me (more on that later). I also liked that when you tip over, the grips didn't rip nearly as easy, and it keeps dirt from getting inside your handlebars.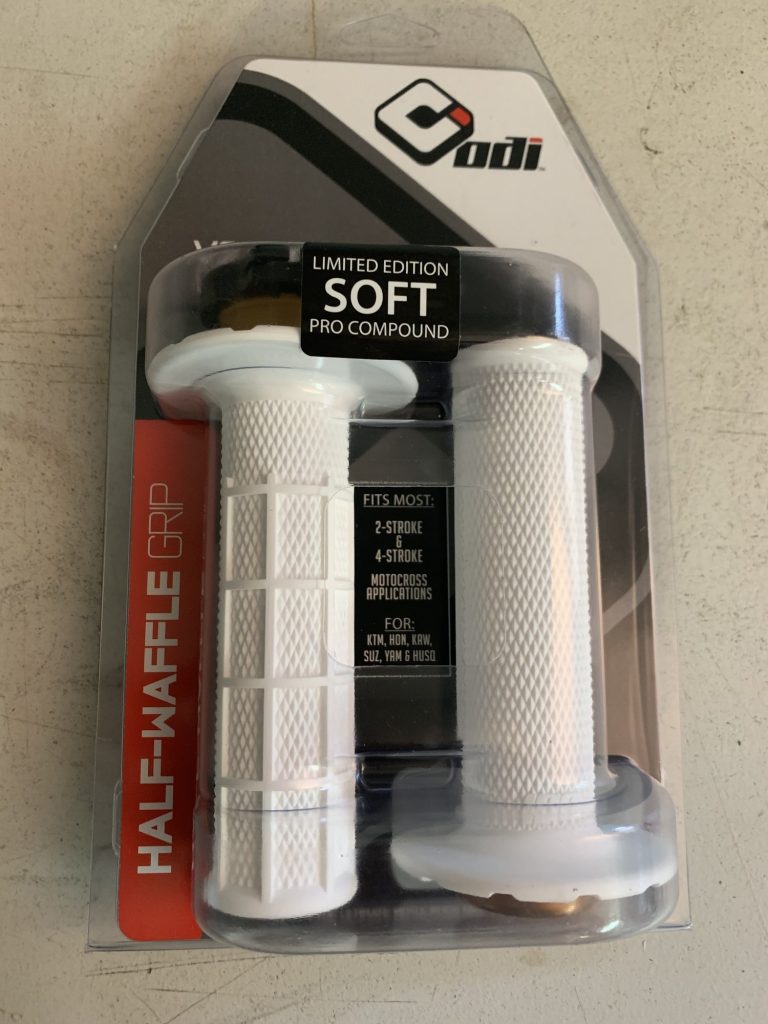 Installing the clutch-side grip is simple. Slip the grip's plastic tube onto the bar and tighten a single Allen bolt. Note: The clutch-side grip only has a pinch-bolt on the inside end. The benefit is that there is no hard aluminum clamp on the outer edge which leaves a cleaner look. I will say that if you're installing ODI Lock On's onto new handlebars with knurling on the left side, you may have to sand down the knurling a little in order to be able to get the grip's tube to slide over the handlebar.
Don't think of the ODI V2 throttle side as just a grip, because it's actually a plastic throttle tube with a grip molded on. ODI makes a throttle tube that accepts a variety of interchangeable throttle-cable cams. ODI makes different cams for most two-stroke and four-stroke models and you're able to interchange the throttle cams if necessary.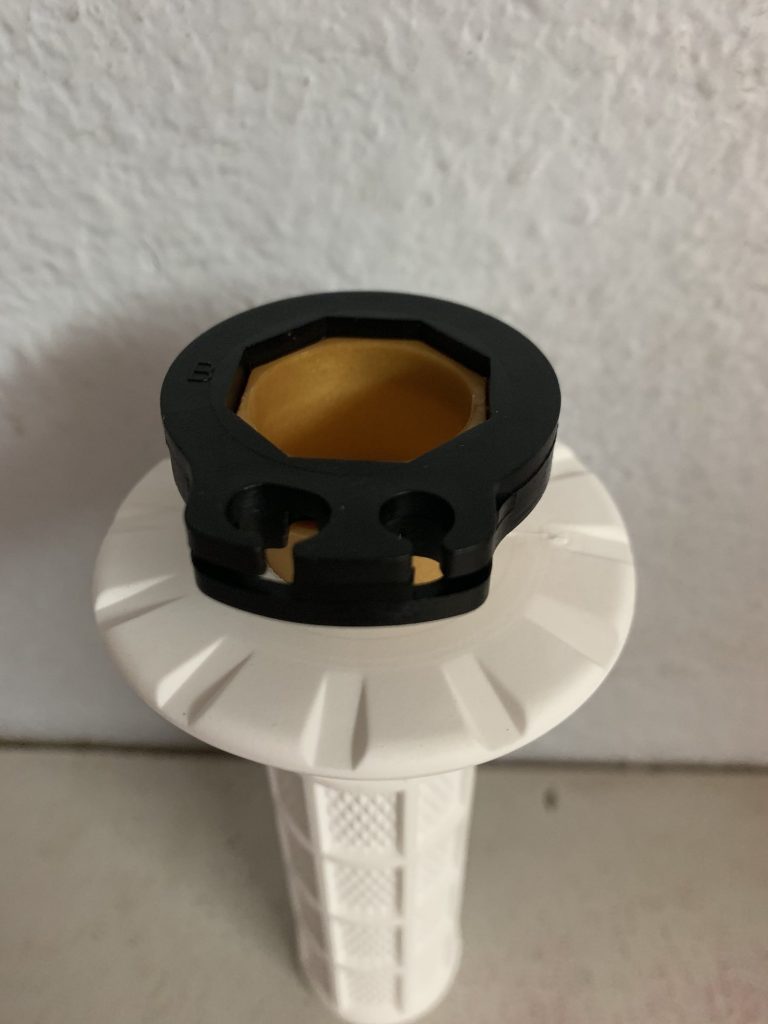 Even thought these are lock on grips and they have the grip molded to the plastic, they don't feel that big. In fact, the half waffle ODI grips feel skinnier than your average Renthal or Pro Taper half waffle grips. I can't stand large feeling grips because they make my hands cramp up/arms pump up too quick. I like that each end feels the same and not larger than the other, un-like some glue on style grips do. I liked the design of the half waffle as well as the super-soft material that wasn't hard on my hands. You will notice that these grips are slightly shorter than other glue on style grips, but it doesn't create an issue with my size 10 (large glove) hands.
The durability of the V2 ODI grips are superb as they will last as long as any other soft half waffle grip on the market that I have tried to date. I have ran the stock pair of ODI lock on grips on my 2020.5 KTM 450 SX-F Factory Edition for almost 30 hours without having to change them out because they were worn out. If you're a sensitive grip kind of rider you will notice that lock on grips will feel slightly stiffer than regular glue on style grips on slap down landings and acceleration chop. These are just some things that I feel, but again not everyone is as sensitive to grips like I am. Glue on style grips feel a little more cushy than the lock on's in those specific areas.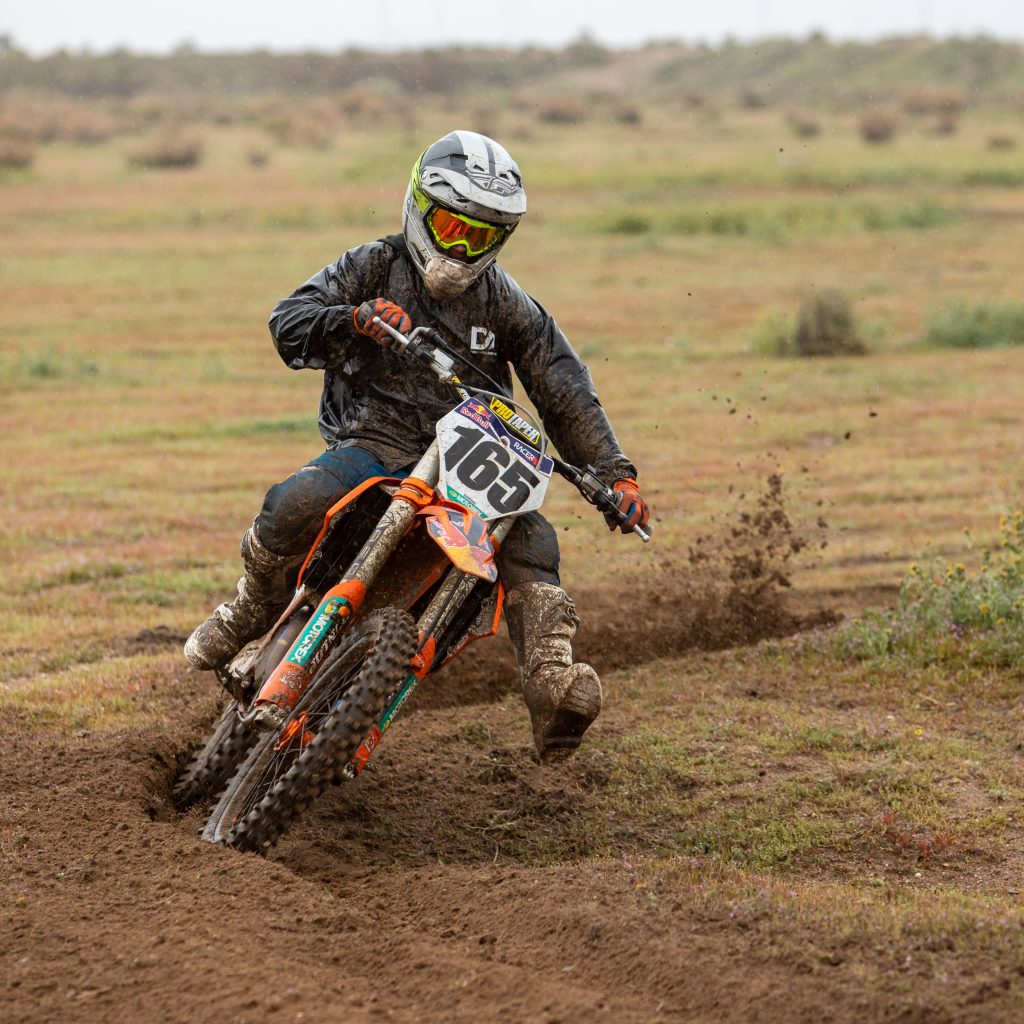 For $25.95 the V2 ODI Lock On Grips cost double the amount of money of glue on grips, but you're getting an easier to install grip that lasts just as long as well as a new throttle tube with every set. I have found myself replacing worn stock KTM/Husqvarna ODI's with the half waffle ODI's because I have grown to like the feel of ODI's on these two machines. If you're looking for easy to replace grips without the mess, the ODI's are an excellent buy.