I have always been a fan of trials riding and have done it on more than a few occasions. When my son Aden first started to learn how to ride I put him on a trials bike, just so he could get the feel of balancing a motorcycle, weighting the footpegs as well as use the brakes properly. As motocross or off-road riders we have a tendency to try to rush through sections in order to get to the checkered flag first, but with trials riding it's the exact opposite. While we are under some weird times in our country right now with the pandemic I wanted to be able to get outside, but also try to be a little safer while getting my two-wheel fix in. Trials riding is a much safer two wheeled sport than motocross, but it still can give you those butterflies in your stomach when you have to go up and over a rock that you may think is not possible.
Aden and I spent hours on some rocks near my home in Hesperia, California as well as created some make shift courses around our backyard, without disturbing our neighbors. Getting to ride with my son side by side while still being able to laugh and talk to him is priceless. Not to mention being able to teach him proper balancing technique as well as open his creative mind to possible new obstacles only helps his motocross riding. Riding trials can also break up the monotony of just doing lap after lap of motocross riding and can keep that fire burning maybe once he's done riding moto. I have ridden motocross/off-road for so long it's actually really fun to suck at something so badly. Riding trials is one of the most fun two wheeled sports that you may have never tried. I am not going to sit here and write you up an article on the ins and outs of the GAS GAS TXT Racing 250 machine like I can a motocross bike, but below is a breakdown of the highlights of the new GAS GAS trials machine. Stay tuned for a podcast about the GAS GAS TXT Racing 250 Trials Machine over on keeferinctesting.com and maybe we can get Matthes on this sucker and get his thoughts.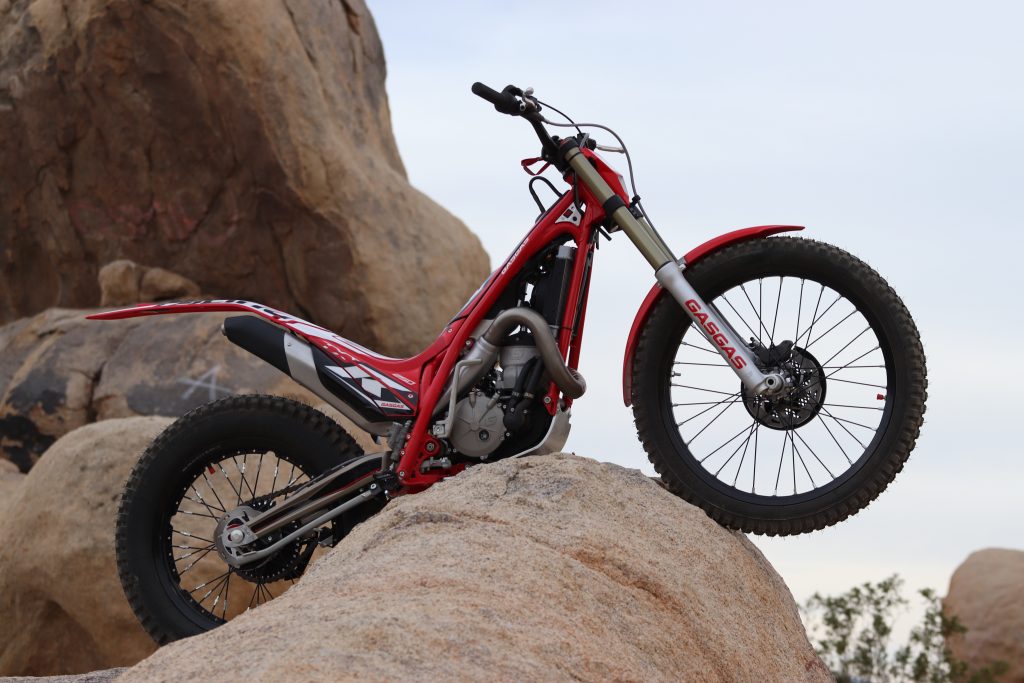 Quick Opinion:
Riding a trials bike will feel very funny to most dirt bike enthusiasts when hopping on one. The GAS GAS TXT 250 is very roomy, feels light at around 148 pounds dry, has a very responsive engine character and suspension that allows you to hit some fairly big obstacles in stock form. Since I am a novice type trials guy I left the Gas Gas in second gear on most of my obstacle attempts in order to tone down the responsiveness that it has. You would think that you would have more tire spin on slick rock, but the Michelin's hook up very well, so for beginner's I would recommend staying in a higher gear when you're learning to get over an obstacle. Starting the Gas Gas is a little tricky so be ready to give it a good kick even though the kickstarter itself is not very long. I tried the two engine modes that the GAS GAS comes with but preferred the standard mode was best under dry rock conditions.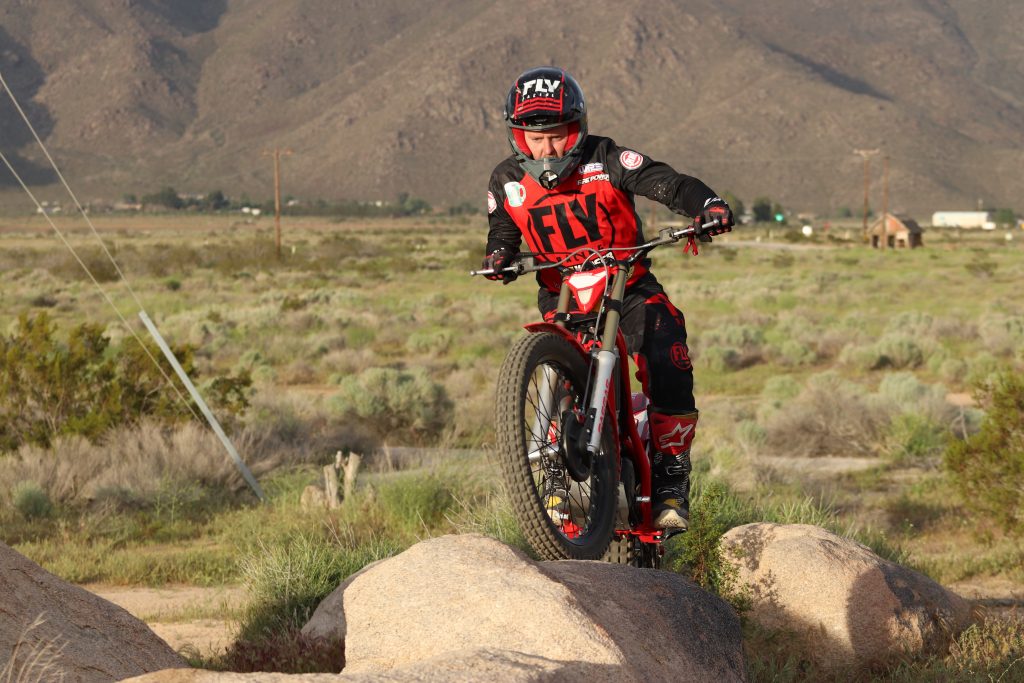 Highlights: 
The GAS GAS TXT RACING 250 brings the perfect balance between fun, usable 2-stroke torque and power and nimble, lightweight handling. It shines in tough, technical terrain thanks to the high-revving engine's punchy yet manageable power delivery. Combined with class leading suspension, selectable engine maps and
BRAKTEC hydraulic clutch and brakes, the TXT RACING 250 features a collection of top components for 

the best performance, quality and reliability in the segment.

 

2-stroke single-cylinder liquid cooled 250 cc engine (247.7 cc) features the latest 2-stroke 

technology and is designed to be powerful, light and compact. The cylinder features thermodynamic 

ports, which contribute massively to power figures and make the engine the most competitive 250

cc 2-stroke in its class.

 

Cast aluminum cylinder head domes have been designed to improve combustion and obtain the 

best engine performance.

 

Cylinder with a 72.5 mm bore and specially designed intake and exhaust ports provide excellent 

torque and power delivery. The low weight aluminum cylinder bracket reduces engine vibrations and 

stiffens the structure with the chassis. The piston is specially developed using high-performance 

forging and coating for increased power, responsiveness and durability.

 

The crankshaft delivers a 60 mm stroke that produces optimal torque and revs. It is ideally balanced 

and designed to obtain the maximum inertia with the minimum weight as well as being positioned to 

centralize mass, contributing to better handling. A closed main bearing made by SKF increases 

durability and reduces the amount of lubrication needed.

 

The crankcase is manufactured using a gravity casting production process to help with weight 

reduction while retaining strength and durability. The compact design provides an ideal center of 

gravity for perfect motorcycle movement. To make the engine more compact, the clutch cover 

includes the clutch master cylinder.

 

Chrome-moly (25CrMo4) steel tubular frame is expertly crafted using 1.5 mm tubes, laser cutting 

and robot welding, and is developed using specifically calculated parameters of longitudinal and 

torsional flex. The frame weighs a total of 6 kg (13.2 lbs) and is finished off with a durable red 

powder coating.

 

Hollow one-piece cast aluminum swingarm offers optimal stiffness and reliability at the lightest 

possible weight and performs with perfect flex behavior. A redesign of the swingarm and linkage 

give a new progressiveness to the new GASGAS TXT RACING 2020 range, increasing stability and 

improving traction.

Adjustable TECH 39 mm front forks provide 180 mm of travel and an exceptionally smooth and 

progressive ride. The left side fork has a progressive adjustable spring, as well as an "End Stroke

"adjustment function in order to avoid bottoming. The right side fork is fitted with the rebound 

adjustment clickers at the top.

 

ÖHLINS 2-way hydraulic rear shock absorber with 174 mm of travel brings top performance and 

comfort and provides maximum traction to the rear end. With adjustable damping you can change 

the behavior of the shock to suit your taste by setting the spring preload and rebound adjuster 

clickers.

 

CNC machined black-anodized aluminum triple clamps with 35 mm offset provides a secure fork 

mount for precise handling.

 

The GASGAS 1/3 compact clutch, consisting of three Kevlar friction plates + two steel plates with a 

Belleville spring system, with adjustable clutch pre-load system to improve power and torque 

delivery and BRAKTEC hydraulics deliver the maximum torque with a light and easy feel, near 

maintenance-free operation and perfect modulation in every condition. Clutch play is constantly 

compensated so that the pressure point and function of the clutch remain identical in cold or hot 

conditions, as well as over time.

 

BRAKTEC braking system offers the highest level of braking performance while being specifically 

tailored for trial riding, delivering a sensitive and modulated feel. The front monoblock 4 piston 

caliper with 185 mm front waved floating brake disc by NG and the rear 2 piston 150 mm caliper 

with its 150 mm NG waved disc keep weight to a minimum and offer complete braking confidence.

The rear brake system has patented magnetic neodymium brake pads to keep them open while 

changing the wheel.

Tapered aluminum alloy GASGAS handlebar ensures comfort and stability. Black Moting grips 

provide maximum feeling and control.

 

Ignition and electrical system does not require a battery, reducing weight. Both engine control unit 

(ECU) and ignition coil are located underneath the frame, close to the top of the engine.

 

Designed for easy operation, the map switch, standard on all models, selects between 2 maps, 

allowing selection between 2 ignition curves based on conditions or rider preference.

 

Stainless pipe and aluminum silencer maximize the engine's performance while reducing overall 

weight for optimized handling and ergonomics. The removable plastic endcap enables easy packing 

replacement.

 

Aluminum inverted U-flow radiator features a 115 mm electrical waterproof protected IP68 fan to 

ensure optimal temperature for top engine performance.

 

The 2.4 liter (.63 gal) capacity fuel tank is fully integrated with both bodywork and frame in order to 

enhance ergonomics and can be easily removed.

 

Keihin PWK 28 mm carburetor, providing great responsiveness and performance throughout the rev 

range.

 

Airbox is designed to ensure maximum airflow and filter protection. The easy maintenance Twin air 

filter is easily accessed by unscrewing one bolt. The airbox has a patented design which allows the 

component to be both a structural and a filtration element.

 

Using the ultimate combination of strength, performance and reliability, the black aluminum rims by 

Morad are coupled to CNC machined hubs using lightweight spokes and zinc plated steel nipples.

1.6 x 21" front rim with 32 spokes (mounted with tubes) and 2.15 x 18" rear rim with 32 spokes 

(tubeless).

 

Michelin X11 tires offer advanced grip in a wide variety of terrain. The specifically 

formulated rubber compound allows the lug to rotate and twist for sure-footed traction. 2.75 x 21" 

front and 4.00 x 18" rear.

 

Bodywork design focuses on reducing weight, increasing comfort and delivering the best trials-

specific ergonomics available, all while showcasing distinctive looks and graphics.

 

Front mudguard with integrated fork brace, plastic disc protectors and a side-stand with integrated 

protrusion for easy operation by the rider's foot are all standard.

 

The lightest gearbox on the market, the patented 4/6 system allows shifting through 6 gears with 

only 4 gears per transmission shaft.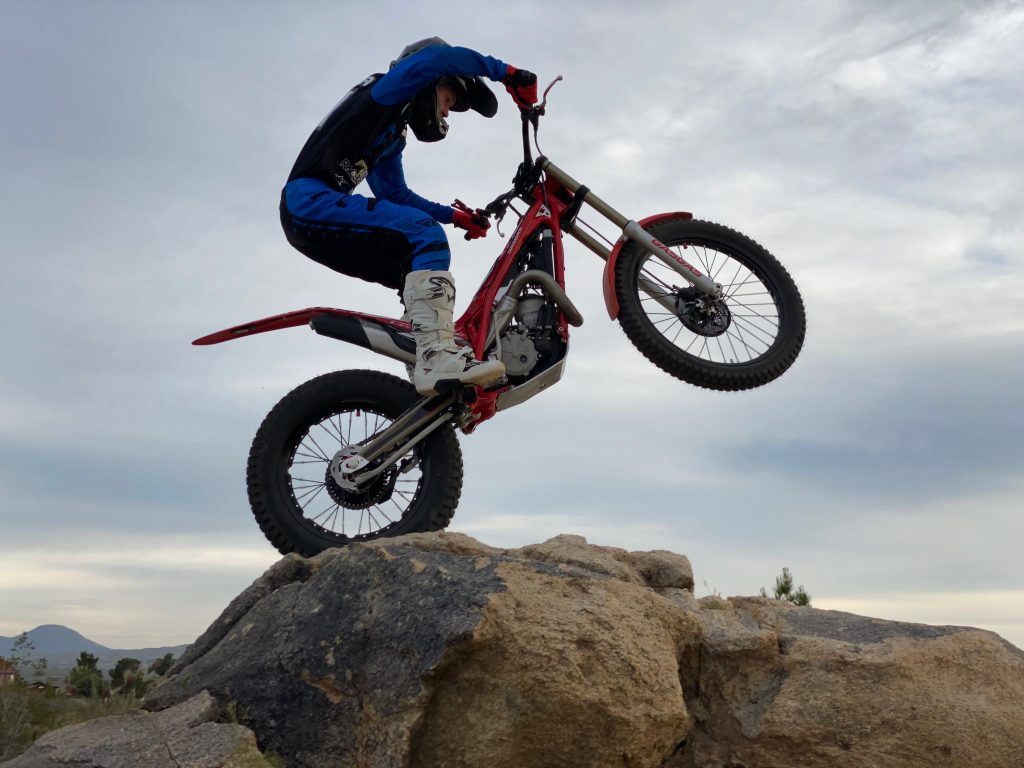 Specifications:
Engine 2-stroke, single- cylinder, liquid cooling
Displacement 247.7 cc
Bore & Stroke 72.5 x 60 mm
Gearbox 6 gears with GG 4/6 technology
Clutch Hydraulic system by diaphragm GG 1/3
Frame Chrome-moly steel tubular frame
Swingarm Aluminum, progressive linkage system
Front Fork TECH with aluminum bar Ø 39, 180 mm of travel
Adjustability Rebound, end stroke and spring preload regulation
Rear Shock ÖHLINS hydraulic monoshock absorber (2 ways)
Adjustability Rebound and spring preload adjustable
Wheel Travel Rear wheel travel 174 mm
Rim type Aluminum spoke rim
Front Rim – Tire 1.6 x 21 – Michelin Trial X11 2.75 x 21
Rear Rim – Tire 2.15 x 18 – Michelin Trial X11 4.00 x 18 TL
Front Brake 185 mm disc NG WAVE floating, monoblock 4 pistons BRAKTEC caliper
Rear Brake 150 mm disc NG WAVE, autostand system 2 pistons BRAKTEC caliper
Fuel 2.4 l / .63 gal
Dry weight 67.5 kg / 148.8 lbs
Dimensions Length x with x height: 2,010 x 825 x 1,130 mm
Wheelbase 1,320 mm / 52 in
Seat height 630 mm / 24.8
MSRP: $7,599