Rejoice, Husqvarna owners, we are here with some helpful setting tips for your 2020 Husqvarna FC450 or your 2020.5 Rockstar Edition. As always if you have any questions, our job is to help you try to get as comfortable as possible, in order for you to enjoy your dirt bike even more. You can always hit the contact button on keeferinctesting.com to get some answers.  
Engine/ECU: For 2020 Husqvarna fixed most of the FC 450 ECU rich feeling problems with the help of some of us media testers. Last year the 2019 ECU setting was rich off the bottom and slightly lean on top, which made for a lethargic/inconsistent throttle delivery. For 2020 the ECU is better, has a more lively feel coming out of corners and still has the super connected rear wheel feeling. I am usually a "map two" kind of rider due to its increased pick up/recovery feel, but sometimes I am looking for that extra puling power that is needed when the track is tilled deep or soft. I have been on the Vortex ignition bandwagon for a couple years with this machine and for the Rockstar Edition/FC450 it hasn't wavered. If you want the same great rear wheel connection as well as more pulling power everywhere, along with more rpm response look into a Vortex ignition from Chad at XPR Motorsports or Jamie at Twisted Development. I have turned a lot of Husqvarna riders onto this mod and have had a 100% approval ratio. What I like about this modification is that it doesn't hurt reliability and makes for a very usable yet powerful engine for almost every type of rider. Yes, it will set you back around $800.00, but to me is much better than slapping on a muffler system and will do more for your engine. Just in case you're worried about pricing, the Vortex has a great resale value and you will not be losing much money if/when you sell it to another lucky Husqvarna owner.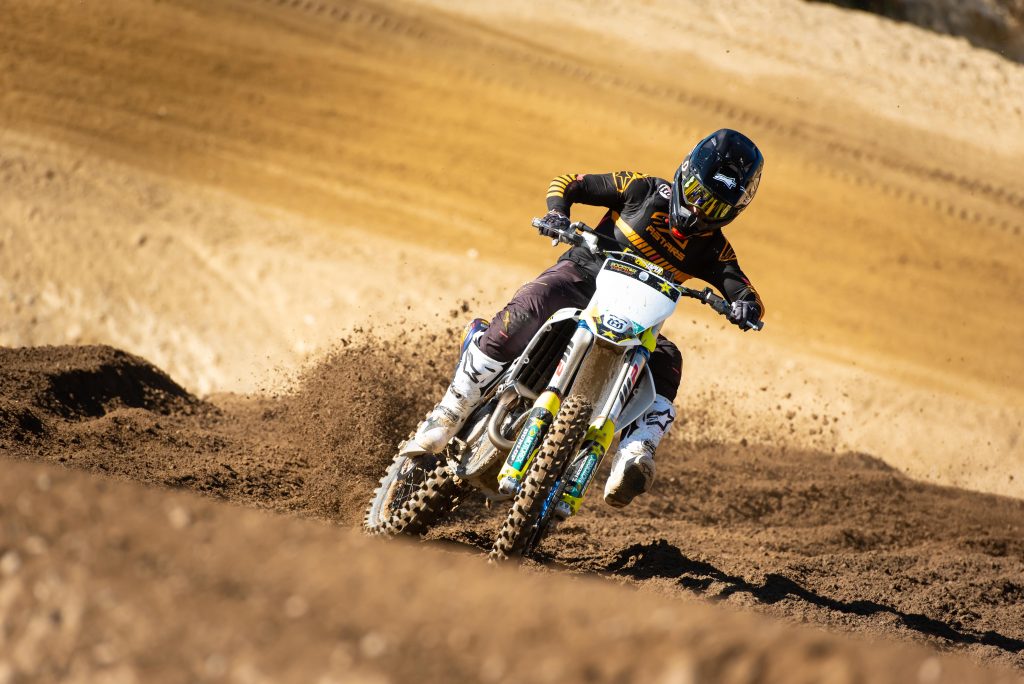 Suspension: If you haven't listened to my WP XACT Pro Components suspension podcast you may want to at least check that out, but if you're sticking with the stock suspension for a while, you can try this setting to see if this helps comfort when the track gets rough. This setting below should be in the ballpark for riders around 165-200 pounds for both RE and standard machines, but if you're heavier than 200 pounds going to a stiffer rear spring wild help the ride attitude of the Husqvarna. I have went to several tracks and tried many different settings, but this specific setting had the most "track toughness". The Husqvarna's stock WP suspension doesn't quite have the comfort like a Kawasaki or Yamaha does, but the Husqvarna/WP set also holds up more in the stroke than the Japanese models. To get some added comfort back with the added hold up, try this setting.
Fork: (160-195 pounds)
Height: 5mm
Air Pressure: 11.1 Bar
Compression: 14-15 clicks out
Rebound: 14-15 clicks out
Shock:
Sag: 103mm
Low Speed Compression: 12-13 clicks out
High Speed Compression: 1-1/2 to 1-3/4 turns out
Rebound:  10 clicks out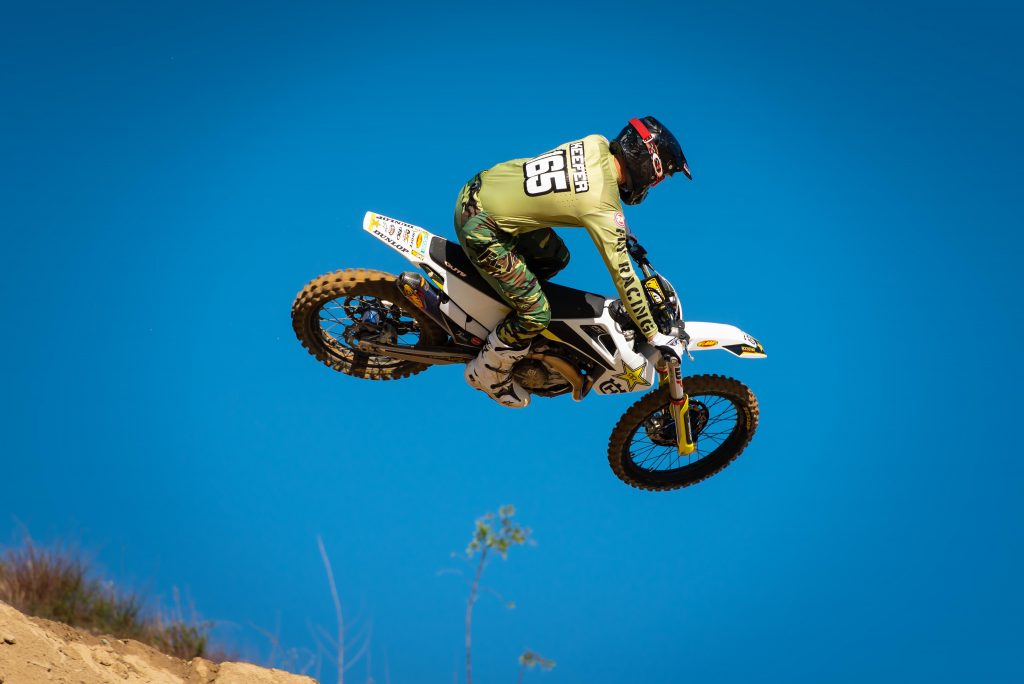 Chassis: Aftermarket engine mounts are all the rage right now and some of you may not have the money to spend on a pair of engine mounts for your Husqvarna. I will say that I don't feel like the RE's chassis is stiff, but I have heard from other vet riders that it can be at times, so I decided to play around with torque specs on the engine mounts and stumbled across this. If you're experiencing a stiff feeling chassis sensation and want the Husqvarna to settle while leaning (under throttle), there is an inexpensive way to achieve some extra front end traction (as well as an overall more planted feel). You can remove the left side upper engine mount bolt (upper right bolt only, as shown) and torque all other top engine mount bolts to 30Nm. This band aid will give you a more planted sensation when on throttle while leaning the FC450 RE through sweepers and fast straights. You will have to make sure that all engine mount bolts have blue Loctite to ensure they do not back out (you should do this regardless if you keep all the bolts in or not). You can also try torquing your swingarm pivot bolt to 95 Nm (instead of 100Nm) to help rear end traction out of corners. The downside to doing these mods is that the chassis will flex a little more, so if you're riding deep tilled tracks this modification may be too "flexy" for some (especially when chopping throttle).
Handlebars: The stock Pro Taper handlebar is great! However it is too low for my 6'0 foot frame, so going with a Ride Engineering one piece bar mount with 5mm risers helps (if you like the stock bar bend). I also like the Pro Taper SX Race bend bar and that worked well for riders from 5'8 to 6'1. The PT SX Race bend comes in a crossbar or crossbar-less style and is 800mm width, 87mm height, 54.5 rise, and 54mm sweep. If you're looking for a better "stand up feel" from your Husqvarna look for a handlebar close to this measurement.
Rear Brake Pedal Spring: Purchase a Honda CRF450R rear brake pedal spring with the rubber around the spring. The Husqvarna rear brake pedal spring vibrates and will break every 4-5 engine hours.
Gearing: I like the stock 13/49 gearing, but for sand I prefer the 14/53 gearing for mid rpm recovery and chassis feel. Yes, going to a 14/53 will put your rear wheel back more than the 13/49 and get you some extra high speed stability with the 14/53. At tracks like Glen Helen I go with a 14/53 because I get that extra planted/stable feeling coming down hills.
Rear Axle/Axle Blocks: Going to a Works Connection Elite axle block kit or Ride Engineering axle block kit will get rid of the fixed left axle block on the stock Husqvarna's axle. This will help the rear end to move more freely under throttle and improve the shock's comfort on acceleration chop. Both are great, but you will have to decide if you want a complete axle/axle block kit like Ride Engineering's  or just the blocks themselves like WC's.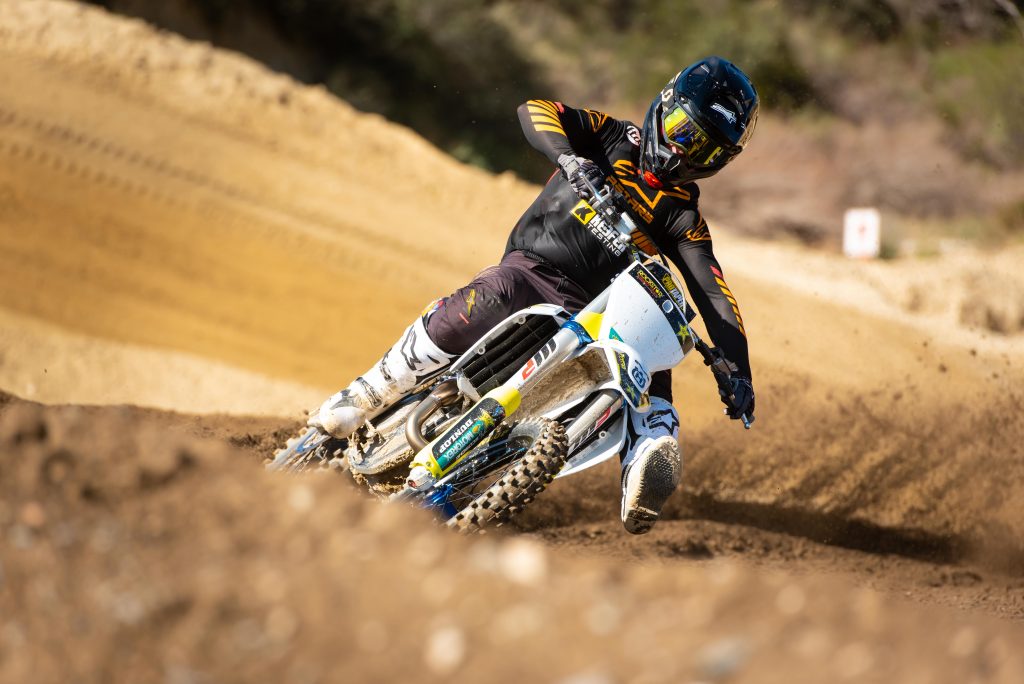 Muffler: From my experience and testing, FMF makes the best muffler system for the Husqvarna Rockstar Edition. Maybe that's why the Husqvarna RE comes with a 4.1 slip on. However, installing a megabomb headpipe will help mid range rpm response as well as give you some added top end pulling power. There are some other companies that have other bikes dialed in more, but on the Husqvarna/KTM, FMF has got it dialed. You will get more low to mid RPM response as well as more mid range pulling power. The kicker is that you will not lose bottom end or low end recovery. It's a win/win, which rarely ever happens in the world of aftermarket parts.