Love it, or loath it, the internet has irrevocably changed the world we live in. Today, information moves at light speed and people prize convenience over all else. Brick and mortar stores and all forms of print media have taken a major hit under this new paradigm. For over 500 years the printed word reigned supreme, but the internet has unwound all of that in less than three decades.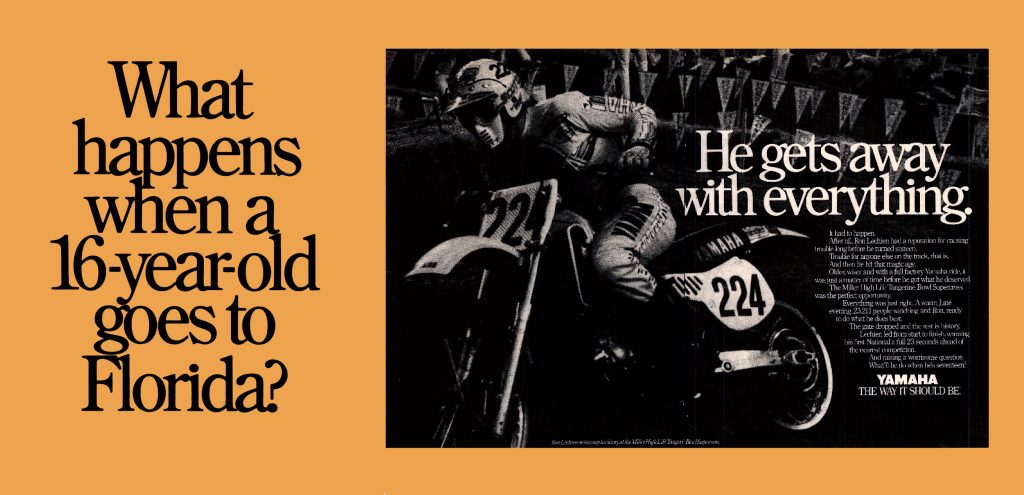 In light of Ron Lechien's off-the-track antics this ad is certainly more layered with meaning today than it was meant to be in 1983. 
As constant readers of my columns will know, I am a huge fan of the printed page. I have a tremendous collection of motocross-related print media and still love to read magazines from my youth of oh so many years ago. That love is shared by Matthes and that is a major reason we came up with this Classic Ink column. We both wanted to highlight a time when ads were not annoyances to be skipped, but instead little nuggets of awesome to be stared at and celebrated. When I read a magazine, the ads are part of the joy of the experience, not some impediment to reaching the content I desire. Digital has unfortunately changed that, and the clever and creative print ads of days past are all but a forgotten art in today's go-go on-demand world.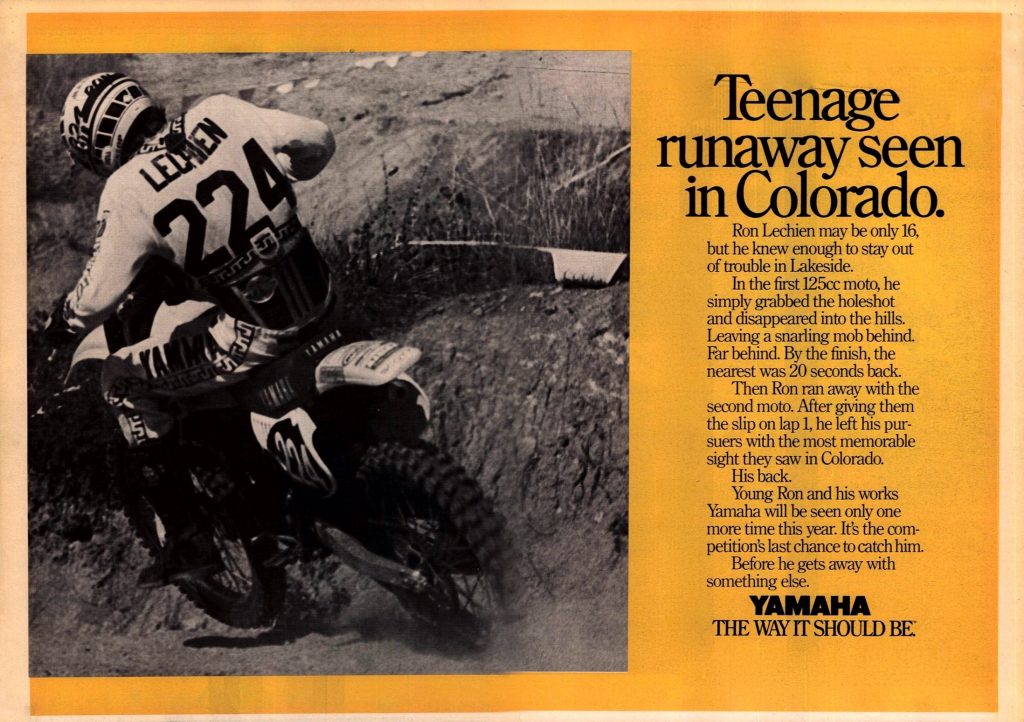 Like the previous ad, Lechien's efforts to evade the police on a moped in the early 90's gives these ads a tinge of irony that was not originally intended. 
For this edition of Classic Ink, I wanted to highlight one of my favorite ad styles from this bygone era – the win ad. Today, the win ad's equivalent is the press release; a short blurb designed to recap the team's weekend results that can be copied and pasted to any number of online media outlets. Seldom entertaining and rarely insightful, the press release is typically less than engaging reading.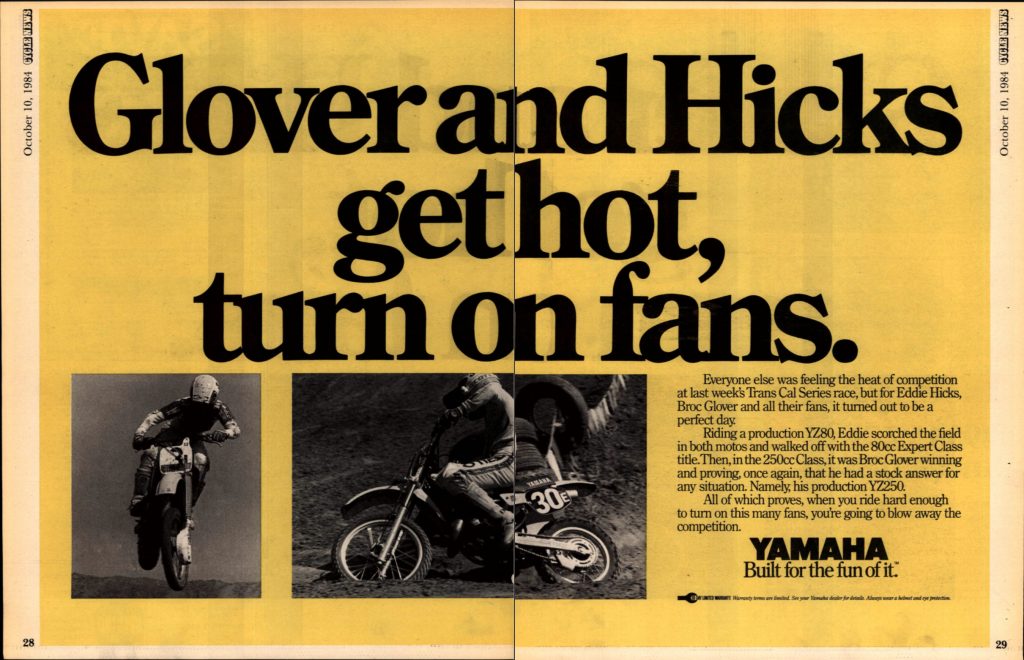 Dad Jokes: At 13, I probably groaned at this, but I'm sure my dad loved it.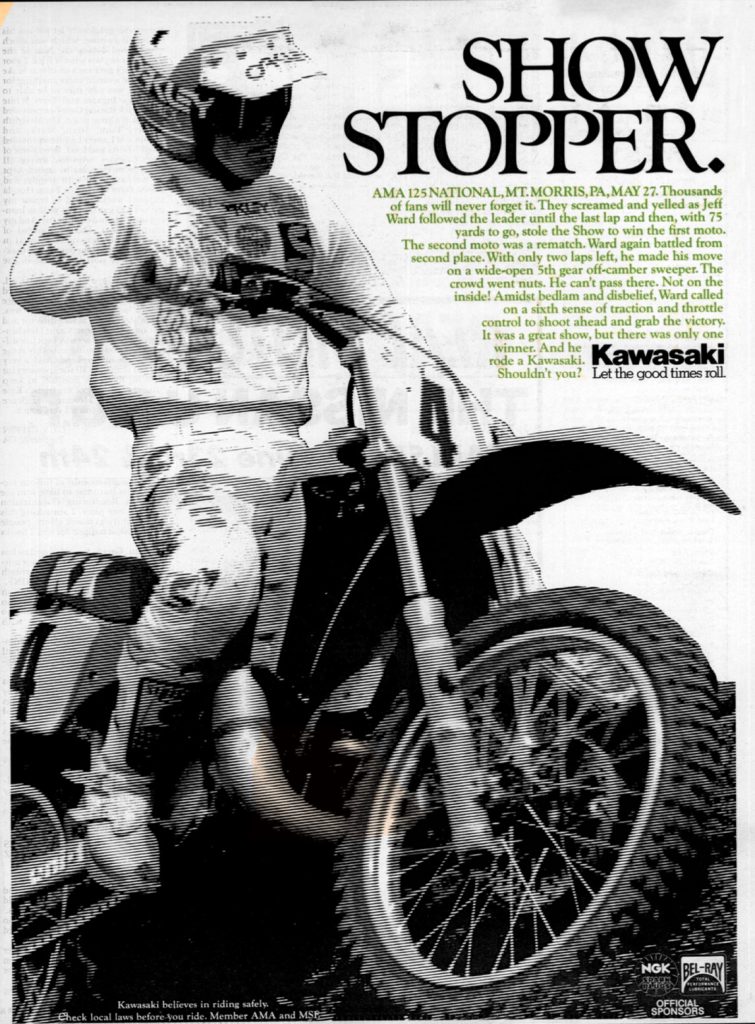 Even Kawasaki got in on the act with a pun-laden High Point win ad at Johnny "O'Show" O'Mara's expense. It must have been something in the water in the early eighties…
With the increased pace of available information this transition is perfectly understandable, but I personally long for the days of two-page splash ads touting each victory and accomplishment. When Cycle News was the only way to get the latest motocross news, these ads were a staple of each issue. One of the interesting traits of these win ads in the 1980s was their affection for puns. I'm not sure who started this but almost all of these ads have some sort of pun or double entendre built into the copy. Honda, Kawasaki, Yamaha, and Suzuki all found ways to lace their ad copy with some sort of play on words. While some of these were of the "dad joke" variety, all of them added a layer of light-heartedness and fun utterly missing in any modern press release.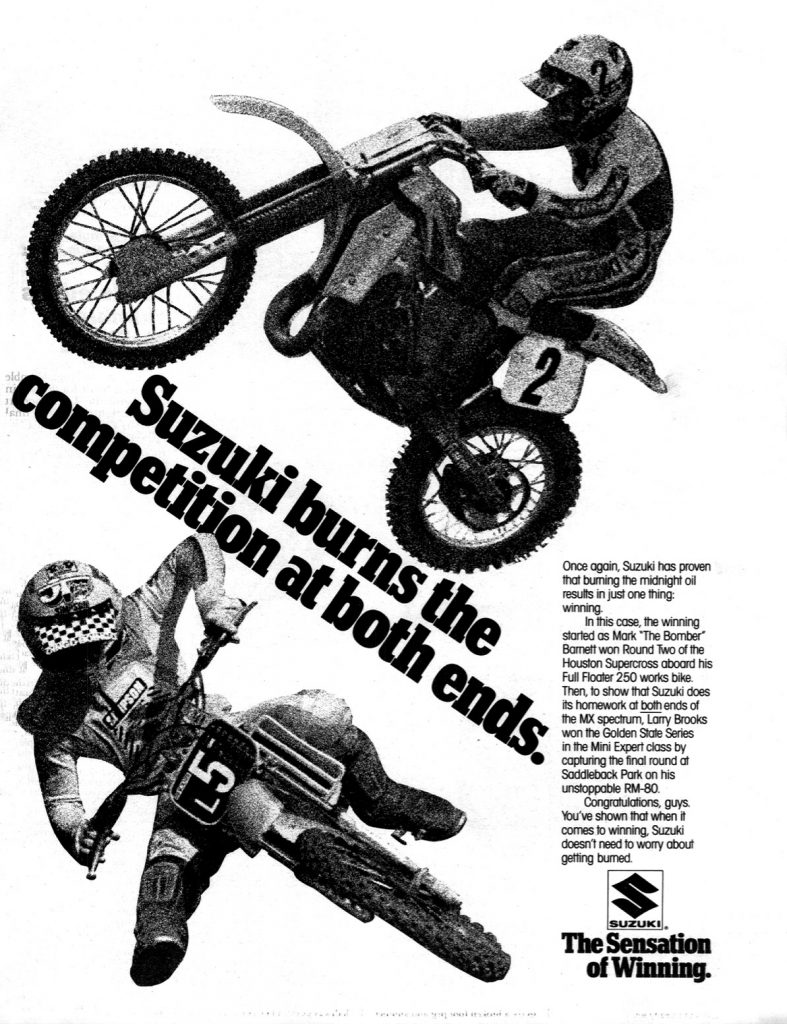 Mini stars like Larry Brooks were a common sight in Suzuki's win ads of the early eighties. 
Some of these Yamaha ones even took on a prophetic tone in light of the later life choices made by Ron Lechien. Nostradamus aside, these ads were such a great way to promote the brand and engage fans. In the heyday of print, even the amateurs got in on the act with Suzuki purchasing ads touting wins by teenage sensations like Larry Brooks, Rick Hemme, and Bruce Bunch. Simple, clever, and entertaining, the pun-laden win ad is a lost art in today's world. With clever ad copy and decent nicknames all a thing of the past, the world of motocross advertising will never be the same. Today, Insta-bangers and Twitter feuds have taken the place of crafty prose and that is a sad development in my book. Live race coverage, instant results, and message board melees are all well and good, but none of them will ever top a well-crafted motocross pun for making the suits in Japan seem like real people with a genuine sense of humor.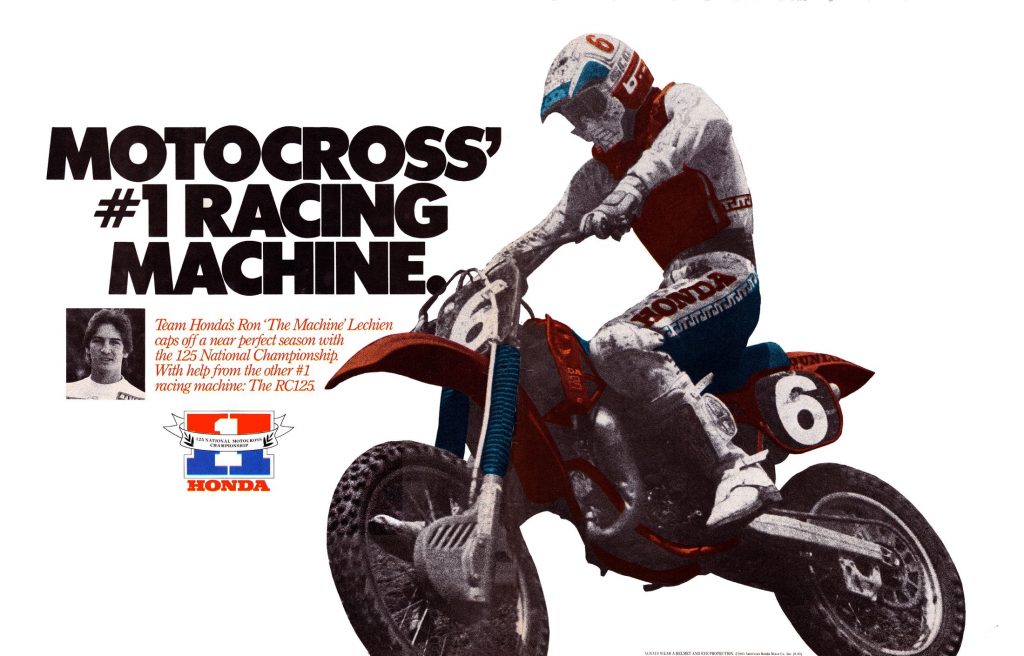 In 1985 motocross' #1 racing "Machine" captured his one and only National Motocross title on Honda's ultra-trick RC125.