Zach Osborne has taken a commanding lead of the 2020 Pro Motocross Championship. Last week, Zach had a -2 Race +/- and the positions he lost in each moto cost him -11 points. Race +/- is one of the best indicators of championships and a -2 Race +/- at Ironman was not an optimal day. He wants this title and that means he needs to maintain and improve position in every single moto throughout the entire season. This week, Zach did exactly that. He nailed 2 holeshots and led both motos wire-to-wire to take a +2 Race +/-. He now has a full moto lead (+26 points) in the championship.
Some other stats categories that Zach Osborne is leading…
1st in Laps Led. 56 of 133 total laps or 42%
1st in Moto Wins with 4 or 50%
1st in Moto Podiums with 6
1st in Overall Wins with 3 or 75%
In the 250's, Dylan Ferrandis was once again the fastest rider on the track, but the veteran Jeremy Martin took both moto wins along with the overall and now leads the championship by +12 points. Interestingly, both Jeremy Martin and Dylan Ferrandis are the only two 250 riders with a perfect +8 Race +/-. They both have the most moto wins with 3 as well. The difference is that Jeremy Martin's average first lap position is 3rd while Dylan Ferrandis' is 14th and that's resulted in Jeremy Martin winning 3 of the 4 overall wins. Check out the stats below for a note on Ferrandis 'season of passing'.
Another Special All-Time Wins List
As mentioned on the NBC Sports broadcast, Jeremy Martin has moved into 6th on the all-time overall wins list for the 125/250cc class. While they compared him to Steve Lamson who won 19 of his 20 overalls on Honda, Jeremy Martin has won 11 of his 17 overalls on a Yamaha and the last 6 on his GEICO Honda.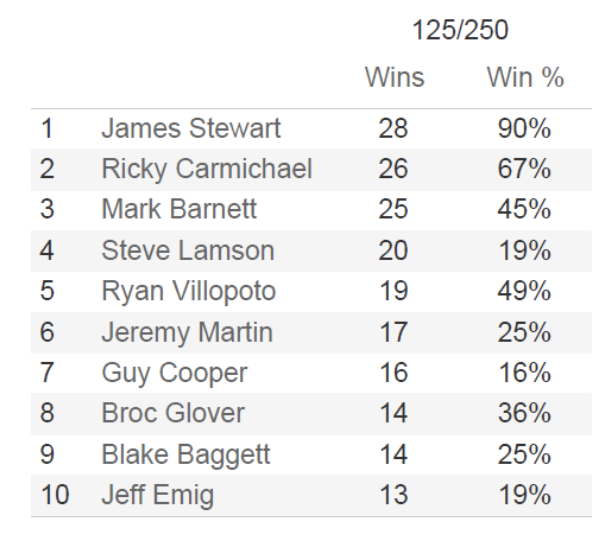 Additionally, Jeremy Martin now ranks 6th on the all-time moto wins list, just one shy of Yamaha legend Broc Glover. Interestingly, the Top 3 all-time moto wins on a Yamaha 125/250 are Broc Glover (32), Jeff Emig (27), and Jeremy Martin (23).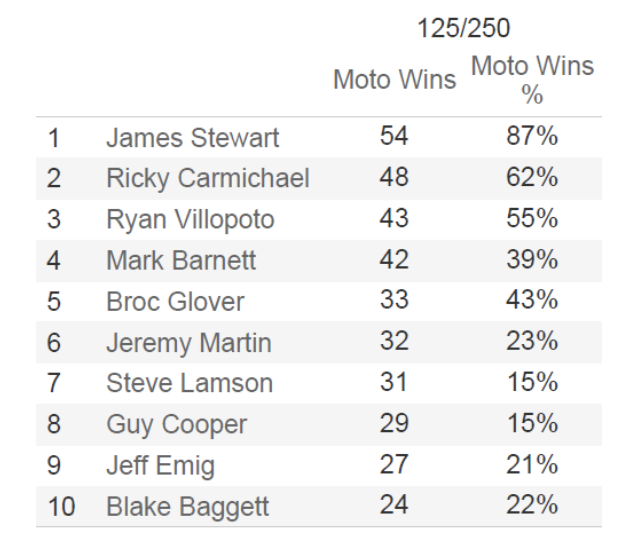 Enjoy the race stats below and as always, drop me a line on Twitter or Instagram @3lapsdown with any questions.
450 Race Stats
Marvin Musquin (Red Bull KTM) and Zach Osborne (Rockstar Husky) are the only two riders to finish in the Top 10 of every single moto.
Rookies Adam Cianciarulo (Monster Energy Kawasaki) and Chase Sexton (HRC Honda) sit 5th and 6th in the standing. Both have a fastest qualifier. Neither have moto win… who will get one first?!
Who had Eli Tomac (Monster Energy Kawasaki) with only one moto win, one overall, and 2 DNF's after the 4th round of the season?!
250 Race Stats
Shane McElrath (Star Racing Yamaha) has a season leading 4 holeshots. The Star Racing Yamaha has nailed 7 of 8 holeshots with Jeremy Martin (GEICO Honda) to grab a holeshot.
Jett Lawrence (GEICO Honda) is the highest ranking rookie in the season standings at 8th, but there's 4 more in the Top 15 with Carson Mumford (GEICO Honda) in 12th, Stilez Robertson (Rockstar Husky) in 13th, Mason Gonzales (Rock River Yamaha) in 14th, and Jo Shimoda (GEICO Honda) in 15th. The future is bright.
Jeremy Martin is the only 250 rider to be on the podium in every single moto this season.
Dylan Ferrandis has averaged +11 Position Changes per moto for a total of +91. He has a combined +121 Position Changes between both SX and MX seasons. The next highest is Derek Drake (Troy Lee Designs Red Bull KTM) with +53. He's worked for his wins, something that won't like work in the 450's next year.
When's the last time brothers finished a season on the podium?! Are Jeremy and Alex Martin the first potential to do it?!