True product development requires methodical and rigorous testing. Resident PulpMX expert Kris Keefer is an example of someone that's made an entire career out of doing just that. He spends each day going through the paces, methodically testing bikes, then sharing his wisdom with all of us Weekend Warriors.
I'm not Kris Keefer. I'm also not going to pretend to be either. Nonetheless, I hope you'll find this unique perspective just as valuable. Why? First, I don't make a living doing this so you're going to get straight talk. Second, I've spent the better part of my 20 year career in technology working in product development, most notably contributing to the design, development, testing, and launch of 2 Xbox consoles and numerous versions of Xbox Live. Last, I've raced and ridden bikes for almost 40 years. I don't have 4 Manitoba titles nor a 14-9 for 7th finish at the 2019 World Vet Championships. However, I did get my butt kicked at Loretta Lynn's from 1986-88 and was the first loser (2nd place) in the 2006 Semi-Pro US National Mountaincross series. Okay, the results obviously aren't the point. The last point is that I'm a numbers guy who writes an Advanced Analytics column and I pay attention to the details and connect dots where most don't.
I got Pro Taper's EVO handlebars, Clamp On Grips, and Race Spec sprocket installed on my 2019 YZ250F. I was hoping for two things… (1) less arm pump and (2) a longer lasting sprocket that didn't look like it was made by a 5th grader in shop class.
Before I went out for a ride, I called up a good friend Kelly Marsh who's worked 20+ years in the Aerospace industry designing military and space vehicles. Kelly started our conversation by jokingly saying "if it looks good and you like it, you should buy it". Clearly she's got a sense of humor and shamefully that's been my criteria for many years. More importantly, she's knows materials so I asked about the Pro Taper claim that 4mm handlebar walls (instead of 5mm) could lead to a 25% lighter bar that's 45% stronger AND helps with vibration and reducing arm pump. I think it's awesome that Rockstar Energy Husqvarna, GEICO Honda, and JGR Suzuki use Pro Taper products, but ultimately the only thing that matters to me is reducing arm pump.
What I learned from Kelly is that using 7000 series aluminum will deliver on that promise. Kelly shared that 7000 series aluminum has better "variabilities", meaning the material is more capable of handling greater forces and that's what enables reducing the walls from 5mm to 4mm. She also confirmed that the 7000 series aluminum and 4mm walls are going to reduce the vibrations and make it easier to hold onto the bars. Science is real folks.
Armed with this intel, I headed out to Gray's Harbor ORV, the track now owned by Ryan Villopoto. After 5 sessions of 20 minutes each, here's what I learned.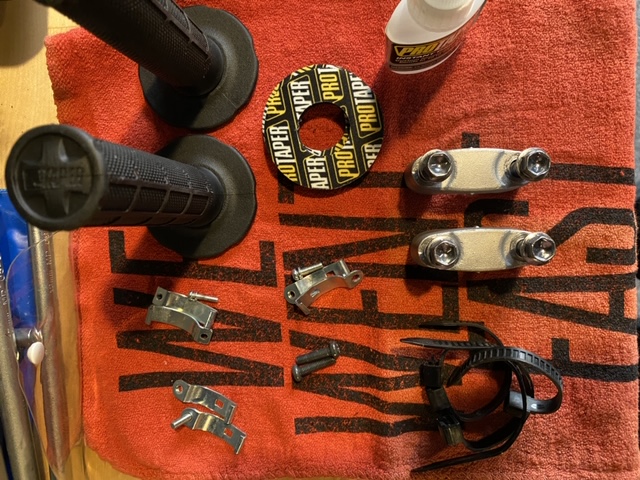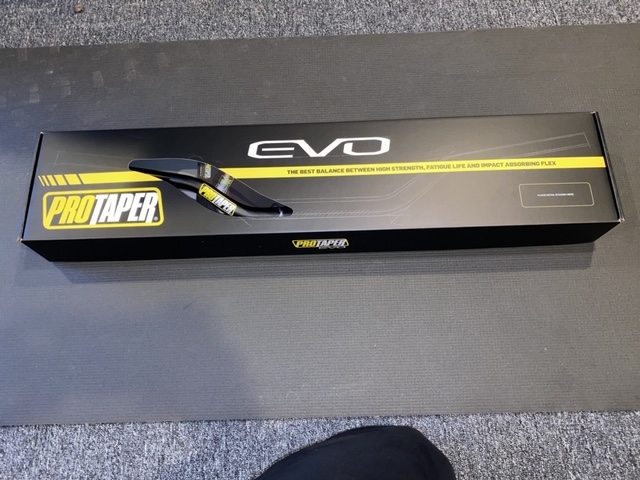 Pro Taper EVO handlebar and Clamp On Grips
Bend: SX Race (800 mm width, 87 height, 54.5 rise, 54 sweep)
Color: Black
Weight: 640 grams
Wall Thickness: 4 mm 
Material:  7000 series aluminum alloy
Finish:  Anodized shot peened
There were 4 things I noticed before hitting the track…
Clamp On Grips are hassle free. I've run clamp on grips for MTB since the mid 2000's and every time I put grips on without glue, I'm reminded how much easier these are to install.
Reading the alignment marks was easier on the Pro Taper bars vs. the stock bars.
Maybe it's my questionable eyesight, but the chemically applied lines on the Pro Taper bars were crisp.
The grips felt thinner than the stock set-up. No idea if that's actually the case, but it felt that way and that's what matters.
The Pro Taper handlebar pad (sold separately) makes the bike look more Pro. Remember, if you can't go fast, at least look good.
First impressions…
My arm pump was noticeably less. This may be the result of more time on the track, irrational mind games, or that the 4mm walls do indeed help with vibration and reduce arm pump. Either way, I was able to consistently make it till 12-15 mins into a 20 minute moto before I started feeling arm pump. Normally I'm toast 8-10 minutes into a moto.
My palm didn't feel like it'd been beaten by a hammer at the end of the day. I felt like I had significantly better control over the bike.
I generally felt more comfortable holding onto the bike for a full 20 minute moto. I didn't hold to a rigorous test method though. I broke a cardinal rule and swapped both bars and grips at the same time. But after one back-to-back session between the stock and Pro Taper set-up, there was no way I was putting the stock set-up back on the bike.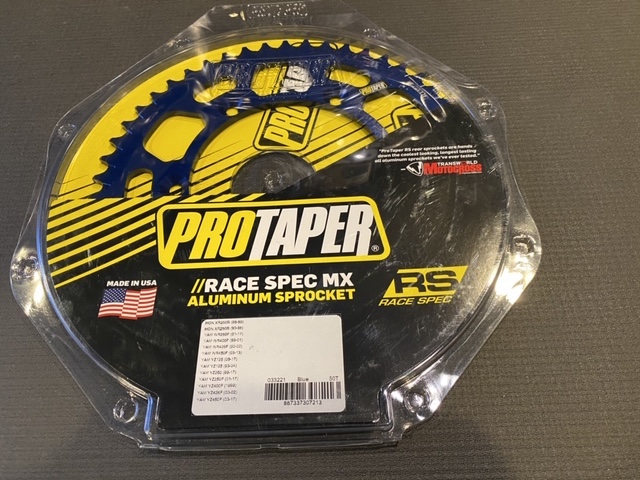 Pro Taper Race Spec (RS) Aluminum Rear Sprocket
CNC Machined
Color: Blue
Material: 7075-T6 aluminum alloy
Made in the USA
Without handing the sprocket to my Boeing specialist to truly test it for optimum load distribution and tooth endurance, I don't know how I'd test most of the product features of a sprocket. With that in mind, here's what my first impressions.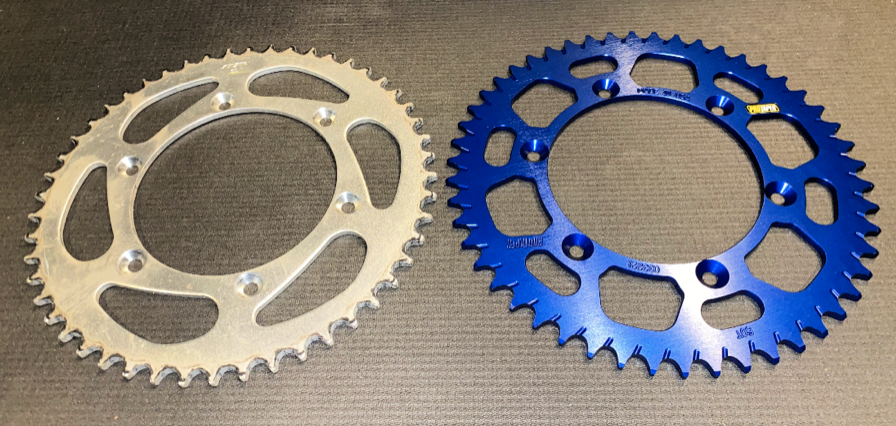 It looks rad. Blue anodized, CNC machined, and designed window pattern looks SO. MUCH. BETTER. than the stock sprocket. Remember what Kelly said, "if it looks good and you like it, you should buy it".
There was no build up of mud or loam on the teeth after any motos. The Gray's Harbor ORV track has more than one section with mulch and deep ruts and the "exclusive angled mud groove" did it's job.
Hope you found the first impressions helpful. If you have questions, hit me up @3lapsdown on Twitter or Instagram.