Zach Osborne is the 2020 premier class Pro Motocross champion and becomes the 25th rider to win the Edison Dye Cup. Zach made it to the absolute pinnacle of the sport in a non-traditional way, spending multiple years racing abroad before returning to race in the United States in 2013. I imagine it's the challenges he faced learning new cultures and traveling in foreign lands that helped build his undeniable drive and determination. It's also this drive and determination that solidifies him as the oldest rider to win this championship at 31 years old.
What's most interesting is how Zach Osborne's drive and determination won this championship. He wasn't the fastest qualifier. That was Chase Sexton who took 4 of the 9 fastest qualifier medals. He didn't lead the most laps or lead laps in the most motos. That was Adam Cianciarulo. Adam used a season leading average first lap position of 3.5 to lead 44% of the laps (131) compared to Zach who had an average first lap position of 4.8 and led -45% less laps (72).
Actually, Adam Cianciarulo was also stronger in first motos. He scored the most points of anyone in the first motos (190), +18 points more than Zach Osborne. Adam also had an average first moto finish of 2.7, grabbed 3 holeshots, led 74 laps, and won 3 motos. He led these stats categories for the first motos. But he didn't deliver in the second moto.
It was the second moto where Zach Osborne won the championship. It was the second moto where Zach Osbornes drive and determination shined through. You can look to him salvaging 5 points at Round #6 in Minnesota after he got a front flat or his spectacular ride at Round #7 in Florida when he held off the patented late moto charge by Eli Tomac as the emotional victories. Those rides led to him scoring +28 more points than Cianciarulo and a season best average finish position of 3.8 compared to Cianciarulo's 7.4. Zach also led 50 laps compared to Ciancirulo's 57. Maybe most important to the championship was that Zach only lost positions in 3 second motos compared to Cianciarulo who lost positions in 7 of the 9 second motos.
Zach Osborne won this championship in the second moto when drive and determination mattered most. He dug deep when the conditions where the most difficult and that earned him this championship. Congratulations Zach!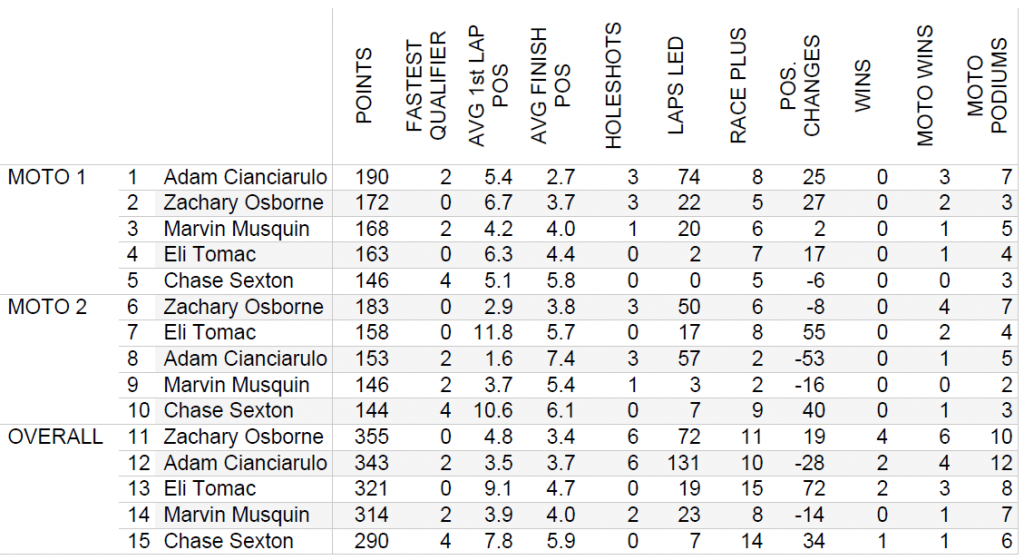 Dylan Ferrandis wins the 2020 Pro Motocross championship and becomes the 32nd rider to win the Gary Jones Cup. What's most interesting is the similarities between Dylan and Zach Osborne's experience, specifically there international experience and drive and determination. On the podium, Dylan mentioned "it's difficult for me as a French [citizen], as a foreigner here in America". He highlighted that "I work everyday, even when I don't work, I rest, then I work more". He's adapting to a new country, new culture, and he's used that challenge to focus his energy on singularly being the best rider possible. It's paid off with his 3rd career championship.
He's also the first Frenchman to win this title though many have come close. While he may have the help of a Star Racing Yamaha bike that's won the last 5 of 7 championships, it's clear that he's earned this title no different than Zach Osborne, through drive and determination. While he may not be an American citizen, I for one can't wait to see him in the premier class next year and will cheer him on no different that everyone else on the track.
It's been a pleasure to bring you this weekly column throughout the 2020 season. If you want to bench race or have some stats you need, drop me a line @3lapsdown on Twitter or Instagram.
450 Race Stats
Eli Tomac (Monster Energy Kawasaki) is now tied with Bob Hannah for 3rd in all-time premier class moto wins (48) and moves ahead of Hannah for sole possession of 3rd in all-time total moto wins (71)
Chase Sexton's (HRC Honda) first win in the premier class makes him the 72nd rider to accomplish the feat going all the way back to 1972. His first moto win makes him the 92nd rider to accomplish that feat.
Adam Cianciarulo (Monster Energy Kawasaki) finishes 2nd in the championship but led the season in holeshots, 1st lap position, laps led, and motos with laps led. His eight motos where he lost positions and specifically the -37 positions in moto two at the first round ends up being the deciding factor on the season.
Top Privateer for the season is Max Anstie of the Twisted Tea HEP Suzuki team. He finishes 9th overall in the standings with a season best 5th at Round #2 at Loretta Lynn's Dude Ranch.
250 Race Stats
Congrats to the whole GEICO Honda team on their sweep of the second moto podium in their last race. Co-owner Rick Zielfelder has been traveling the circuit for over 25 years and has more than earned some weekend time at home.
Jeremy Martin's (GEICO Honda) 2nd moto win brings his career tally to 34 and into sole possession of 5th on the all-time 125/250 moto wins list. Sounds like J-Mart is headed to Pro Circuit Kawasaki for 2021.
Jett Lawrence (GEICO Honda) takes top rookie honors for the season with 4th in the standings. Jett won his first overall victory at the last round, making him the 86th rider to do so.
Top Privateer for the season is Mason Gonzales (Rock River Yamaha). Unfortunately, Mason missed the last round of the season due to a tough crash at Thunder Valley. Mason's best moto finish of the year was an 8th at the first round at Loretta Lynn's Dude Ranch.
Justin Cooper (Star Racing Yamaha) was likely going to finish the season 3rd in the standings until a bike issue before the last moto dropped him 2 positions in the championship. That's a tough pill to swallow following last weeks overall win.
Jo Shimoda (GEICO Honda) got his first 125/250 podium at the last round and is the 108th person to do so. It'll be an interesting off-season to see where the quiet but very talented rider lands given the GEICO Honda team is closing shop.