The 2021 Husqvarna FC450 Rockstar Edition is here and I had the chance to give it and its new connectivity unit a try. If you want to watch the bike in action you can head over to racerxonline.com later today or listen to what I thought over on The RMATVMC Keefer Tested Podcast right here on pulpmx.com!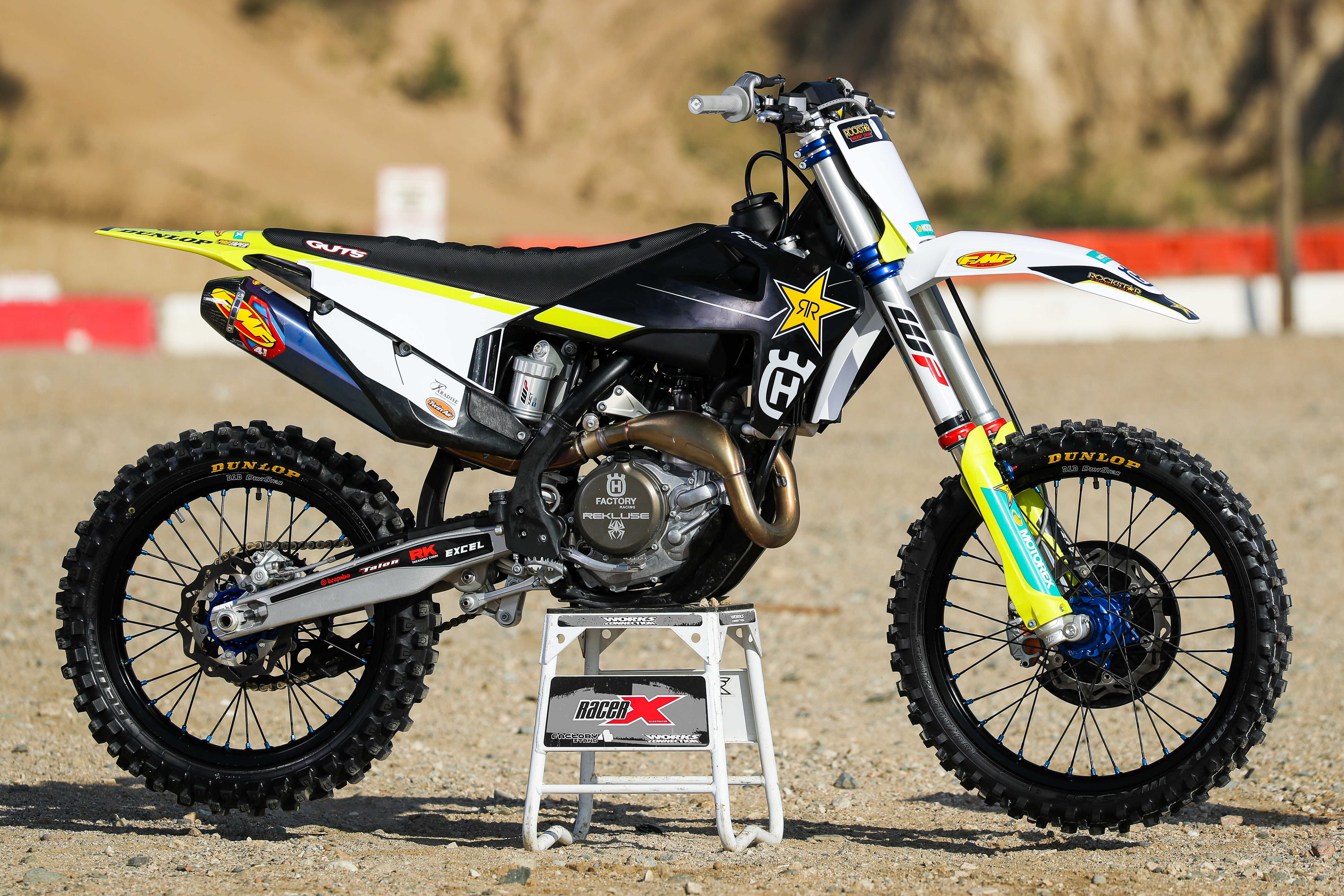 Husqvarna Connectivity Unit: The new connectivity unit actually works! The CCU on the handlebar is ugly but the actual connectivity unit is pretty damn good. The app's interface is easy to work with and being that the rider can create less engine braking on the FC450 RE. it really does help the slightly smoother delivery, spunk up a little. Compared to the Yamaha Power Tuner App it's what I liked to call "dumbed down". Once you're connected (which is the trickiest part) you are able to just slide/drag a bar around to how much or how little you want your engine braking, throttle response, traction control delivery and of course pick what track type you may be riding on any given day. You can hit "Save And Upload" and boom you have a slightly different feeling Husqvarna. If you want to move the connectivity unit, you may do so, but just know at this time there is no brackets made by  anyone so you may have to zip tie it behind the number plate until you find something cleaner/more efficient. Oh and NO the CCU doesn't need to lay flat for it to connect/work. Rumors, bro!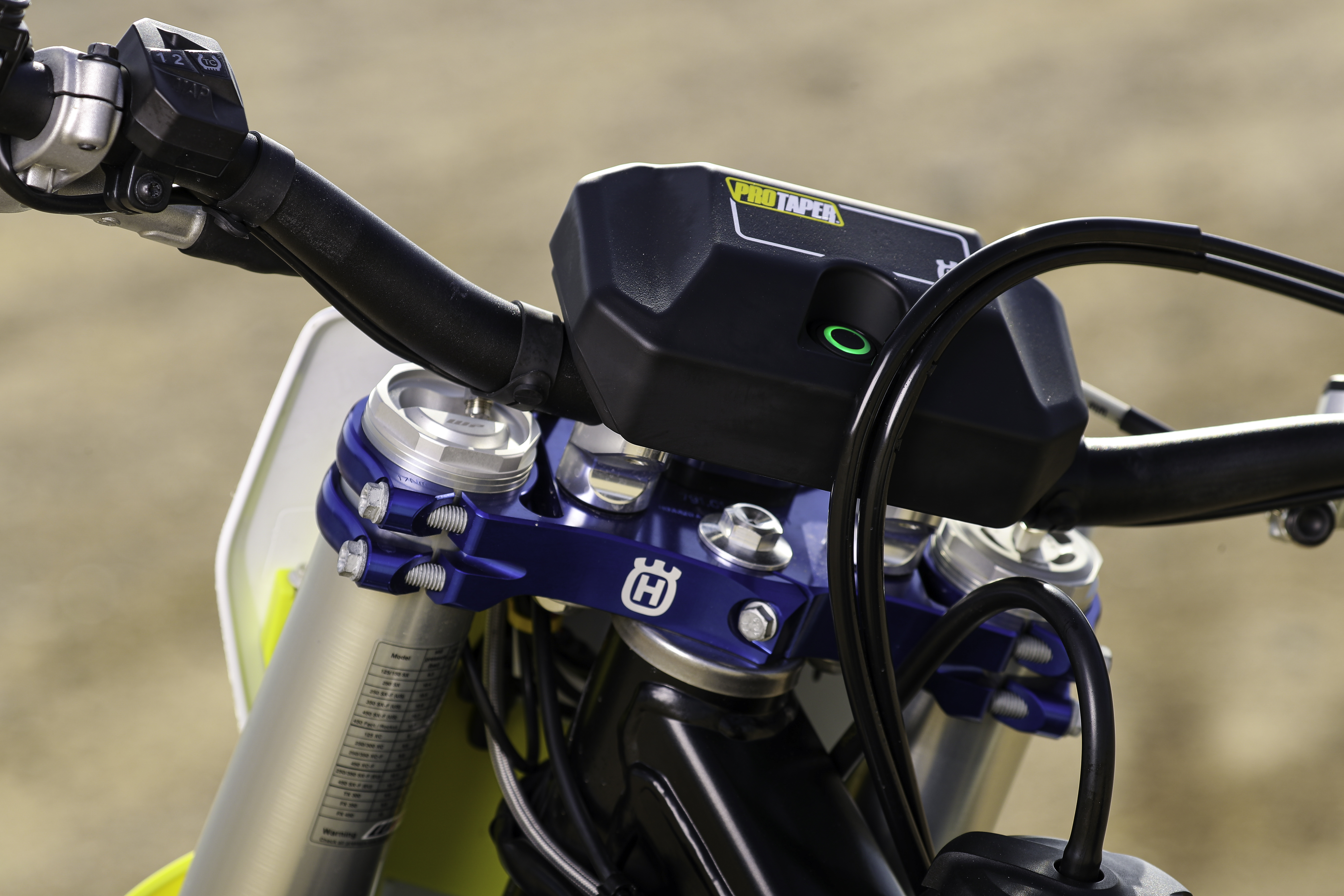 New Mapping: I love that the Husqvarna's come with a on-the-fly handlebar map switch that offers two maps to choose from (without having to stop). For 2021 map one is what they call the 'standard' map, which is designed to have a controllable longer/linear power that is geared towards the non aggressive type of rider (Map one is also the custom setting map that the consumer can change via phone app). Map two, on the other hand, is what Husqvarna is calling the 'aggressive' map that is supposed to be stronger across the board and although it is, it still is very linear feeling. Map two will not explode you out of a corner, but instead give you some added bottom/mid rpm response as well as have a more free feeling engine character. Making less engine braking on the app doesn't give you as aggressive of power as map two, but it does help lighten the feel of the bike up. Less engine braking makes the softer feeling fork dive less on de-cel. TC is still available and works just as good as the 2020 version so don't be scared to try it. If you ride hard pack tracks or slippery terrain do yourself a favor put your Husqvarna FC450 RE on map two with the "TC" light on and thank me later. If you're adjusting your TC on the app, it will only adjust to your custom setting if your TC light is on (on the handlebar).
Engine Feel (On Track): The engine on the 2021 Husqvarna FC450 RE does feel slightly different than the 2020. The overall engine character still has that smooth easy to ride feel, but with slightly less engine braking courtesy of the new connectivity unit. Coming into corners you can feel less drag on the engine and less movement in the chassis. When in map two there is also more mid-range rpm response on the 2021 version, thanks to the mapping changes Husqvarna made. No more lean top end de-cel pop and rich bottom end feel that hampered the older 2019 version. If you're looking for a hard hitting 450 engine character this isn't your type of machine. However, if you're looking for an easy to ride, connected to the rear wheel feel, deceivingly fast type of power, the Husqvarna could be just what you're looking for.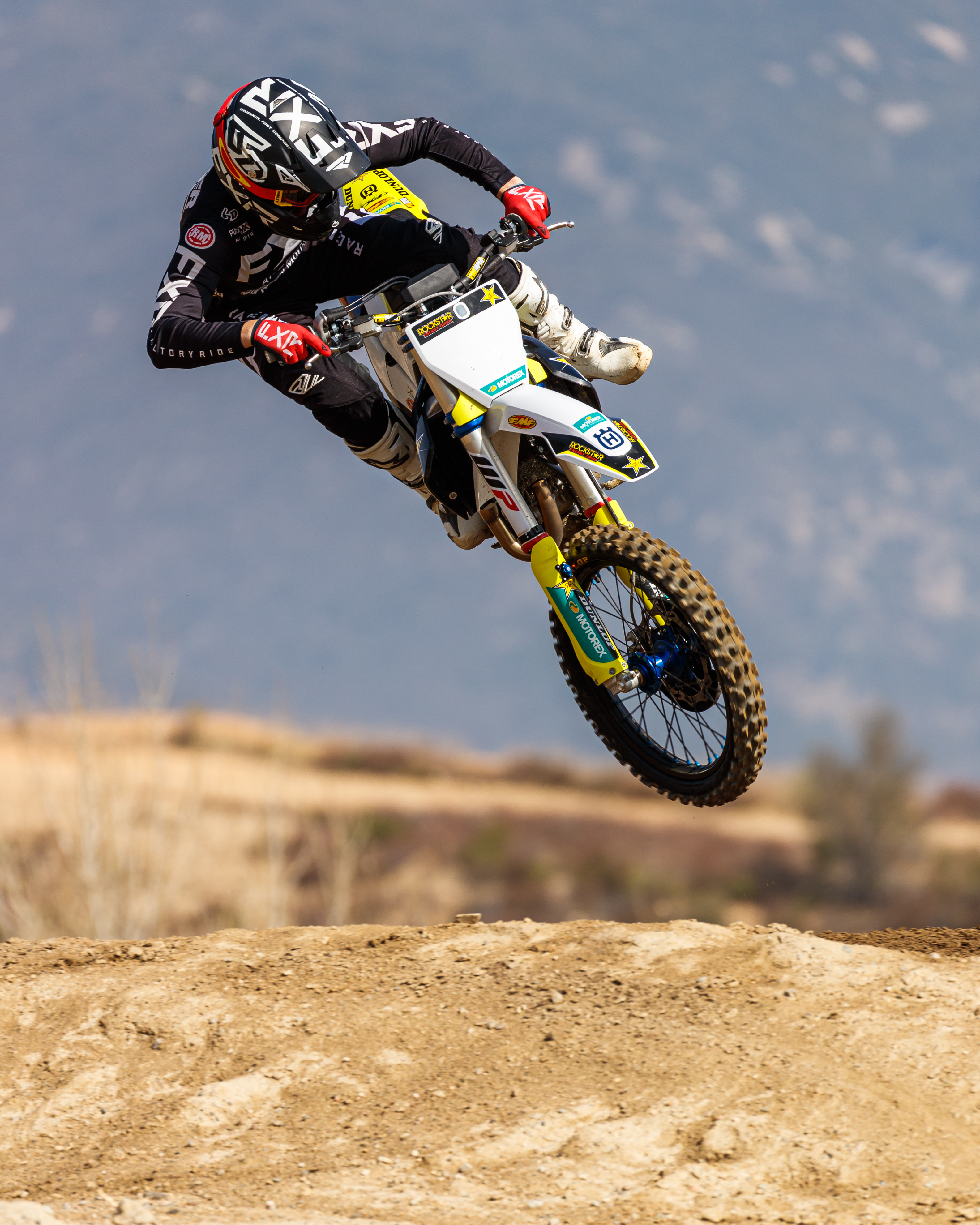 Suspension Feel (On Track): Husqvarna/WP will tell you that they set up their 2021 RE suspension settings for the average consumer that wants comfort out of their motocross machine. But why go back to the standard fork/shock length? That's right, the RE DOES NOT have a 10mm lower suspension setting like the standard 2021 FC450. No one at WP/Husqvarna could tell my why at this time, but could this be a sign that the 2022 bike will not have a 10mm lower setting? Possible. The overall 2021 RE setting was too soft for my liking. I also understand that I am not the target consumer Husqvarna is trying to market this bike to so I took this into consideration. The action of the fork is slightly smoother feeling than last year's fork setting, moves more in the stroke, but gives the rider a decent amount of front end traction (for an air fork) on braking bumps. This fork will feel low if you're a heavier or aggressive type of rider, so going up to 11 bar would be in your best interest. Slowing the rebound down a couple clicks on the fork will also slow the action down a little and keep it from diving too much on jump faces and g-outs. Also don't forget to bleed your AER fork before every ride. Yes, it has bleed holes.
The WP rear shock still likes a sag of 103mm, but the overall feel of the shock is slightly empty feeling (soft) at the end of the stroke. You need a 45 N/m  rear shock spring if you're anywhere north of 180 ponds though. If slamming into steeper jump faces or g-outs you will bottom out and see rubber marks under the rear fender fairly quickly. If you're experiencing a lot of this, stiffening your high speed compression a quarter turn and turning in your low speed compression a couple clicks will help the shock's end stroke feel. What the 2021 rear shock does do better than the 2020 is offer more rear wheel traction on acceleration bumps (maybe because of ECU setting). The rear wheel drives through square edge chop better and doesn't give the rider a harsh/spike feel like the 2020 shock sometimes did.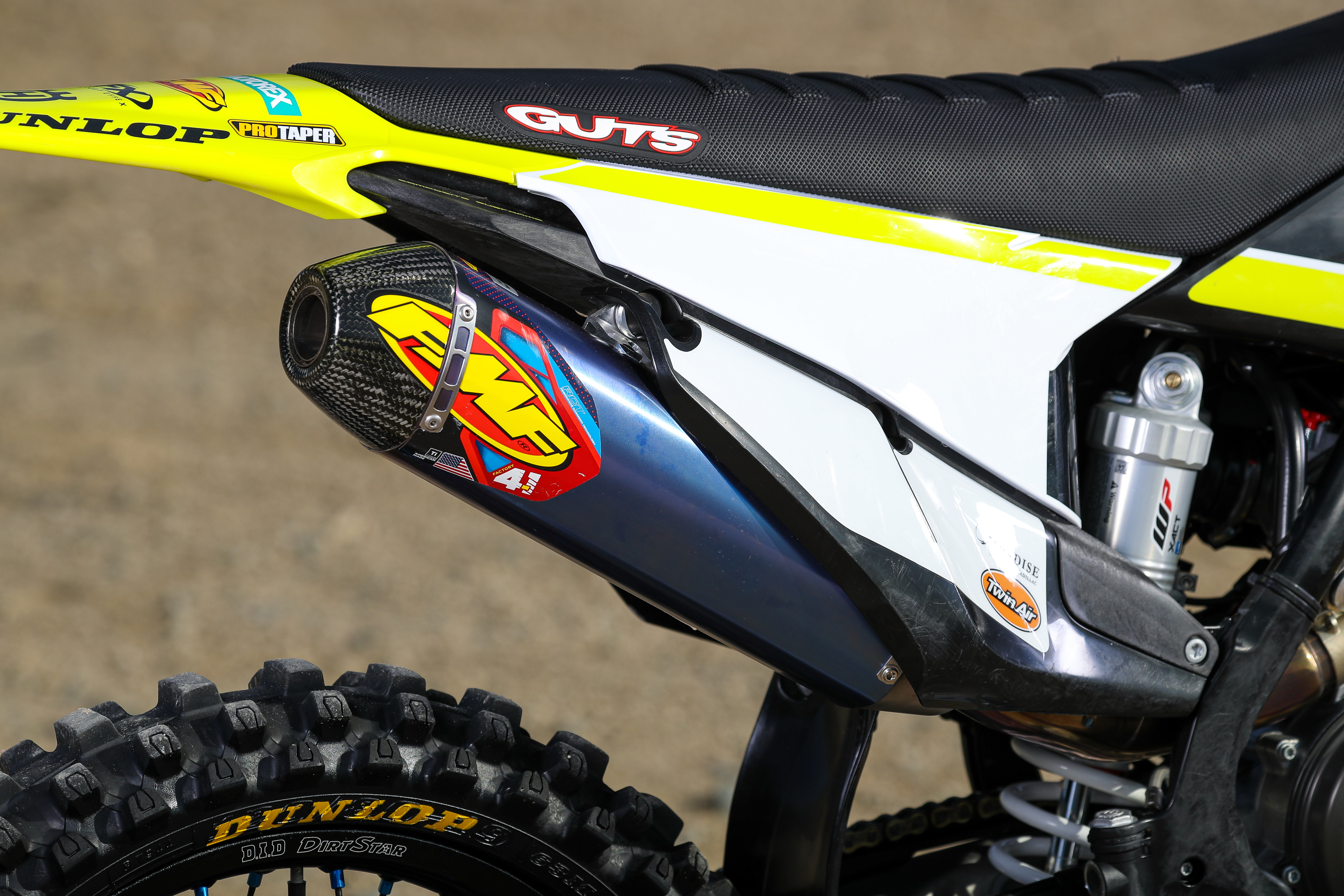 Subframe/Motor Mount Bolts: Keep an eye on your two rear subframe bolts and engine mount bolts. On our test bike they worked their way out a little so make sure to keep some blue loctite on them and check them every so often.
Handlebar: The Pro Taper EVO bar is straight and flat, but long at 811mm. Do yourself favor and cut the bar down to 803mm and watch your cornering improve.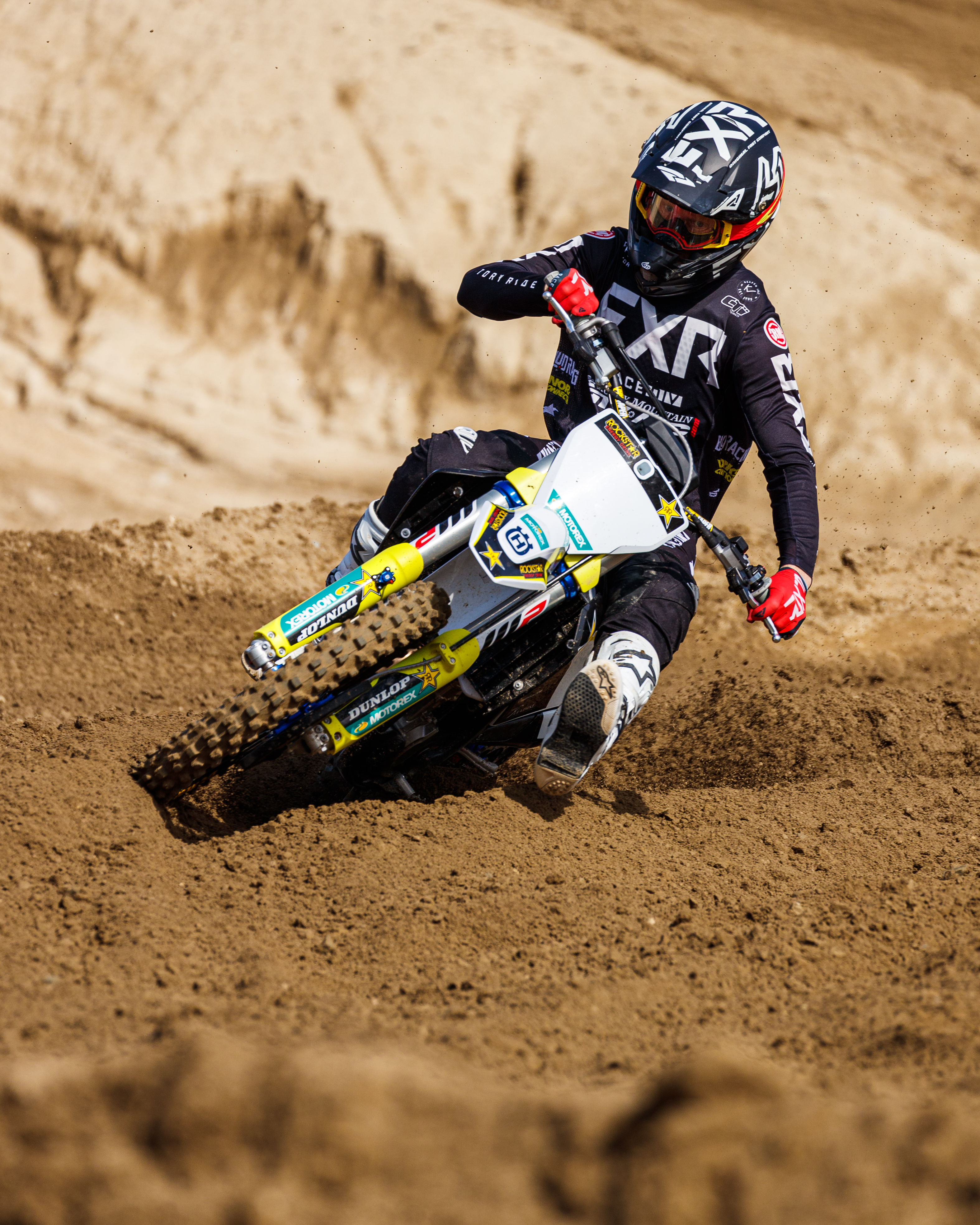 What Do I Really Think: The 2022 Husqvarna FC450 RE is one of the easiest bikes to ride and can be enjoyed by a wide range of riders. It's user friendly 450cc nature is not too aggressive for the less experienced type of rider, yet still can get a very experienced rider around the track in a hurry, without a lot of effort. The WP suspension is on the soft side, but also gives the rider slightly more comfort on small bump absorption. The overall feeling of the bike is light around the track, even with its smooth power delivery and allows the rider to open up his line choices. To me the RE is worth the extra money from the standard model because the RE doesn't have the lower 10mm suspension like the standard 2021 has and it also comes with the factory split clamp which helps comfort. I will be testing the 2021 Husqvarna FC450 RE more in the coming weeks and will be getting you some optional settings to try so make sure you stay tuned to pulpmx.com and keeferinctesting.com in the coming weeks