We're a third of the way through the 2021 Pro Motocross season and Star Racing Yamaha has been on the podium in 21 of 48 podium slots. Maybe most interesting is being on the podium 11x in the 450's, one more than the 250's.
When Star Racing Yamaha took over the factory 450 effort at the beginning of this season, there were a lot of questions asked about whether they could make the bike work for Dylan Ferrandis, Aaron Plessinger, Malcolm Stewart, and Christian Craig. I think it's safe to say we've got our answer after this weekend. Every single Star Racing Yamaha 450 was in the Top 5 in each moto and Dylan Ferrandis added 11 more points to his series lead!
Let's take a look at some key stats for the Top 10 riders in each class…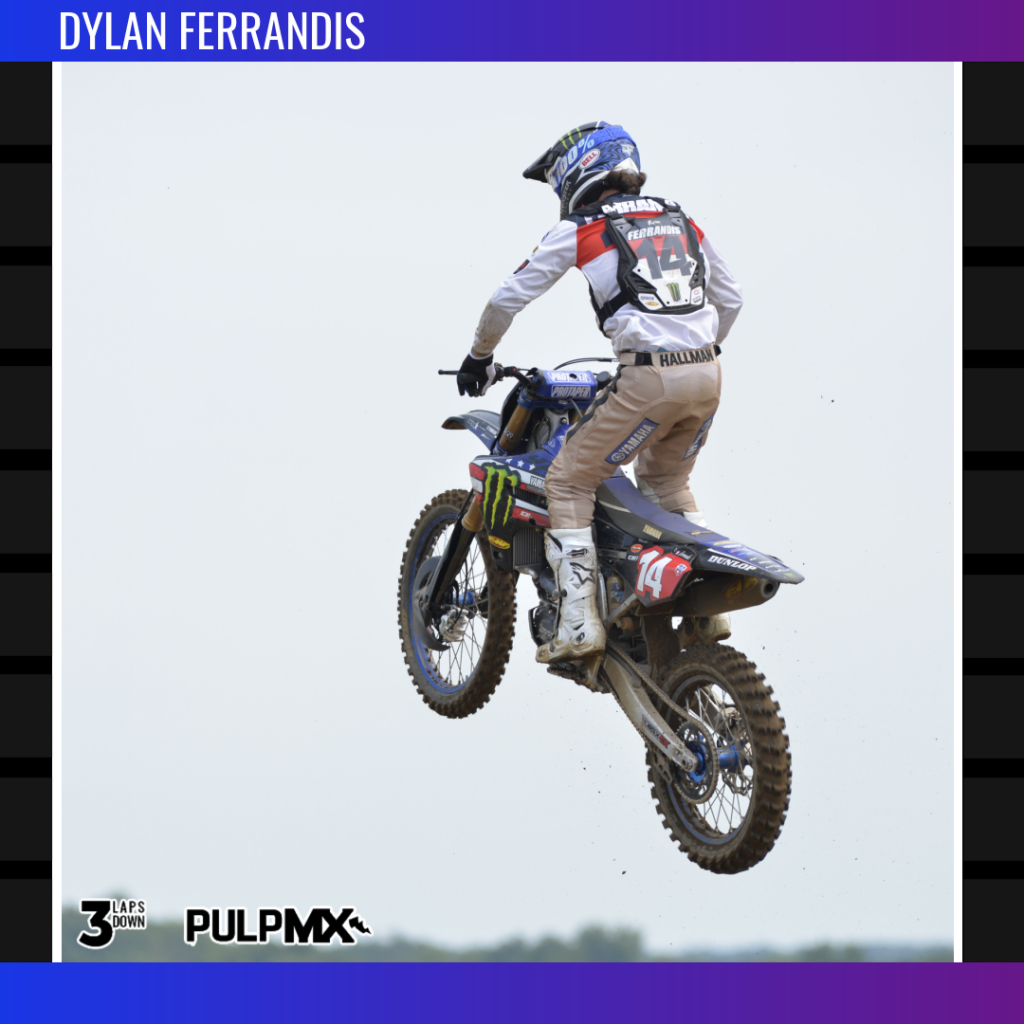 450 TOP 10 RIDER STATS
Dylan Ferrandis (1st overall, 1-2). He's been on the podium 8 out of 8 motos and won 3 of 4 overalls. Maybe most important is that he's yet to lose a position in a single moto. No one else in the Top 10 can say that.
Eli Tomac (4th overall, 6-1). Eli continues to cement his legend status, winning his 50th career moto win. Unlike Cooper Webb, it seems that the time between races the last couple of weekends have helped Eli find some settings and speed.
Aaron Plessinger (3rd overall, 3-3). Aaron has now grabbed 2 holeshots and led laps in both motos. Is there anyone you want to see win a moto and overall more than Aaron?!
Ken Roczen (4th overall, 2-6). While Ken set the fastest lap of the second moto, he unfortunately crashed and notched his second moto losing positions losing 7 points in the process.
Christian Craig (5th overall, 5-5). Christian's two Top 5 moto finishes are the first of his season and the 8th and 9th of his 450 career. He's also the third Star Racing Yamaha rider in the Top 5 at Red Bud – who would've predicted this!?
Chase Sexton (6th overall, 8-4) . Chase is the only rider in the Top 10 of the points standings with an average first lap position in double digits. He's got to improve his starts if he's going to contend for podium and moto wins.
Cooper Webb (7th overall, 7-9). Unlike Eli Tomac, Cooper Webb continues to struggle, even after a few off weekends with ample time to find settings. I'm sure there's no one more annoyed than him by his first moto starting in 1st and finishing 7th.
Justin Barcia (8th overall, 9-8). Looks like Justin may have a great set-up for qualifying but not for racing. His qualifying has improved each round (14-12-9-7) but in the motos his lap times have been declining (7-5-9-4-12-8-10-8).
Joey Savatgy (9th overall, 10-10). We don't hear much about Joey because his average first lap position is 13th. Good news is that he's only lost positions in one moto.
Brandon Hartranft (10th overall, 11-13). Brandon had a career day with his first Top 10 overall in the 450's. He's steadily improving week in, week out. At round one he was 18th fastest in both motos and this weekend he was 15th fastest in both motos.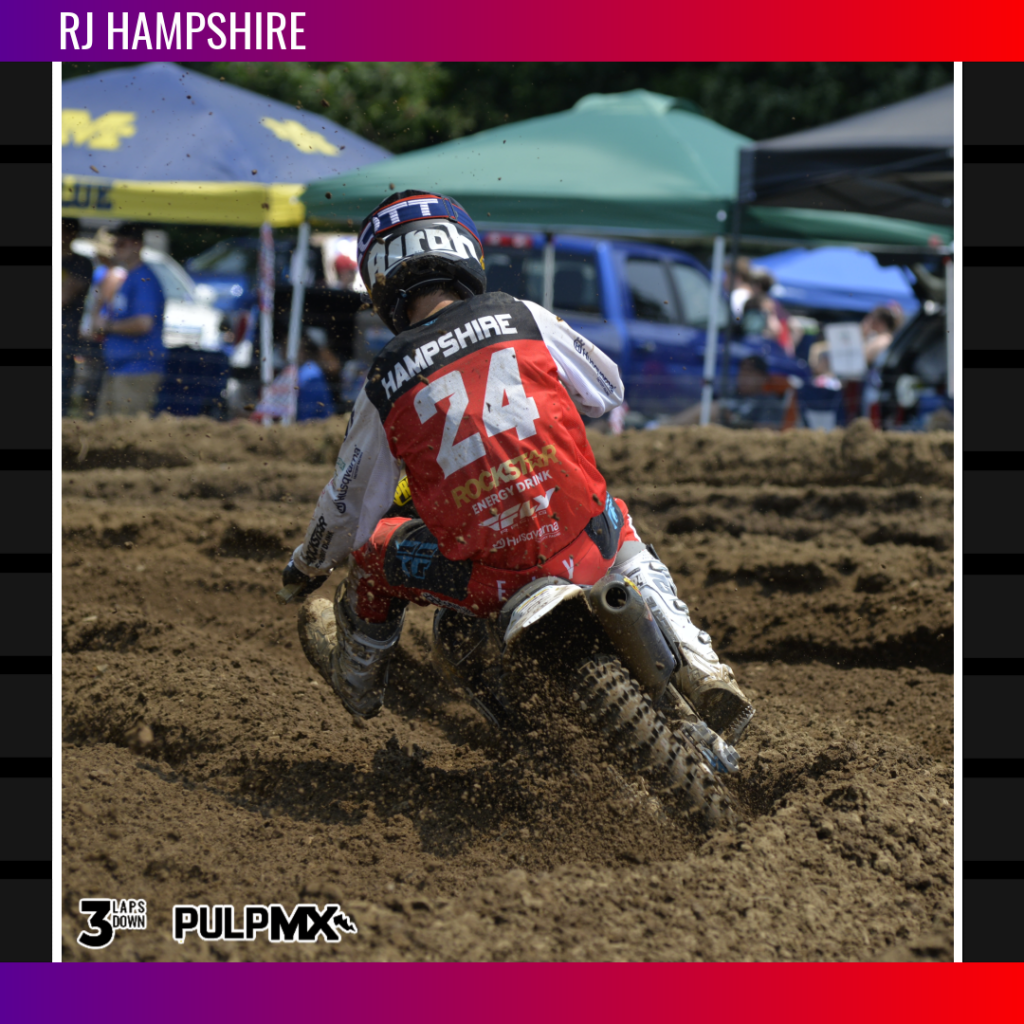 250 TOP 10 RIDER STATS
RJ Hampshire (1st overall, 2-2) – Fun fact… RJ has won more overalls (3) than motos (2) in his career. RJ's been fastest in 4 motos this year, but has averaged 12th and not a single moto win when he's been fastest. That has to be frustrating!
Justin Cooper (2nd overall, 4-1). Justin is averaging 4th in the first moto and 2nd in the 2nd moto. While he still sits in 2nd in the standings, 2nd moto performances are critical to winning championships.
Jett Lawrence (3rd overall, 1-6). While that 6th place in the second moto is the worst of his season, he passed 27 riders to get it and keep the championship lead. Tough to tell that he's 17 years old.
Hunter Lawrence (4th overall, 3-4). Aside from one holeshot last week, we've not see Hunter upfront much this season. He still sits 3rd in the championship though, 17 points ahead of RJ Hampshire.
Jeremy Martin (5th overall, 5-3). Jeremy's now raced 154 motos and sits just 114 behind his brother Alex Martin (268) who's raced the most 125/250F motos. You know he's likely riding hurt given his recent injuries which makes two Top 5 moto finishes impressive.
Jo Shimoda (6th overall, 6-5). Jo's been in the Top 10 in 5 of 8 motos, but most interesting is that his best lap times have dropped off a bit. He was ranked 4-2-9-5 in the first four motos of the season and has been 7-40-9-8 since. Still the best Pro Circuit Kawasaki on the track.
Pierce Brown (7th overall, 7-7). Pierce's 2 Top 10 moto finishes are the best of his season. Unlike Shimoda, his best lap times are improving as the season goes on… 15-9-11-12-16-13-8-7.
Stilez Robertson (8th overall, 12-8). The 9th lap of each race did not treat Stilez well – both times crashing. He set his worst and 2nd worst of each moto on the 9th lap. Not a bad day with 8th overall, but if the races ended on the 8th lap he would've gone 7-4.
Max Vohland (9th overall, 10-11). Since leading laps in the opening moto of the season, Max has only finished inside the Top 10 in 2 motos but he's started inside the Top 10 in 4 motos. Not a bad start to his rookie pro motocross season but not great.
Jalek Swoll (10th overall, 8-14). Last week, Jalek averaged 1.5 on the first lap, this week he averaged 8th. Starts make a big difference and Jalek's finishes this week are a great example why.
Got stats questions or want to bench race, hit me up @3lapsdown on Twitter or Instagram.