We're a third of the way into the season and headed east with Eli Tomac holding a 12 point lead over Jason Anderson in the 450's and Christian Craig with a full race lead (+28 points) over Michael Mosiman. There's  a lot of potential story lines to consider, but let's get more specific and take a look at the key stat for the Top 10 in each class through 6 rounds. Let's see what stat helps best explain each riders season so far.
450 Top 10 Rider Key Stat
Eli Tomac (1st, 134 points). Eli's now led the series since the third round in San Diego, the earliest he's maintain the series lead in his career. As the series moves East, the question we'll all be asking is how the Yamaha adapts to different soil. As for key stat so far this season, it has to be his 2 wins which brings his career total to 39, just 2 behind Ryan Villopoto (41) who's ranked 5th all-time.
Jason Anderson (2nd, 122 points, -12). When looking at Jason's career, this is 2nd only to his championship season in 2018. Imagine if he had finished 3rd at A1 instead of 10th (due to the Barcia pass) and 2nd instead of 8th in San Diego (due to bike issues)!? I'll highlight Jason's key stat as being 2x fastest qualifier. He's adapted nicely to the Kawasaki and he's shown speed every single Saturday.
Chase Sexton (3rd, 116 points, -18). No question, Chase's key stat has to be his 1st career 450 win making him the 65th rider to win in the premier class. It's also worth noting that he's been fastest qualifier and set the fastest overall heat race lap time on 3 different occasions.
Malcolm Stewart (4th, 112 points, -22). Malcolm is making Husky look really good signing him to a 2 year contract. He finished a career best 2nd in Glendale, but his key stat is sitting in 4th in the standings since round 5. It's the best in his career.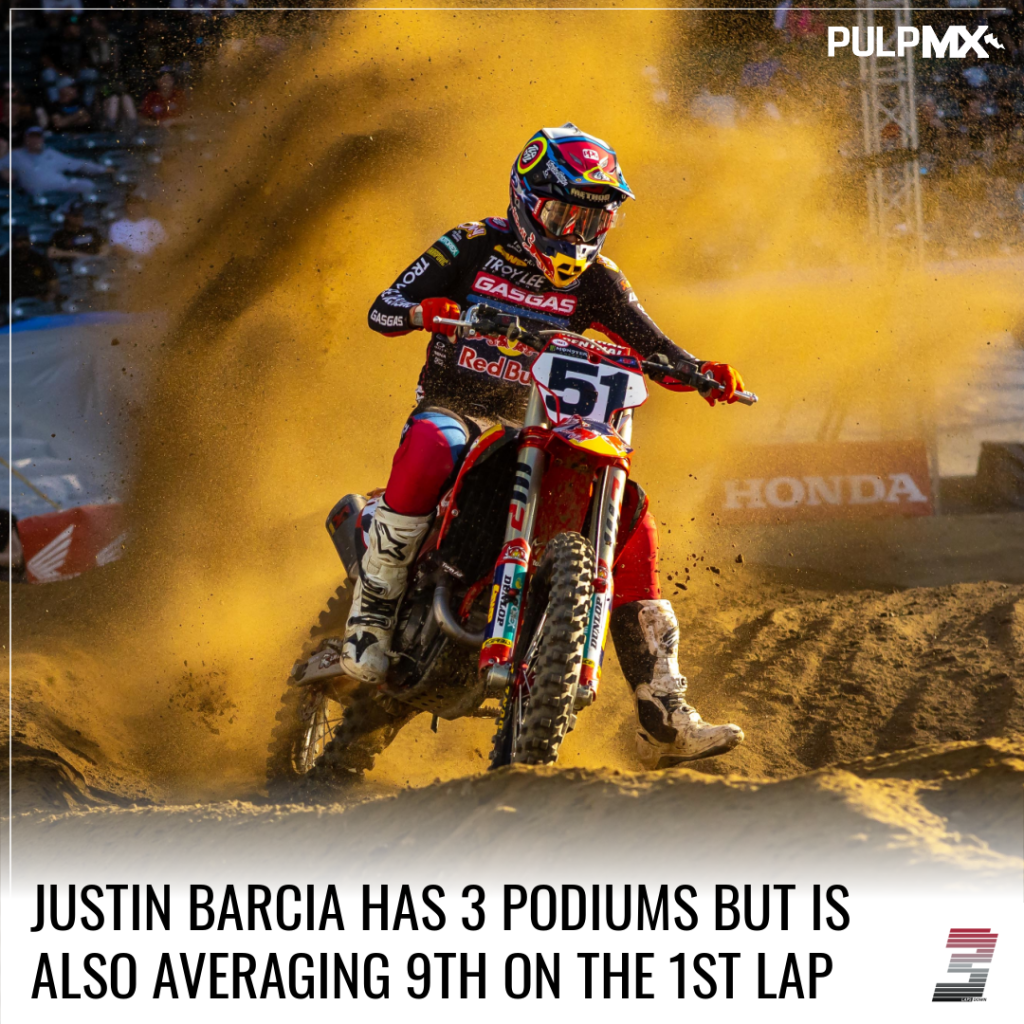 Justin Barcia (5th, 110 points, -24). Justin has 3 podiums to start the season, tying a career best, but what really sticks out for Justin is his 9th place average first lap position. It's the worst he's had in the last 5 years. He's shown the speed to run with the top riders, but without good starts, it's going to be a very long season.
Cooper Webb (6th, 103 points, -31). Since Cooper joined KTM back in 2019, he's not been outside the Top 3 in the series after 6 rounds. He's currently 6th in the standings after 6 rounds – the worst since he rode for Yamaha in 2018. Does he turn it around as the series goes east?
Marvin Musquin (7th, 98 points, -36). Decoster shared that he was flying at the test track in the preseason and he definitely has the speed. He's averaging 5th in qualifying (5th ranked). His key stat for the season has to be no podiums though. It's the first time in his 450 career to not have a single one through 6 rounds.
Dylan Ferrandis (8th, 92 points, -42). No question that Dylan's key stat for 2022 is average first lap position. He's currently averaging 12th and that's the worst among the Top 10 in the standings. He's 1 of 4 riders to be fastest in a qualifying session this season, but without starts in the main event, we won't see what he's really capable of.
Ken Roczen (9th, 92 points, -42). Since winning the first round, the 20x main event winner has finished outside the Top 10 at 3 different rounds. Last week he started from dead last after being pushed wide in the first turn and he was only able to get up to 11th. It's clear they are working through challenges with the bike – does it work better on the east coast and do we see him back on the podium?
Aaron Plessinger (10th, 81 points, -53).  Aaron got a career best 2nd at the 2nd round in Oakland. Since then he's averaged 12th. While that average is obviously hurt by the 22nd at A2 when he crashed out, he simply hasn't had the same results since that 2nd.

250 East Top 10 Rider Key Stat
Christian Craig (1st, 148 points).  Christian has 4 wins in 6 rounds bringing his career total to 7. He's also been fastest qualifier at 5 of 6 rounds and won all 5 of his heat races. There's plenty of stats to describe his domination of the 250 west coast series – take your pick.
Michael Mosiman (2nd, 120 points, -28).  First career win in San Diego has to be Michael's highlight of the season, but finishing outside the Top 5 at 2 rounds is more likely the best way to describe his season. Those two races (A1 and Glendale) are what puts him -28 points back of Craig and looking in from the outside.
Hunter Lawrence (3rd, 119 points, -29).  Hunter had been on the podium in 5 of 5 rounds entering last weekends race in Anaheim. He was in position to make that 6 of 6 and potentially get his 2nd win of the season. Unfortunately, a crash in the whoops resulted in an 18th place finish – his season defining stat.
Vince Friese (4th, 99 points, -49).  It was a bit odd when Vince stepped back to the 250's, but he's had a great season so far. Other than the season defining incident in Glendale, his 2nd career podium this past weekend has to be his season defining stat. That's a great way to rebound and silence the critics.
Jo Shimoda (5th, 87 points, -61). Jo's season has been tough and this past weekend it unfortunately looks to have ended prematurely with a broken foot. Prior to that he had some challenging results including 3 rounds of finishing 7th place. Not what anyone expected of Jo. But he did podium in Glendale and seemed to have the season headed in the right direction prior to his injury.
Nate Thrasher (6th, 81 points, -67). The best stat for Nate has been in qualifying. He's 1 of 3 riders to set a faster lap time than Christian Craig in any session/race this season. Unfortunately, he's also finished outside the Top 10 at 2 rounds, Anaheim 1 and Anaheim 3. Both of those were the result of crashes and that unfortunately puts him -67 points behind.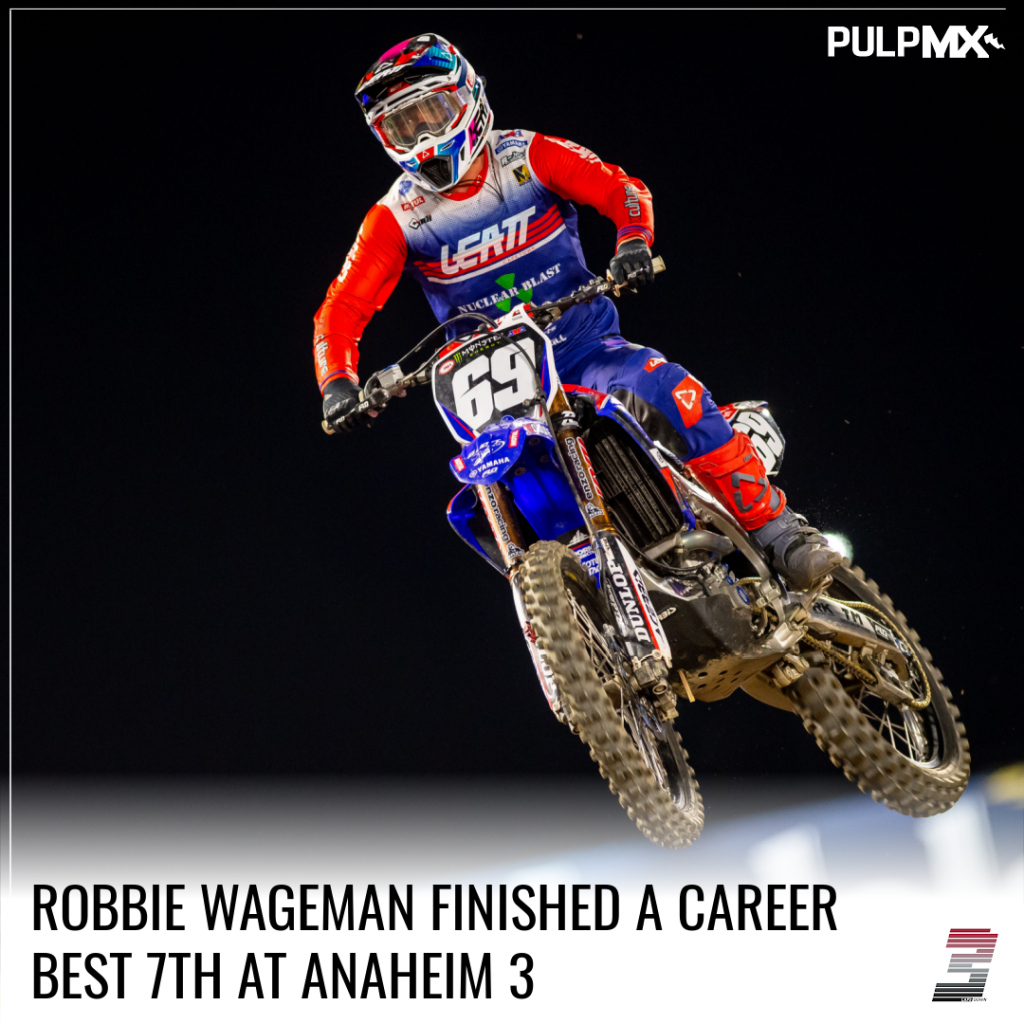 Robbie Wageman (7th, 80 points, -68).  Robbie's had a career year for the Team Solitaire crew. He set a career best 8th at the first round in Anaheim. He then went out at Anaheim 3 and improved upon that with a career best 7th place finish. Prior to this season, Robbie had 1 Top 10 finish – he's been in the Top 10 at 5 of 6 rounds this season. Can he get a Top 5 before the end of the season?
Carson Brown (8th, 73 points, -75). Carson missed the entire 2021 season with an injury, so the fact that he got a career best 5th in Anaheim and has been in the Top 10 at 4 different rounds is somewhat surprising. It's not easy to come back from injury and perform at the same level you did before but Carson's been even better.
Garrett Marchbanks (9th, 73 points, -75). It's surprising to see Garrett this low in the standings. He was an amateur standout and started his career on the Pro Circuit Kawasaki team where he won the Daytona supercross in 2020. He's had a good season but a few key blemishes. He's qualified Top 10 at every round and even won his heat race at Anaheim 3. Unfortunately, a trip to the LCQ and crash in it at Anaheim 2 meant no points.
Chris Blose (10th, 63 points, -85).  He was running in a career best 4th at Anaheim 3 until a crash in the whoops dropped him to 6th. Nonetheless, that was his best finish of the season. Not bad for a guy that's raced professionally since 2006 and is retiring at the end of the season.
Hope you enjoyed a look at the Top 10 riders key stat in each class. As always, if you have stats questions, hit me up @3lapsdown on Instagram or Twitter.