We're 7 rounds into the 2022 supercross season and the championship battle is starting to take shape. It's clear that Eli Tomac and Jason Anderson are the top of the stack right now. Take a look below at season stats comparison and it becomes clear why they are the best of the best. That said, there's a chase pack (pun intended) that could potentially keep this interesting.
Chase Sexton is the top of that chase pack even if he does currently sit 6th in the standings over a full race out of contention (-28 points). Some believe he's still got a chance at the title, but I don't believe that's the case. I just can't imagine him coming back to win the title when he's lost positions in 9 of 18 career starts and there's 3 riders in front of him that have won the last 4 championships. Not that it's not possible, it's just unlikely.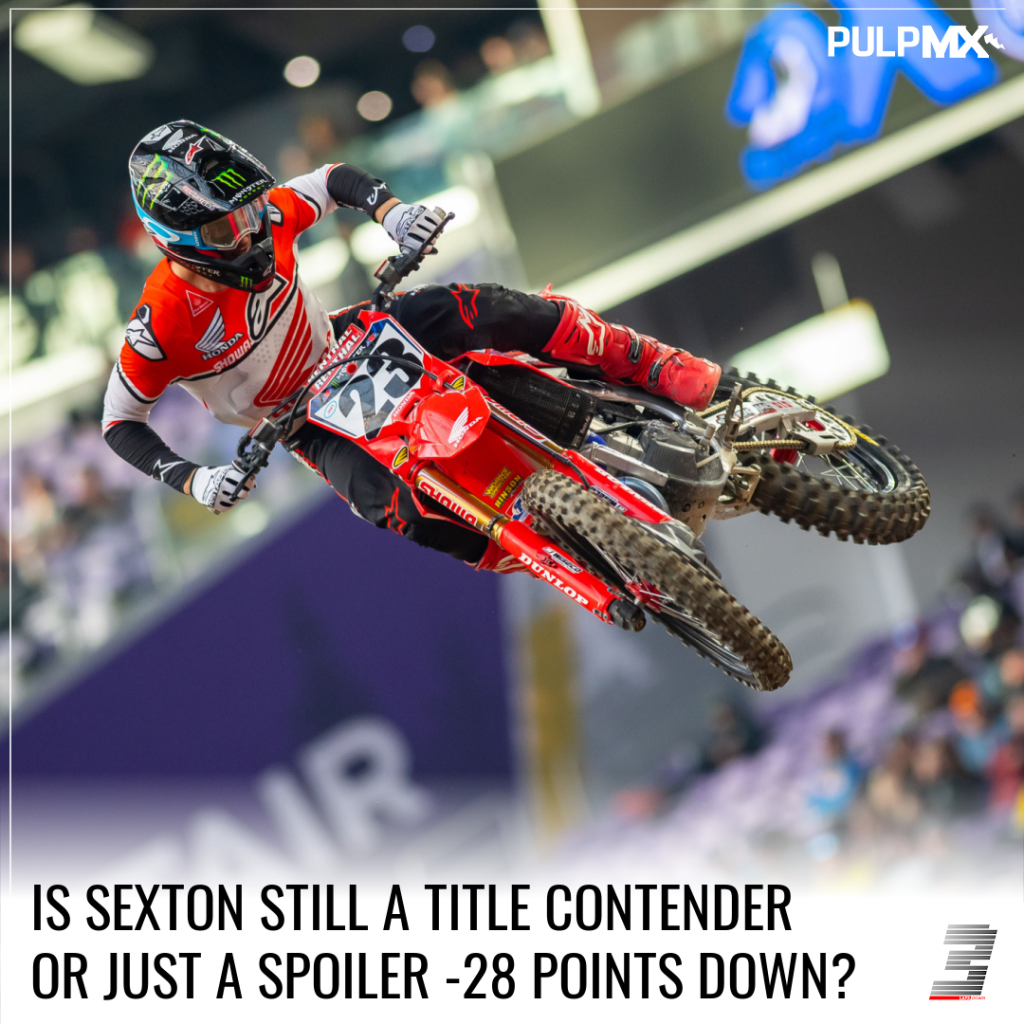 PC: Align Media
Also consider this… in 1990, Jeff Stanton had only 120 points after 7 rounds and went on to win the championship. 120 points stands as the lowest amount scored through 7 rounds by an eventual champion. Chase Sexton has scored 123 points through 7 rounds, tied for the 2nd least if he were to win the championship. But Jeff Stanton was only -14 points behind Jeff Matiasevich. That's half the deficit that Chase faces right now and Jeff Matiasevich had never won a title and was in his rookie year. The stats say there's very little chance that Chase will win this title.
I do believe he could play the role of spoiler. Chase is 1 of 4 riders with a win this season, he's been fastest qualifier 1x, won 4 heats (most), led the most laps (53), and set the fastest lap in the main 3 of 7 rounds. He's clearly going to win a few more main events this season. He clearly has the speed and talent to mix it up with Anderson and Tomac. He's also likely to be someone that gets between Tomac and Anderson to help one or the other extend their points lead.
The other rider we have to watch is Cooper Webb. Can you ever really count Webb out?! I'd say yes given the evidence…
He's scored the least amount of points through 7 rounds since he joined KTM in 2019.
He's got half the amount of podiums (2) through 7 rounds than the previous 3 seasons.
He's unhappy with the new bike. For those that think last week was something to build on consider how many times Webb has started up front and lost 2 or more positions since joining KTM… the answer is once at round 14 in Atlanta last year and that's cause he fell. It doesn't happen. He was better, but not 2nd place better. He was gifted the podium with Malcolm and Chase both crashing and had really earned himself a 4th after losing 3 positions. That doesn't feel like he's got it entirely figured out.
He's in a contract year and left the sacred ground of Aldon Baker. Let's not forget that Baker's Factory is still the primary training facility for KTM. There's no way they (KTM) are happy he's not under the guidance of the sports most elite trainer that they pay to guide their talent.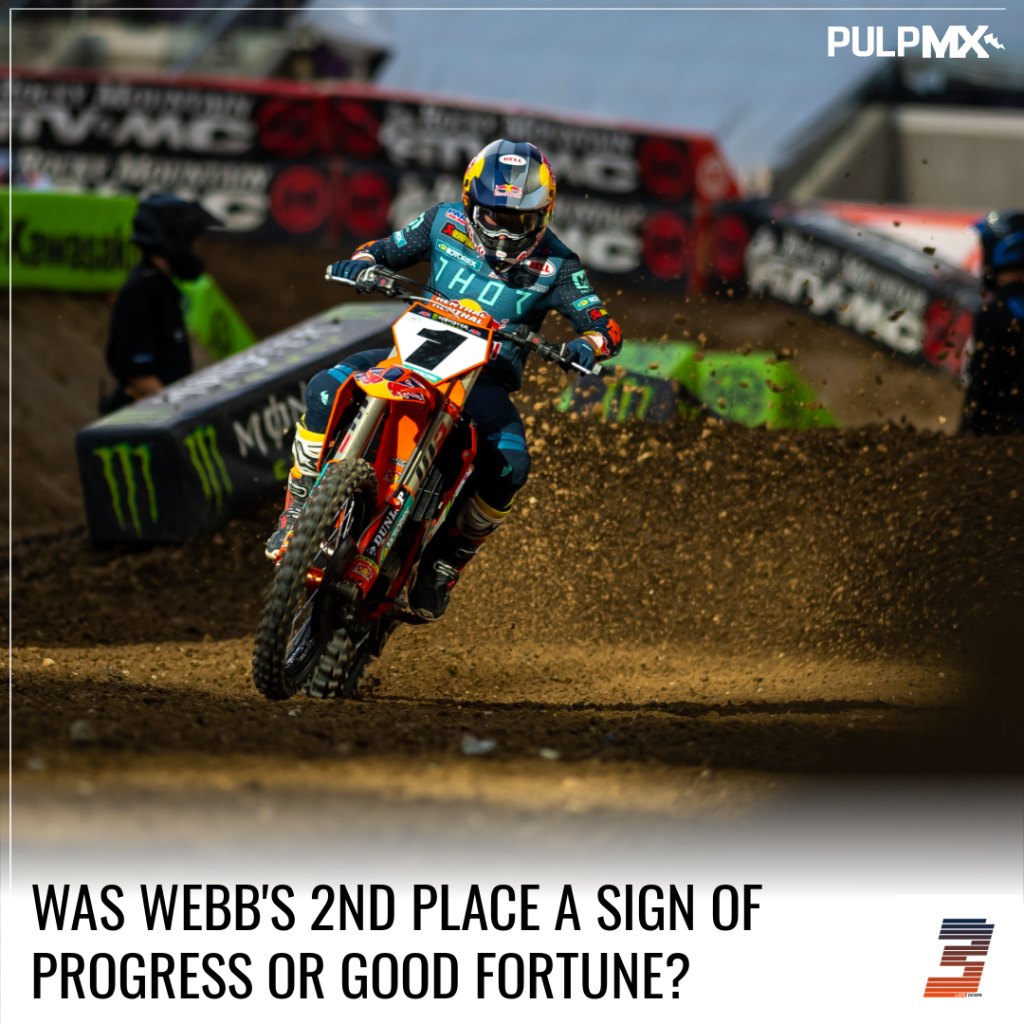 PC: Align Media
It doesn't look good for Cooper. Alas, he's won the last 4 of 5 races in Arlington, he swept the Arlington residency last year, and he won with a last corner pass of Ken Roczen back in 2019. Maybe he goes out and gets a win this weekend and turns his season around?! Maybe Arlington is his place to begin a title hunt?! We'll know on Saturday.
You've then got Malcolm Stewart and Justin Barcia who are lurking in 3rd and 4th place in the standings. While Malcolm's having a career year and Justin has scored the 2nd most points through 7 rounds of his career, neither have led a lap this season and they combine for a total of 4 podiums. The reality is that without mistakes, Eli Tomac and Jason Anderson aren't likely to feel pressure for the title from either rider.
Eli Tomac vs. Jason Anderson
The 2020 champion and the 2018 champion are now separated by a mere 3 points. Both are looking to capture their second title and join 11 other riders with more than 1 premier class championship.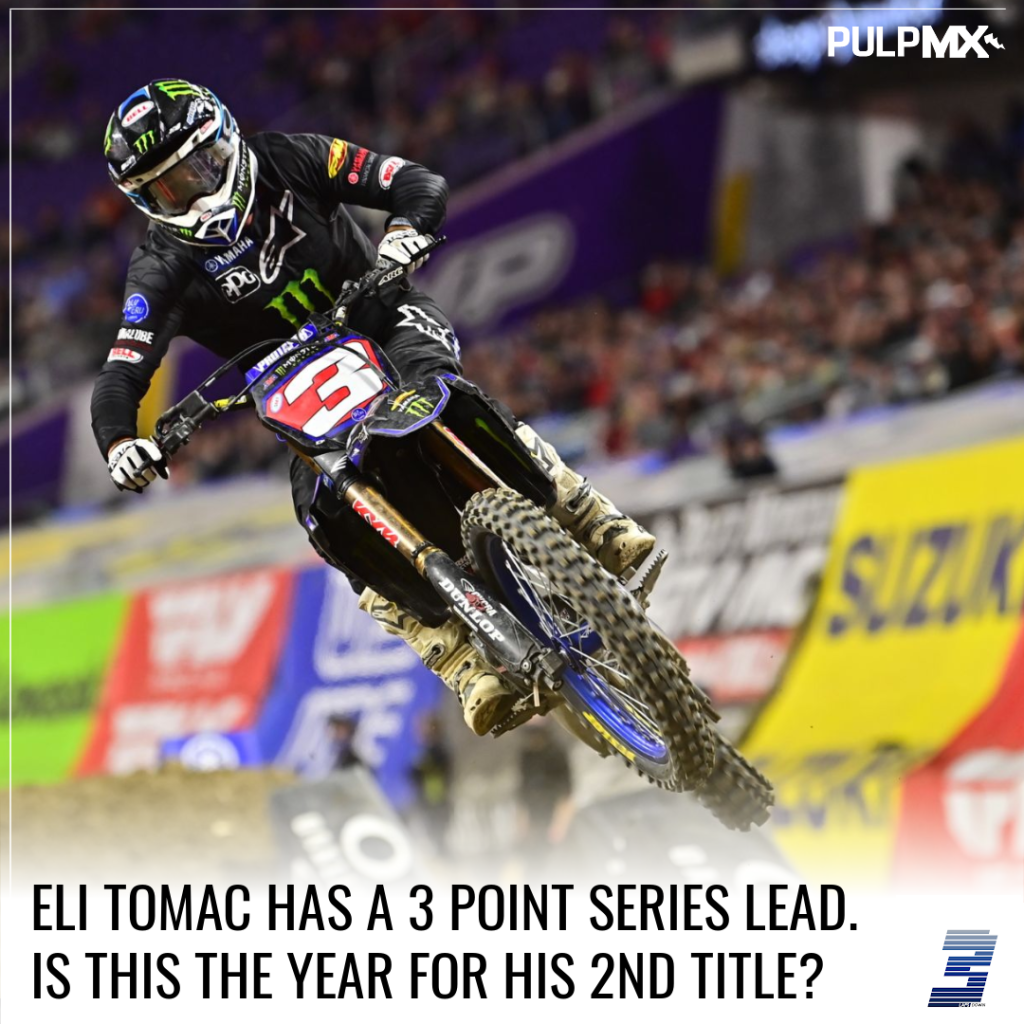 PC: Octopi Media
What's awesome to see is how close their season stats are so far. Eli has the advantage in points 151 vs. 148 because he's been more consistent as highlighted by a 3.1 average finish vs. Jason's 3.9 average finish.
But Jason has 1 more win, has led more laps, and has led laps in twice the number of mains. Most importantly, Jason has a holeshot position of 5.3, a full 2 positions better than Eli at 7.5. That's directly translating to a +2 advantage after the first lap position. The only reason it's not translated to finish position is (1) Justin "Bam Bam" Barcia took out Anderson at round 1 and (2) Anderson had a bike issue at round 3.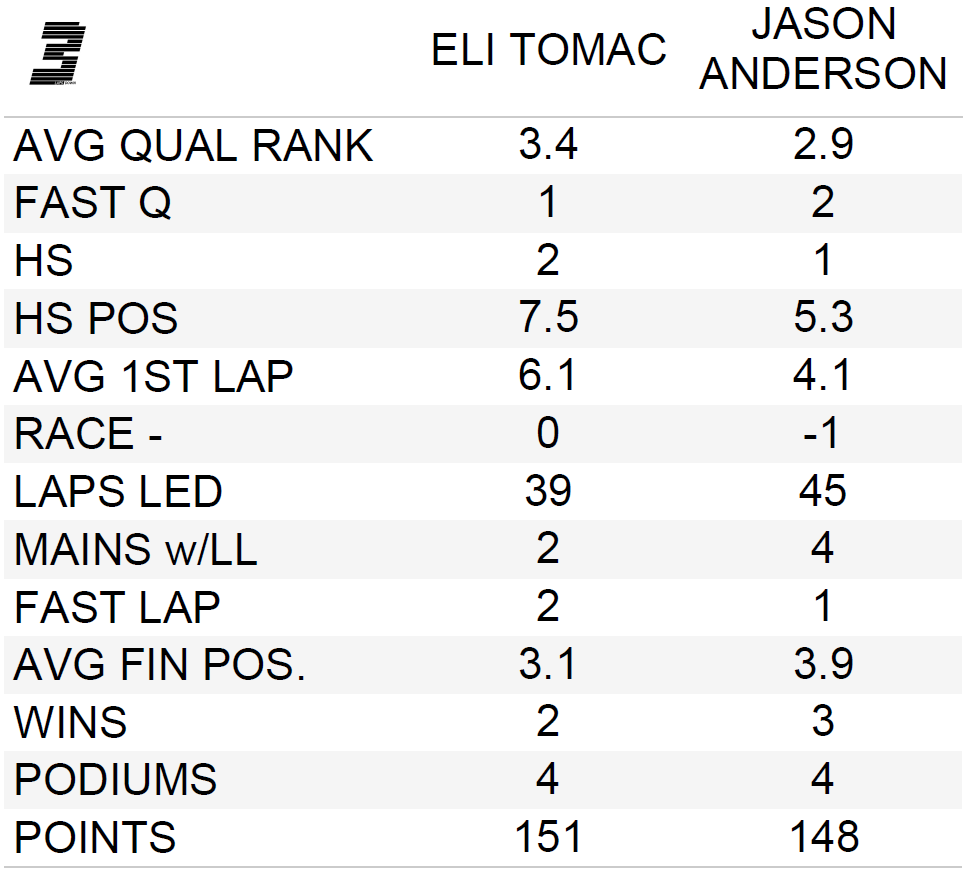 So if it wasn't for 2 issues, Jason Anderson would've been your clear points leader. But that's why we race on Saturdays. Anything can and will happen. It's not just one rider making laps on the practice track. So who do you think's going to win the title? Is it Eli Tomac or Jason Anderson? Do you think Chase Sexton is still a contender or just a spoiler? What about Webb – was it good fortune or is he still in this?
Hit me up on Instagram or Twitter @3lapsdown and let me know what you think!