For this edition of Classic Ink, we are going to look back at Pro Circuit's rise from Husqvarna hop-up shop to performance powerhouse. 
After his career-ending injury, Mitch Payton focused his passion for racing on improving the Swedish-made race bikes sold in his parent's Husqvarna dealership. Photo Credit: Pro Circuit 
Today, Pro Circuit is one of the most well-respected brands in the industry. Founded by Mitch Payton in 1978 as an off-shoot of his parent's Husqvarna dealership, Pro Circuit quickly grew to become one of the sources for go-fast two-stroke parts in the 1980s. Partnerships with star riders like Rick Johnson and a close relationship with influential moto media personalities such as MXA's Jody Wiesel helped PC grow from a Husqvarna hop-up shop to one of the most influential performance brands in the industry.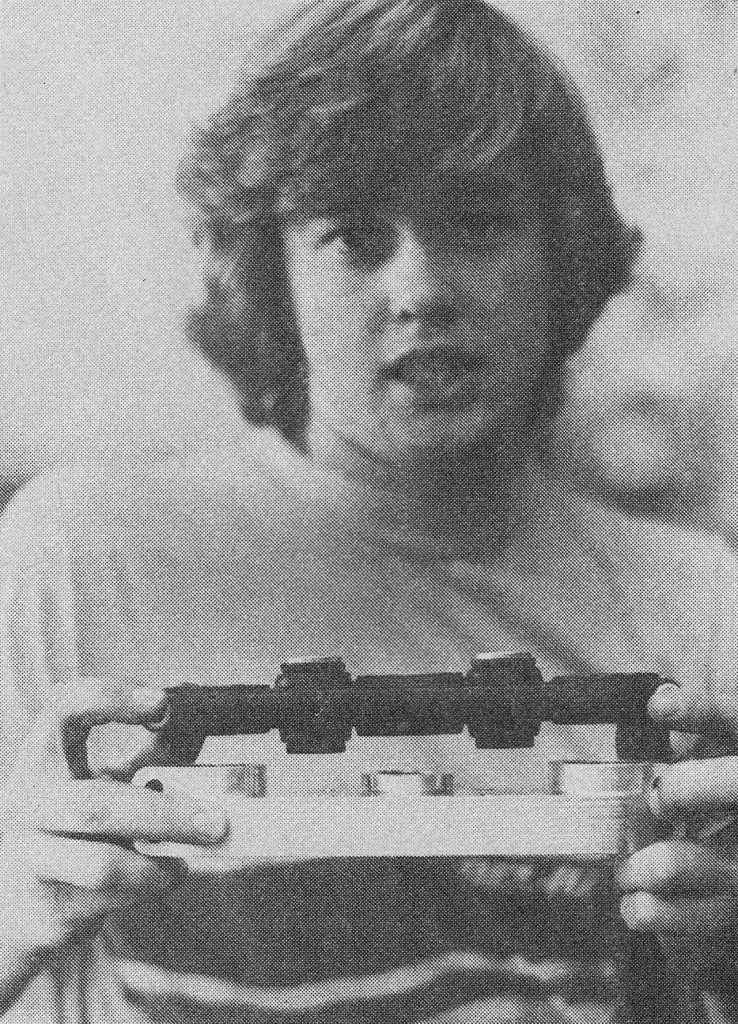 One of Payton's early products was a set of clamps designed to reduce flex in the Husky's front end. When you look at these clamps now, they don't look beefy enough to be on a bicycle.  Photo Credit: Motocross Action 
In 1991, Pro Circuit's profile grew even larger as they took on the daunting task of fielding Honda's official 125 racing program. At the time, this was a very novel concept and Pro Circuit's success was far from a foregone conclusion. Fielding a team of four young riders, Pro Circuit set the new effort apart by following a NASCAR model and focusing on the new sponsor Peak Antifreeze. Jeremy McGrath, Steve Lamson, Brian Swink, and Jeromy Buehl were all decked out in matching blue AXO Sport gear and set astride identical blue Hondas.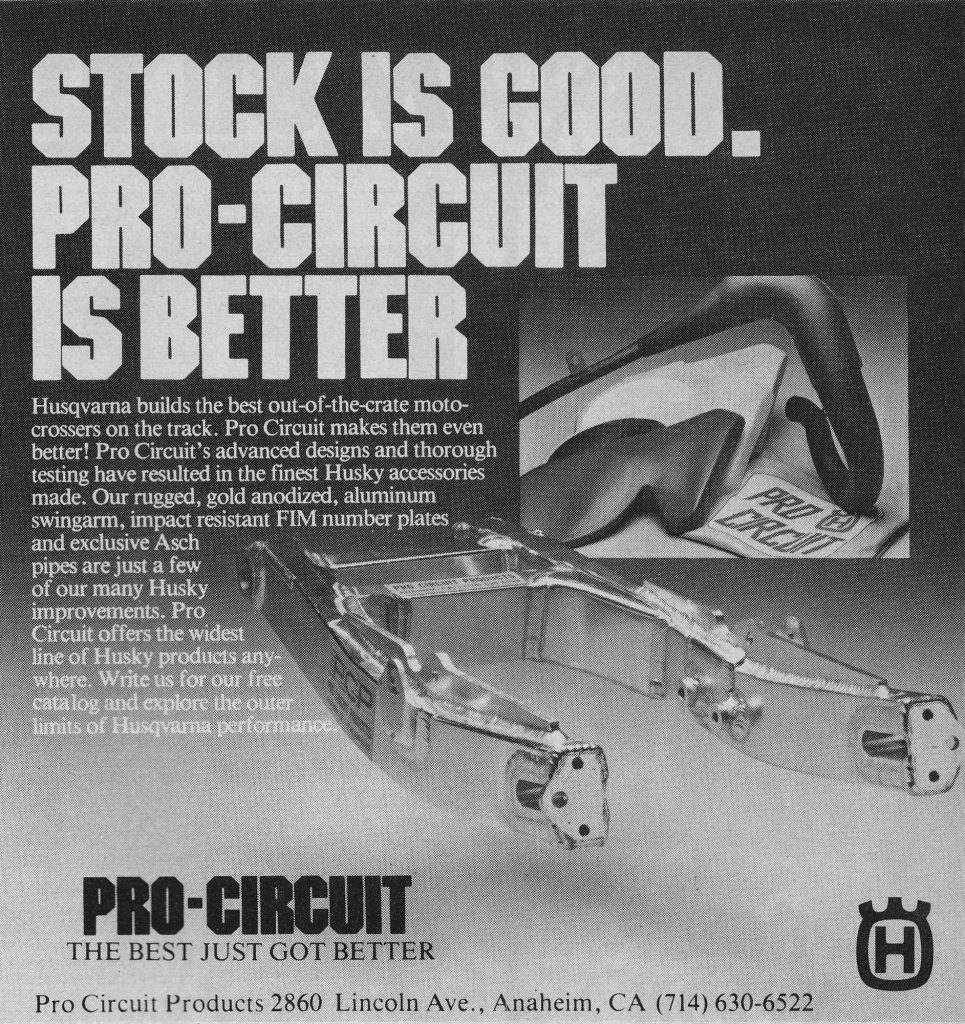 In the days before linkage systems aftermarket swingarms were a popular performance upgrade. This sano alloy PCP (Pro Circuit Products) unit looks about 200% stronger than the spindly stock swingarm found on dual-shock Husqvarnas of the time.  Photo Credit: Pro Circuit
On the track, the new team proved incredibly successful with McGrath and Swink both capturing 125 regional Supercross titles this first season. Outdoors, Swink even surprised the pit pundits with a dominating double-moto win at High Point. Despite a rather modest backing from Peak, the new team exuded professionalism at every turn and captured the imagination of the public and press alike.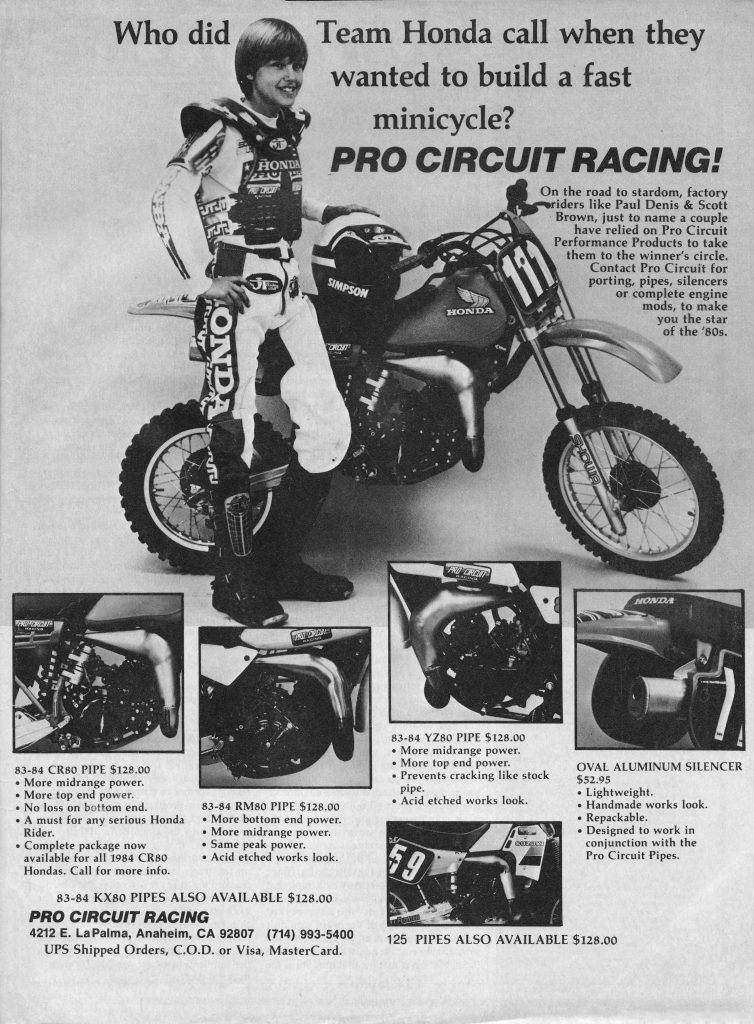 In the early eighties Mitch saw the writing on the wall for Husqvarna and diversified his business toward catering to all of the Big Four Japanese brands. Early eighties ads like these tended to focus on the mini class where Pro Circuit was quickly developing a grassroots following. 
In 1992, Peak backed up its 1991 success with another dominating championship run by Jeremy McGrath. Brian Swink's exit to Team Suzuki prevented another double-title season, but the team proved that the '91 season was no fluke. At the end of the 1992 season, the team had a first and second-place showing in the 125 West Coast Supercross standings with Jeremy McGrath and Buddy Antunez, and a huge amount of press coverage for Pro Circuit, Peak, and Honda to show for their efforts. After two hugely successful seasons, everything looked to be going great for Mitch's race team, but Honda was about to throw Pro Circuit a major curveball for 1993.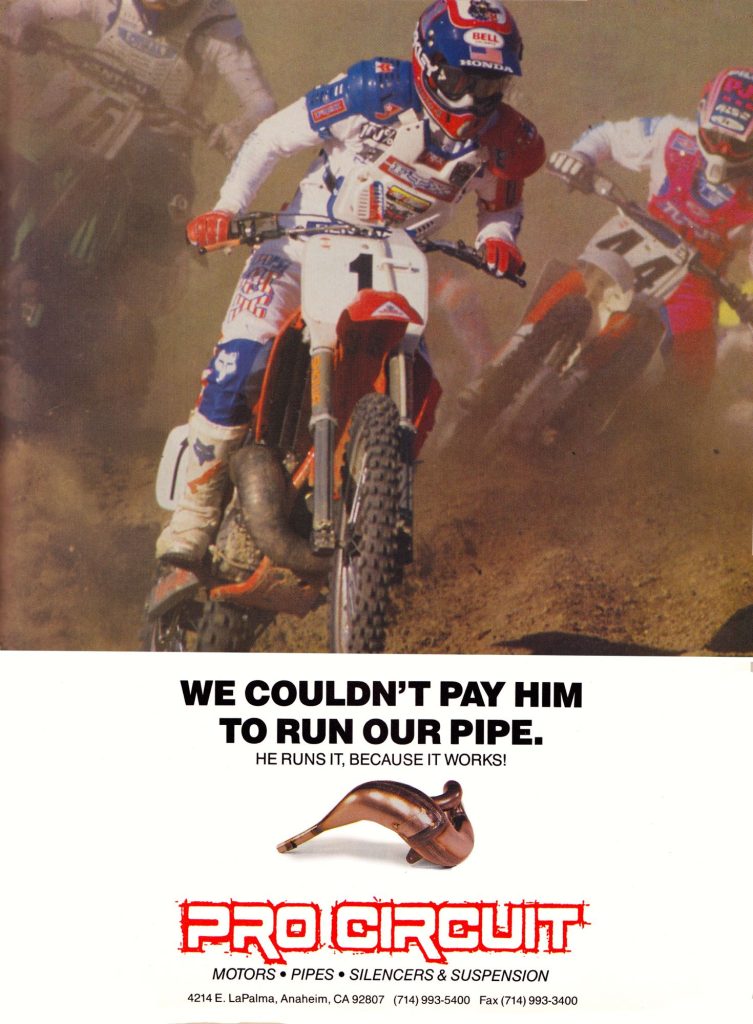 Pro Circuit's biggest break of all came in 1986 when Honda's newest hire Ricky Johnson chose to run their pipes over the HRC version on his Supercross racer. Johnson preferred the delivery of the PC pipe indoors and went on to dominate racing over the next four years. His endorsement was invaluable in catapulting Pro Circuit to the upper echelon of high-performance brands. Photo Credit: Pro Circuit
After outsourcing their 125 race efforts in 1991 and 1992, Honda chose to pull their support from Pro Circuit for 1993 and move the red (blue) team back in house. Former Team Peak rider Steve Lamson was paired with 1991 Hangtown winner Doug Henry to ride full-factory CR125Rs. In the premier class, former Peak star Jeremy McGrath joined six-time AMA champion Jeff Stanton in pursuit of the 250 title. 
In the early nineties riders like Damon Bradshaw kept Pro Circuit's reputation going as the "it" performance brand for the uber-fast and ultra-stylish. Photo Credit: Pro Circuit
For Pro Circuit, this was a major blow and almost signaled the end of their professional race team efforts. The revelation that Honda was pulling their support came very late in the off-season and Pro Circuit was left scrambling to find a way to go racing. In the end, they were helped out by Mark Johnson at Team Green, who scraped together 12 bikes and a meager $12,000 parts budget to try and keep the PC team going. Even with the Team Green support, the PC team was far too underfunded to mount a serious race effort but once again fate stepped in to throw Pro Circuit a lifeline. This time, that support came in the form of toymaker Mattel, who was planning to release a car racing game called "Pro Circuit." Because Mitch owned the trademark to the Pro Circuit name, he proposed a sponsorship agreement between the two as compensation for using his brand in the title. Through an interesting series of events (which you can read about more fully HERE in Matthes' excellent Pro Circuit: A Season On The Brink), the two companies formed an alliance that helped save Pro Circuit's racing effort.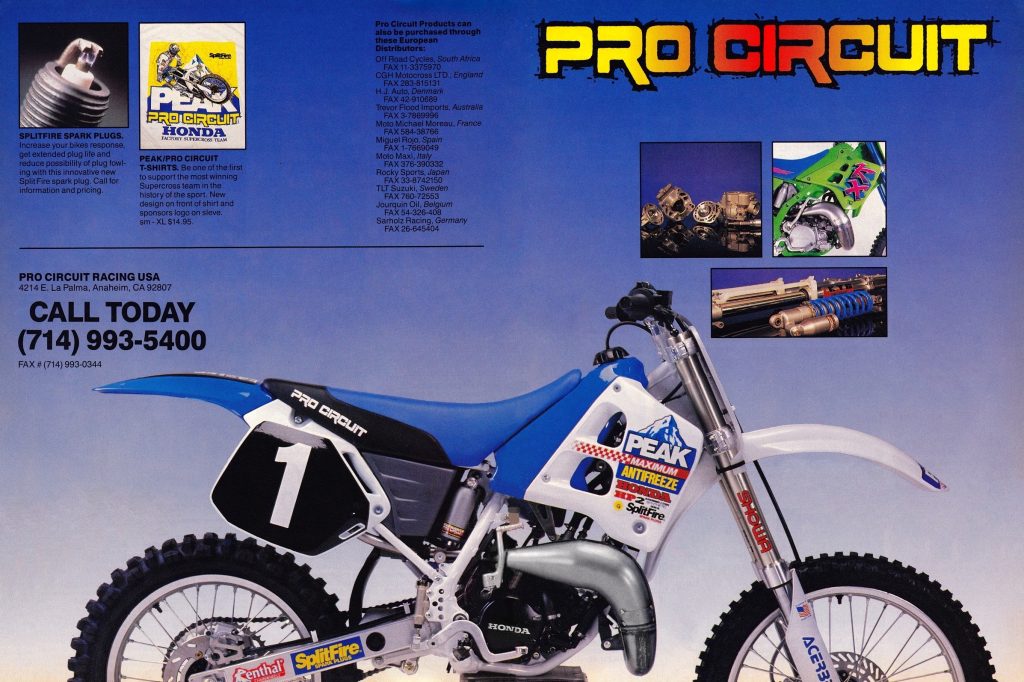 In 1991, the formation of the Peak Pro Circuit Honda team heralded yet another major shift in the trajectory of the Pro Circuit brand. Now the official Honda 125 support team, PC was charged with grooming the next Rick Johnson and Jeff Stanton for the official Factory Team. Photo Credit: Pro Circuit
While the team was given a reprieve, there was still not a lot of funding or support for 1993. Mitch also faced the significant hurdle of turning Kawasaki's competent, but not overwhelming KX125 into a winner. While the stock bike was certainly good, it was not as solid a platform as the Honda for pro-level racing. Mitch's team had to find a way to make it competitive on a shoestring budget. In addition to equipment concerns, the new team also had the small problem of not having any top-level riders lined up for 1993. The departure of McGrath and Antunez to the 250 class and the disappointing showings of Jeromy Buehl and Mike Brown (yes, the eventual 2001 125 National Motocross champion) in 1992 left Payton's team without any star power for 1993.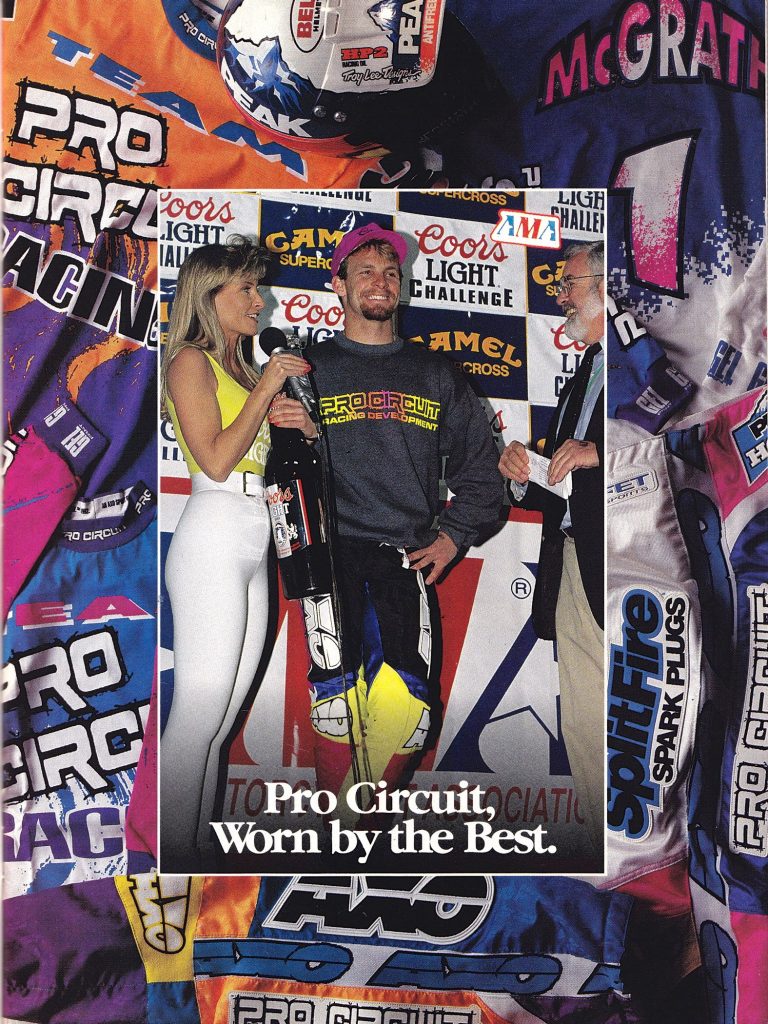 The 1992 season was an amazing one for the brand with Damon Bradshaw and Jeremy McGrath dominating the 125 and 250 indoor series using PC products. While McGrath would back up his 1991 win with another 125 title, Bradshaw's season would end on a sour note at the season finale as Jeff Stanton bested him for the 250 title. Photo Credit: Pro Circuit
Faced with almost no budget, an unproven bike, and a slew of unseen hurdles, Pro Circuit's savior turned out to be an unlikely mini star looking for a career revitalization. Once one of the hottest amateur prospects in the sport, Jimmy Gaddis had made his name on the blazing-fast R&D Suzuki RM80s of the late 1980s. Paired with fellow Suzuki hot-shoe Buddy Antunez, the two were thought to be part of the next wave of talent that would take the sport by storm in the early nineties. Like Antunez, Gaddis struggled to bring his amateur success to the pros and spent the 1989 and 1990 seasons delivering mediocre results on his Factory Suzuki. Two more crash-filled years with Suzuki support left Gaddis looking for a ride in 1993.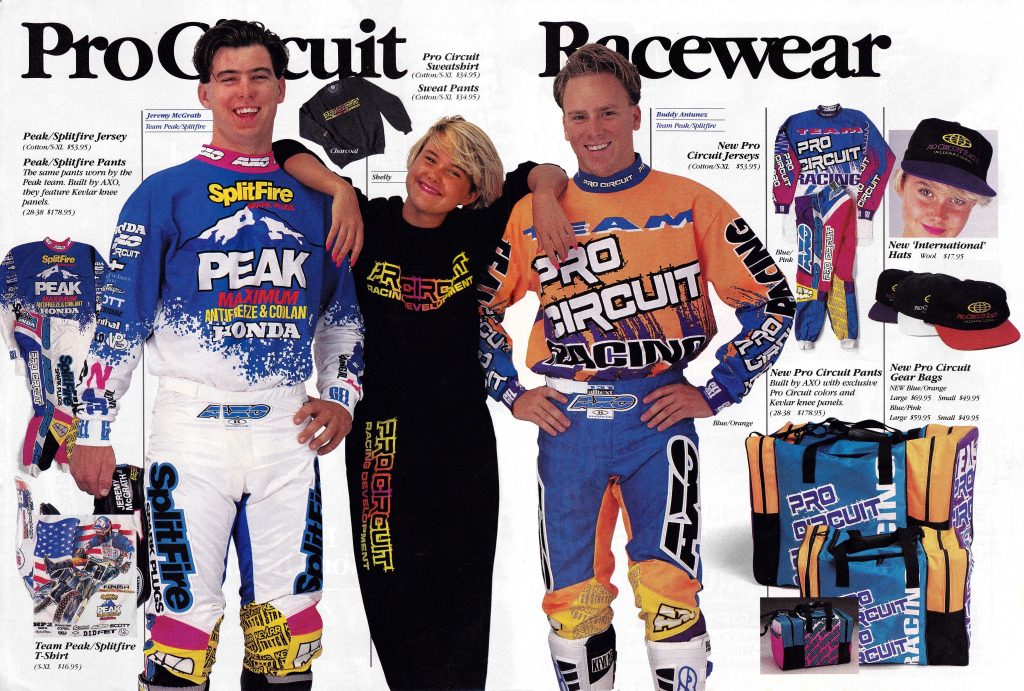 Peak Pro Circuit's duo of Jeremy McGrath and Buddy Antunez dominated the 1992 West Coast Supercross standings looking amazing in their AXO Sport gear. I had this exact gear that The Budman is rocking in this ad and I think it still looks great even today. Photo Credit Pro Circuit  
For Mitch, this made Gaddis an affordable, if unproven pick in '93. A rider with loads of talent, Gaddis had the possibility of a huge upside if everything fell into place, but the hire was still a large gamble for a team trying to prove it could go on without the support of Honda. Joining Gaddis on the rebranded Splitfire (another brand under the One World Industries/Peak umbrella) / Hot Wheels / Pro Circuit / Kawasaki team was another rider looking for a second chance, England's Jamie Dobb. A veteran of the Grand Prix circuit, Dobb was looking for a ride and eager to make the move to America. While his Supercross skills were unproven, his speed outdoors was solid and like Gaddis, he was cheap. Lastly, filling out the Pro Circuit squad for 1993 was a nationally unknown local pro by the name of Mike Chamberlain. Renowned for his speed at California tracks like Perris Raceway, Payton hoped to once again capture lightning in a bottle by propelling a fast local kid to national stardom as he had done with Jeremy McGrath.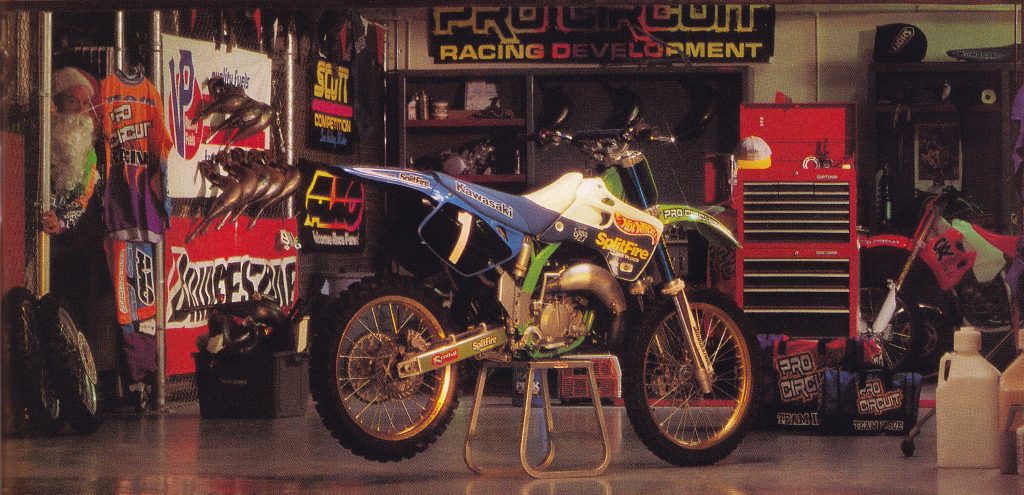 Big changes for 1993 meant an all-new machine and a total redesign of the Pro Circuit team's look. Photo Credit: Pro Circuit  
The 1993 125 West coast series turned out to be an epic battle between Suzuki's stars Damon Huffman, "Factory" Phil Lawrence, and Pro Circuit's surprisingly resurged Jimmy Gaddis.  All three took victories during the series, with Lawrence and Gaddis turning out to be slower but more consistent than the blazing-fast Huffman. Huffman's wins at Anaheim, Pasadena, San Jose, and Las Vegas gave him the most victories in the series, but a costly nineteenth at Seattle and an eleventh at San Diego all but torpedoed his chances in the abbreviated series. By comparison, Gaddis only captured one victory (the opener in Houston) but backed that up with a podium at every other round. Like Gaddis, Lawrence was more consistent than blazing fast, carding a single victory in Seattle. Unlike Gaddis, however, Factory Phil was unable to keep his Suzuki on the podium the rest of the time, and his eighth in Dallas and seventh in San Jose put him behind the remarkably steady former crasher from Texas in the final standings.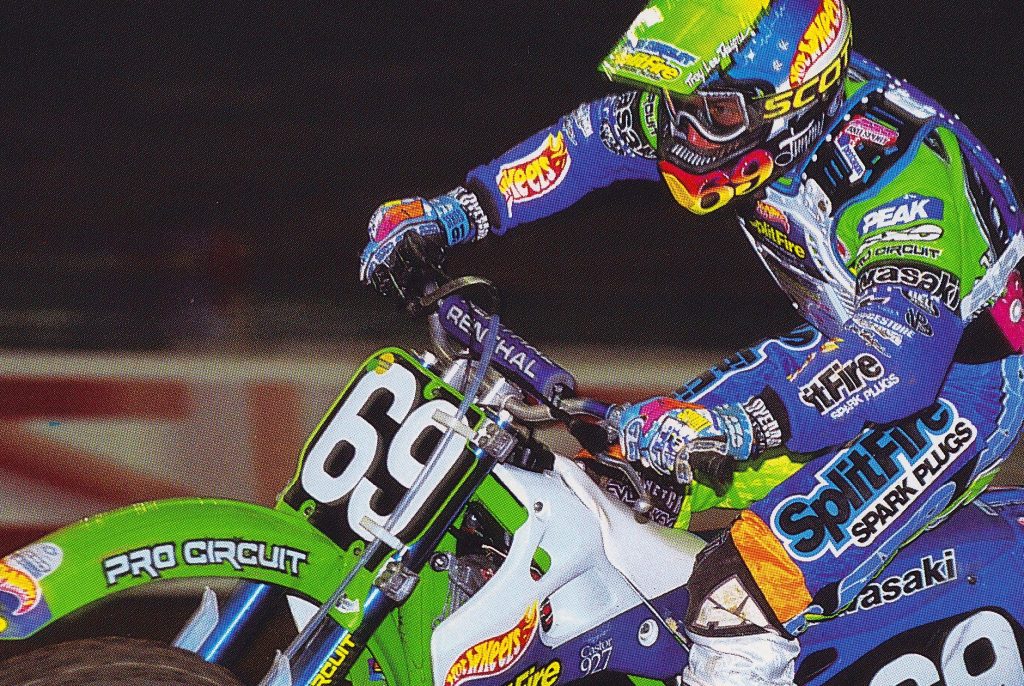 Former mini star Jimmy Gaddis was the new Splitfire Pro Circuit's Hail Mary signing for the 1993 season. Thankfully for the team, Gaddis was able to deliver his only 125 Supercross title on the new Kawasaki machines. Photo Credit: Fran Kuhn 
After an offseason of setbacks and internal upheaval, Gaddis' 1993 125 West Coast Supercross victory turned out to be just the kickstart the fledgling Pro Circuit Kawasaki program needed. It proved that Mitch's team could win even without the backing of Big Red and helped open the door for much greater support in the future. Today, twenty-nine years later, Kawasaki and Pro Circuit are still winning races together and still selling tons of go-fast goodies to make all of us faster.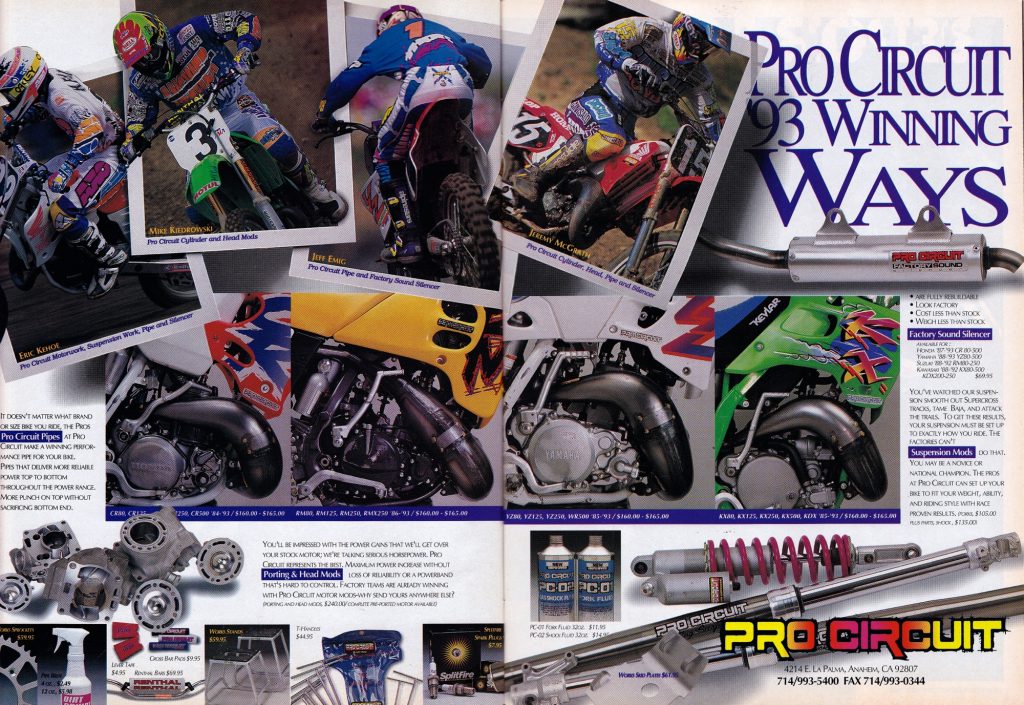 By 1993, Pro Circuit's products graced the race bikes of three of the Big Four factory race teams. In a little more than a decade, Mitch grew his business from a Husqvarna dealership side hustle into one of the most respected brands in the sport. Photo Credit: Pro Circuit.