Since I wasn't around this weekend to really dissect Atlanta because I was in amateur national hell at Fox Raceway, I thought why not do a Daytime Program times four (yes, four days long) about the weekend. The Cal Classic is one of the AMA Amateur "Majors" and we spent some money, sat around a lot, raced some and came away with these thoughts. 
The Event: The Cal Classic is ran by 2X Promotions (same people who run Mammoth MX) and last year it was ran in October but this year we had it on Easter. Now I am not one to oppose an Easter weekend race but I know some didn't make it out to race because it was on Easter weekend! The event itself was ran a little better than last year as there was no real big hang ups with the program, but I do wish the race schedule was a little more planned out before it started on Friday. Usually when we race a series like RMX, the schedule is up the night before and we know exactly when we are racing. For whatever reason, with this race we DO NOT know until the morning of. Staging and gates were ran clean, but it is a little expensive as one class cost around 90 bucks. We also spent 120 bucks before we entered the gate for the weekend for the "gate fee". Aden raced three classes so you can do the math and with the cost of fuel in California we were looking around 600 bucks for the weekend. This isn't abnormal but it is expensive to race as a family. Oh, did I mention that we get most of our dirt bike products for free so we are the lucky ones who don't have to by tires, oils, race gas, etc. We do pay for our own OEM parts, but a lot of the cost is absorbed by our loyal advertisers from the Keefer Tested Podcast! Shout out to Rocky Mountain ATV/MC! 
The Track: Fox Raceway (or Pala) gets really weird bumps during these amateur races! The track is being raced on by 50s, 65s, 85s, 125s, etc so the corners form different as well as the bumps coming into and out of corners. This has my mind spinning! As a test rider, I am feeling things on my own bike that I don't normally feel. I usually have to go softer on my suspension settings than I normally run because of how much chop there is. That chop usually starts really early coming out of the corners and begins early as well coming into them. Fox has softer dirt (for Cali standards) and some heavy high speed compression loading jumps so it makes it tough for set up! The track crew did a good job on prep each day as the early motos usually had a bunch of Dunlop MX12s on the back of riders bikes to get out of the gate well. However, in typical Cali fashion the base is hard so 75% of track gets baked and hard packed. East coast riders usually have a harder time with Fox Raceway as it gets confusing. Overall, the layout was safe and fun for a wide range of riders.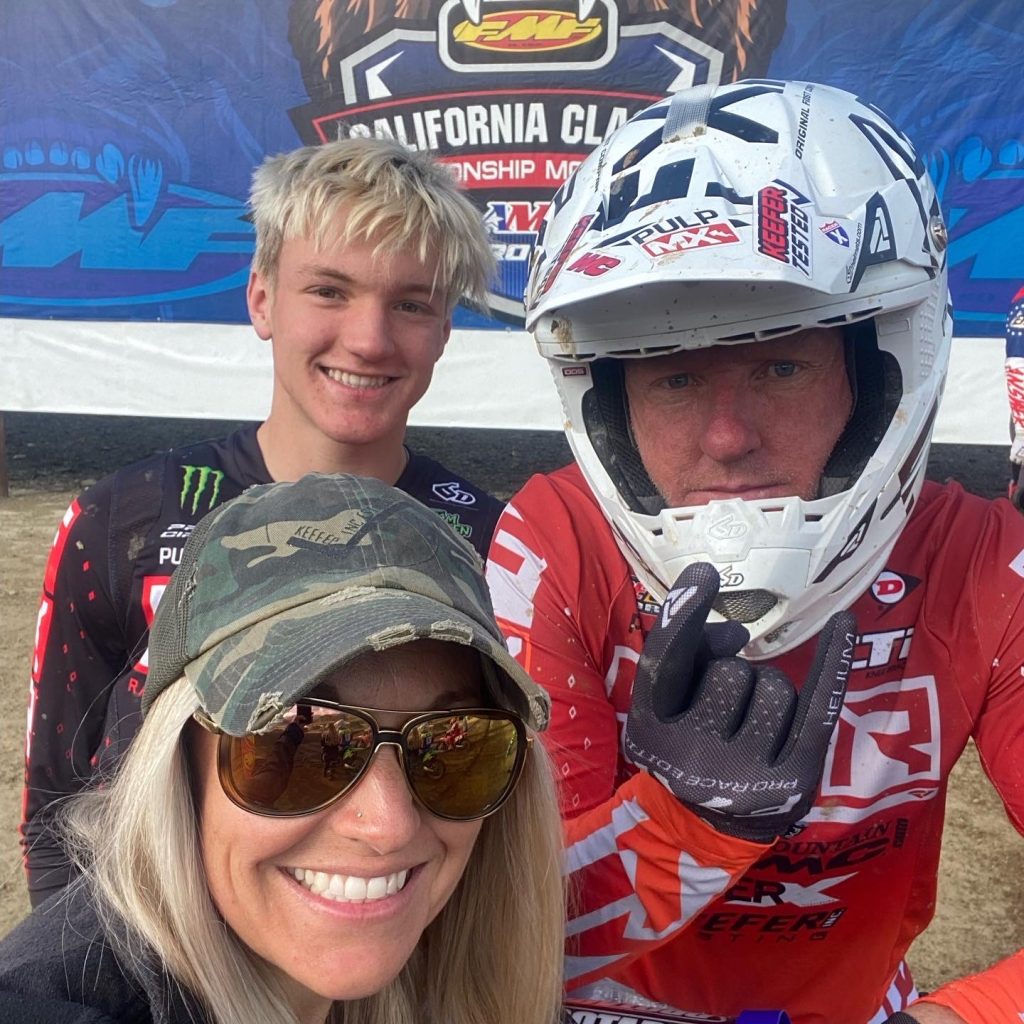 ANH: It' brutal people. I mean she's talking about riders times, if we saw so and so's crash, shouldn't Aden be down at the line already, should Aden be riding the pit bike around the track to look at lines, IT NEVER STOPS! Hell, she's analyzing lap times on the way home! Please make it stop! She consumed alcohol every day she was there and although relatively calm, she gets way too fired up for our taste. We are lucky to have her, but ANH is A LOT people!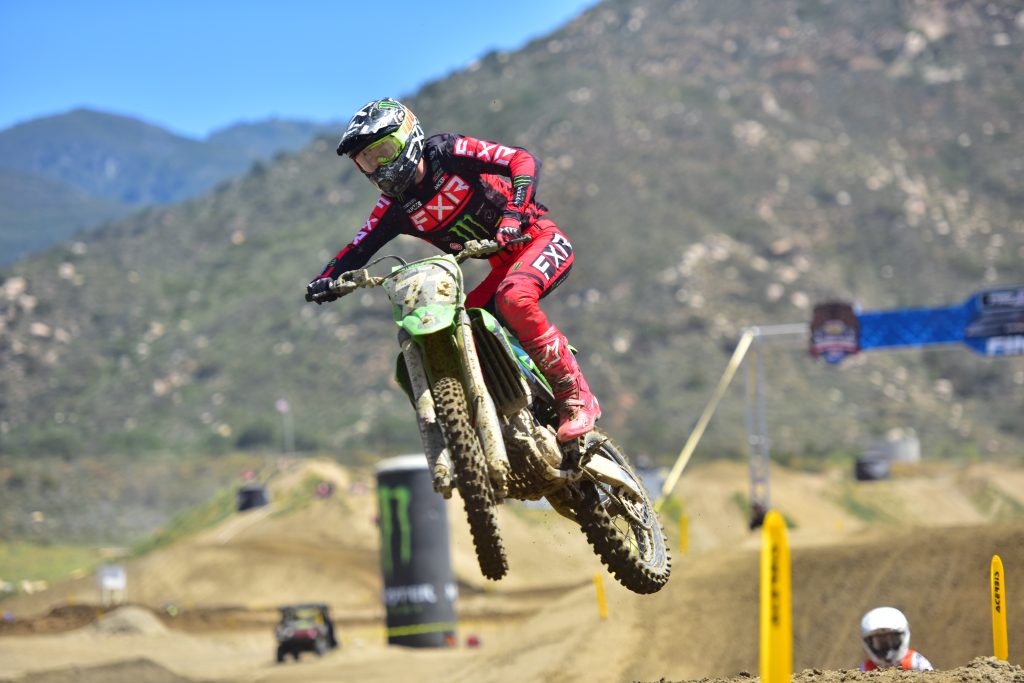 Aden Keefer: My kid needs fitness. He rides a lot with dad but lacks off the bike fitness! He is great when told what to do on the bike, but needs help finding Motivation when at home. His results showed me that he has speed, but he lacks the end of the race fitness that he needs to hold off these top 3 "B" class kids! These "B" class kids are as fast as the "A" kids! Aden's technique however is unbelievable to me as he is a blend of Jason Anderson and Marvin Musquin. He uses his legs a lot to find traction and likes to hop bumps. I am very proud of how he is riding technically, but if he wants to be a "racer" and not a "rider" he needs to get more aggressive and find more fitness! Aden floated around the top 5 and finished his races between 5th-7th place. We need more! "Sorry about that, that was ANH speaking"!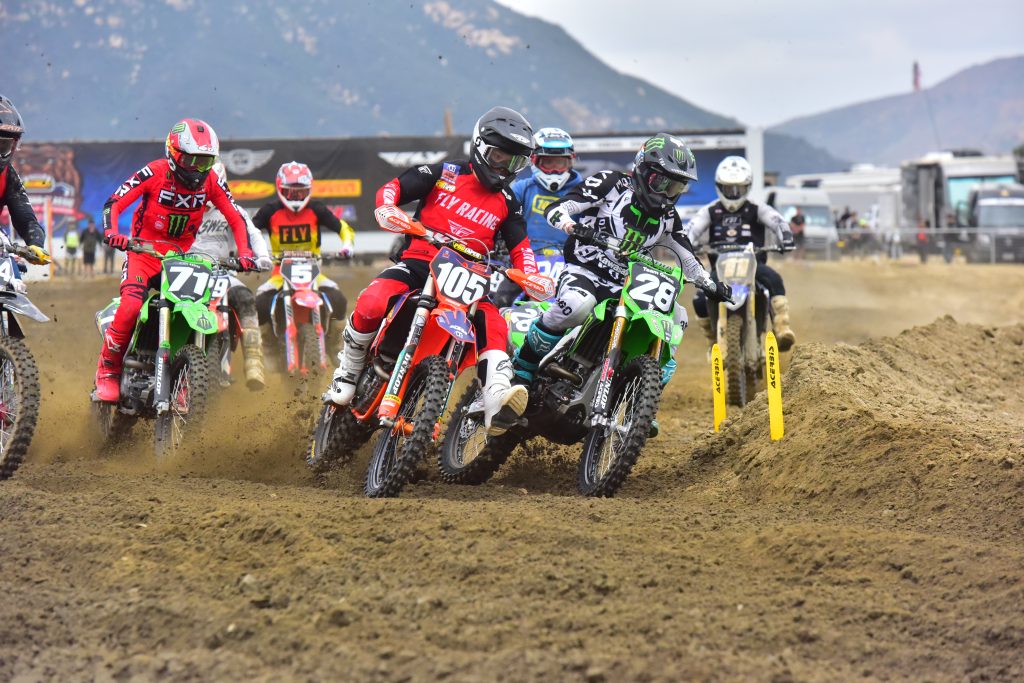 Preston Boespflug (Base-Flug): Preston is a good kid, seems humble and has really stepped up his game this year! The Team Green Kawasaki ride seems to have done wonders for his riding/results and  coming off a big win in Texas, he was the man to beat in the "B" class! Parker Ross was close on a couple occasions but Preston is hands down one of the fastest "B" riders there is right now. His style is fluid and it never really looks like he's out of control. Another rider that uses his legs A LOT, this kid should be one of a handful to watch at Loretta's!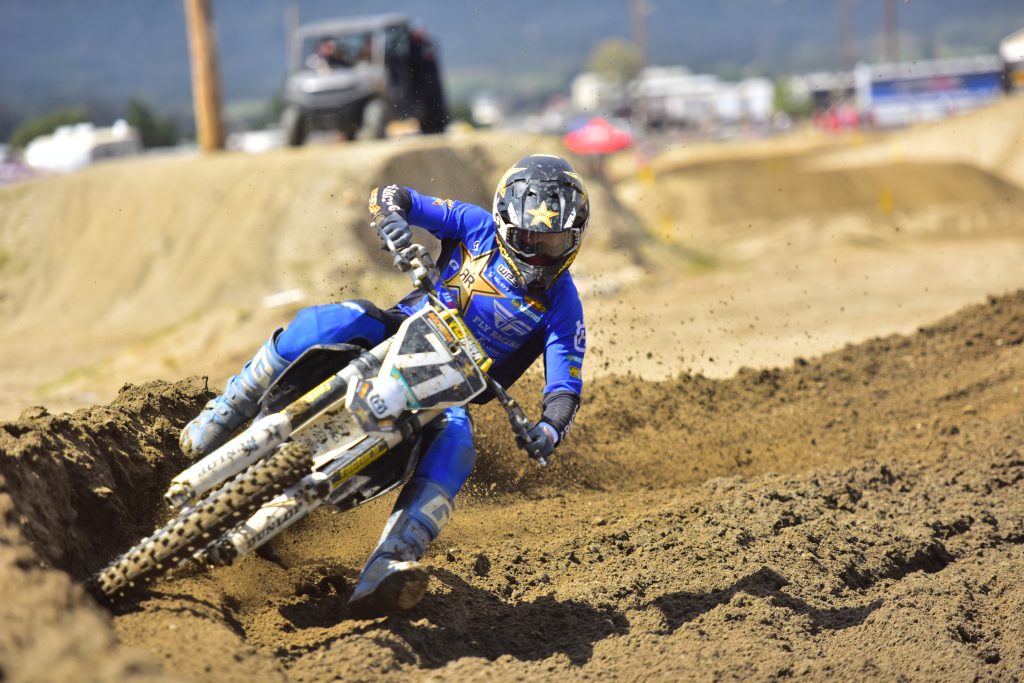 Talon Hawkins: Talon has had some bad crashes and luck the past year or so. Talon is Rockstar Husqvarna's amateur hopeful and he killed the "A" class over the weekend. Talon won from the back, won from the front and even won after some crashes. Granted, the field wasn't as deep as it was last year, but you got to be in it to win it right? It's good to see Talon get a win after some tough times lately. Look for Talon to maybe make that Pro debut after LL's.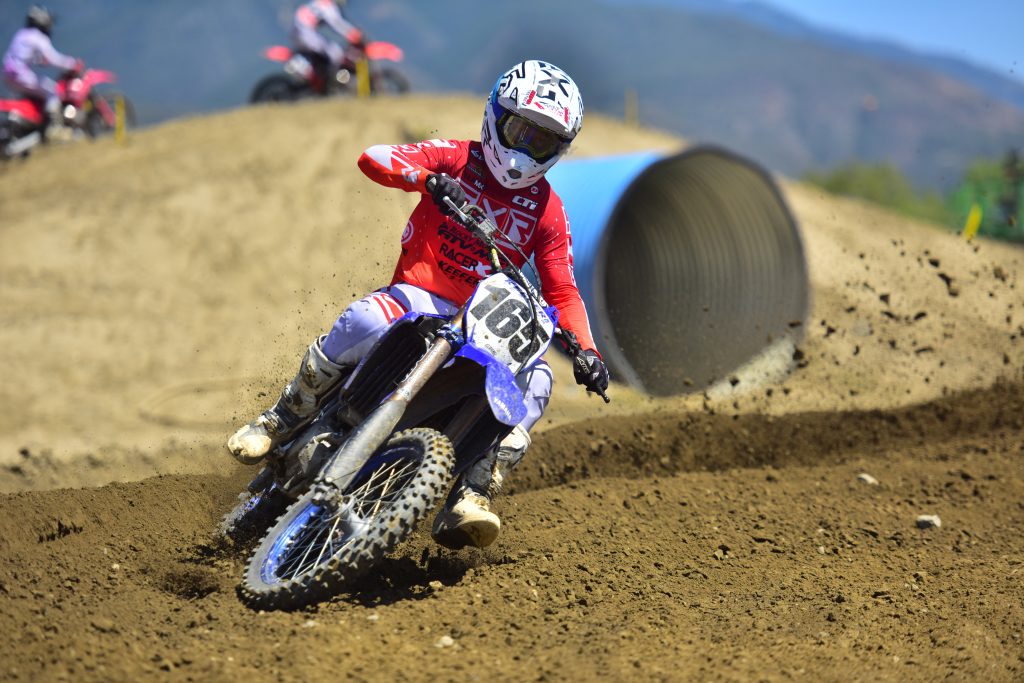 Last Minute Decision To Race: I told Heather I wasn't going to race and I was just going to help Aden all weekend. Since the vet classes didn't race until Sunday, I thought I would be over it by then. Once Sunday morning came though, I couldn't sit around any longer! I needed to at least race one class. I raced and had a good time and got some of this racing energy out of me! Weird how I can be so burned out, yet still want to race. I have a problem, I know!