Well, the 2022 supercross season has come to a close and Eli Tomac (450), Jett Lawrence (250 East), and Christian Craig (250 West) are your champions. We started the year with 4 different winners in 4 rounds in the 450's and finished the last 13 rounds with just 3 different winners. Jett Lawrence started the season winning 4 of 5 rounds and none in the last 3 rounds. Similarly, Christian Craig won 4 of the first 6 rounds and then didn't win any in the last 4 rounds. The point is that this season provided some great stories throughout the entire season. How each of the series started wasn't necessarily how it finished.
With that in mind, let's take a look at the key stats for the top riders for the entire series with a bit of attention paid to the swings in momentum throughout the season.
First, a tip of the hat to both Justin Brayton and Chris Blose on long and storied careers. Both have raced their final supercross. Justin Brayton had 190 career 450 starts (tied 5th all-time with larry Ward) and Chris Blose had 60 career 250 starts (tied 20th all-time). They've been staples on the supercross tour and their presence will be missed in the pits and on the track.
450 Championship
Eli Tomac (Champion, 359 points, Monster Energy Star Racing Yamaha, 29 years old.
The only stat we really need to highlight is 2x champion, joining 11 other riders with 2 or more. What's most interesting is to see that he took the series lead at round 3 in San Diego and he hadn't even won a round. At round 8 in Arlington he started a 5 rounds win streak but still only had a +6 point lead over Anderson. And then he uncorked 5 wins in a row. At the end of that streak, he had a +54 point lead leaving round 13 in Seattle and was in control of the championship. Not unlike how Cooper Webb took the 2021 championship lead at round 10 in Arlington at the beginning of a 3 race win streak. Or how Eli took control of the 2020 championship at round 7 in Tampa and went on to win 5 of the next 7 rounds. The point = mid-season win streaks win championships.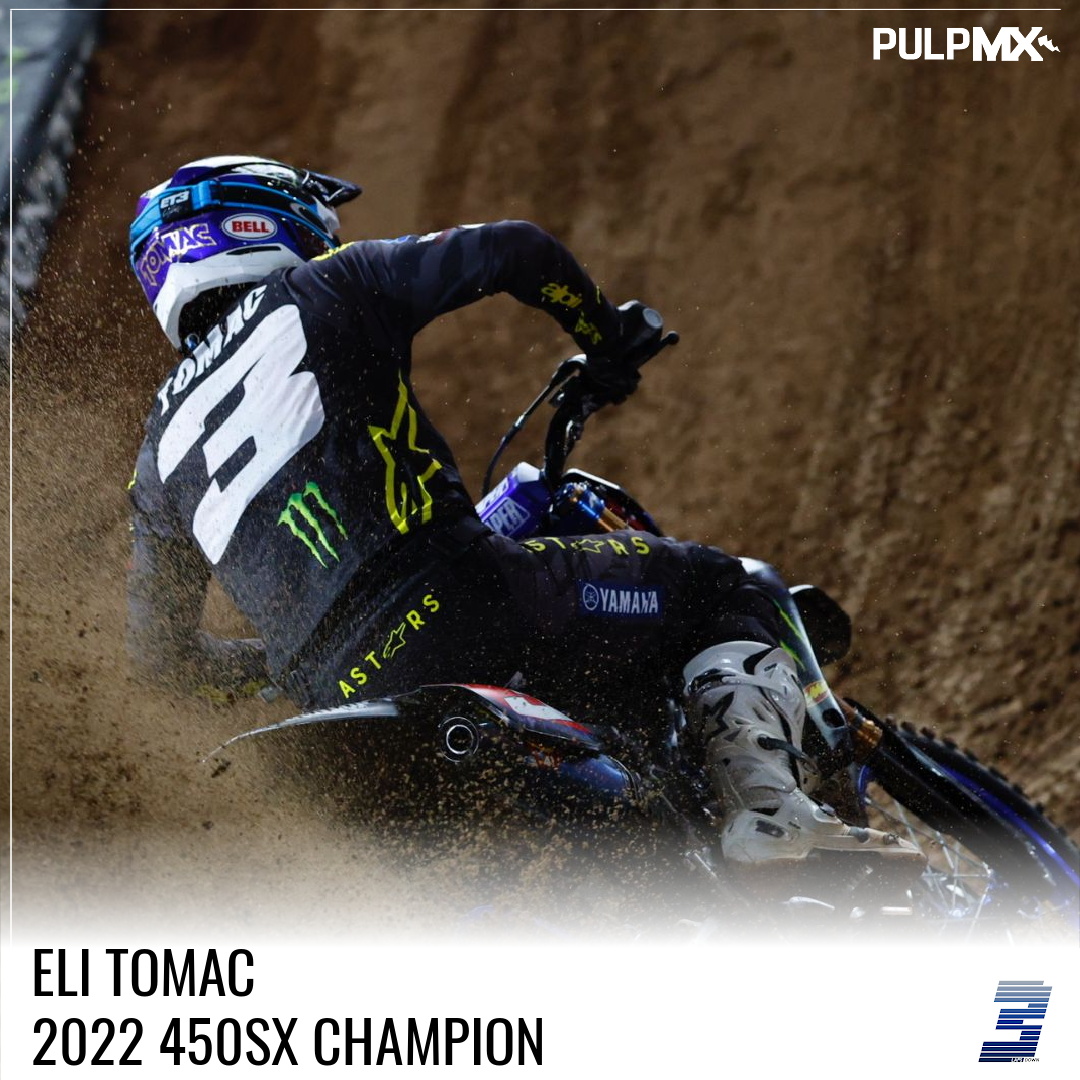 Jason Anderson (2nd place, 350 points, -9 pts, Monster Energy Kawasaki, 29 years old)
There's a lot of impressive stats from Anderson this season. We have to highlight 7 wins including 4 in a row to finish the season (he joins Jimmy Ellis, Bob Hannah, Jeremy McGrath, Ricky Carmichael, and Ryan Villopoto with 4 race win streaks). But to me the most impressive stat is setting a Top 3 fastest lap time in the main event at 16 of the 17 rounds. The only riders even close were Sexton (11) and Tomac (8). This tells me that he was downright FAST every single round… the first year riding for Kawasaki… and the bike isn't changing next year. If you don't have Anderson as a STRONG 2023 title contender, you're crazy.
Malcolm Stewart (3rd place, 314 points, -45 pts, Rockstar Husqvarna, 29 years old)
Career year! Malcolm scored +62 more points than his previous best season in 2020, including 3 podiums. He was simply a different rider this season. The thing that gives me pause for having complete Mookie Fever for 2023 is qualifying vs. main event best lap time. In qualifying, he averaged 4th fastest and was 5x fastest qualifier. But come main event he averaged 6th fastest and was only Top 3 in 2 (Glendale, Denver) of 17 rounds. This highlights a potential race craft opportunity – it's one thing to set a fast lap versus doing so when it matters.
Marvin Musquin (4th place, 305 points, – 54 pts, Red Bull KTM, 32 years old)
The 32 year old Musquin was the only KTM rider to win a race this season – the 5th consecutive season he's done so. He was also on the podium 6x including finishing the season on the box in the last 5 of 7 rounds. It's unfortunate that he started the first 10 rounds with only 1 podium (Minneapolis) and had finished 10th or worse twice (San Diego and Arlington). Maybe most perplexing is that he got the led 3 laps early in San Diego and simply faded. Eliminate that odd race and a crash in Arlington and it's possible he was much closer to Anderson mid-season.
Justin Barcia (5th place, 302 points, -57 pts, Troy Lee Designs Red Bull GasGas, 30 years old)
He went into the final race just -4 points behind Malcolm Stewart with a chance for his career best series finish, but then did what he's always done. He Bam Bam'd himself into a -10 point penalty and lost a position in the series to Musquin. While he's finished higher in the standings (4th in 2013-14, 2021), he did score the most points in a season this year. Most interesting is that he's the opposite of Malcolm Stewart when you look at his qualifying vs main event best laps. Barcia averaged 8th fastest and was never Top 3 in qualifying, but he set the fastest lap time in Daytona and had Top 3 lap times in 7 rounds. He's got the speed when it counts, but he lost positions in 5 races (most in the Top 5).
Chase Sexton (6th place, 292 points, -67 pts, HRC Honda, 22 years old)
4x fastest qualifier (2nd), 7 heat wins (1st), and 6x fastest main lap (2nd). Chase has the speed to win main events, but he only won once because he made mistakes in 7 races (including while leading in Minneapolis and Atlanta). Daniel Blair and Leigh Diffey have already chosen Chase as their 2023 supercross champion with the belief he'll clean up those mistakes. I'm not sold yet… in 2 seasons he's lost positions in 48% of the mains (13 of 27). Consider this… the last 5 champions (2018-22) have not lost positions in more than 2 races.
Cooper Webb (7th place, 278 points, -81 pts, Red Bull KTM, 26 years old)
Tough season for the 2x champion – no wins in 16 rounds. It's the first time since joining KTM that he's not gotten a win. He also joins a very short list of defending champions not to win in their defense season (Bell in 1982, Emig in 1998). What I think is most interesting is that he averaged 9th place for the first 6 rounds without a single Top 5 and then he averaged 5th the last 10 rounds with 3 podiums. Still not what we've come to expect of Webb, but a significant improvement in the second half. Hearing him talk about burnout, crashes, injuries, et al on the PulpMX Show last week helps put it all in context though… and he may have the most motivation to make a statement early in 2023.
Brandon Hartranft (8th place, 178 points, -181 pts, HEP Twisted Tea Suzuki, 23 years old)
Brandon made just 8 main events in his 2021 rookie season, so finishing 8th overall in his 2022 sophomore season is a HUGE improvement. He went from averaging 5 points in 8 races last year to 11 points in 17 races this season. Many will point to the injuries, but he was there every single round. I'll also highlight he transferred to direct to the mains via heats in the first 6 of 7 rounds – injuries or not, he came in a much better rider this season. It'll be interesting to see if he can match his 5 Top 10 finishes in 2023.
Justin Brayton (9th place, 176 points, -183 pts, Smartop Bullfrog Spas Motoconcepts Honda, 38 years old)
190 career starts… 1-9-0 career starts including a Daytona win, 10 podiums, and a career best 3rd in the 2012 standings. Justin Brayton finished 2022 with 1 Top 5 and 9 Top 10's in 14 starts. A good final season to a great career.
Dean Wilson (10th place, 152 points, -207 pts, Rockstar Husqvarna, 30 years old)
I can't unsee some of the recent advertisements posted on social media following Dean's buttocks injury in St Louis. All joking aside, he'd finished 7th at back-to-back rounds prior to the injury and was just starting to show speed in both qualifying (6th fastest at Indy and Seattle) and main events. Missing the last 4 rounds but still finishing in the Top 10 is not too bad.
250 East Championship
Jett Lawrence (Champion, 192 points, HRC Honda, 18 years old)
Jett grabbed his first career supercross championship and second consecutive championship. He also demonstrated that he deserved this championship with raw speed. He was fastest qualifier 5 of 9 rounds. He set the fastest overall heat lap time 3 of 7 times. He set the fastest main event lap time 5 of 8 times. He was fast… but he also made mistakes – Arlington being maybe the best example. He had 3 crashes in 2 of the races, including an unfortunate mid-air collision with Austin Forkner. Nonetheless, it doesn't overshadow that he won 4 races and was on the podium every single round.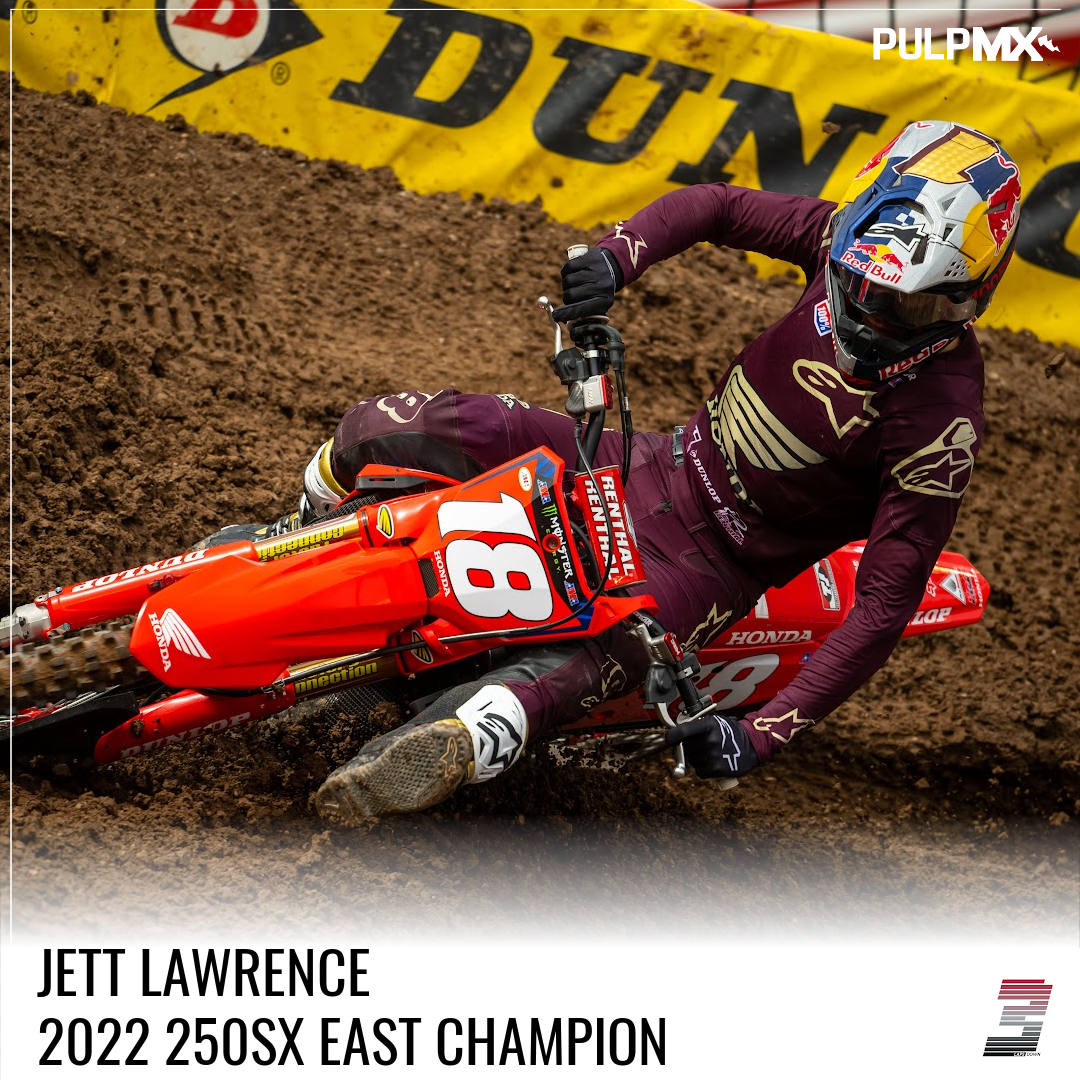 RJ Hampshire (2nd place, 158 points, -34 pts, Rockstar Husqvarna, 26 years old)
No question RJ's 1st career win in St Louis was the highlight of his season/career. He also had speed all season setting Top 3 lap times in 7 of 9 rounds but it was crashes that consistently kept him from being a title contender. He lost positions in 5 races this season, including a really tough one in Arlington.
Pierce Brown (3rd place, 149 points, -43 pts, Troy Lee Designs Red Bull GasGas, 19 years old)
Pierce started the season a bit in speed and finishes. He averaged 9th in qualifying and 7th in the mains. He then averaged 5th in qualifying the rest of the season and grabbed 3 podiums. What's likely most important is that he led laps in 2 different mains this season (St Louis and Foxboro) – the first of his career. While he's already raced 3 seasons, he's still just 19 years old and next year could be a breakout season.
Mitchell Oldenburg (4th place, 132 points, -60 pts, Smartop Bullfrog Spas Motoconcepts Honda, 27 years old)
Mitchell started the season with a bike malfunction that led to missing the first main event after a bad LCQ start. Not optimal. He then went on to get 4 Top 5 finishes including a podium in St Louis – his 4th career podium. Maybe most impressive was finishing the season with fastest qualifier in Salt Lake City (the naysayers will highlight no Jett or McAdoo but you've to line up to compete). This will be Mitchell's best season finish in 10 seasons (previous best was 6th in 2016 west).
Enzo Lopes (5th place, 117 points, -75 pts, Muc-off FXR Club MX Yamaha, 22 years old)
In his 4th season, this was a breakout year for Enzo grabbing his first career Top 5 finish. Maybe most impressive is qualifying 2nd fastest and then setting the 4th fastest main event lap time in Salt Lake City. It'll be interesting to see where he lands for 2023.
250 West Championship
Christian Craig (Champion, 230 points, Monster Energy Star Racing Yamaha, 30 years old)
A tale of the first 6 rounds vs the last 4 rounds – but that's what happens when you're protecting a championship lead. In the first 6 rounds, Christian was fastest qualifier 5x, won 5 of 5 heats, set the fastest main 3x, and won 4 mains. He built a +28 point lead. In the last 4 rounds he qualified fastest once, won 4 of 4 heats, set the fastest main 2x, and but didn't have any wins. Clearly he still had the speed to win but did what any smart veteran would do and raced for the championship.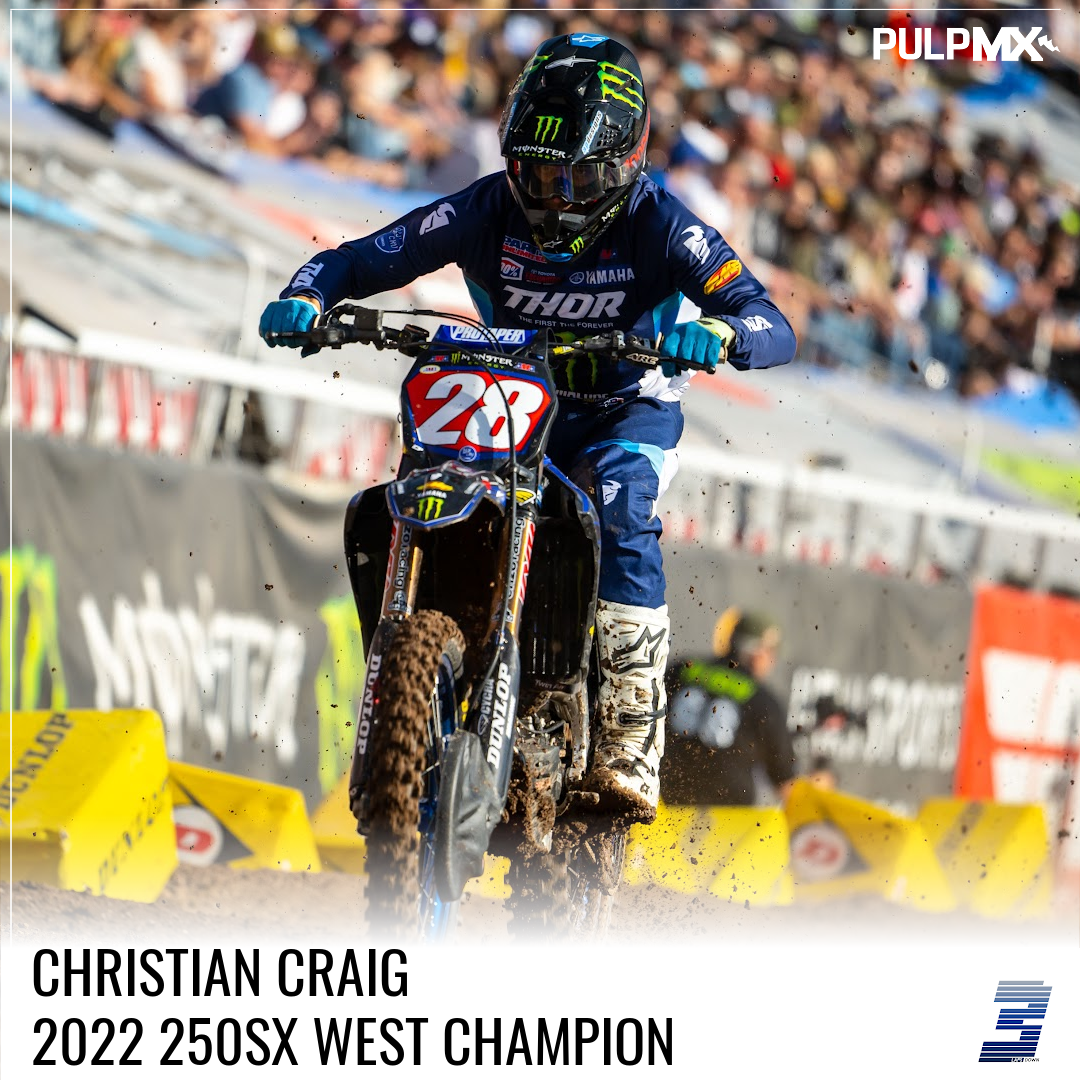 Hunter Lawrence (2nd place, 220 points, -10 pts, HRC Honda, 22 years old)
Hunter was on the podium in 9 of 10 rounds and won 4 main events en route to finishing 2nd in the championship for the 2nd straight year. But this year was a lot different. He only led 1 main event last year and he averaged 8th on the first lap. This year he lead 5 main events and averaged 4th on the first lap. He was a true contender.
Michael Mosiman (3rd place, 197 points, -33 pts, Troy Lee Designs Red Bull GasGas, 22 years old)
Michael got his first career win in San Diego, but consistency was his challenge. He had 5 podiums but also finished outside the Top 5 at 4 rounds. He was on the podium 5 times compared to 9 times for both Craig and Lawrence. He simply can't compete for a title when that's the case.
Jo Shimoda (4th place, 162 points, -68 pts, Monster Energy Pro Circuit Kawasaki, 19 years old)
The expectations were high for Jo at the beginning of the season and unfortunately he didn't quite meet them. He finished with 1 podium in 9 rounds. What's most interesting is that he rounded lap 1 in podium position 4 times including leading the race twice (Oakland and Atlanta). Unfortunately he lost positions in all 4 of these races. While his focus was on speed this season, he only had 1 Top 3 main event lap time. He's clearly got the potential, but didn't put it all together this season.
Nate Thrasher (5th place, 151 points, -79 pts, Monster Energy Star Racing Yamaha, 19 years old)
Until the last round of the season, Nate hadn't been on the podium in his sophomore season. At that, he only had 2 Top 5 finishes and had finished outside the Top 10 3 times. But he was the fastest qualifier in Atlanta and he'd been Top 3 in qualifying on 4 occasions. He clearly had the speed…. and he showed that by going out and winning the east/west showdown at the final round in Salt lake City.
That's a wrap on the 2022 supercross season. What a ride it's been – hope you've enjoyed the racing and reading the column.
Last but not least, a huge thanks to Steve Matthes for the opportunity to bring you guys a stats column the last 3 years. Advanced Analytics is going to take a break this Pro Motocross season while I'll focus on more behind the scenes work and life in general. Hope you've enjoyed the weekly updates as much as I have bringing stats more prominently into the sport we love.
Cheers!