Photos by James Lissimore
pow·er noun
the capacity or ability to direct or influence the behavior of others or the course of events.
in·flu·ence noun
the capacity to have an effect on the character, development, or behavior of someone or something, or the effect itself.
Our sport is in a new era, after many years of the same thing, the sport we love of supercross and motocross has, for the first time ever, some competition in the World SX Series which has come in with a drastically different business model to what the promoters of SX/MX are doing over here. This caused some big changes with Feld and MX Sports introducing a SMX series and truly working together for the first time in the sports histories. It's what we needed for sure.
But who exactly are the people making the decisions in the sport? Who are the true power brokers behind the scenes making things happen? That's what I set out to do here with this list.
A caveat though, people like Kenneth Feld (owner of Feld Motorsports) and David Louongo (President of In Front-the MXGP series promoter) who, although very powerful, aren't in this list as I tried to keep it to the people whose focus is just on our sport in the USA. Feld, Louongo, Todd Jendro of Feld Motorports have influence for sure but they're also looking over their own series in the case of Louongo or Monster Jam in the case of Jendro. So, ultimately with a couple of exceptions, I kept this to people who work directly on SX/MX.
I did this list a few years ago and you can read that one HERE to see what's changed. And away we go!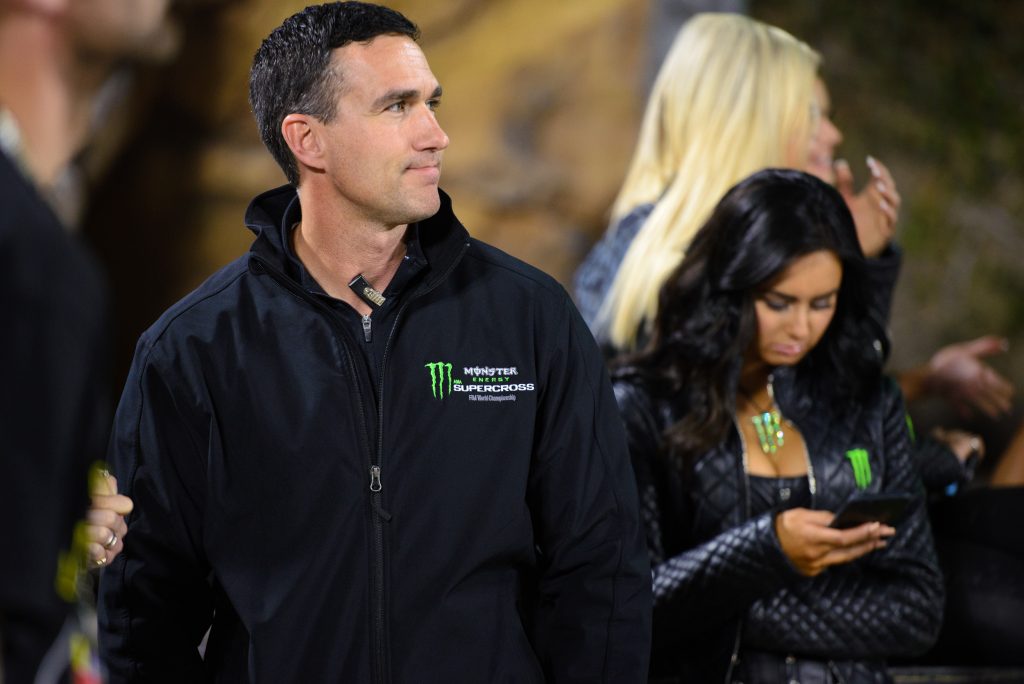 1-Dave Prater, Vice President of Supercross for Feld Motorsports
Dave took over Todd Jendro's position when Todd got a promotion and is now responsible for the sport of Supercross within Feld. There's no doubt that supercross is the most popular form of motorcycle racing in the USA and probably second to MotoGP in the world so his spot is appropriate here. Working with Jendro and Kenneth Feld, Dave's a guy that the teams and riders all seem to respect, he's a straight shooter and he was a huge part of the sport going to Triple Crowns and changing things up. Dave's been in the trenches for a long time in the sport. He's not someone who just dropped in when Feld bought SX and that's part of the reason why he's got some street cred with people in the pits. Heck, even when people tell me about things with Feld they don't like they almost always preface it with 'Dave's a good guy…"
When Feld had an issue with the lime in San Diego a couple of years ago, it was Prater who met with the riders, Prater who got some checks issued to the privateers. Dave's seemed to be more of the face of SX last few years.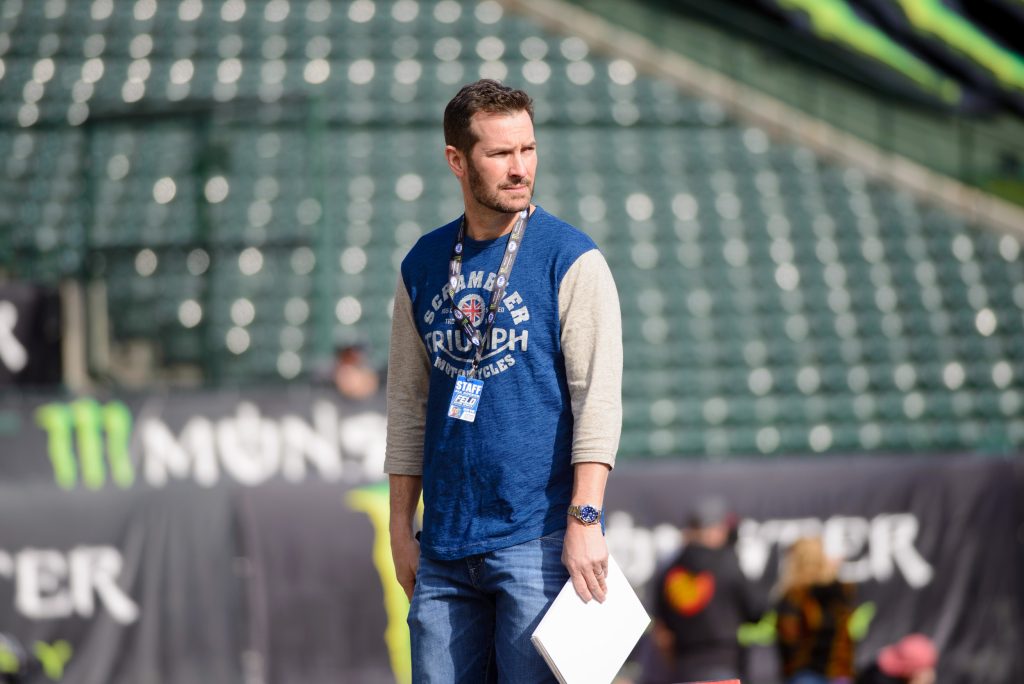 2-Carrie Coombs/Davey Coombs, MX Sports/Racer X
Full disclosure, I'm a freelance contributor to Racer X and have been for years so I suppose you could call me biased but hey, here we are. I had a hard time to separate the brother and sister who run MX Sports and Racer X magazine/website. Carrie, who's a lawyer, is a big part of the business of the pro series and Davey is the face of both the series and the most influential magazine (although the magazine business isn't what it used to be) and website in the sport. In short, if it doesn't run on Racer X, it's not important in the sport you know? They both have had influence in working with Feld to unify the sport over here although losing one national seems to indicate that they "lost' the deal with Feld. I think one of the keys to their power is the fact they gave up some power in losing that one race up so they recognize that the WSX series is a threat to the outdoor series. Would I like to see and do I think there should be a points paying series fund to the riders at the end of the MX year? Yes, I do and that's one thing I think missing in MX although most don't understand that MX Sports is not the owner of the MX series, that would be the Daytona Motorsports Group so right off the hop, MX Sports isn't as powerful as, say, Feld.
3- Mitch Covington, Monster
I don't know Covington's official title at Monster and he's got some underlings underneath him that go to the races but when it comes to Monster sponsoring a series or an athlete, a lot of it is Covington's call and he controls what seems like an endless amount of money to be dumped into the sport. With Monster coming back into the pro motocross scene, they now have both series in their control (title of SX) and they would've had a big say in these new SMX races as well.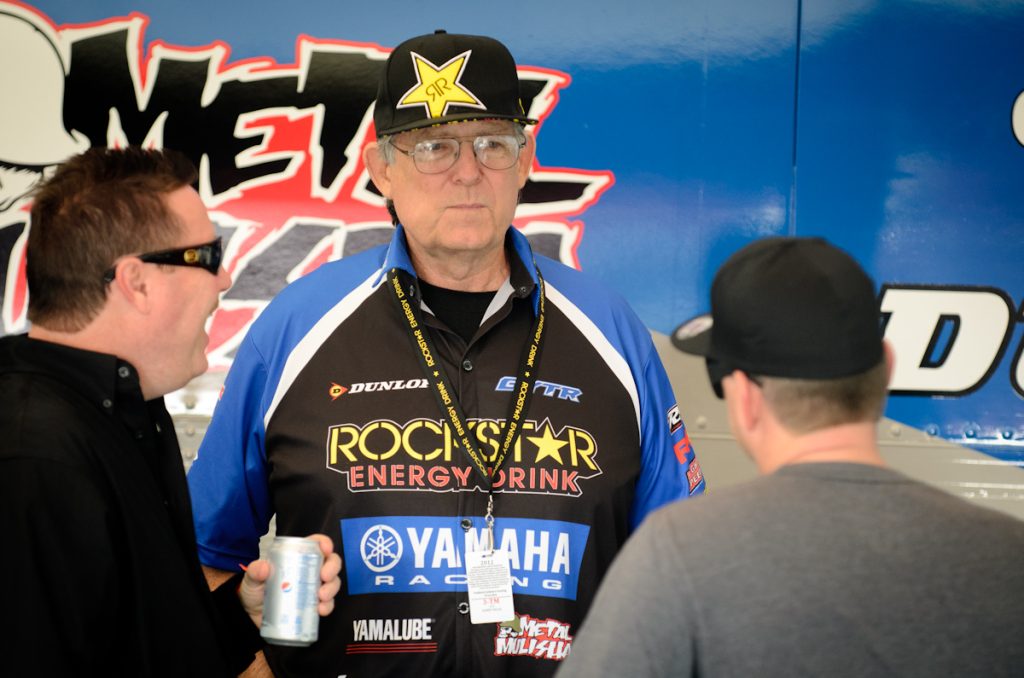 4-Bobby Regan, owner- Star Racing Yamaha
Bobby's been around for a long time and when Yamaha of Troy was the official Yamaha support team, he was there just biding his time. First he got to be the official small bike team of factory Yamaha and then a couple of years ago, got the whole shebang with running Yamaha's 450 team as well. Yes, he was helped out immensely by Yamaha turning the motor around in the 250 and creating a horsepower monster but Bobby still deserves a ton of credit for turning his team, first 250 and now 450, into winners. He's here because of the fact he can control the wins in both classes. Ruthless off the track, Bobby doesn't always believe in things like contracts and waiting around as anyone who has dealt with him can attest to, Regan's team is now the one just about everyone wants to ride for but at the same time, if you don't perform there, you'll be tossed aside petty quickly.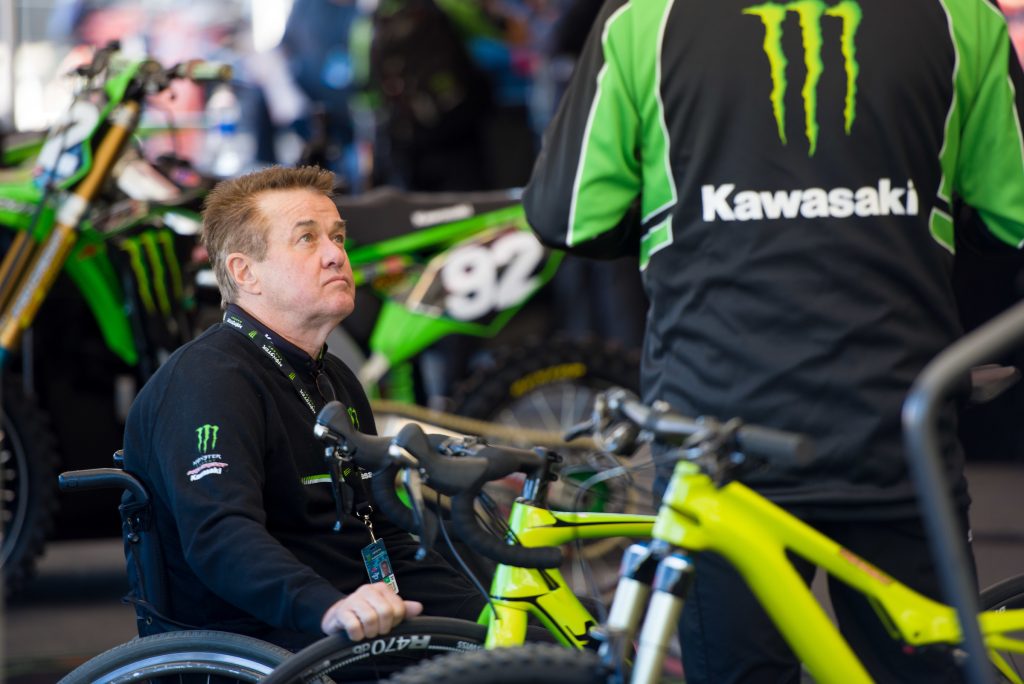 5-Mitch Payton, owner- Pro Circuit
Payton's team doesn't win as much as it used to and his influence may not extend as far as it used to (by his choice) but he's still the go-to guy for riders of any brand for advice and he's still an influencer. For years Mitch grew frustrated with the direction of the AMA so he stepped back from that and he's also not stoked that he's been pushed out of the MXDN team (look for that to change) but he's Mitch Payton, not too many things happen in the sport without him weighing in. The number of people that have nothing to do with Pro Circuit Racing anymore and still seek Payton out for his thoughts is big.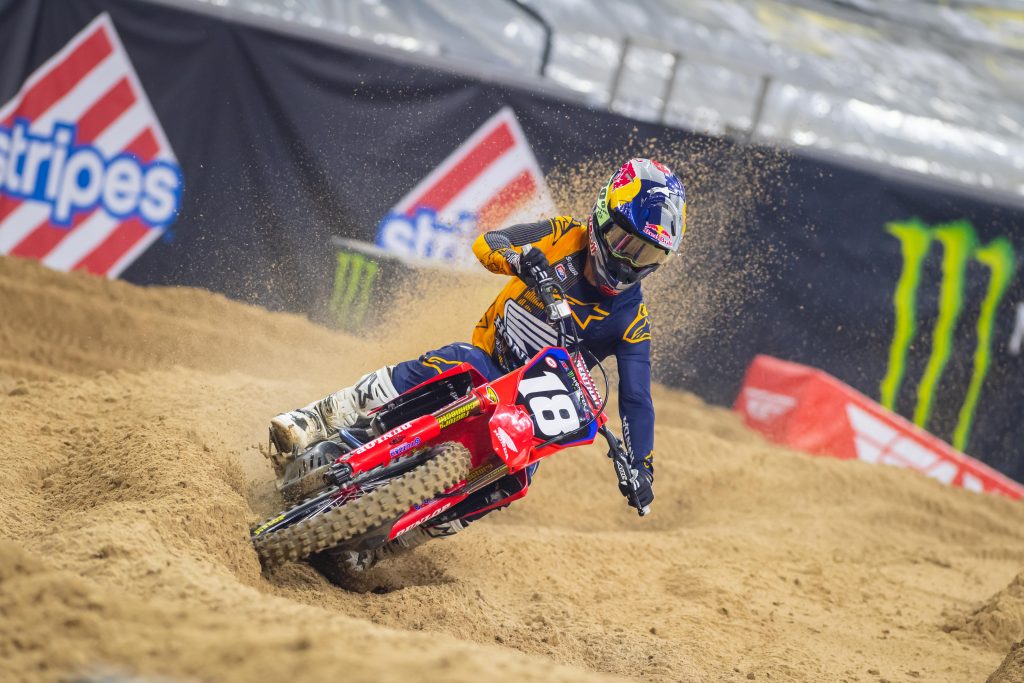 6-Jett Lawrence, Honda
Taking the place of Ken Roczen on this list is the Aussie kid that seems like the future of the sport. He's personable, he's young, he's got a huge fan base all over the world and more importantly, he's very, very fast. What sponsor or team wouldn't want to have Jett under their control? His winning ways have just started and he should be here winning for a long time. He's the most marketable rider in the sport and just about the fastest as well. That's quite a combo.
7-Mike Muye, Director of Supercross
Muye took Praters spot as the guy on the ground at every single supercross race. At the stadium on race day, the buck stops with Mike and he's been with the Feld guys for a while and used to run the arenacross series. He's a pretty quiet guy and not someone who has a big ego, he's relatively new to the job (he ran AX for a long time) but the teams and riders seem to respect him.
8-Ken Adelson, Sr Director of Broadcasting- Feld Motorsports
Adelson is a veteran TV producer who's worked with the NBA in the past and was brought on by Feld to take a look at the SX TV show and see what he could do. Ultimately, Steve Yaros is Senior VP of Global Media and SX at Feld and is above Ken but from what I gather, he's responsible for more than SX at Feld and I wanted to focus on people for this list that work just on our sport. A total newbie to the sport, Ken seems anxious to learn about what makes our sport tick and isn't afraid to ask anyone and everyone what they think can be done to make the sport resonate for new viewers. He's got a lot of influence when it comes to what we're going to see on the new streaming platform in 2023 and beyond.
Here are some more details on Ken…
SVP of Production, Operations and Planning at the NBA. Spearheaded and launched NBA TV, the first cable/satellite network by a sports league. Launched the Oklahoma City Thunder franchises broadcasting and digital media departments back in 2008 when the franchise moved from Seattle.
More recently, he held a similar role with the NHRA (2nd largest motorsport in the US) where he handled all aspects of content strategy, production, technology integration, and multi-channel distribution.
What's this mean for moto – most importantly, a better broadcast. This includes the consumer facing broadcast across
Supercrosslive.com
,
Supermotocross.com
, Peacock, and internationally. It likely also means lots of changes behind the scenes to enable a better consumer experience.
9-Mike Pelletier, Director of Racing for the AMA
Mike's done a good job of turning the AMA from an organization that everyone laughed at to one that is trying to be better and do the right thing. Mike's a younger guy and has opened up the communication better with teams, media and riders but it takes some time to turn around two or three decades of mismanagement from the AMA whether it's in SX or MX. The AMA basically has nothing to do with MX these days so that's why he's a bit lower on here than he should be. The three man discipline committee established this year that seemed to work well was Mike's idea and he's always asking people in the sport what they think and what should they do. Mike's been great for the AMA in his time as it couldn't get much worse over the years for the people in power in Ohio.
10- Jeremy Malott, Red Bull
"Hammer" as everyone calls him, has a big say into what goes on with Red Bull and their marketing efforts. He's single handedly stopped a rider or two from being hired at Red Bull KTM, he's an innovator with the Straight Rhythm event, he's a passionate fan of the sport and he's got more ideas. He thinks much bigger than any traditional partner in the sport. And his branding is always about integrity and class rather than logos everywhere and he's a big part of the Lawrence off the bike marketing machine
11- Roger DeCoster, Pit Bierer, Robert Jonaas- KTM Group
Hard to separate these three guys and who does what so let's lump them in all together! With KTM's involvement in MotoGP, Bierer's been a bit more involved with that but he's still a powerful man when it comes to what KTM, GasGas and Husqvarna are going to do here and worldwide. Jonaas seems to be the one that I hear of calling the shots when it comes to stuff like Cooper Webb and Aldon Baker, what Husqvarna's going to do and more. DeCoster's influence is, IMO, waning a bit as he gets up there in years but he's still got a ton of say in things. Although KTM has Ian Harrison managing their USA effort and he's got influence, it does seem like the direction of the USA SX/MX teams is still called by the group in Austria. People who have left this organization have referred to it as an "orange cult" over there.
12-Brandon Wilson, Honda Director of Racing
Brandon's got the ultimate say in terms of all Honda racing and would be the man who decided that Honda didn't want to be in business with Ken Roczen anymore. He's the guy deciding on who gets Honda support (Phoenix Racing, etc) and approves the contracts of the riders. Yeah he's got bosses for sure in Japan and in the USA but in the end, whatever he recommends usually happens for the red riders.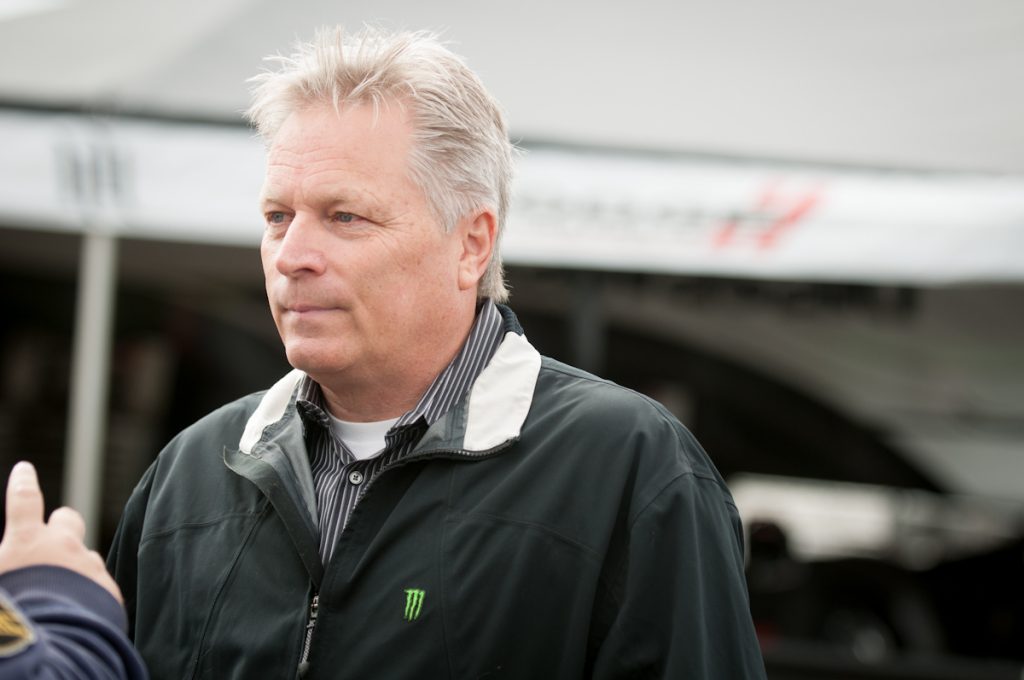 13-Bruce Stjernstrom, Kawasaki- Director of Racing
Bruce has not been at as many of the races the last couple of years as before and from what I understand he's had some responsibility taken away from him but Bruce has the ears of Japan and Monster when it comes to the sport and Kawasaki's best interests. When the green guys were in a bit of a mess with Davi Millsaps getting fired, the team using FMF, etc, it was Bruce who was brough back in to sort of clean things up and get the team running in the right direction. He used to manage Kawasaki in the golden years, he used to work at Monster and he's got a lot of strong opinions about the sport.
14-Lucas Mirtl, agent- Wasserman Management Group
Mirtl's one of the rare agents in the sport nowadays that goes to most of the races in support of his clients. That doesn't happen much these days and "Mirts" seems to have a stable of clients in the Lawrence brothers, Jo Shimoda, and more. He's also helped with Cooper Webb, Justin Cooper, Alex Martin and more in the past. He's a straight shooter (which is rare in the agent business) and has made more than a few teams pretty upset with him. Just by repping the Lawrence brothers alone he can influence the sport for years to come, heck he can influence Honda as well.
15-Adam Bailey and Ryan Sanderson, SX Global
Not sure how much Tony Cochrane, the main money guy with SX Global, has his hands in the new series but there's no doubt that Bailey and Sanderson have become people of influence and power. The Aussies are trying to take supercross all across the world and in the future they might be higher in the list but for now, having just two rounds isn't a true indicator of how this is going to work out. But there's no doubt that with the funding they have, with what they've paid the teams and riders, they've had a lot of influence over here. You think Feld and MX Sports are dipping into their pockets to pay 5 million more for three SMX races without the threat of WSX? Some of the people I consulted for this list didn't want these guys on here because of just two races run, etc but to me, they've already shifted the sport in a direction just because they're here and they're serious.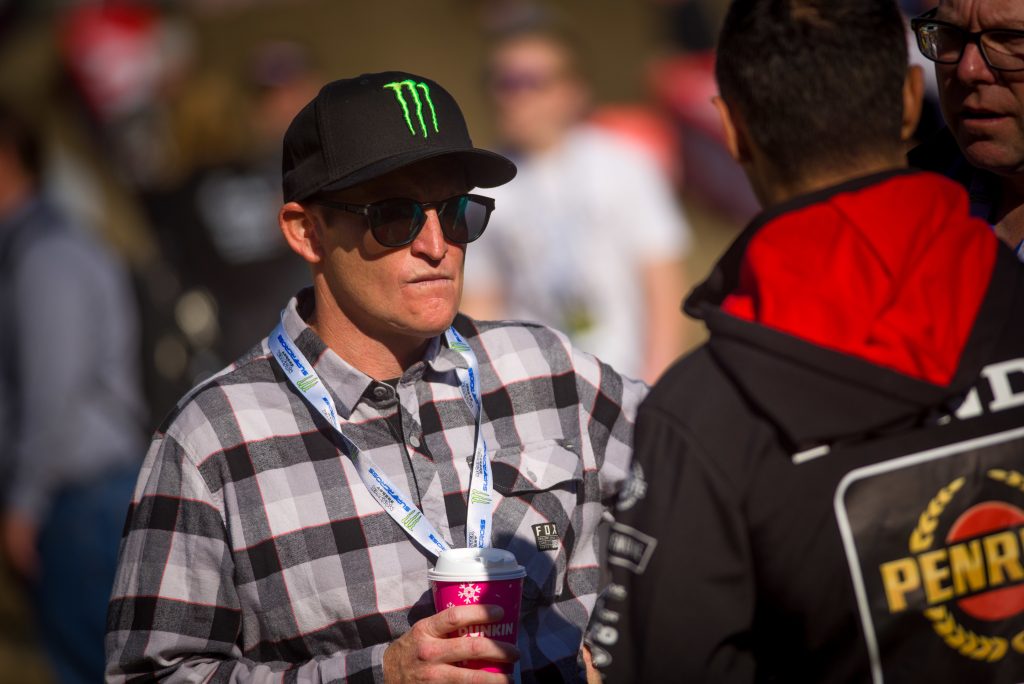 Besides being the winningest rider of all time which brings its own cache within the sport, RC is also a favorite of Jendro at Feld going back to when Jendro ran SX and RC was racing and he's also a favorite of Monster as well as a paid athlete for them. So, he checks all the boxes to be influential in the sport. Now he's been working with the Triumph guys as they enter the sport. Carmichael's come a long way from when he was, in my opinion, misused as a pit reporter and belongs up as the main analyst. He's done some serious homework to get better as an analyst and also seems to be a bit more "free" with his opinion of what the racers are doing out on the track.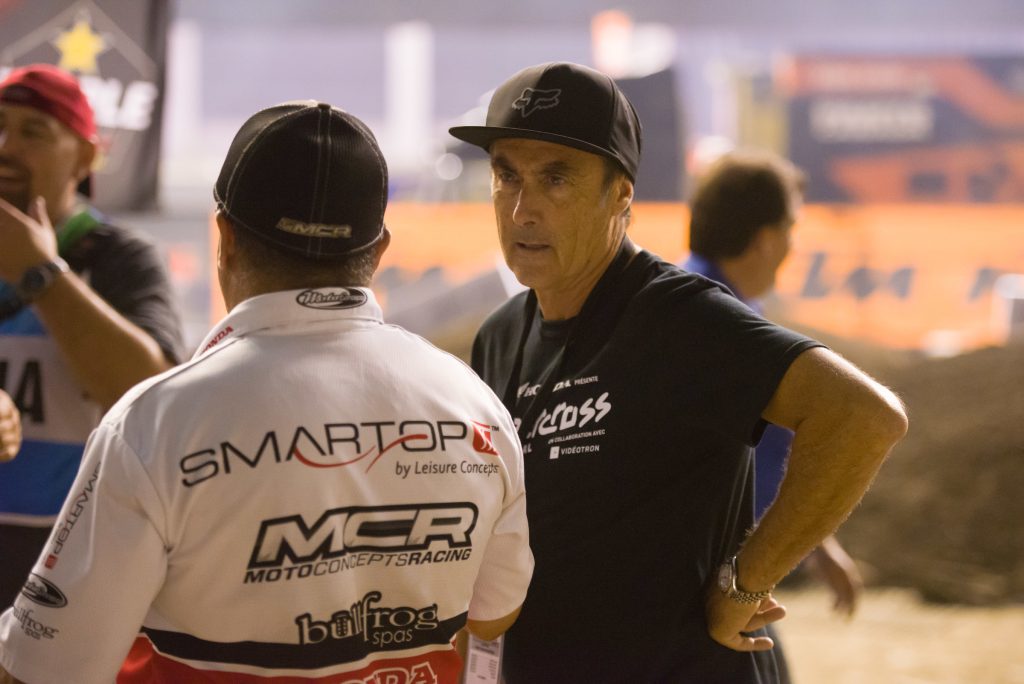 Eric has been around the sport for decades now and is the guy that Malott at Red Bull hires to run his events, he's the point man to get the USA riders to Paris SX and he's someone that used to work at Feld, currently consults for Fox Racing and seems to be everywhere and anywhere. Eric's well respected by the Feld guys, the WSX guys, MX Sports and seems to be the only promoter in the history of the sport that Feld and MX Sports don't mind? Eric's a great guy, he's got connections all over the world and he's worked with the who's who of the sport and is still leaned on by the VIP's for some advice.
18-Gabrielle Mazzarolo, Owner- Alpinestars
A Stars now has Eli Tomac, Jett Lawrence, Hunter Lawrence, Chase Sexton and Jason Anderson wearing their gear and has swept the podium at more than a few races this year. Obviously a powerhouse in MotoGP, Gabrielle has seemed to make it his mission to own the podium in SX/MX with a top flight of riders that cost WAY more than his market share in the sport would indicate. It's purely an ego move by him and his company and props for that. Some super cool designs for all their riders and let's not forget the Tech-8 and Tech-10, now old, were and remain game changers when it comes to MX boots. There's no one in the industry with a more gnarly travel schedule than Mazzarolo.
19-Chris Wheeler, Suzuki Director of Racing
Go ahead and make a joke about Suzuki motorcycles and their racing efforts in the sport and you'd be right but there's still yellow machines out there supported by Suzuki USA and Wheeler is the man who pushes that stuff through. From what I hear the Ken Roczen signing was really pushed forward by Wheeler. That puts him on this list and would he like to do more as an ex-pro in the sport, sure but for now his hands are tired as Suzuki Japan has indicated through their actions that SX/MX isn't a top priority for them right now.
20-Anton Wass, owner- Stark Motorcycles
Although there's been some hiccups getting the all-electric Stark bike to the public, it seems to be a massive hit from the media people who have ridden it and has the potential to change the sport. Now if he can just get the racing organizers to work with him, we may see the Stark in action in competition but for now, they don't seem to want to play ball with Stark. No matter, the pre-orders are impressive and this bike will soon be on tracks all over the world. Could be a game changer in many ways.
21-Jason Weigandt, announcer/journalist- Racer X
Obviously, a co-worker of mine and I'm biased but "Weege" is the voice of the outdoor series and also a great writer/Vlogger of the sport. He's someone whose opinion is well respected and he does a great job articulating the sport on TV. Even though he was paid by the series, he was rightfully critical of the MAV TV app/TV experience this past summer which was appreciated by the fans. He's been fully embraced by the new SX/MX partnership with a weekly show with Blair and he'll be doing some SMX races as well. Even though he doesn't think so, it had to be tough to work with all sorts of different analysts in the booth this past summer. Weege is a pro's pro for sure.
22- Vital MX Forum
Yes, we are putting an internet message board on this group even though we understand that it's not an actual human being. Here's the thing though, a lot of the industry reads it and things don't often "blow up" until it reaches there and the people that get "called out" on there start doing their PR things. Michael Lindsay runs Vital MX (Brad McDonald is the owner of Vital MX, Vital MTB but lets Michael have mostly free reign) and he'll be the one to moderate the board as well but the board itself has influence on the industry, let's not kid ourselves here.
*Pulpmx Fantasy
Asterisk maybe? Yes, I'm one of the co-owners of the game that has, again in my biased opinion, has changed the sport. There have been fantasy SX/MX games before ours but thanks to the platform of the Pulpmx Show, this game has really taken off. You can pay to play or play for free with your buddies but no matter how you play it, the fact is that the riders get a ton of interaction from fans about their results and bring it up organically in interviews. Heck, racers here in the USA and in the MXGP series play it themselves!