Since I swung my leg over the 2023 KTM 300SX I have been eating my words on how much I dislike two strokes. This is the first two-stroke that I would even consider on purchasing and to me has a blend of four and two stroke performance. I have been purposely sitting on this article for a while to see if anything else has popped up with this machine, but the time is now to release some of these "easy" settings that you can do to your orange two stroke machine in order to make it even more fun to ride. We are currently working on unlocking the closed ECU box with Twisted Development so look for that article/video as soon as we got something good for you guys to try. Here are some things that I have tried and settings that have worked.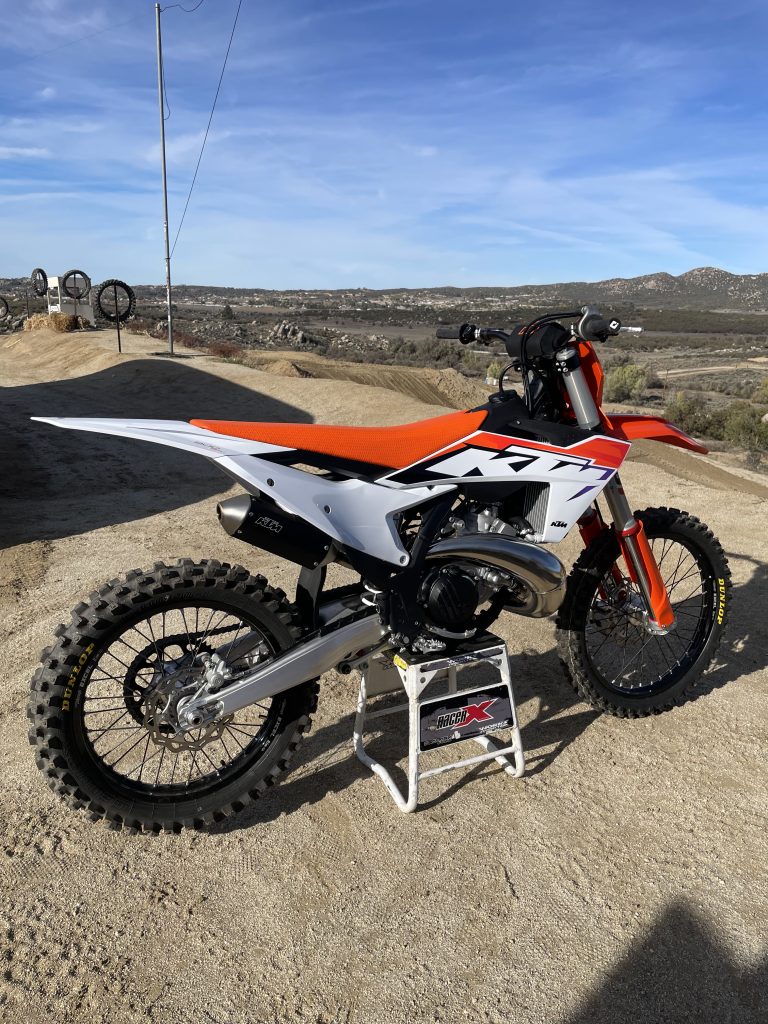 Suspension:
The KTM 300SX suspension is not as rigid feeling as the four strokes but the bump sticks on this machine can get soft if you're north of 185 pounds. Here is a setting that fit riders from 170-190 pounds.
Fork:
Air: 10.7
Comp: 14 out
Rebound: 14 out
Fork Height: 4-5mm
Shock:
Spring Rate .45N/m if under 185/ Over 185 pounds move to .48N/m and back off compression
Sag: 103mm
LSC: 10-11 out (.48N/m spring run 15 out
HSC: 1.25 out (.48 N/m spring run 1.5 out
Rebound: 11-12 out (.48 N/m spring run 12 out)
Pipe/Silencer: I have tried a couple sets of pipes/silencers and surprisingly the Bills pipe and silencer had he cleanest burn as well as had the most torque feel in the mid range. The FMF was good for throttle response but felt a little flatter on top than the Bills. I had one of my buddy's reference me to the Bills and recently had a quick spin on another bike with the Bills and was pleasantly surprised. Although no pics were taken the Bills pipe is a raw looking pipe with around the same mount of low end feel as the stock system but with more mid range torque with a stronger pulling top end/over-rev. I was throughly impressed and big thanks goes out to my guy Ernie for pointing me in that direction. The FMF Fatty and 2.1 silencer was good off low end but wasn't as strong near the top end/over-rev as the Bills. The cost of the FMF is also a little on the steep side when it comes to a 450.00 silencer! WHAT! Sorry, but there is NO way I am spending 450.00 on a silencer. The Bills seems to be the better buy at this time. I have yet to try a Pro Circuit system, but plan to soon so look for a separate test on my website soon.
Rich Feeling: KTM recommends a 60:1 mix ratio but for me I have been running a 40:1 standard mixture with the T2 fuel that I have been using and it feels less rich feeling on the track. With the VP T2 race fuel the KTM 300 SX feels more responsive and less "loaded" up when I stab the throttle before I land from a jump. This gives me a little more of a lightweight feel in corners as the throttle response is crisper and has more low end RPM response. If you have some money to "burn", try a five gallon pale of T2 and see how it goes. It has been working great for me since I can't get into the ECU box yet.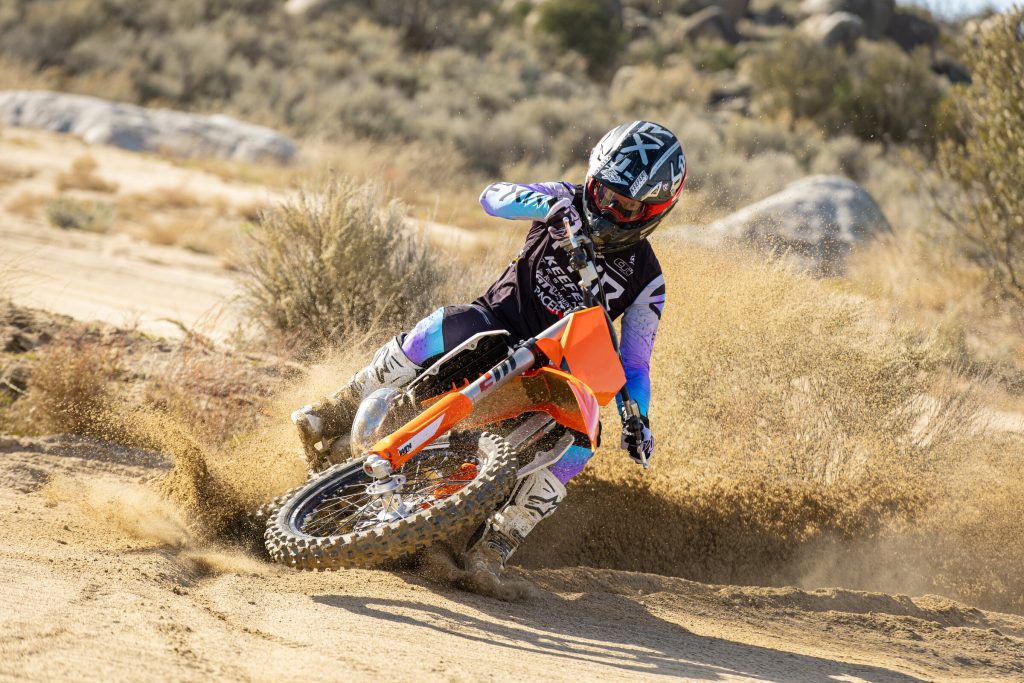 Vented Airbox Cover Or Non Vented:
I have went back and forth on these and to me, the KTM 300SX runs better with the closed off airbox side cover. The open cover made the rich feeling worse when landings off jumps. Leaving the closed off airbox cover on helped throttle response and clean feel on the track.
Gearing:
Damn you Jody! I went up a tooth and now am on 13/50T to help with third gear roll on. If you like second gear cornering then stick with the 13/49 gearing but for me the 13/50T gearing didn't affect the second gear roll on as much as I would have thought. The 13/50 gearing also helped with low end recovery, especially when the track is loamy/sandy.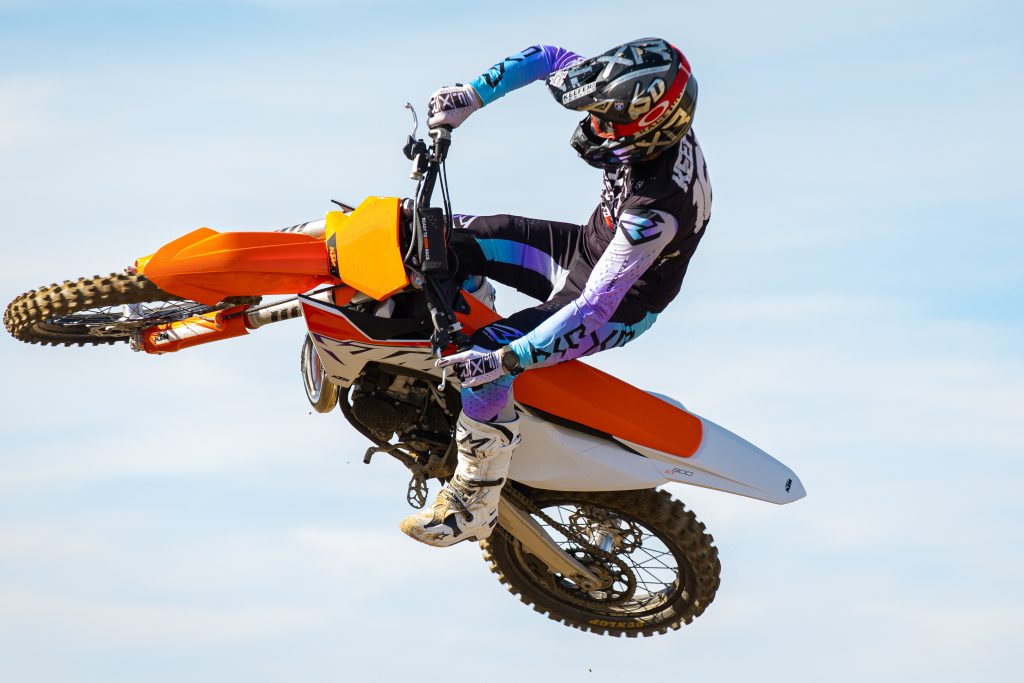 Other Small Mods That Help:
Pro Taper Evo Bars: Helps with vibration and slap down landings/bump impacts. I am currently on Race Team Evo bend cut to 804mm. Stock length is 810mm.
KTM Factory Edition Clamps: Split clamps helps with front end feel and traction when on the edges of your tire.
ZRT Throttle: The ZRT throttle tube helps with twist feel and stays light feeling for the duration of your bike's life. Even when the the throttle cables get worn after 25 hours, the ZRT throttle still remains light feeling which is a huge plus for feeling in contact with your bike when riding. A light feeling throttle helps with form as well as elbow posture. I am not trying to get all RYNO on you but a hard pull on a throttle puts your right arm in weird positions coming out of corners as it forces your wrist and elbow in a chicken wing position.
Dunlop MX3S Front Tire: You already knew this right? Putting a MX3S on instead of a MX33 will help your lean angle traction and front tire contact patch feel. You're welcome!