I was sitting at home recently and was thinking about putting in the DVD of "The World's Greatest Supercrosses" for the 6,294th time when I discovered a little gem stuck under my Rambo series. It was half of the 2008 CMRC nationals on DVD that my buddy Travs had given me last summer.
I was sitting at home recently and was thinking about putting in the DVD of "The World's Greatest Supercrosses" for the 6,294th time when I discovered a little gem stuck under my Rambo series. It was half of the 2008 CMRC nationals on DVD that my buddy Travs had given me last summer.
I watched them last year and then kinda forgot about them, out of sight, out of mind right? Well, I thought it would be fun (for me) and therapeutic (for me) to watch the Nanaimo round and maybe make a few comments here and there about the race.
***DISCLAIMER*** Everything written in here is just for fun and not indicative of anyone that I comment on. Nobody should get upset over something some tubby guy wrote in Las Vegas, we're all just little happy motocross fans that can't wait for Raymond 2009. Right? *******
Koster opens up the show with a panoramic shot of the Nanaimo facility and tells everyone how beautiful it is and that it's been on the circuit since 1997 and this year, 2008, would be the last. He's absolutely right about Vancouver Island being beautiful but he missed the mark a bit with the "beautiful facility" if you ask me. And I've ridden there on off weekends and been to two nationals there.
Now we see Travers interviewing the man of the hour, Colton Facciotti. He dominated the whole year and was still trailing the series at this point due to him missing a round. He says it's not about moto wins but to me, when you're not leading the series it should really be about winning.
A shot of the "beautiful" track. Look people, the men and women who run the place call it the Wastelands. There's a reason for it and we shouldn't tip toe around the subject like it's the openly gay uncle that nobody can look in the eye at the family reunion. It's ok to say that Uncle Larry likes sausage just like its ok to say the Nanaimo track stinks. In case I wasn't quite sure about that statement, .3 seconds after hitting the play button, they show a close up of the dirt and there's enough rock in it to build a castle.
It's ok, not every track can be the best one. Admission is the first step on the road to recovery.
Kris Foster has the onboard camera and the quality is real good. So good in fact that if I was an American who was thinking about racing the Canadian series, this onboard shot might just make me not bother getting that passport. In this day and age, maybe Stallybrass Productions could CGI in thousands of fans along the fences, nice Unadilla-on-a-Saturday soil, maybe a chocolate river running beside the track and Poutine stands off in the distance. American dudes would be like "Hells ya, I'm racing there". Sure it's false advertising but once we get'em up there, what else are they gonna do but race. Remember where you heard this idea.
First MX2 moto is on the line and I see my guy KD Beets is ready to perform. I do notice that he's one of the only guys that doesn't have an umbrella over him. Beets is old-school like that.
Forty rabid, brains turned off MX2 guys race towards the first turn and Travers coughs up a lung saying "holeshot" as Genereux just squeeks out the start over Aaron "Can I buy an A" Harvey. The second turn doesn't go so well as Genereux goes high and gets cleaned out by the pack. Remember what I said about brains?
Beets and Harvey are going at it, Harvey is riding the turns high and looking in control. Beets has his legs flaying behind him and right hand cocked. Classic Beets. Some dude is in third I have never heard of but good for him and Koster and Travers keep saying they "love" this or that. I really think they love each other the most.
Spencer Knowles loses two positions in about ten seconds but at least a guy named Ross is one of the dudes that passes him. Koster says it's difficult to talk about but the technique of weighting the back tire is what the riders want to do here. Doesn't seem that hard to talk about but I'm no color guy.
Harvey stretches out his lead on Beets and that Ross guy gets a flat. Which is a complete shock. Simply amazing that could happen at Nanaimo, about the same odds as me devouring this large pepperoni pizza in front of me right now. Harvey is about the only guy clean right now, his gear and bike looks really good. I don't know why Morgan always had to wear that puke-green and blue stuff when he could've been wearing this.
Wow, Genereux is all the way up to seventh already after going down in the second turn. He's got a duel of death with Shane Wiebe right now and this is why the Canadian TV coverage is so good. Two dudes ready to kill each other are being shown, not Harvey out in front by himself.
Wiebe takes Genereux high which makes Koster say that if there are any young racers watching, you don't need to make any friends out there and what a move by Wiebe. He leaves out the part that you might get beat up in the pits if you ride like this all the time.
Harvey wins the moto in a complete upset. Not sure what happened to Beets, he couldn't have just been beaten straight up right? Eric Nye "alator" gets third and all summer long, you never really watched him too much but he was always good. Once again, Travers is saying he is "loving" something. You can tell Koster and Travers get excited, they love lines, love riders, love tracks-I'm waiting for the awkward moment when their eyes meet in the bus.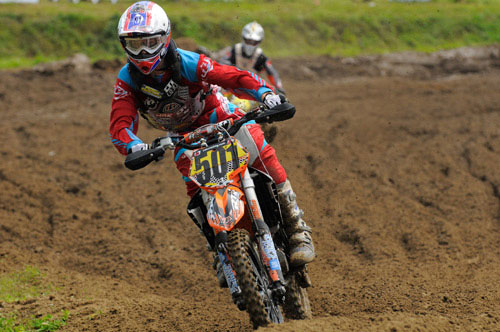 Ryan Millar was at Nanaimo 2008. This is at Gopher Dunes however.
Ok, 30 second board is up for the MX1 class.
And Dusty "Pug-life" Klatt grabs the holeshot and is checking out on the first lap. The chances of anyone not named Jesus catching him are pretty slim right now. Blair Morgan is in second but somewhere in a dark corner of his mind, he's probably thinking Matthes is coming. Just like 1988.
Jeff Northrup is in third and Jimmy Nelson is right behind him. Seriously, what the F happened to Nelson? A two time MX2 champion, he gets bumped up to the 450 and promptly poops the bed. I think there was some off track stuff that affected him because whenever I would ask about him missing races and pulling off, people would just look down and shuffle their feet.
Colton Facciotti is coming through the pack folks! Koster and Travers both have pet names for him and never really say "Facciotti"…it's either "Faciots" or "kgskfskfhshkh" which is what the name Koster says sounds like. Anyways, Colton's on the move. Maybe his nickname is Jesus?
This probably doesn't need to be said, but Travers is "loving the action."
Nelson gets by Northrup in a sweet move and Facciotti is all over Nor-Cal now trying to make something happen. The guys tell us that they are going through the "Darcy Lange" corner but never explain why that is called that. Maybe that's where he lives now? I can see Lange looking like the Unabomber and trying to shoo everyone away from his house.
Koster is "loving Klatt winning and loves when he's on". I'm just saying…
Good battle between Nor-Cal and the rider named "fkdgfkfgkgf", I bet Colton never really thought he'd have so much problem with a guy that might've been playing beer pong out in the campground sixteen hours ago.
Finally free of Northrup, Facciotti goes after Nelson and Morgan. I'm sure about the editing here but he looks like he gets them both in about the next ten seconds. Morgan doesn't put up a fight because he probably thinks it's me coming through again and he's powerless to do anything.
Unbelievably, Facciotti goes down again in a turn that pretty much looks like it's similar to your local skating rink and all that work is down the drain. Morgan and his arch-enemy Northrup all get by him.
Nelson looks to be about as tired as I would be. If I had to run around the track.
As Colton sets up the pass on Nortrup for the 1,947th time this moto he slides out and goes down again. At this point, the kid who has won every moto he entered looks like a novice rider in his first race. The ghosts of Nanaimo strike again!
Our first shot of Kyle Keast as his visor is pointed upwards. I bet it's a visor/GPS combo and is actually pointing towards the nearest Tim Hortons. He gets by Nelson for fifth and as usual, is charging hard.
Guess what? Koster is "loving Keast". Do they get paid by how many times they love something? Just curious.
Klatt wins the moto and does a heel-clicker to celebrate. Which is cool…if it was 1997. Good job for the Campbell River Crusher as he shows everyone what was up. His pugs celebrate by watching "Men in Black" yet again.
My DVD fades to black because Travers couldn't edit out the commercials for me. After reading this, I'm sure my chances of getting 2009 CDN nats are slim to none and slim just left town.
That's the first set of motos, I'll be back later with a TV critique of the final set. I'm sure that I'll be loving it.
Except I can't. My DVD is skipping really bad, that's what I get for using it as a coaster. Sorry everybody, thanks for reading!