I thought I'd share some of my *ahem* best from the motherland. The racing was good, the track was cool and as usual, there was a Hungarian.
I thought I'd share some of my *ahem* best from the motherland. The racing was good, the track was cool and as usual, there was a Hungarian.
This was the guy again this weekend. Colton Facciotti went 1-1 and although he had to work for it, there was no doubt from anyone there that he was the best rider in the MX1 class. He's a nice rider to watch and you Americans saw him at Steel City last year.
One of my BFF's, Kyle Beaton had a tough day in the MX2 class. He crashed in the first turn of the first moto and was dead last. He was so dead last that the mechanics were filing in and getting ready to board the guys when they came around. Anyways, he charged back to tenth and then immediately grabbed his hand and went to the hospital to get his wrist checked out. He's now down as many points as his teammate Aron Harvey, who had bike problems in both motos. The Blackfoot guys having troubles opens the door to an exciting MX2 chase!
This guy was the pretty damm good. Kornel Nemeth from Hungary came over and showed the Canadian riders what it was like to be in shape. The Hungarian Warrior charged hard both motos and although he was DQ'd in moto one for hitting a flagger, went 4-2 if it wasn't for that pesky flagger getting in the way. He's racing four rounds and one of them is the deep sand track called Gopher Dunes and his 6-6 score at the famous Lommel track makes him a favorite there.
Here is your MX2 winner, Dean Wilson. The Canadian kid who is cutting his teeth on the gnarly American amateur circuit is racing the first three rounds and the seventeen year old showed no respect to his elders by showing them his back both motos. He went 1-1 pretty easily although a couple of dudes kept him in sight.
Remember Dusty Klatt? He raced for Star Racing in '07 and SX for the Cernic's Kawi team last year. Well, he's back with his old team Blackfoot and the 2007 champion showed us that we don't quite know if he's back up to his old form quite yet. His first moto was great, his second moto was just ok. Still, second overall isn't a bad start and we shouldn't be cracking on him too bad. There were about 38 other riders that would have traded spots with The Klatt-a-puss. Dusty's a good dude for sure, he's a little hard to read but I like him. He does a spot on Bubbles impersonation as well.
Kerim Fitz-Gerald is a friendly (is there any other kind?) South African who is riding for Factory KTM's B team. Him and fellow countryman, Liam O'Farrell are both opening eyes with their speed. Kermie had an ok day as he got fourth in the first moto and raced hard in the second. His bike looks good as well.
I had to get a picture of this lady as there is obviously something wrong in this picture. And that something is that guy's shirt in the background. Hey bro, Hendrix called, he wants his shirt back. Why does the lizard have a pink ribbon around him? The answer is below…
Kyle Keast is a hard charger in the Stanton/Larocco mode. He also usually never gets starts but this weekend he actually holeshot the second moto and led for about half the race. He went 6-3 on the day. He actually holds down a full-time job during the week doing something that sounds tough and then goes to the races. When Nick Wey called me on Monday after the race, the first thing he asked was "How did that dude that works full-time do?"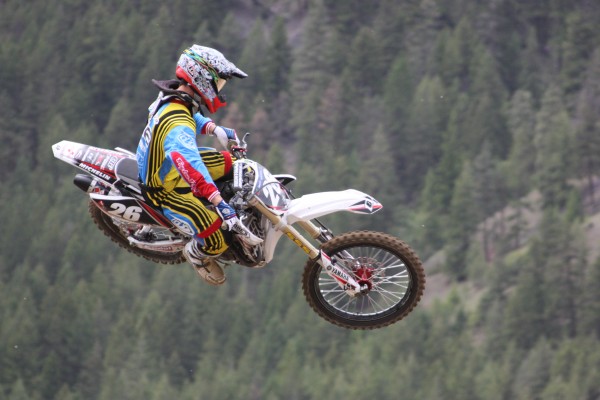 This is Jared or Parker Allison. They are twin brothers from Alberta and ride for Blackfoot out the back door. They are a friendly bunch but I have no idea who is who. One got 9th and one got 11th overall. They also have another brother Larry that races B and he raced the national on the weeknd. I'm kidding about the Larry part but if you're a Newhart fan, then you know where I was going with that joke. They both use X-Brand goggles also so I'm kind of their goggle guy, if they ever call me I'm just going to send the same amount of stuff to both of them to be safe.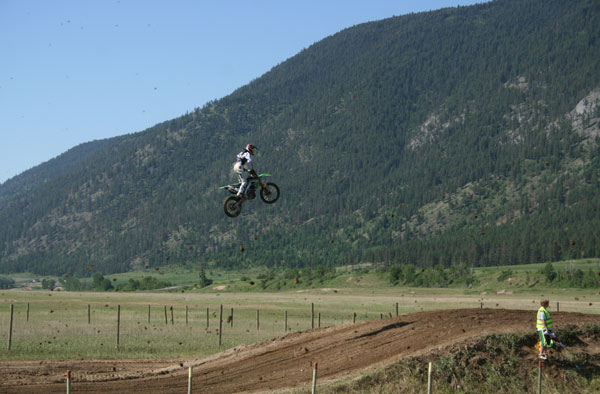 This is Wilson in the air on the biggest jump at the track, a single to a tabletop that had the MX2 guys pulling up in the air and praying to Allah everytime they jumped it. Of course, Dean-O and the top guys got over it fine but the other dudes were like watching a potential car accident-every lap. My buddy Fireman Ron jumped this and was very proud of himself, he should be. It was big.
Close up of the Lizard. He had a pink ribbon on him because he was full of pride and also so his owner could see him in the grass. He just blends in, like Kuli in a country western bar.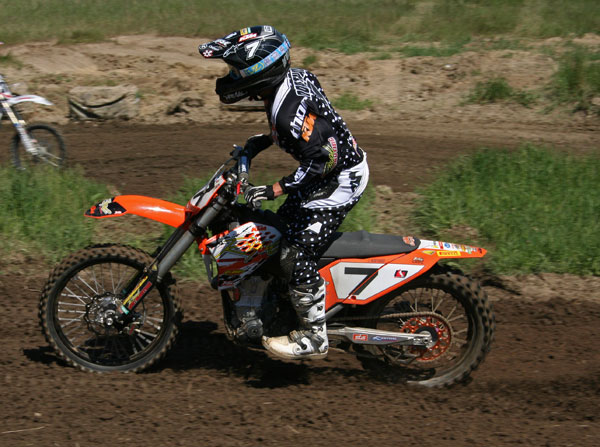 Fresh off leading a lap at Hangtown last week, Jeff Northrup showed up and ran up front most of the day. He looked to me to get a little tired and was a bit off the pace of the top three or four. He is equal in speed to teammate Mason Phillips as they pretty much raced each other hard every lap of both motos. Nor-Cal ended up fifth overall.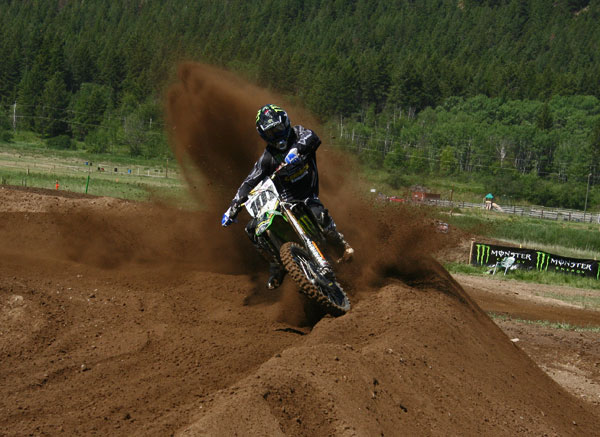 The 2007 Canadian champ, Paul Carpenter was fast on the weeknd but didn't get the starts that he would've liked. He went down in the second moto and I kind of wrote him off but he charged hard and caught the dudes he was battling with before he crashed! Third overall is not too shabby for him and he'll never quit and charge all moto.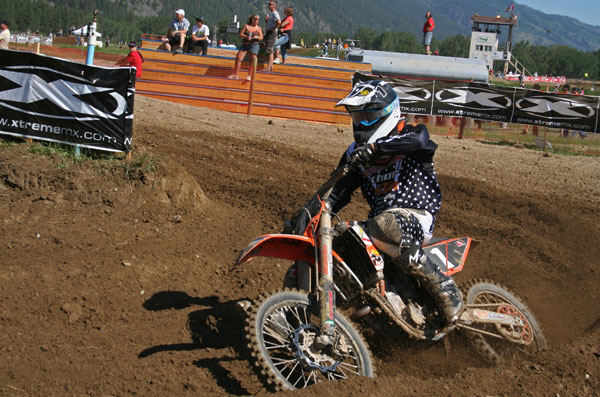 Sneaky Eric Nye. The Nye-alator was good in getting second overall with 3-2 rides. He's the defending champion for a reason and in Canadian racing, KTM is on it and has a good showing. They aren't cursed like the effort down south seems to be sometimes. Eric is not letting the hype of who is fast and who isn't get to him. He just goes out and rides fast.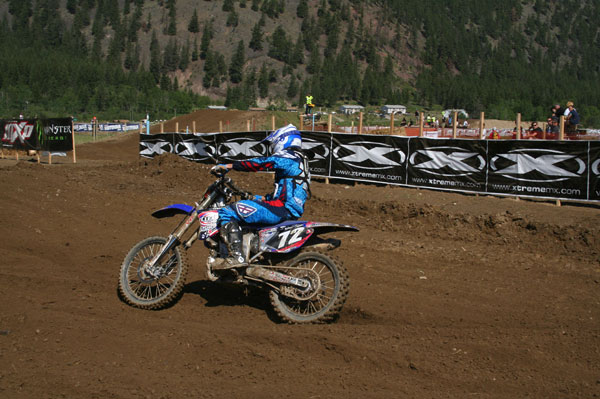 Spencer Knowles was a "B" rider last year that has taken the step up to pro. He rides for Beaton's old team and has alot of the things that Beaton had last year. He was pretty good in Kamloops and is a young kid that seems to be getting better.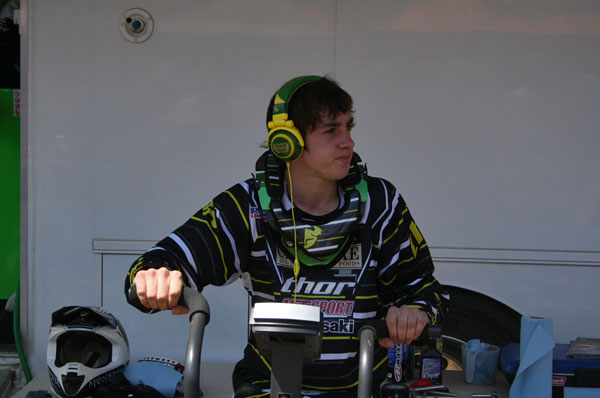 These massive yellow (and other colors) are all the rage with the kids down south right now. Here is Dean Wilson getting ready to whomp up on the competition. Wonder what he's listening to?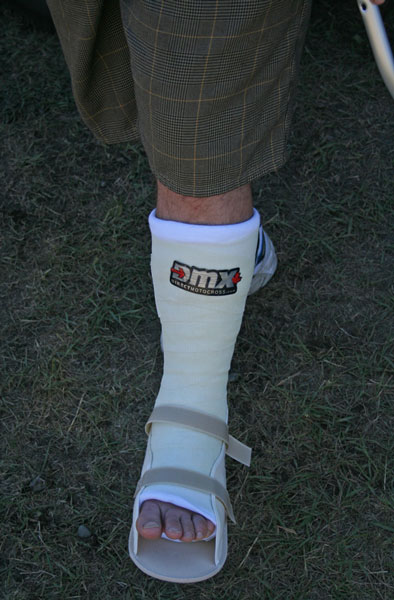 My buddy Ron got T-boned off the start in his moto on Saturday
and broke his ankle. This continues the streak that Ron has with
either getting hurt or doing shitty when I'm present.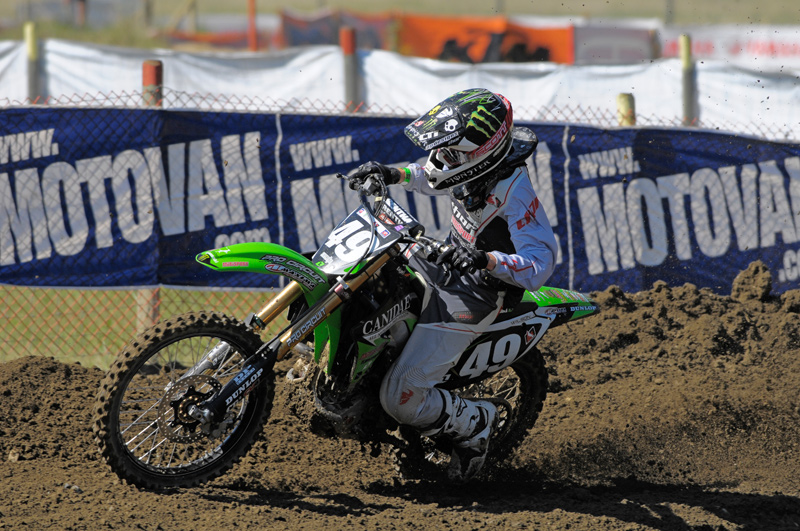 This is what a real photographer's shots look like. James Lissimore seems to be able to push the button better than me.