I don't know Jason Lawrence, I've never really spoken to him and as a matter of fact, he probably wouldn't piss on me if I was on fire.
I don't know Jason Lawrence, I've never really spoken to him and as a matter of fact, he probably wouldn't piss on me if I was on fire.
He's not what you would call a big fan of me or my writings but truthfully, I don't care. I write what I write and at different points along the way, I've written good things and critical things about almost everyone (even Ferry). People sometimes are mad at me but they usually come around when I write something good and life goes on. I've developed a thick skin over time and enjoy what I do.
But I am worried about the man we call J-Law. Seriously, I don't think he's well and from the outside looking in I think things are falling apart over there. If I put myself in his shoes, I can only imagine the stress and anxiety that he must be feeling. It wasn't too long ago that he was on top of the world having won the 250 west supercross title and been on a factory Yamaha bike. The kid with the golden throttle hand was a little bit of a hooligan but if you look back throughout history, you can see that there have been great champions on the track that have stories about them off the track that made them into bench racing legends. See Noyce. G or Lechien. R for just two of many examples. The fact that he was a rabble rouser off the track seemed to only enhance his image on the track with the companies that wanted to attach themselves to that image-to that hype. By all accounts he rode a ton and just liked to practice riding his motorcycle. I've heard stories from teammates that he would ride in the morning at the Yamaha track, load up and, still in his gear, unload at Starwest and pound out laps. Some of the off-track stories I heard seemed unbelievable and I took them with a grain of salt because although you can fake a lot of things in this sport, you cannot fake results on the track. That is where the bullshit stops as they say and Jason was proving that the stories were just that as he racked up wins and eventually the title. We also need a character like him in the sport as there is a segment of fans that gravitate towards that outlaw image, if you need some proof, go read a message board sometime.
There's a saying about how a candle cannot burn at both ends for too long before it is extinguished and we now can see that this is what has been happening with Jason. You could pretty much just take a look at any sporting athlete that comes from a bad home, succeeds in a sport because he's so damm gifted, enjoys the trappings of his success a little too much, surrounds himself with some people that are just there for the good times and eventually, the fall happens and we're reading about it in Sports Illustrated or wherever. The athlete is always remorseful, always contrite and wishes that they could do it over again. There's story after story in sports about these types of people and I truly believe we're about halfway to three-quarters though the Jason Lawrence story. He hasn't hit rock bottom yet but it's coming, of that I am certain.
There is a lot of money going on the road each week for J-Law Inc and a lot of big time sponsors that banked on Jason either repeating as 250 champion or continuing on and becoming a solid top five 450 rider. He can do it, he's that good. They cannot be happy with the ROI on the dollars spent and sooner or later, Jason has to buckle down and show us he can ride. That's where he can make everything go away and he can improve his fortune. By just doing what he knows how to do best- ride a motorcycle. He's an electrifying rider to watch and hugely talented but he just can't make the right choices and now he feels that he cannot win with the AMA, that they are watching him and out to get him. That the press is out to get him, that Yamaha is out to get him-in short, it's the worst thing to see. A guy who just doesn't give a shit anymore. A guy that can't perform anymore, he's lost sight of what he once was and what he can be. That's a dangerous place to be for anyone, never mind a twenty-one year old that is sinking his millions into a race team.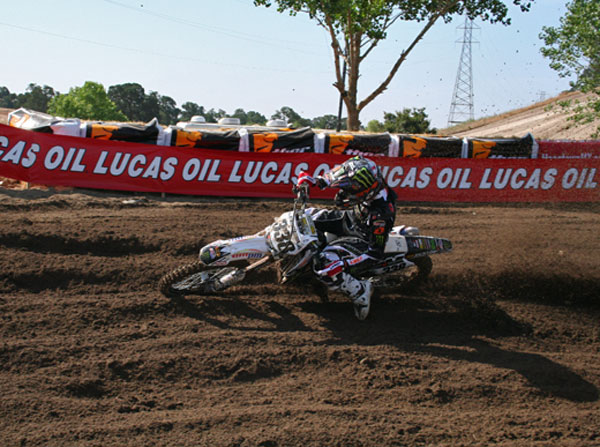 Lawrence at Hangtown this year. His fans have no clue when they will see him on a track again.
So what would I do if I was J-Law or suggest to him if I was in his inner circle?
First of all I would just go away. I would take the hit in lost income and potential future income because the pay-off down the road could be even greater than it is now. I'll get to why that could be in a bit. I would go get some help for my issues, the anger management courses that he has attended haven't done much (judging by his Hangtown incidents) and I suspect there is a deeper addiction issue involved. I have no intimate knowledge obviously and this is just a guess. He needs to stop the train and get off and get some help. That will get him on the right track and will help him deal with his next problem.
Three days after Steel City, Jason will face sentencing for his felony assault charge involving a friend of his last summer and the chances of Jason going away for a little while are pretty good. He will certainly have a chance at losing everything that he has built up over the last little while but that might be what he needs to finally wake up and look in mirror. A good friend of mine is Ron Lechien, the former factory Kawasaki star who was out of the sport by age twenty-one due to drug and alcohol problems, has often told me that he had to hit rock bottom before he realized he needed to change. As long as the money and everything else was ok, then he rationalized that he was ok. Only when put away for multiple DUI's did Ronnie realize that he had to change or stay in jail for a long time or maybe worse, kill himself or someone else.
So the time away from the sport would do Jason some good, he can reflect on the tremendous good fortune that he's had and how he is truly blessed to be able to ride a motorcycle in the upper percentile of the population. His hanger-ons will be gone when he gets out and he'll be a humbled man ready to be given a second chance at doing what he can do best.
Remember the part where I said his income could be even greater than before? I say this because there is nothing America likes then comebacks from the edge. As many examples of athletes taking their gift for granted that I can point to you, there are double the amount of incredible stories of people being given second chances and making the best of it. Look at Major League Baseball's Josh Hamilton who was drafted number one overall in the amateur draft and then became a homeless crackhead. He played in the All Star game last year, he found his way back from the dark side. Jason Lawrence can come back from all of his troubles, he can do it because he has the gift. As long as you have a gift to do something better than almost anyone else in the world, people will give you chances. To rise again and become a champion, he first has to become a loser- it's that simple.
I'm pulling for him but that doesn't matter much, it's whether he's pulling for himself that does.